In an interview with Leaders in Sport, AC Milan CEO Ivan Gazidis laid out a blueprint to take Milan back to the upper echelons of football like its glorious past.
In particular he laid out four-point strategy which consisted of better utilisation of resources with a tactical identity, mix of experience and youth, sport science and a MilanLab 2.0. Gazidis spoke quite extensively about Data Analytics and how Milan will be making use of it for better resource management.
But in a game like football which has so much emotion and subjective decision making, how can a few data points and statistics help coaches and players make better decisions?
Data Analytics and Sabermetrics have gained lot of traction over the past few years with clubs in the lower leagues using it extensively for competing with the traditionally big clubs despite the unequal share of resources. With the game growing exponentially and with more and more money involved, owners and stakeholders want to mitigate the risk of huge financial losses with informed experts in the sporting side of the game.
History
It all started in the 1960s when a former RAF commander and accountant, Charles Reep, started taking data points as the manager of his club Swindon Town. With the data collected, Reep inferred that most goals were scored with less than three passes. This gave birth to the concept of the long-ball tactics, something which is still etched into the English game.
However the real data collection and its interpretation was pioneered by sports data collection company ProZone in 1998. Their services was first availed by Derby County to have a better analysis of pre-match and post-match data.
In 2003, the book Moneyball: The art of winning an unfair game – written by Michael Lewis – became the real ice-breaker to all avenues of sports to use a data-crunching system to gain an advantage. Today, almost 10 data points are collected per second in a game which amounts to a minimum of 1.4 million stats being created per match through notational analysis.
How data analysis is used
To have a better understanding of how data analysis is done in football, it must be broken down into different areas where it can be applies.
Scouting
The main aim of these scouts is to find underpriced and undervalued players who are to yet to approach their peak, which is essentially a golden ticket.
If there is any department that data analytics has been a game-changer, it is in the scouting and transfer departments. After consultation with the head coach Stefano Pioli, chief scout Geoffrey Moncada and his group of observers and data analysts will have a prototypes ready for Pioli's desired style of football.
Once the specifications for the types are made clear, the scouting department (which includes data analysts) will log into various scouting platforms like Wyscout or Opta who will provide these analysts with dossiers, statistics, creative visual imagery and various videos of the player. This exercise helps the club save a huge amount of money as opposed to establishing a scouting network all over the world which would multiply costs employing different people.
Once the data is in, the analysts and scouts sift through the mountain of information and make a shortlist. Once the shortlist is made, they watch videos and matches of these players and condense it even further. It is then that scouts visit actual stadiums to watch the targeted player in action, which is either done by Moncada himself or then reported to Maldini and Massara who make the final decision after consultation with Pioli.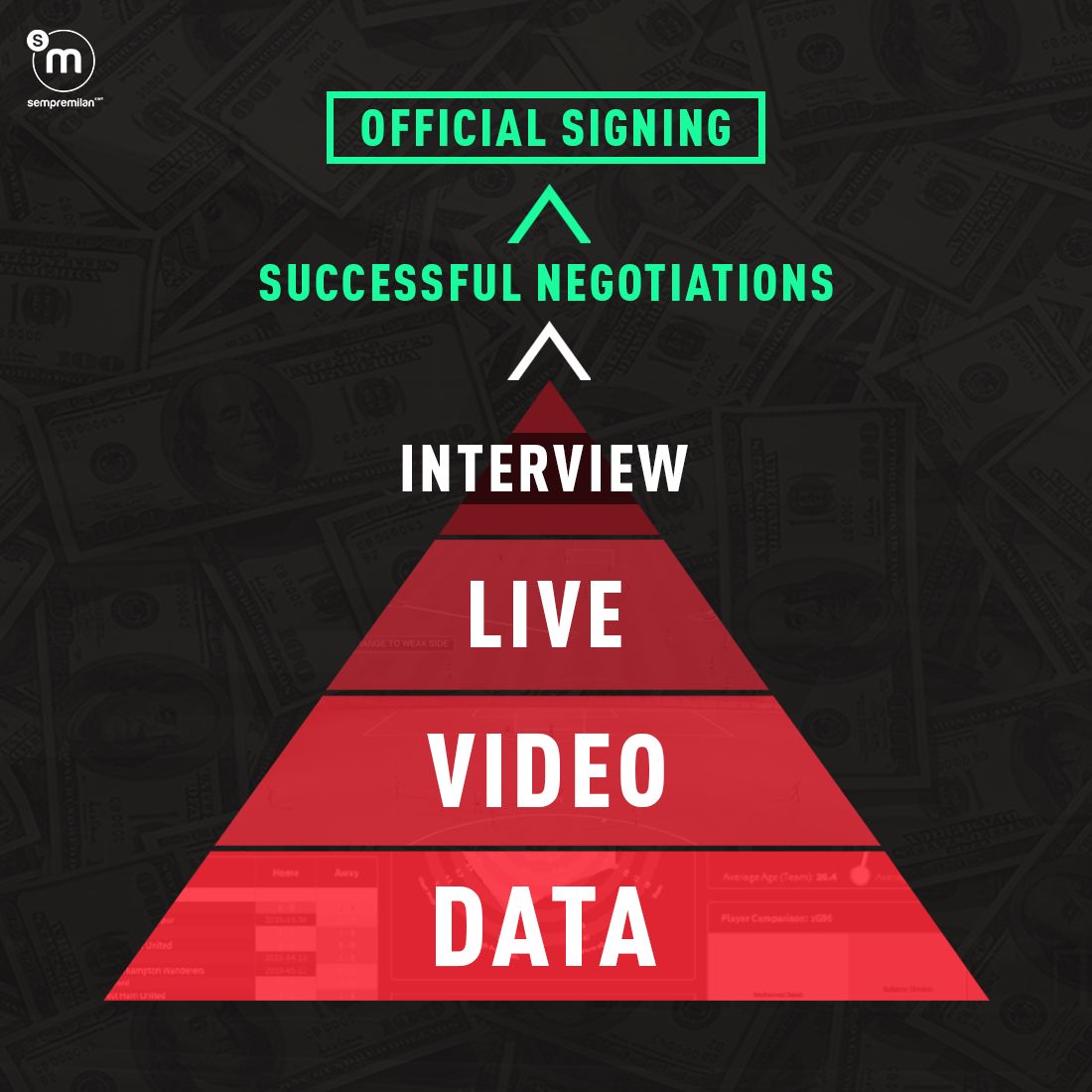 However, as mentioned earlier football is a subjective game played by human beings and not by programmable robots. Hence, statistics cannot predict what a player may do next. To close the gap, Data scientists have brought in a cutting-edge technology called Ghosting. Ghosting is the process of using algorithms to predict what action a particular players takes in a specific situation based on thousands of data points collected from his previous matches.
Pre-match preparation and post-game analysis
For every match the team requires specific preparation. The changes in playing systems as well as the technical and physical qualities vary from team to team. The preparation for the recent home match against Spezia cannot be used against Inter, for example, and if done it would could lead to mortal peril.
That is why separate preparations both physically and mentally are required for which data is collected and examined by a team of analysts and coaching staff. The data analysts look at the various numbers of the opposition and then present it in a meeting with the coaching staff.
Combined with the tactical nous of the coach, a game plan to counter it is devised in these meetings. Milan, specifically a pressing team, analyse passing patterns of the opposition side to structure their press.
Since each game needs specific physical preparations and new training methods could be introduced to players, the effectiveness of training routines are measured using GPS kept inside Milanello.
In the RB Salzburg academy, the whole facility is equipped with LPM Indoor system which are motions sensors which give data like passing accuracy, touches taken and amount of time ball possession is kept.
They also use the Soccerbot, which is a circular structure where the player is at the centre. The structure is filled with panels which work as LED TV's and each player is given a task to complete inside the Soccerbot.
Recently they are also helping to recreate situations from the games played by the team previously. This structure help data analyst's track information of the player and for the player himself to realise his mistakes and correct them. Ultimately, it helps aid development of the player.
During matches, we have seen while substitutions are being made that Pioli's assistant Giacomo Murelli often speaks to the player who is going on while using aid from his tablet computer.
During the game, the stadium is equipped with various GPS and motions sensors. These help the coaching staff to obtain heat maps and which player is showing signs of tiring. All this information comes to the analysts and is given to the assistant via his tablet, where – when combined with his tactical knowledge – he tries to exploit and gain advantage.
Medical field
As pioneers of MilanLab, the use of various data analytics to keep players fit and predict injuries is not something new. Under the unconventional chiropractor John Meerseman combined with his knowledge of Kinaesthetic, Milan forged a partnership with Microsoft to analyse data samples.
It is ono surprise that the UCL winning team of 2007 had an average age higher than 30 and it was solely because of MilanLab and its unique ways. While MilanLab only exists in name with Meersseman leaving in 2010, it showed how data analytics can be used for sports medicine.
Fast forward to 2020, and along with GPS inside training grounds they also have an accelerometer and a gyroscope. These devices help in tracking metabolic and bio-mechanic feature of every player. This data helps to gauge the external work load, i.e .the amount of work done on the pitch.
This in turns assists in understanding whether players are close to injury or not. Players are at maximum risk when they play after long periods of no activity, such as after summer break or like the post lockdown period. Also running at high speeds for short bursts for time in a three-week timeframe is a recipe for injury according to medical experts.
The Liverpool model
In 2002, Fenway Sports Group bought the Major League Baseball team the Boston Red Sox. They were intrigued by Sabermetrics which was relatively a new concept in 2002. They brought Bill James as the Head of Research and by 2004, the Boston Red Sox – who had not won the coveted World Series in the last 84 years – finally ended the Curse of the Bambino. They then won it again in 2007, 2013 and 2018.
In 2010, when FSG bought Liverpool they appointed Damien Comolli as Director of Football in 2010, but he left in 2012. His successor was his own employee Michael Edwards, who went on to be Liverpool's first ever sporting director in 2016.
Edwards placed emphasis on data analytics to gain a competitive edge with a limited budget. They appointed four analysts in the form of Ian Graham, William Spearman, Tim Waskett and Dafydd Steele. Along with Klopp, who was used to working with a limited budget at Dortmund (who also used data analysis with head scout Sven Mislintat a big advocate of the system), headed all decision making within the club.
Klopp is an advocate of Gegenpressing which is a relentless, intense, aggressive style of football that requires players with very unique skillset. The analysts use various scouting platforms to search for players who possess the technical skill along with the adequate stamina and robustness that Klopp demands.
Along with these traits they also examine injury records. A special feature is that Liverpool calculate the discounted value of the player by working on the transfer fees the player has received in his career combined with his commercial value before making a bid for the player so as to not overshoot the budget set for transfers by the owners.
There is a perfect example of the system being used too. With Liverpool playing a high line, they needed a defender who could had the pace to catch up if the opposition countered and a keeper who was good with reflexes and was good in 1v1 situations.
The goalkeeping tandem of Simon Mignolet and Loris Karius plus centre-back Mamdou Sakho were error prone and contributed to the big problems defensively, hence Liverpool needed alternative arrangements.
The Sale of Philippe Coutinho allowed them to do just that. It provided very important capital for Liverpool, which they invested in Virgil Van Djik and Alisson Becker. What seemed to be gross overpayment at the time now looks like very smart business – Van Djik especially is a very astute defender who snuffed out attacks, like a proactive fireman stopping a candle flame becoming a house fire.
The sale of Coutinho also helped in multiple aspects. What seemed to be a system designed with Coutinho as the centre of the attacking play, Liverpool expanded it to Salah, Mane, Firmino, Robertson and Trent Alexander-Arnold. This increased unpredictability and a data metric known as Goal Variety. Goal Variety is seen as a story by the analysts, and experts dissect metrics like the number of passes it took to score, key passes and various other data.
Pre-match preparation was based on three points…
Forcing the player lowest on confidence into making mistakes by pressing him aggressively;
Agitating the player who gets angry very easily and has poor disciplinary record;
Analysing opposition players with high technical ability and cutting off supplies to the player (for example Kevin De Bruyne).
Against Everton last season, Liverpool took a high amount of shots from outside the box. This was because Jordan Pickford is very shot in stature and unlike keepers such as Alisson or Donnarumma, he cannot reach the ball if it is hit well.
To keep players motivated to perform, an incentive system based on a data analytical system called Game Theory was used. It helps in designing incentive systems. Liverpool were the club that gave maximum bonuses to its players due to this system as well its success in the Champions league and Premier League.
HOW MILAN CAN USE ANALYTICS
With Data Analytics being widely used in England, Spain and Germany, it is yet to find a place in Italian Football on a wide spread basis. Atalanta have slowly adapted to the number crunching tools but rest of the clubs are yet to apply it to their games.
Here are a few ways Milan can apply it…
Scouting: Moncada and Almstadt seem to already have analytics in place to help the club sign young players approaching their peaks. They could use it to sign more experienced players like Kjaer, who was an unused substitute at Atalanta but has become a shrewd piece of business.Given how Milan's finances are yet to fall in line good investment through analytics and signings like Hauge can help the club achieve its targets despite a concise budget.
Medical: Re-launching MilanLab would be a great way for Milan to protect their players and get the best out of them. This is something Gazidis has promised to do in his four-point plan to get Milan back to the top
In-game management: While Milan have shown significant improvement and a tactical identity mimicking ideas of Bayern Munich – as per the confession of Pioli – Milan can still structure their press better and stop getting overloaded in central areas of the pitch like how we did against Rio Ave.
Conclusion
All things said and done, football like every other sport still remains very subjective and based on emotions. Philipp Lahm went as far as calling it modern gladiator battles, and he might not be far off.
With data analytics now widespread in England and Germany, there are far too many numbers to deal with. Therefore, it is important to sift through the mountains of data and sort it into what is useful and what isn't. It is also prudent to use visual imagery and techniques that help people retain information faster and better.
What sets apart a good analytical team from a mediocre one is how they interpret the data. Analysts who can identify the data quickly and come to qualitative decision making are the ones that top clubs employ.
Every day data analysts explore heaps of data to find that 1% extra detail that gives an added advantage to their team. Modern management requires objective ways of quantifying and with so much data available analysts are always finding extra information aids in better decision making from the boardroom level to the pitch.
If Milan can get it right, they could very well be on a path straight back to the top, continuing the club's reputation from the 1980s and 1990s as a team that pioneers.