Over the last decade, AC Milan has been the hub of many inadequate signings which has led to the financial distress that Elliott Management is trying to fix.
However, in this feature we are going to analyse certain profiles that were either sold too quickly and not given a chance to prove themselves, or simply left without making the desirable impact only to go and do so somewhere else.
Leonardo Bonucci
Leonardo Bonucci was the star of the 2017-18 Summer transfer window which included an incredible 11 first team signings. Unfortunately, that specific transfer window will also be remembered for the lack of impact that the signings made and despite Franck Kessié and Hakan Çalhanoğlu being the exceptions, Bonucci was not one of them.
The Italian centre-back was coming off a UEFA Champions League final with Juventus being the protagonist on defense and he was eventually named in the Team of the Year. Despite the level of anticipation being similar to that of Zlatan Ibrahimovic in January of this year, Bonucci did not have the same impact in spite of being given the captain's armband.
Milan had an inadequate start to the season losing 4 of the first 8 league games and the Milan directors took the difficult decision to change management resulting in Primavera coach Gattuso being appointed.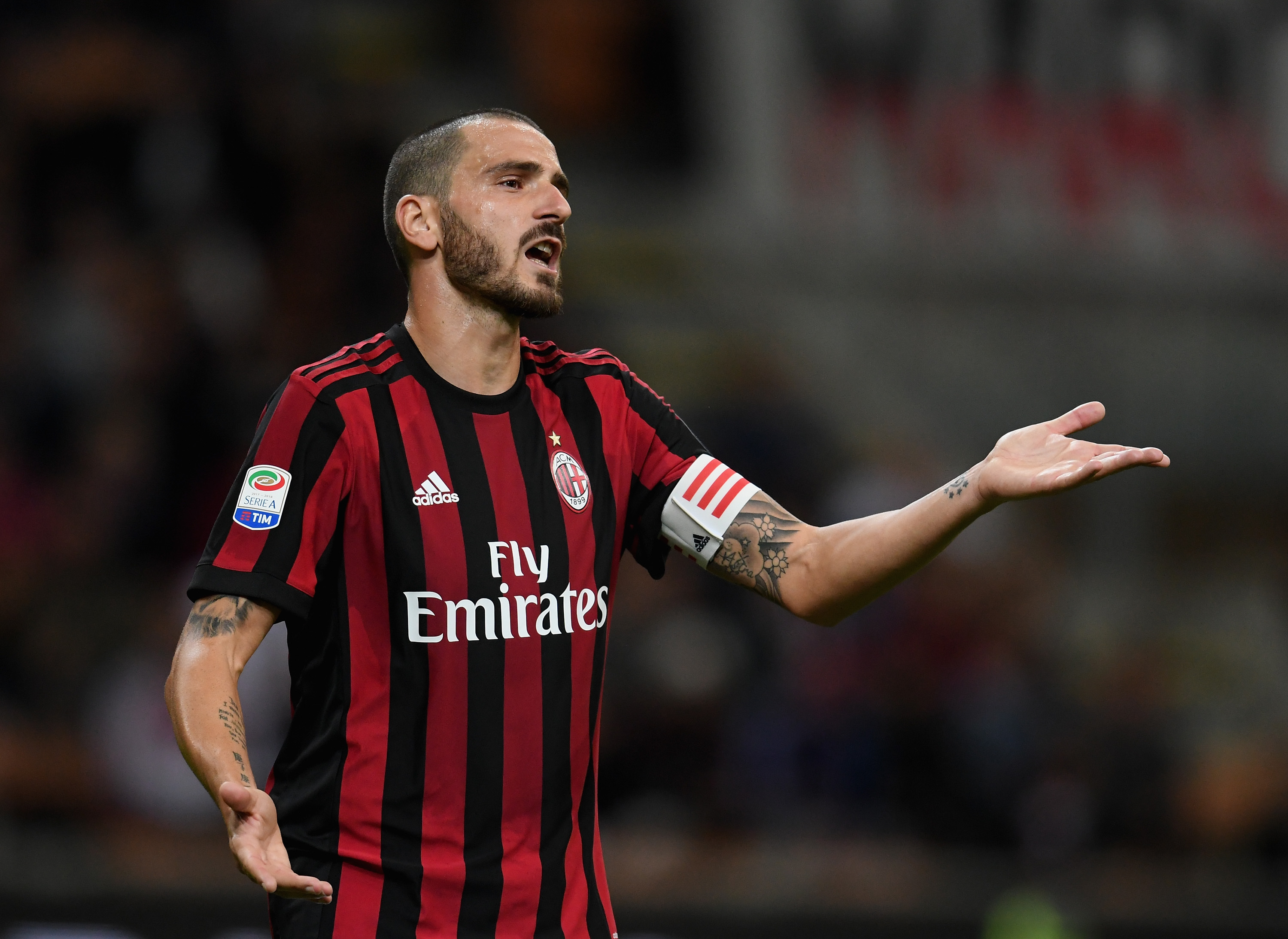 While Bonucci's performances were not terrible, it was clear that he was unable to have an impact on the team's mentality and at the end of the season expressed his wish to return to Juventus after just one year at the club.
Despite falling out of favour with Juventus supporters following his departure from the club, his performances upon his return to Juventus brought back cheers in his favour and the Italian international has now won two Serie A titles since his return.
Pierre-Emerick Aubameyang
Pierre-Emerick Aubameyang is arguably the greatest player that has passed through the Milan youth system yet unfortunately did not make one single official senior team appearance.
However, he did play several pre-season friendlies at the start of the 2007-2008 season and performed quite well but not enough for the Milan management to keep him around with the first team.
Ironically enough his older brothers Willy Aubameyang and Catilina Aubameyang – who were all part of the Milan youth academy – were slightly more fortunate as they all got the opportunity to appear in an official game for Milan, yet none of the two older brothers were able to have the same successful career of their younger sibling.
The more well-known Aubameyang moved on loan to Dijon, Lille, Monaco and Saint-Etienne between 2008 and 2011 and while he did not perform to a high standard his performances were good enough for Saint-Etienne to sign him permanently for the small sum of €1.8m.
After this transfer, Aubameyang had a breakthrough scoring 25 goals in two seasons for Saint-Etienne before moving to Borussia Dortmund where he would link up successfully with Marco Reus and score 98 goals in 144 games and winning three domestic cup competitions, Bundesliga Player of the Year in the 2015-16 season and Bundesliga top scorer in the 2016-17 season.
Midway through the 2017-18 season, Aubameyang was involved in high profile transfer to Arsenal which would cost the Gunners approximately €64m. Pressure on Aubameyang was at an all-time high as the Arsenal supporters were in desperate need of a replacement for Alexis Sanchez.
The Gabon international has not disappointed so far scoring 56 goals in 94 appearances and has also captained the side since November of 2019.
Manuel Locatelli
The latest AC Milan 'regret' had similar beginnings to Pierre-Emerick Aubameyang as they both formed part of the AC Milan youth academy.
Similarly to Gianluigi Donnarumma, Locatelli got his senior team call-up from Siniša Mihajlović in the 2015-16 season but would not get regular first-team football until the following season when Vincenzo Montella was at the helm.
Positive performances at the start of the season were an early indication of a bright future for the young Italian midfielder but a long-term injury to Riccardo Montolivo put pressure on Locatelli to become the starting regista. Unfortunately, the pressure along with an inconsistent supporting cast did not result in great performances with many beginning to criticise whether the 18-year-old was ready to perform at these levels.
In the following season Milan bought Lucas Biglia to take over the starting role ahead of the both Locatelli and Montolivo and therefore Locatelli's role was relegated once again to that of a substitute.
In Gattuso's first full season as a coach, Maldini and Leonardo brought in Tiémoué Bakayoko and seeing that Locatelli would not get any playing time they entered into an agreement with Sassuolo, giving them Locatelli on loan with the obligation to buy for €12.5m.
Here is Locatelli's screamer that won Milan the game against Juventus! He is 18-years-old ladies and gentlemen. #MilanJuventus pic.twitter.com/s7armBQjQi

— SempreMilan (@SempreMilanCom) October 22, 2016
Under the management of De Zerbi, Locatelli found more space and playing with a mid-table team put less pressure on him to perform. His performances at Sassuolo put him in place for a national team call-up and he managed to make his debut in September of 2020 against the Netherlands.
His start to the 2020-21 season has also been very positive with many questioning whether Milan made the right choice to let go of such a prospect. In Milan's defence, it is clear that with the presence of Tonali, Kessie and Bennacer in midfield, he would still struggle to find a spot, but he would definitely have been a useful option to enhance the squad's rotation.
Patrick Kluivert
Not many football fans remember that the Dutch legend Patrick Kluivert passed through the San Siro in the early parts of his illustrious career.
Kluivert started his career at Ajax under the management of Louis van Gaal and was part of a special group that consisted of Edwin van der Sar, Frank De Boer, Edgar Davids, Marc Overmars, Frank Rijkaard, Jari Litmanen and Clarence Seedorf.
The 1994-95 Ajax squad was able to win the Eredivisie title without losing a single game but more importantly the team won the UEFA Champions League final against Milan where Kluivert scored the 85th minute winner.
Rejecting the opportunity to re-sign for Ajax at the end of the 1996-97 season, Kluivert had the option to leave the club on a free transfer. The Rossoneri decided to pick up the Dutch striker to bolster the squad that had finished the previous Serie A season in 11th place.
While Milan used to have some of the greatest attacking players in the late 80s and 90s, at this point in time the only dependable strikers in the squad apart from Kluivert were George Weah and Maurizio Ganz. As history would show he did little to improve the club's performances and only managed to score 6 goals in 27 Serie A appearances with the Milan side finishing in 10th place to mark another abysmal season.
Just before the start of the following season, the Milan management was able to sell the striker to Barcelona and reunite him with his former Ajax boss Louis van Gaal. His six seasons at Barcelona were a definite success in part due to his successful link up with Brazilian legend Rivaldo.
In spite of the successful performances he was unable to repeat the success that he had with Louis van Gaal at Ajax, winning only one La Liga title during his period with the Blaugrana. His success was not limited to club football but one could argue that his greatest success came in international football wearing the orange kit for the Dutch national team.
With the Oranje Kluivert was able to score 40 goals in 72 appearances and is recognized today as the 3rd top scorer in Netherlands history behind Robin Van Persie and Klaas-Jan Huntelaar.
Edgar Davids
One year prior to acquiring Patrick Kluivert, the Diavolo took a chance on another member of the legendary 1994-1995 Ajax squad, Edgar Davids.
At Ajax Edgar Davids was a strong, aggressive ball winning midfielder with technical capabilities to make him a complete midfielder capable in playing several roles simultaneously in midfield.
Unfortunately, in his first season with Milan he struggled to integrate well with the squad and also suffered a major leg injury that put him out for a significant portion of the season. Davids left the club in December of 1997 to join Juventus led by Marcello Lippi and by the end of the season would win the Serie A league title and reach the UEFA Champions League final.
His success at Juventus was in part due to the successful link-up with Zinedine Zidane and Alessandro Del Piero. This link-up would last until the 2000-2001 season when Zidane would leave Turin for Madrid.
Davids would leave Juventus in the middle of the 2003-2004 season having won a total of three league titles to join Barcelona. His career would however bring him back for one more season in the city of Milan but this time it would be for neighbours Inter.
Edgar Davids also appeared 74 times for the Netherlands national team to ensure a career full of success and recognition despite his misstep in Milan.
Patrick Vieira
So in 1997 AC Milan had Patrick Kluivert, in 1996 they had Edgar Davids, but surely in 1995 everything was still going plain sailing right? Wrong.
In 1995 Milan signed 19-year-old Senegal-born Patrick Vieira. Vieira had made his professional debut for French club Cannes in the French Division 1 (now known as Ligue 1) in 1993 and was named captain of the club just half a year later.
His physical and technical superiority in midfield caught the eye of the Milan management and two seasons into his professional career Vieira made the dream move to Milan.
However the Rossoneri midfield was stacked at the time with names such as Zvonomir Boban, Demetrio Albertini, Dejan Savićević and Roberto Donadoni. Vieira would only last one season at Milan appearing just twice in the entire season.
It didn't take too much time for Milan to give up on the French midfielder and despite talks with Ajax it was Arsenal who moved in on the 20-year-old on the insistence of new manager Arsène Wenger.
Under the management of Wenger Patrick Vieira would spend nine full seasons at Arsenal winning three league titles and four FA Cups all while being one of the key elements to the club's success.
Vieira was also able to captain the 'Invincibles' team of 2004 alongside other legends such as Ashley Cole, Robert Pires, Dennis Bergkamp, Sol Campbell and Thierry Henry.
He would however get revenge on his bad experience at Milan going to Juventus in 2005 and winning the 2005-06 Serie A (which was stripped due to the Calciopoli scandal).
After Juventus were demoted to Serie B, Vieira would go to Inter where he would win 4 more Serie A titles but was mostly a rotational player in the squad led by Roberto Mancini and Jose Mourinho.
Vieira also has an established international career paying 107 games and winning the 1998 World Cup and Euro 2000.
---
Let us know in the comments which of these players should have been given more of a chance in the Red and Black uniform and which players we forgot to mention!