Throughout a season there are a number of players who fall under intense periods of praise and criticism, as is natural because of the reactionary nature of football fans. However, for Milan captain Alessio Romagnoli that applies more so than most.
A general observation when looking at the reactions of pundits and fans on social media reveals a rather clear divide regarding the 26-year-old. The camp seems to be split in two between those who believe that Romagnoli is being unfairly criticised and should in fact be praised because of the credit he has in the bank, while others believe his inconsistency is enough to doubt whether he is the right centre-back – let alone captain – to lead the club into the Champions League and beyond.
When he arrived at Milan all the way back in 2015 for a fee of €25million, Romagnoli was instantly shackled with a reputation as a player who could become a mainstay of the defence for the next decade given how promising he had been with Sampdoria. His potential and his upward trajectory was so high, that it was a matter of time before he became immovable in the national team too, especially based on his early performances at Milan.
Now though, it seems that doubts are beginning to creep in regarding whether the Roma academy product even deserves a new contract, given his current deal expires in 2022. Here, we try to unpack what is behind the Romagnoli enigma…
Playing style
Without wanting to begin the analysis by making it sound like a player profile, it is important to set the scene by acknowledging what type of a centre-back Romagnoli is and the strengths that Milan knew they were buying into when they invested in him five-and-a-half years ago.
It has become apparent over the past half-a-decade that his key abilities are very much more in the mental aspect of the game and the distributive side of things. Romagnoli would have actually been an ideal sweeper in the systems of old, because he is not blessed with pace but instead consistently shows his awareness and anticipation when in danger and knows how to act upon such instincts.
Romagnoli has never been and is never going to be a defender who physically bullies an opposing striker, especially if they are as big as him. To put it more simply, rather than going 50/50 for a duel in a dangerous area, he is more the kind of central defender who will aim to make sure the ball doesn't even get near to begin with. He has a knack for timely interventions, which is something that is almost unteachable.
His distribution is also something that has garnered a lot of credit. Even when under pressure (although there have been some errors in judgement) Romagnoli can pick it some excellent passes, as seen by the almost 50-yard ball to set Theo away below.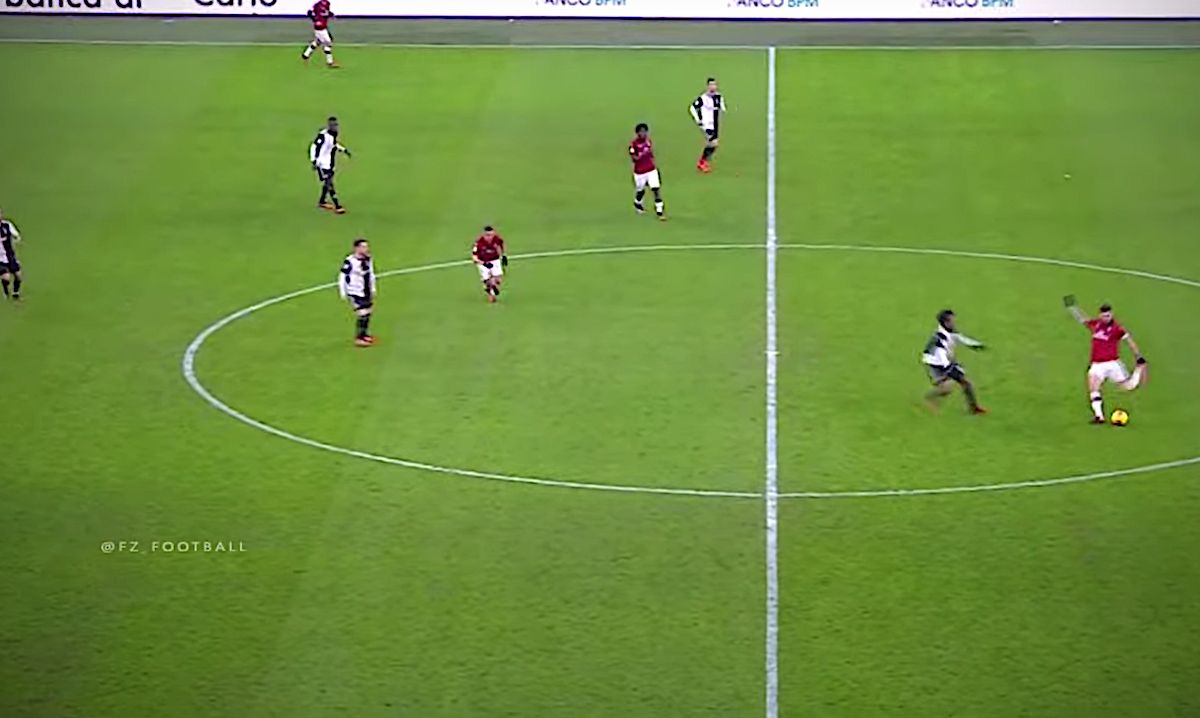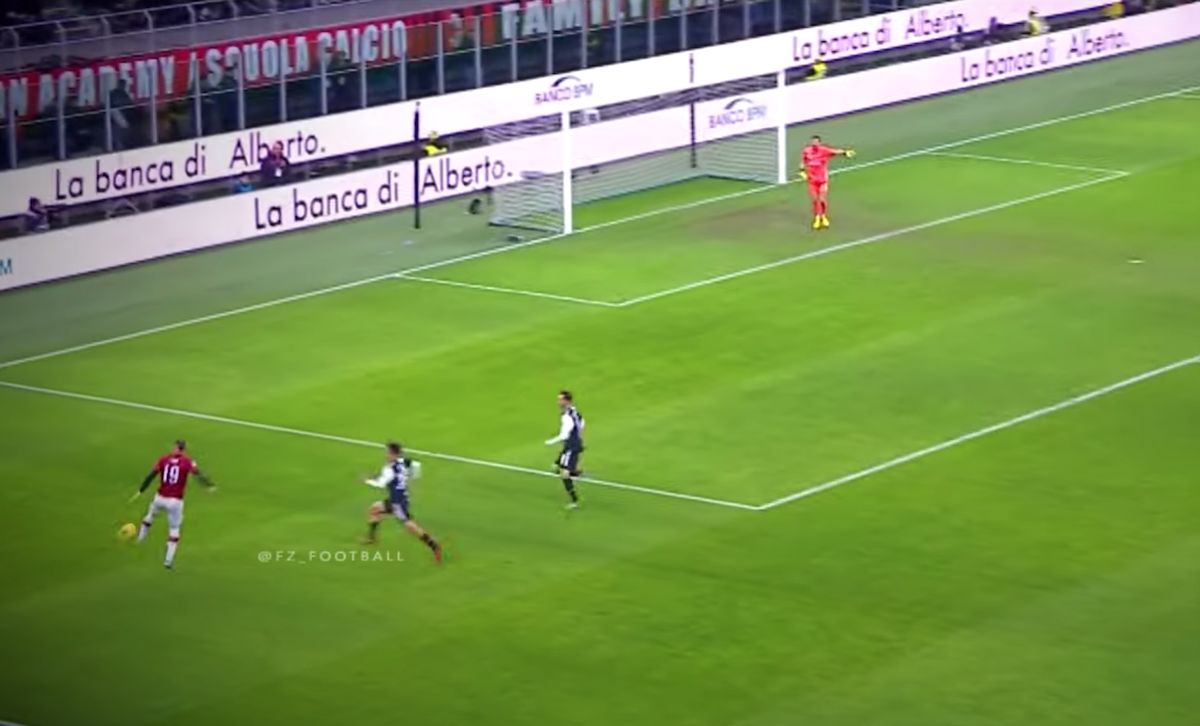 However, the drawbacks come when he doesn't get the anticipation side right. As we have seen in multiple important fixtures, Romagnoli can sometimes be left lacking against top opponents who are too smart from a movement and positional point of view or can simply overpower him. His duels against Romelu Lukaku are a fine example of both.
He gets into trouble when the play goes from being entirely in front of him to being over his shoulder. For the most part, Romagnoli defends very adequately when things are all under control and he is asked to deal with more hopeful probes of Milan's 18-yard box. When the team are cut open though, he has fear of the unknown.
Signs of life
The thing that brought about a big transformation last season though was the addition of Simon Kjaer, as the Dane's presence provided something that Romagnoli hasn't had for a while in a partner and that is real grit and fight.
When looking back at some of the names that have partnered Romagnoli, some like Alex and Gabriel Paletta are actually not too far off in terms of the kind of complimentary player that he needs to show his abilities. And there have been plenty on show.
One thing that Romagnoli has used as a strength is the angle of pursuit that he is able to read and deploy when the play is in front of him, with the examples below demonstrating that he has a knack for anticipating the movement of the forward and where the pass will be, often snuffing out some potential high-danger chances.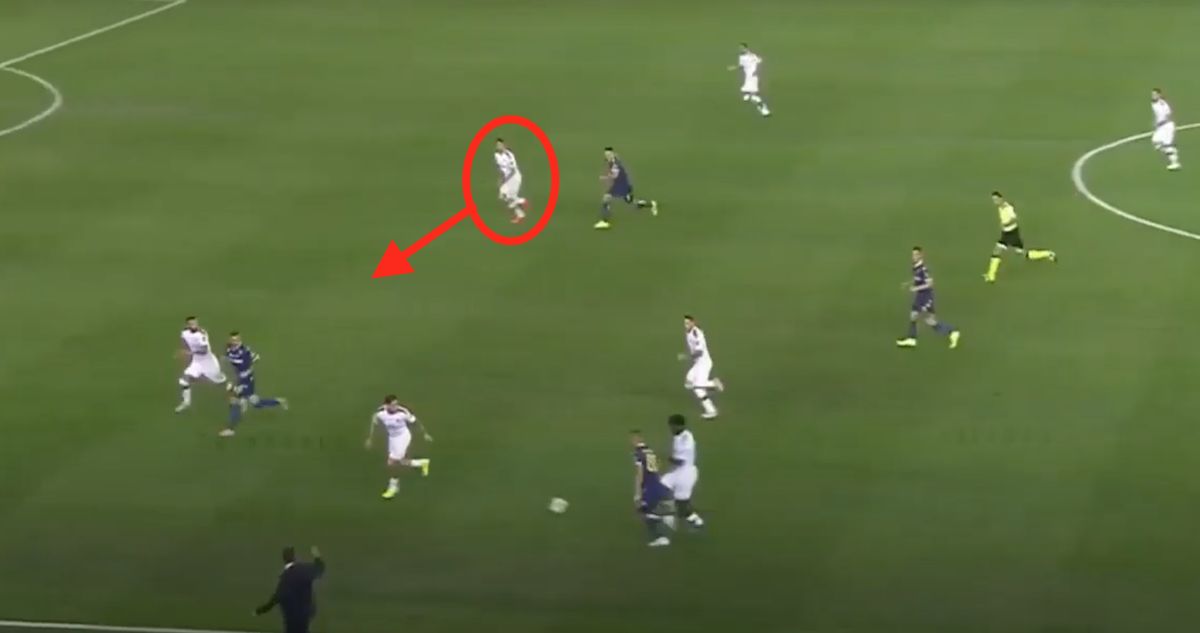 In the above sequence we see how he spots the ball into the channel created from a moment of disorganisation and gets over to deal with it, while in the passage below it is even more impressive of an intervention because of the dangerous situation developing on the edge of the box (highlighted in green).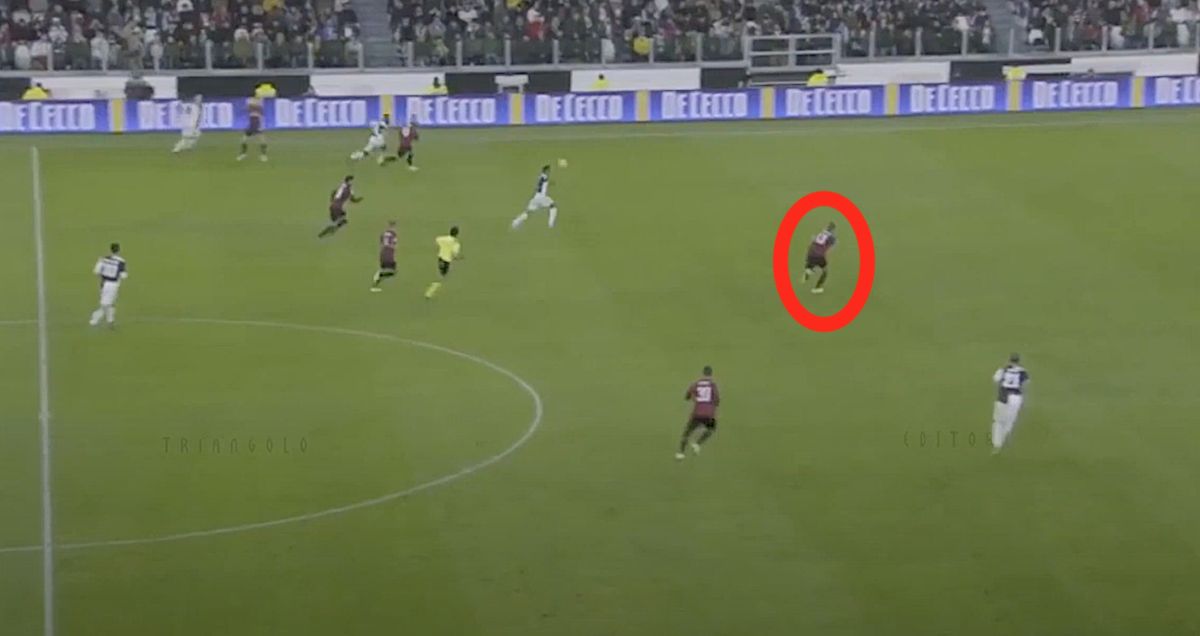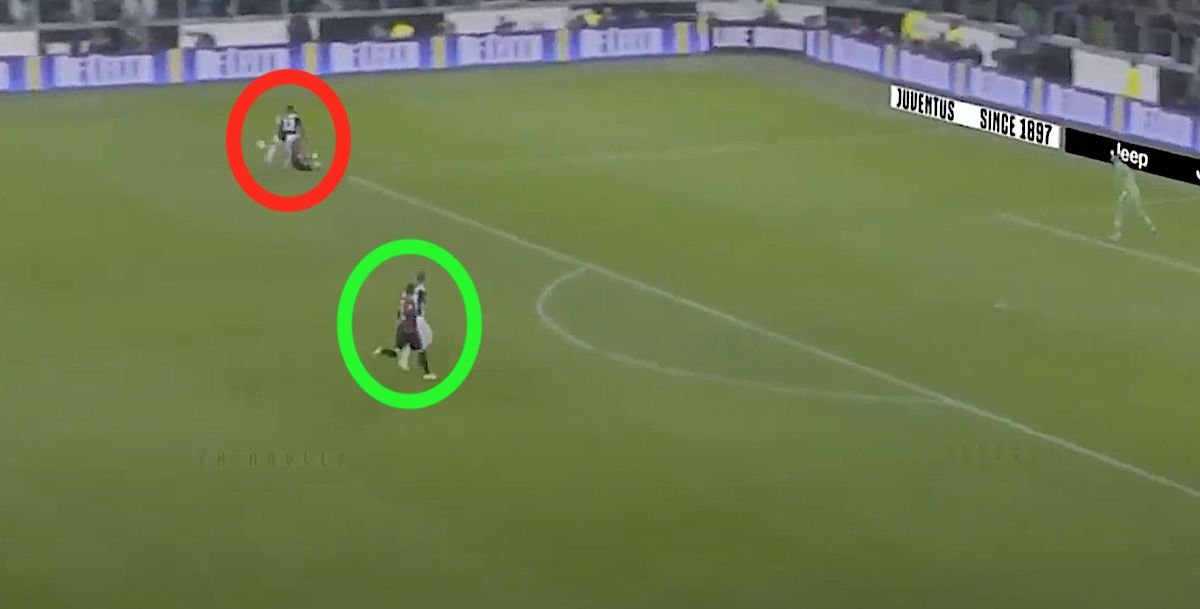 Below is an example of the anticipation that has been talked about above; i.e. the ability to position himself right inside the area – often not touch-tight with the centre-forward or anything close to that – but then use that separation to gain a clearer picture and make the interception.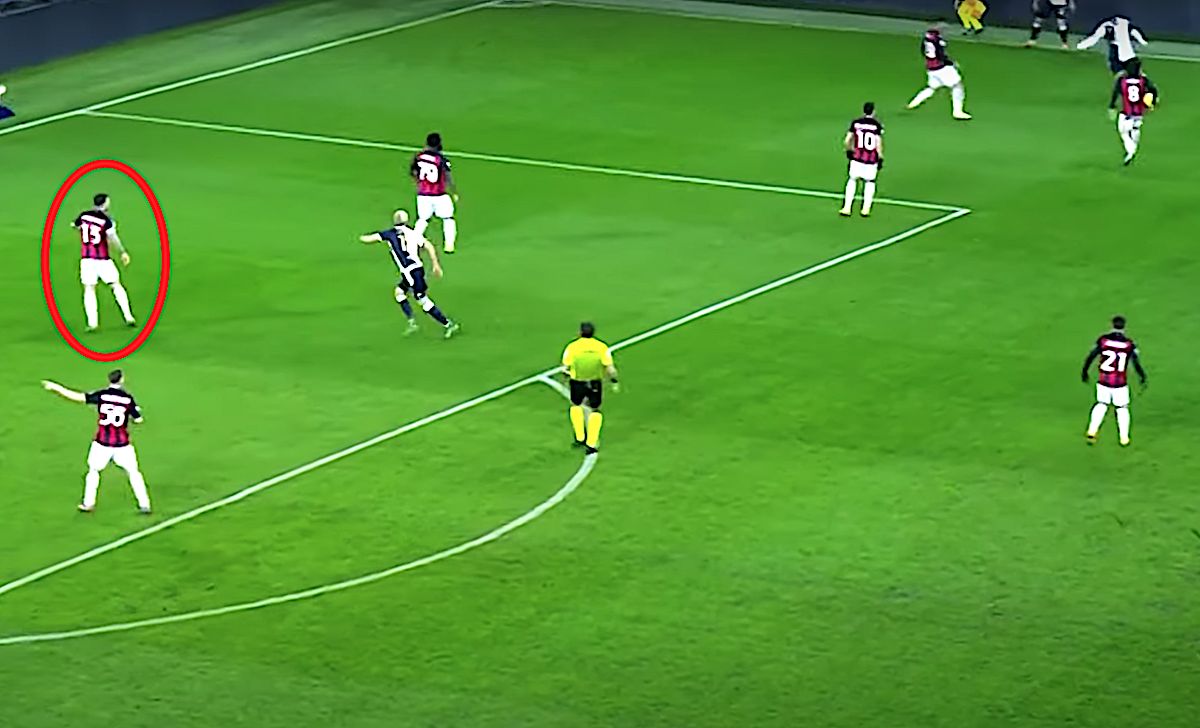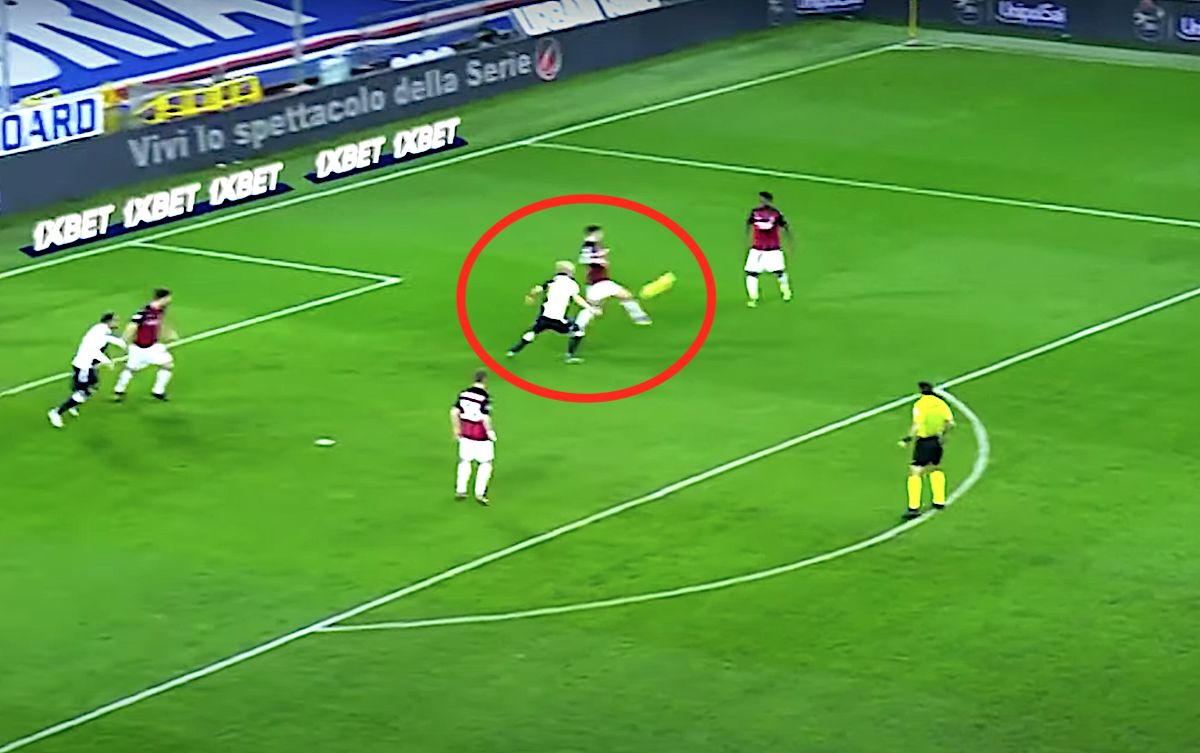 Another strong component of Romagnoli's game which has been mentioned before is his ability to step out of a deep defensive line into the pocket of space between the back four and the midfield and intercept the attacker, often knowing he has ample cover behind him.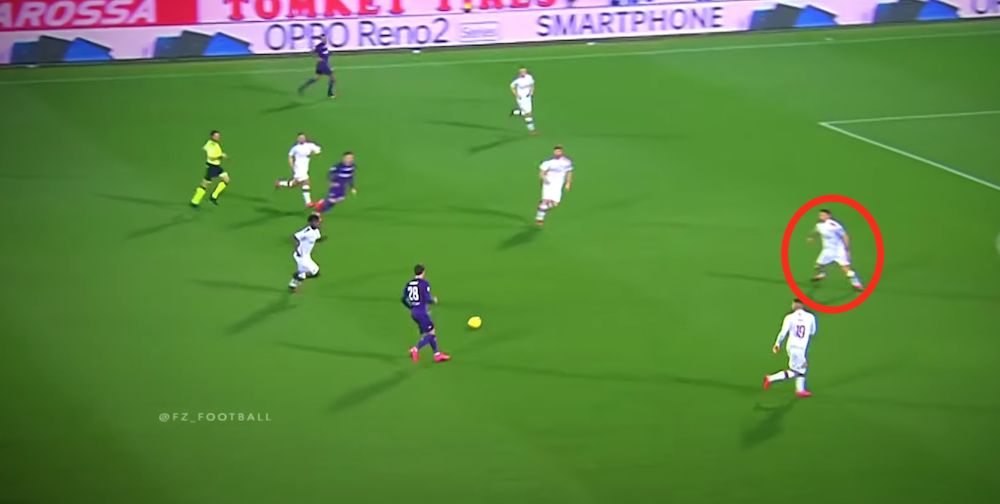 This particular passage of play sees Milan happy to cede a picket around 25 yards from goal, knowing the opposition will be sucked into the trap and Alessio can do what he does so well.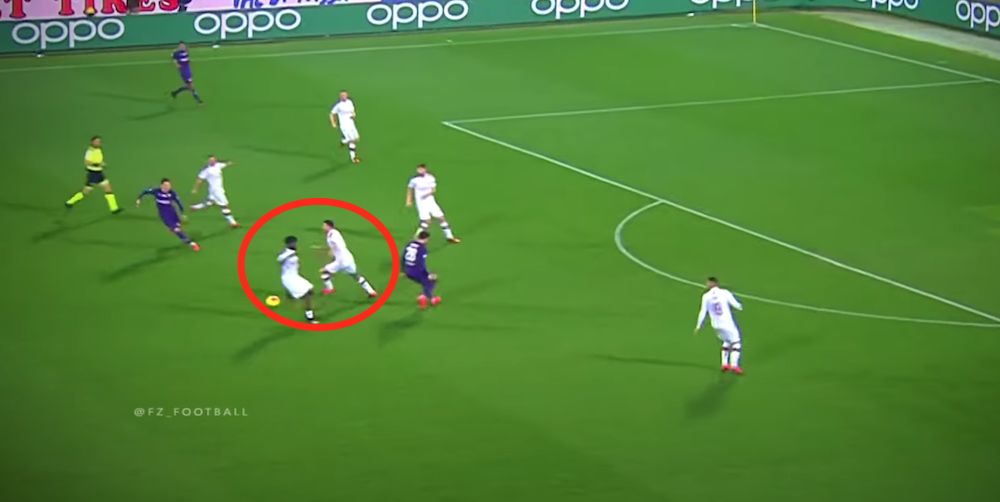 That doesn't just apply to situations dropping deep either. We have seen the Italian read situations well to thwart counters and even send the ball back the other way, as seen below.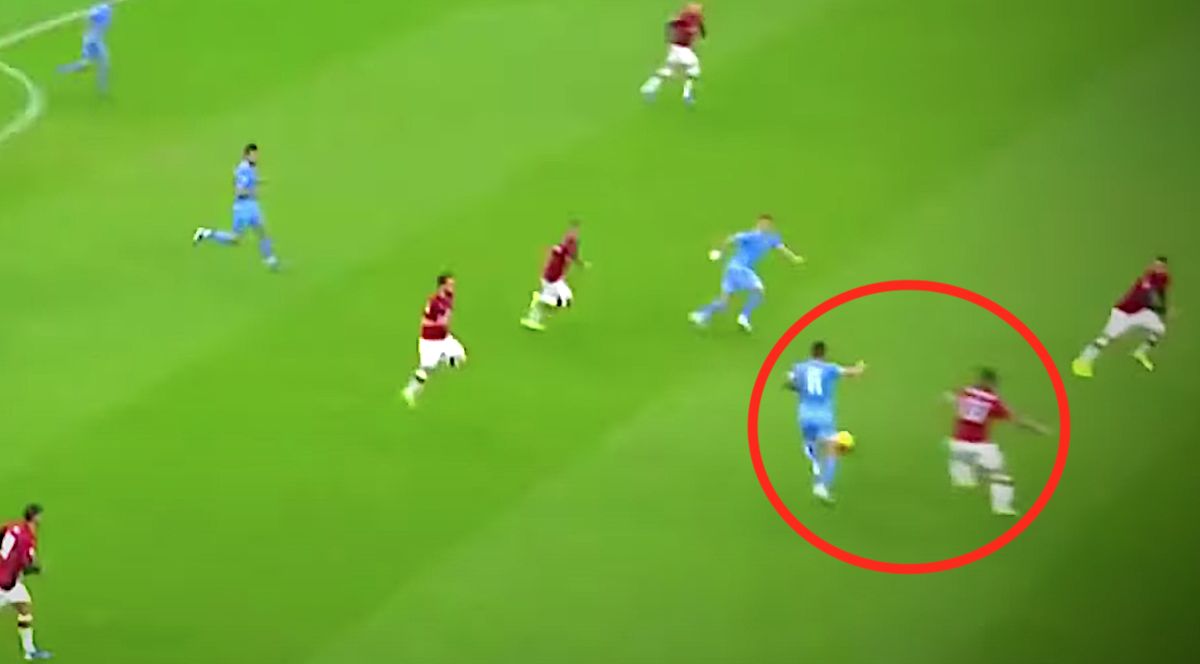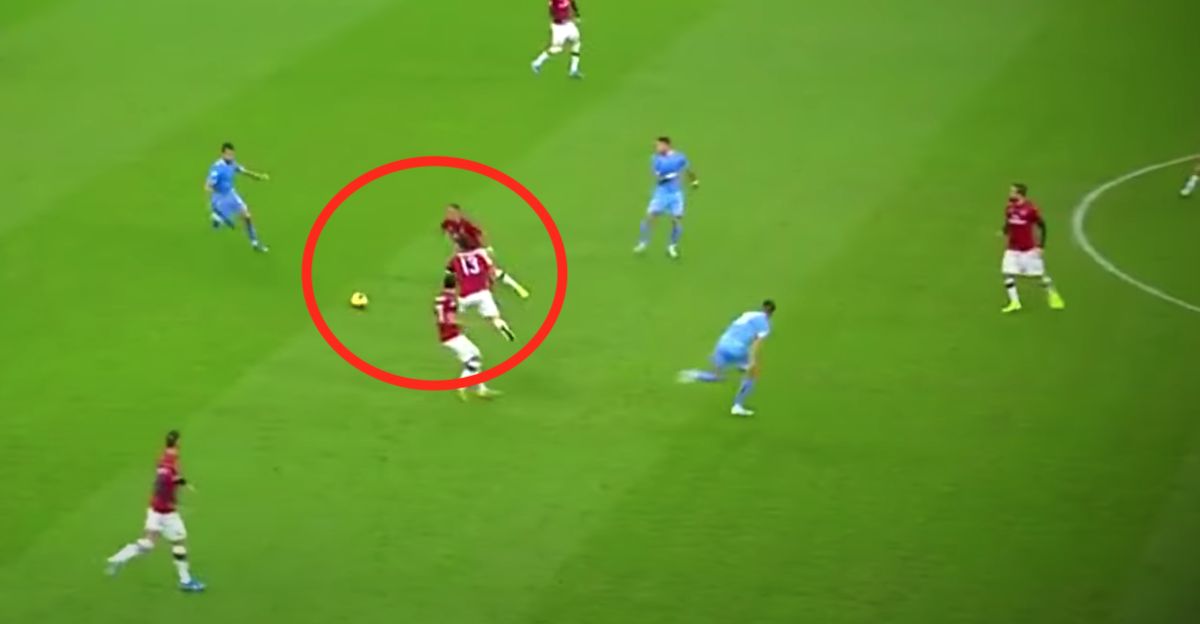 Change in approach
The aforementioned is exactly why we appeared to see the most confident version of the Italy international under the 4-3-3 then both Vincenzo Montella and Gennaro Gattuso deployed from 2017 to 2019. In this system, the four-man defence was allowed to sit deep and contain which worked perfectly for Alessio as the play was in front of him.
That has all changed since Stefano Pioli took the helm after Marco Giampaolo's disastrous 111-day tenure, which dented the psyche of a lot of players. The current boss has also focused on using a four-man defence throughout, but with a key difference: the line must play much higher compared to previous coaches.
The elixir of Pioli's approach is pressuring opponents, winning the ball back quickly and countering with frightening speed to ensure that his team are always dangerous and are on the front foot even when not in position.
This has, however, exposed some of those flaws highlighted in Romagnoli's style as a defender. Again, when Milan are in control of the game and see a lot of the ball, the 26-year-old looks absolutely in his element and we can see some of those distributive qualities as he acts virtually as the quarterback of the defence.
When the high line is breached and/or when the team are pegged back, and there are too many questions asked of his physical attributes such as acceleration, speed, turn, jockeying, outmuscling etc. he tends to be found wanting.
That's not the only problem either. Due to the fact Kjaer is naturally the more aggressive and physical of the too, we have seen him being the one going out to meet the recipient and that has often left Romagnoli in a kind of in-between zone.
Moreover, the fact that he now has a swashbuckling wing-back in Theo Hernandez to his left means that Alessio often gets left in isolation a lot, which is a problem for almost any central defender against an opponent with pace, trickery and/or a good shot, but especially one who struggles to backpeddle at speed like say a Tomori.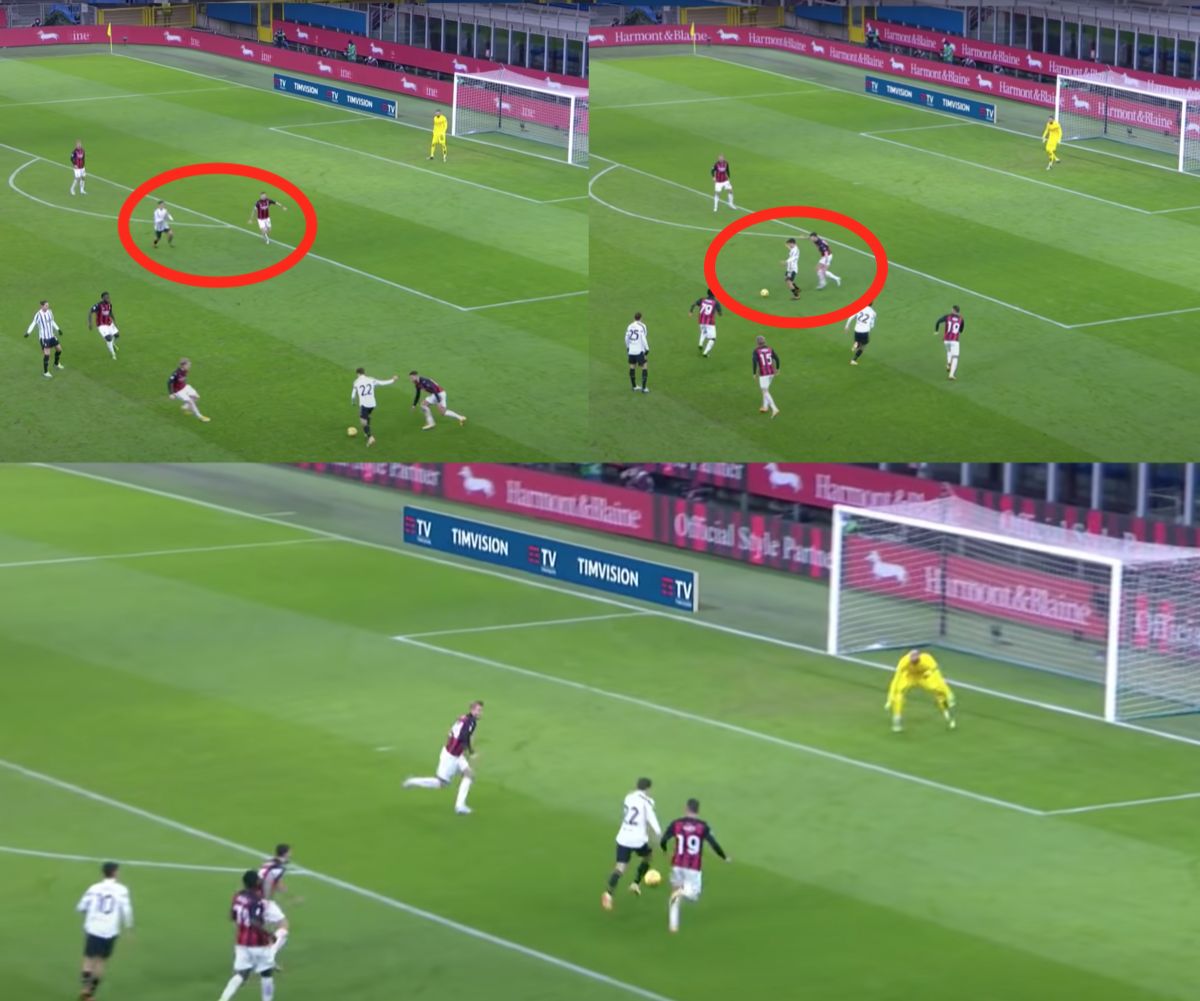 Ultimately, the pair often don't actually have great defensive chemistry and that is something that is seen against opponents who know how to exploit it. The gap left between them has been a problem, and Federico Chiesa was licking his lips for the opener as seen above. There is no pressure on him at all from Theo to play the ball inside, then Romagnoli is tight to Dybala but makes zero attempt to dispossess him, allowing a neat ball in behind for 1-0.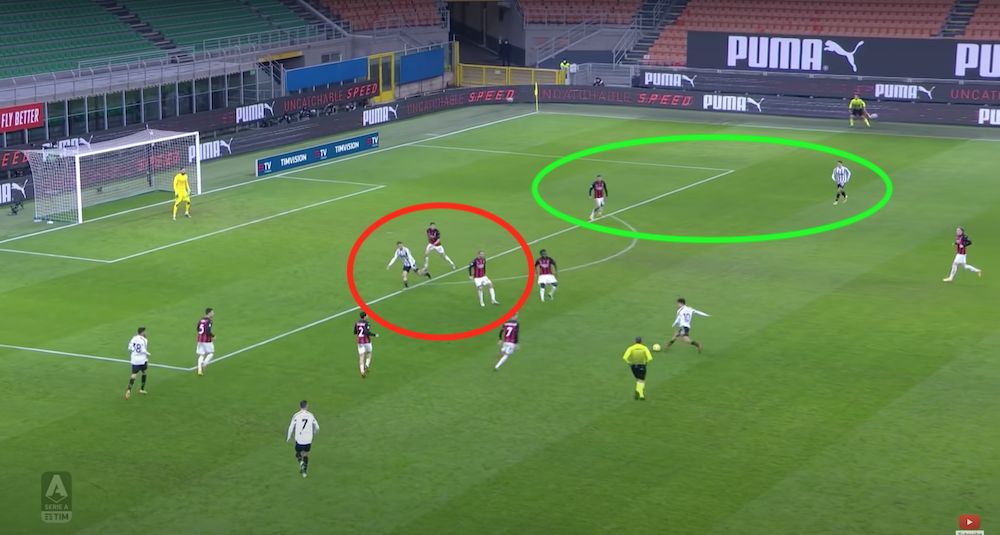 The same happened again when Juve managed to draw Romagnoli over to cover the run of the forward with Kjaer doing his usual aggressive stepping out of the line, leaving Chiesa in isolation and the end result the same as Alessio cannot quite get back fast enough. Top teams will hurt you that way, while others might now.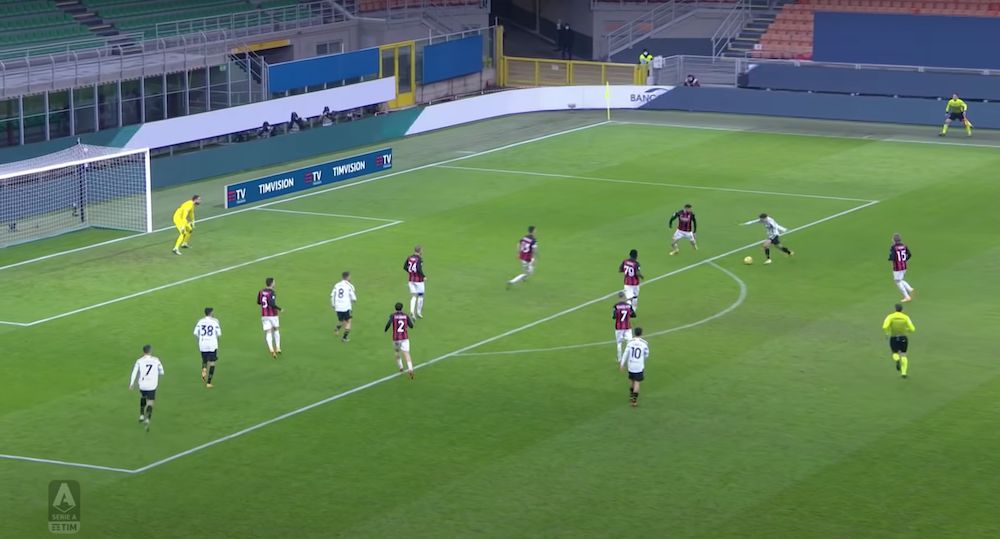 Stats
Thanks to the WhoScored player comparison matrix, we can compare that stats of the Milan captain over the last four seasons (including the one ongoing).
What stands out is that based on defensive metrics such as tackles, interceptions, fouls conceded, offsides won, clearances and times dribbles past, Romagnoli as a collective is having his worst season of the four. In fact, it is only in blocks where he has taken a step forward.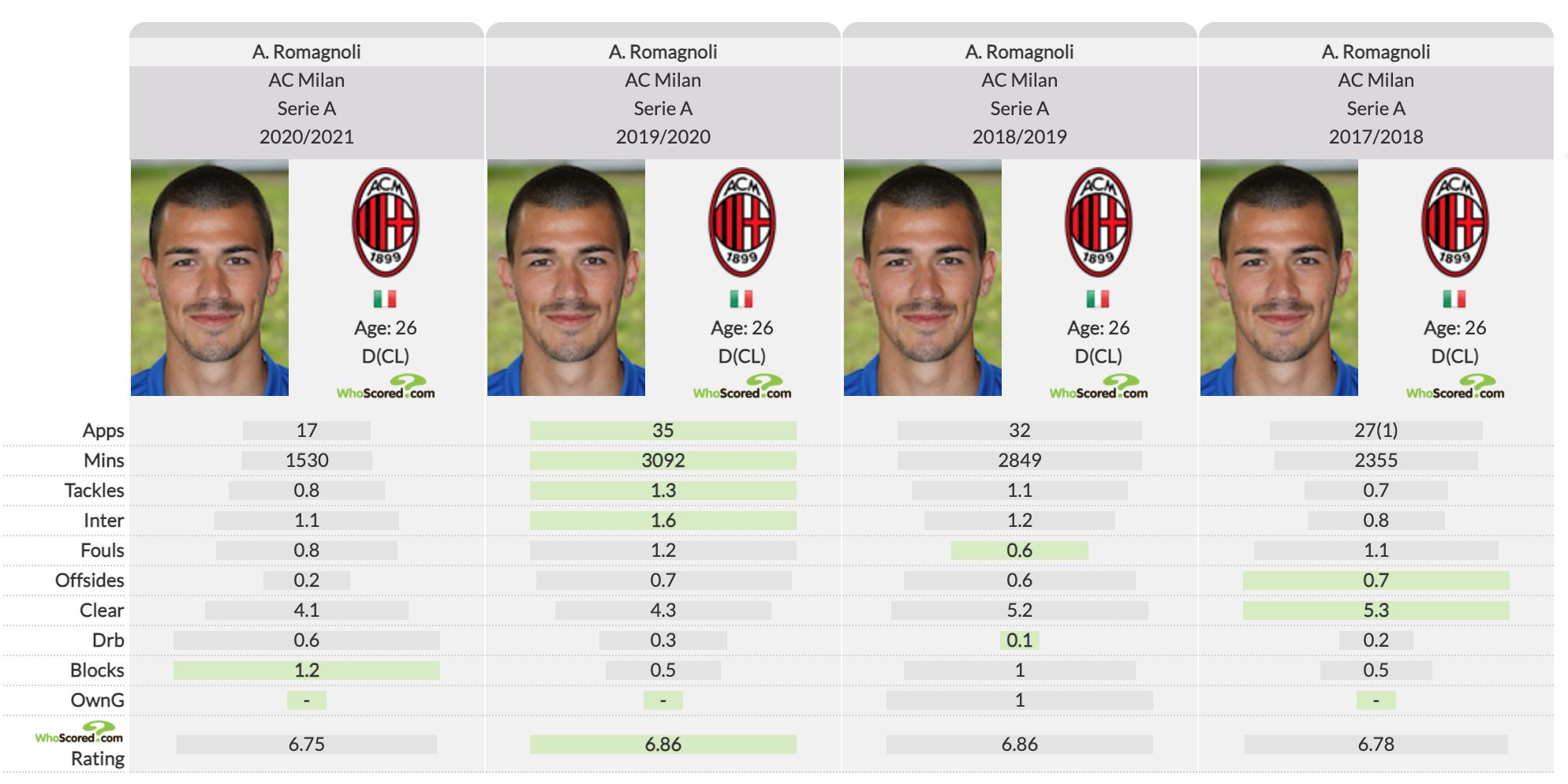 Looking at the passing numbers, and again there is nothing to really suggest Romagnoli is getting better on the ball. In fact, his successful long-ball numbers, key passes and pass completion rate are down from previous years. Is this what a return from injury and a lack of confidence can do?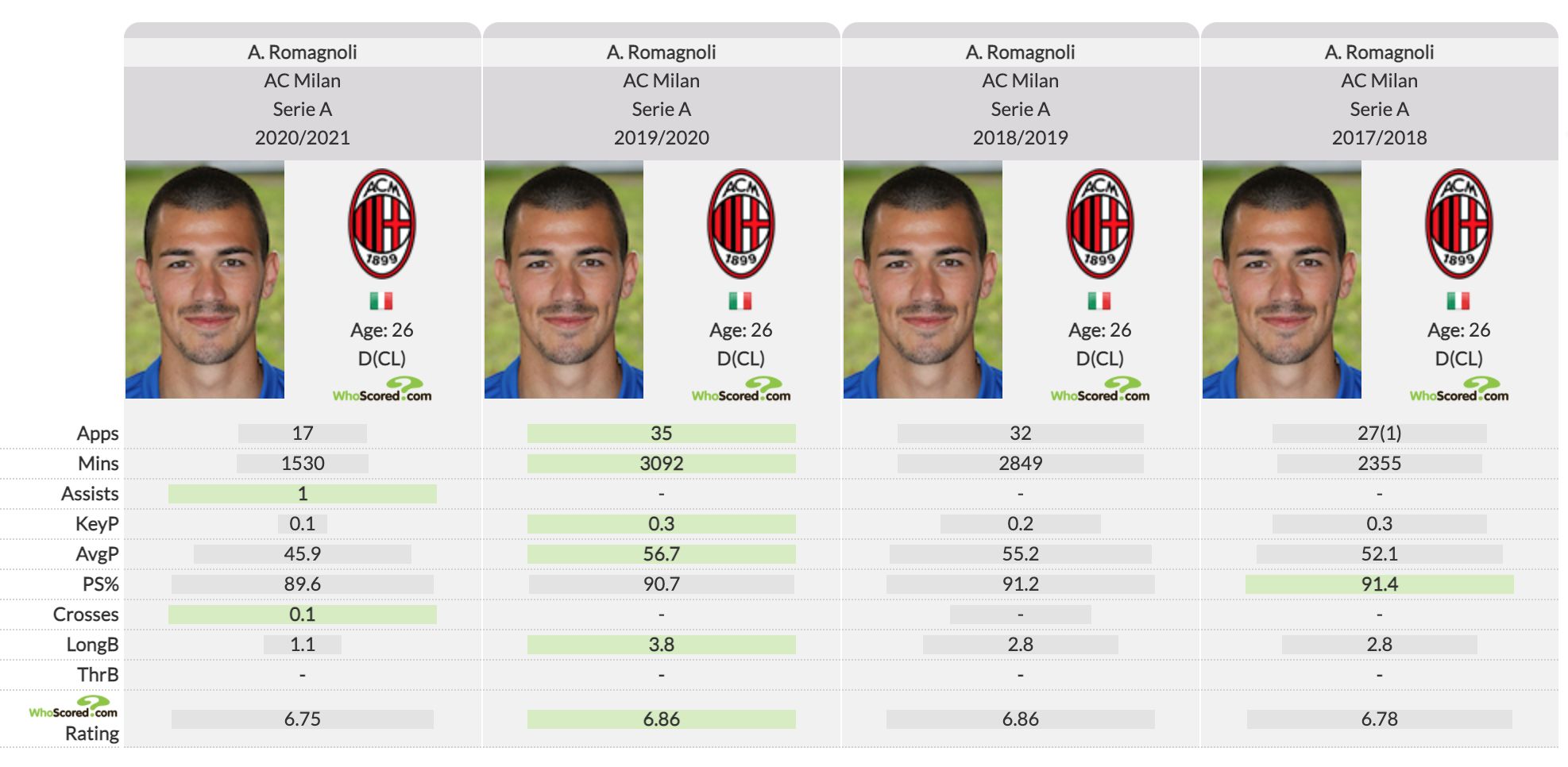 Intangibles
Of course, with Romagnoli there is the added factor of him possessing the captain's armband. There certainly was not huge opposition to him being handed it when Leonardo Bonucci departed back in 2018 as he chose to commit his future to the club in the face of offers from others and his performances had warranted it.
Fast forward to now though, and in a team almost full of very vocal leaders from back to front – players like Donnarumma, Kjaer, Kessie, Calhanoglu and especially Ibrahimovic – the best way for Romagnoli to truly cement leadership status is through consistent above-par performances. That, it would be fair to say, hasn't really happened.
That has led a growing part of the fan base to question whether Romagnoli is captain material. What we would say is that he has most definitely earned some time to put things right, probably until the end of the season, and from a PR standpoint it does not look the best to drop your captain or especially to strip him of it mid-season.
To surmise, that just adds another layer of complexity to the situation. We have seen this player can lead by example, but as the team around him grows and he appears to stand still, how far away is breaking point?
The solution
So, from the above and from the over five years of evidence we have, we can deduce that Romagnoli is very much a predatory defender in the sense that he relies on his instinct to stop dangerous situations before they occur, rather than being able to produce anything last-ditch.
We also know that the current style of play and the way the left side works does not always give him the right conditions to succeed. In truth, the ideal scenario for balance would be a player like a left-footed Tomori, someone capable of covering much more ground in a quicker time and a player who knows how to deal with isolated situations better, given how much Theo pushes up.
In that respect, the solution might be to try the Tomori-Romagnoli pair more but have the latter playing a bit higher up and the former ready to cover across both to his left and to his right as well as snuff out danger in front of him. To do that though, you are almost relying on the Englishman being impeccable.
To tell the truth, there is plenty that points towards Tomori-Kjaer being the best pairing when both are fit, and the metrics below show it. Both are absolute beasts when it comes to tackling, intercepting, clearances and more, but good luck benching your captain.
A statistical comparison of new signing Fikayo Tomori:

🆚 Alessio Romagnoli
🆚 Simon Kjaer

📸 @ViziFootball pic.twitter.com/0KcP37Rkif

— MilanData📊 (@acmilandata) January 27, 2021
After this, you might be left scratching your head as to what the ideal scenario is moving forward, and in all honesty so are we. Romagnoli essentially either needs to find another level to his game in order to ensure he is consistent and can win battles against top opponents regularly, or rely on a tactical tweak that accentuates his strengths more, but then building a system around one player is always a tough sell.
The devil's advocate wants to suggest that Romagnoli would actually be a fantastic fit for a team like Lazio or under Gattuso again at Napoli; one who could better use what he brings to commandeer a back line and let others do the 'dirty work'.
With his contract set to expire in 2022 and talks of a difficult renewal negotiation on the horizon, the management really do have a decision to make regarding the future of their rearguard, and it is a head scratcher we are happy not to have to answer.
---
Want more Milan? Check out our podcast and sign up for notifications on our website for the latest Rossoneri updates. Take a look at our shop, and join in the discussion over on the Rossoneri Discord!