AC Milan played the first game of their 2020-21 season away against Shamrock Rovers in the second qualifying round of the Europa League, and goals from Ibrahimovic and Hakan Calhanoglu gave the a comfortable 2-0 win.
Here are a few tactical notes from the game…
Formation
Milan usually set out in a 4-2-3-1 formation but against Shamrock it seemed a bit tweaked varying from a 4-3-3 to a 4-1-4-1. There have been rumours in the Italian media that Pioli is looking to move towards a 4-3-3 with the arrival of Sandro Tonali.
It is clear that for Italian teams a tactical alteration is required when playing in Europe compared to Italy because of the tendency to sit back and defend in Italy higher as compared to Europe.
The double pivot
After the lockdown, Bennacer and Kessie were instrumental to Milan's upturn in form. It was quite natural to see them playing very horizontally close to each other – especially in Milan's half – not allowing any more than 10-15 yards of space in between them.
Above you can see the change in how the double pivot normally operated versus how it worked in Dublin, as Bennacer and Kessie were basically vertical to each other.
Given how Shamrock's game plan revolved around defending with a deep block and attacking on the counter with powerful and pacy striker Greene, the vertical positioning meant the passes between the double pivot were intercepted less and Milan were less exposed on the counter.
The roles of the midfield trio
As mentioned above, Pioli had Bennacer playing a deeper role while Kessie pushed up. A lot of the time you could see Bennacer drop off from the midfield pairing and form a passing triangle with the two centre-backs to bring the ball out, acting as a deep-lying playmaker (Regista).
He was also working as a shield to the back 4 whenever Milan lost the ball and were countered. To add to the tactical setup, Bennacer sat back as a make-shift centre-back allowing Kjaer to overlap and make runs forward which suggests Pioli is evolving his 4-2-3-1.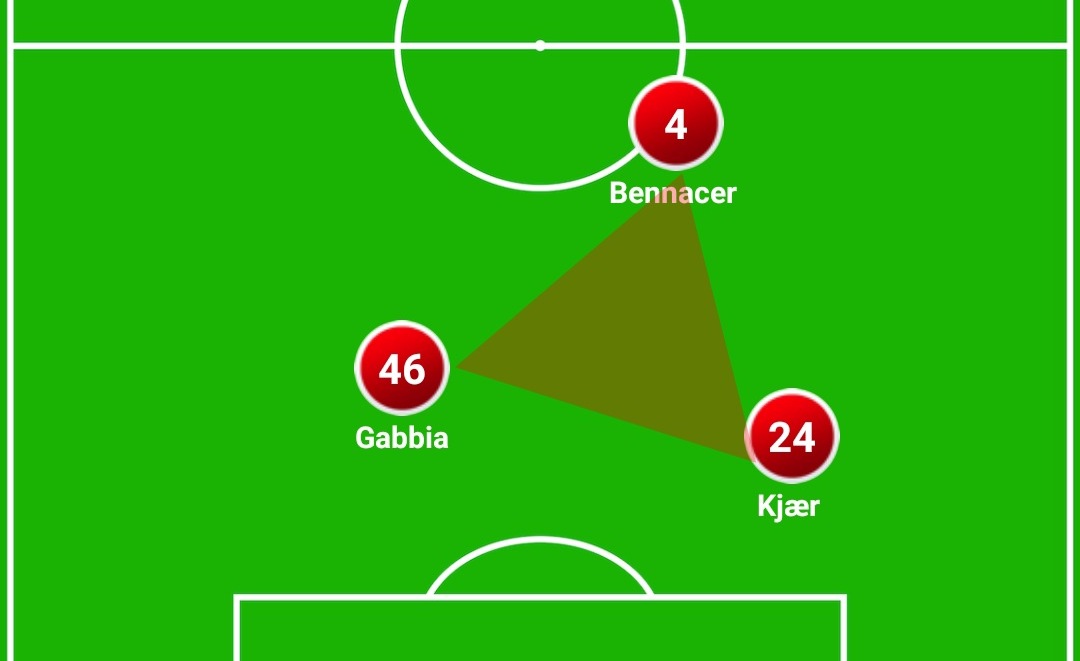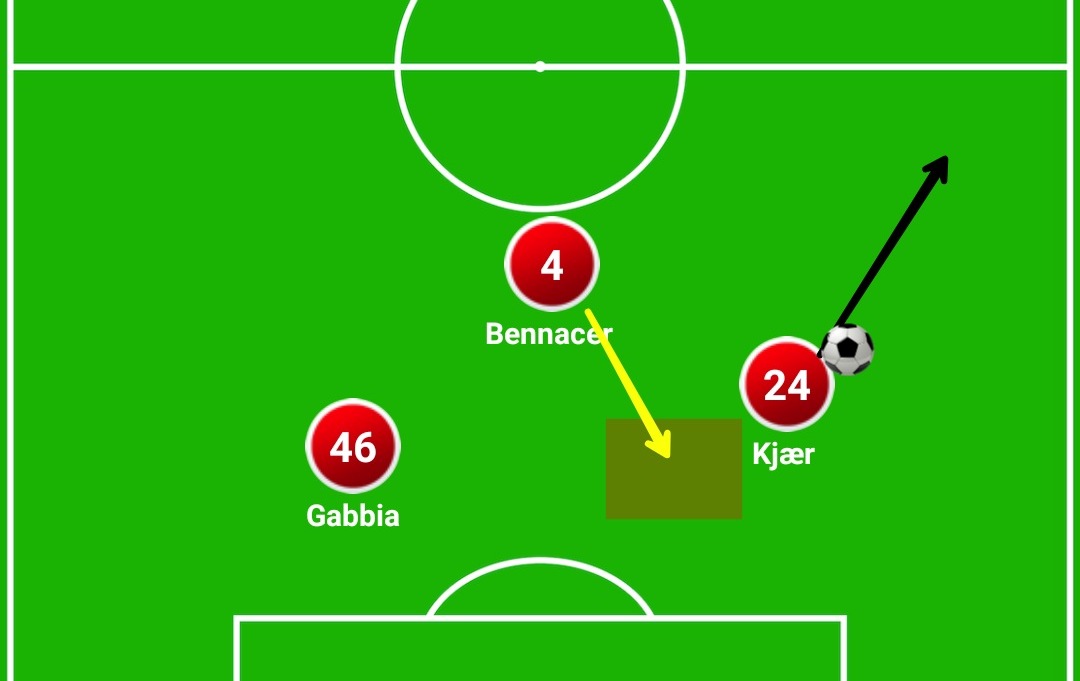 Kessie was the more physical presence in midfield and triggered the press whenever Milan didn't have the ball. He was used to win the ball back and play quick vertical passes to the forwards.
Calhanoglu as usual started from a deeper role on the left of midfield, with Saelemaekers and Theo pushing up more on the left side and then the Turkey international would join the attack as a fall-back option for the forwards to pass tom which is very characteristic of a mezzala.
Pressing and Milan's first goal
A very important aspect of Pioli's game plan was the aggressive and often triangle style press that Milan employed. In the first 30 minutes Milan were not pressing as aggressive as they used to against Serie A teams due to lack of competitive game time.
Once Milan started pressing (with Kessie the initiator) Milan scored the first goal. The Ivorian forced Greene to cough up possession and the ball went to Calhanoglu, who provided an intelligent assist for Ibrahimovic.
Passing combinations and the second goal
In any pressing system – as explained by Jesse Marsch – quick passing combinations are very important to advance the ball forward after winning it back.
Milan were forming very neat triangles all over the pitch with their quick vertical passes and catching opposition players out of position. For example, a neat passing combination put Calhanoglu in space to unleash his shot and he scored the second goal.
GOOOOOAAAAALLLLLL! HAKAN! pic.twitter.com/ksyYVpAjSn

— MilanGifs (@MilanGifs) September 17, 2020
Measured use of Theo Hernandez
To maintain defensive shape and put numbers in attack, Milan had Theo Hernandez sit back whenever Davide Calabria went forward to join the attack. Pioli preferred to unleash Theo more towards the 60th minute mark when defenders are tired and cannot handle the raw pace and physicality that Theo uses.
Conclusion
It is great to see Milan bring tactical tweaks to handle different types of opponent, while keeping the essence of it all as the same.
Milan were deservedly 2-0 winners and the late introduction of Diaz and Tonali, both of whom could be seen handling the ball even under pressure, made it a great sight to watch and exciting future to behold.