AC Milan Primavera boss Ignazio Abate has spoken about some of the principles he wants to establish as the head coach, and about a crucial upcoming season for his side.
From the ownership of Silvio Berlusconi to the Chinese right up to now, there is one name that spans it all and it is Abate. He is about to start his second season at the helm of the Primavera which last year led up to the final four of the UEFA Youth League.
The 36-year-old played in Milan's youth sector from 1999 to 2004, and then remained until 2019 but for a spell of three seasons on loan at Napoli, Piacenza and Modena, and two seasons at Empoli and Torino.
Abate gave an interview with La Gazzetta dello Sport in which he spoke about a number of different topics including the renewal of his contract and what kind of a head coach he would consider himself.
From a Rossoneri heart, we imagine his satisfaction with the renewal of his contract…
"I'm glad they gave me this opportunity, evidently last year's work was appreciated. Underlying everything was the growth of the boys and I imagine that the club saw me as the person who could carry on their project.
"Also because the focus in this age group must always be on the growth of the boys. We immediately agreed on these concepts with the management.
"Furlani followed us attentively already last year, and Moncada and D'Ottavio have always been very present as well."
Describe yourself. What kind of coach are you from a human point of view?
"Let's start by saying that Primavera is not an easy age group. They begin to have an agent, the first contracts, maybe they look out for the first team, but in the end they are always boys.
"I try to be as coherent and loyal as possible, to establish a sincere relationship, like an older brother. My office door is always open, that's right. At the same time, I demand a lot in training."
In tactical terms, what are your principles?
"I don't like to suffer at the hands of the opponent, we try to impose our ideas and our game. Being architects of our destiny with a proactive and attacking football, concepts that improve the mentality of the boys and make them grow in self-esteem."
You are a deep Milanista. How much does having so many years at Milan behind you help?
"It's something more that helps, without a doubt. Maybe even just on an unconscious level he makes you give three thousand percent.
"And it's also a help with boys, because initially it makes you credible immediately. But then, after a month, if it doesn't work, they'll expose you… (laughs). The new generations are much smarter than before."
At the end of the season, a Primavera coach is satisfied if…
"I would be hypocritical if I didn't say that I like to win. So one of the objectives is the result on the pitch, but it shouldn't be an end, but a means for the growth of the boys.
"In reality, the greatest satisfaction would be to see one of my players join the first team on a permanent basis, perhaps making his debut at the San Siro. And when this happens, even with just one player, it means that the youth sector has done its job well."
You told us that the result on the field counts up to a certain point. Could you give a percentage?
"It matters a lot, but it also depends on the goal you set for yourself. For example, this year in the Primavera we had six over the 2004-born quota are allowed and we have a team of 2005-born and 2006, with some 2007 and one 2008.
"It is clear that the difference is enormous. We set off to win against anyone, but reality says that we will encounter great difficulties in the first few months, because the club has mapped out a precise path.
"We believe that speeding up the stages of some talented youngsters, taking them out of their comfort zone and putting them to the test with difficulty, is an important factor. Always giving them the right to be wrong, of course."
And then there are the boys who go up – permanently or not – to the first team…
"Three players in my squad are currently with the greats, and I'm super happy about it: Bartesaghi, Simic and Zeroli. They started as making up numbers, but for now they are still with Pioli. It means that there are positive feedbacks.
"Traoré, on the other hand, it was already planned that he would be promoted to all intents and purposes to the first team."
How do you judge the mercato at a youth level? There are clubs that carry out transfer campaigns almost like for the first team…
"As a Milan fan I say that the dream would be to see a team that out of 25 players maybe has 20 grown in the youth field. In reality, the world is moving forward and the youth market doesn't shock me. Let's say that moderation is needed, the DNA of a club must always come out in the long run."
With the arrival of Elliott and RedBird, the key word at Milan is self-sustainability, which also includes the enhancement of players trained and raised at home…
"The club believes a lot in young players, but I have to say that there has been continuity in this sense. Even Maldini and Massara believed in it a lot."
Moncada is now the right arm of the CEO, Furlani, and he's the head of scouting. How is your relationship?
"He and D'Ottavio are my contacts. We have found each other since day one, the goal and vision are the same. We feel daily, a sincere relationship, they already knew so much about me."
We've been talking about it for years now, does the Primavera's style have to follow that of the first team?
"No. No dictats. They have never asked me this. I communicate with Pioli almost every day, he helps me a lot and I thank him because he is very attentive to our dynamics.
"He gives me lots of advice and makes me open my mind about many things. But let's talk about principles of play and interpretation, not modules."
Are there weekly or at least periodic meetings with Pioli?
"Not really, also because we always try to schedule training at the same time as the first team. We are available. We often play against them, sometimes we do joint training in tactical trials. If the training times don't match, I'll stop to see theirs and it's an opportunity to talk to the coach."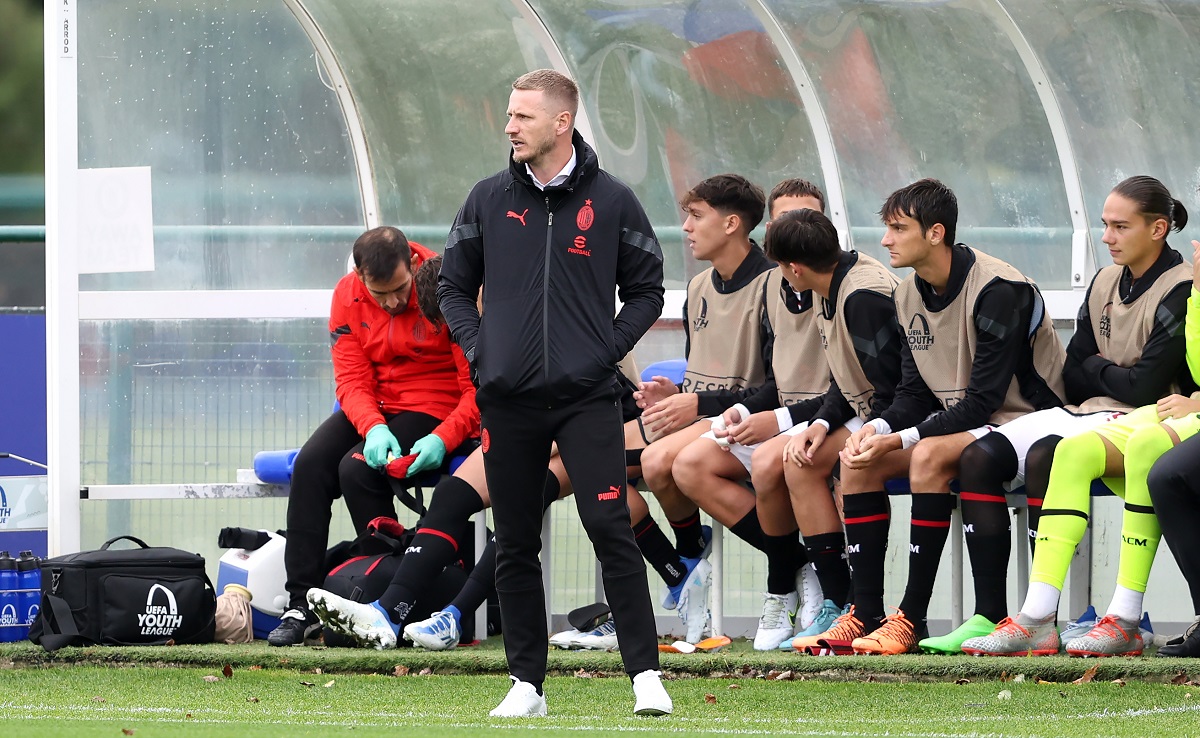 The Primavera now has its own headquarters inside Milanello, avant-garde and complete with everything: guesthouse, changing rooms, medical area, gym, offices…
"Personally, it helps me a lot, starting from my office. It's a crazy structure, an added value at work, the kids have everything and more.
"Sometimes I think even too much… You need to make them understand that your feet have to stay on the ground and it's not all due. And then when you go out, perhaps on loan, everything out there is not like here at Milanello. Sometimes you have to get them back on track."
The coaches, especially in the youth teams, don't like to talk about individuals. But tell us about Chaka Traore…
"He's a very sensitive boy, at first he didn't open up to me much, then I discovered a boy with a heart of gold. He has an incredible talent, a very high technical rate, but he has to match it with concreteness, he's still smoky, he likes himself too much."
The other name is Bartesaghi, who could be promoted to be Theo Hernandez's deputy permanent…
"He has the body to do it. He's got physique, he's got an engine, he's elegant, he doesn't even know the potential he has. He reminds me of Bastoni, but he is not yet well defined in the role.
"He can become a centre-back in a back four, he can be a full-back and also a third in defence. He has to grow from a character point of view."
Camarda is with you this year, a pure talent with lots of goals to his credit. And he is only 15 years old…
"Other than under age. He's under-under age… The premise is that he's much smarter than real age. He has his head on his shoulders, he's a hard worker.
"The club's line that allows the boys to speed up the stages is right, but we still don't know what his impact will be in this category. If the impact is significant, and it is not necessarily so, he will have to be kept down to earth. If he has difficulties, he will be supported.
"We expect him to have them and our real work will start there, helping him not break down. He is a full three years under age. So in my opinion we shouldn't have very high expectations of him, otherwise we hurt him. In terms of the pitch, he is a first striker, a finisher who also knows how to tie the game."
We started by talking about you, we end in the same way. How do you see your future? Always with the Primavera or do you see yourself coaching a senior side.
"Absolutely with the grown-ups. It's a fire that I feel inside, I don't know when but I would like to try. This year I'll do the UEFA Pro in Coverciano and then we'll see, also based on how much I've grown."