AC Milan hosted Tottenham Hotspur in the first leg of their Champions League last 16 tie and managed to secure an advantage heading back to the English capital.
Stefano Pioli rewarded those who impressed against Torino as he went with a three-man defence that included Malick Thiaw and Alexis Saelemaekers at centre-back and right wing-back respectively, with Fikayo Tomori failing a late fitness test.
The home side looked like the team that wanted it more on the night as Brahim Diaz got the early goal and there could have been a couple more late on too, while at the other end Milan looked solid defensively with Kjaer, Kalulu, and Thiaw doing enough to neutralise Son, Kane, and Kulusevki.
Here are five things we learned from the game…
1. A titanium shield 
The defensive display was a joy to watch and it made the sub-par performances of the last month seem even stranger. Kalulu, Kjaer, and Thiaw did a fantastic job and showed great aggresson to come out and man mark Kane, Son, and Kulusevski.
They gave the trio very little space or time to trap the ball and run into space, while in the air Milan's defence won virtually everything that came their way against the team with the most set piece goals in the Premier League.
Tatarutsanu coming to claim corners and crosses was a breath of fresh air, while Saelemaekers and Theo were also good in both phases of the game, but even Giroud and Leao were involved in the defensive part too as everyone mucked in.
2. Bella Thiaw
Malick Thaw got his first UCL appearances after impressing against Torino and the youngster definitely did not disappoint as he had a stellar performance, winning man of the match in our post-game ratings.
Thiaw took care of his man Kulusevski with ease as he showed great athleticism and reading of the game. He got the 'hockey assist' (pass before the assist) on the goal and showed that he can use his feet very well on several occasions with exceptional 40/50-yard balls out wide.
The confidence and composure he showed were also stellar and hopefully, the youngster will continue on the same trajectory as he definitely has that special something.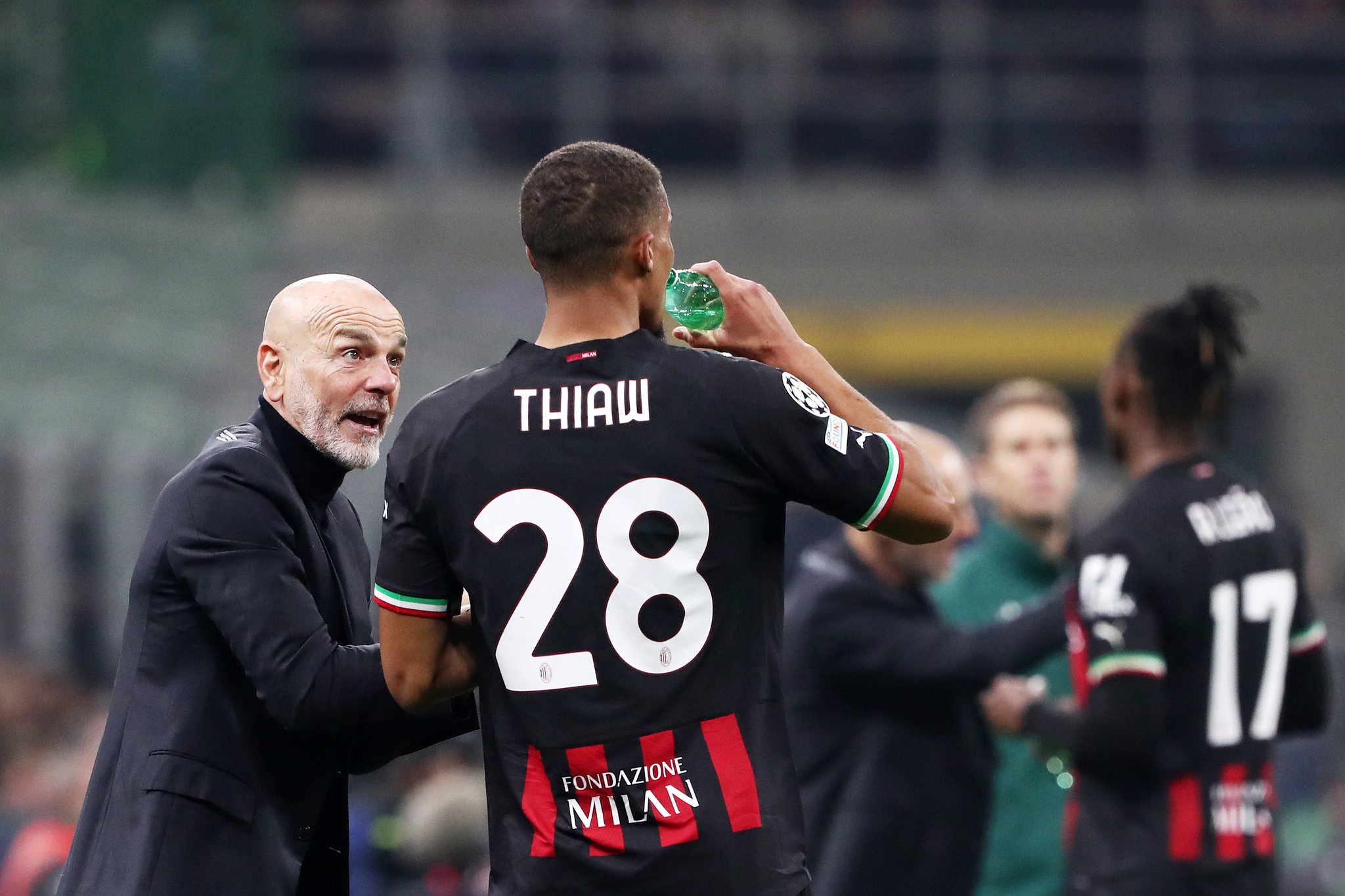 3. Big Improvement
The midfield duo has been a weak spot for Milan in recent weeks and especially in the absence of Bennacer, but this time around Krunic and Tonali did much better and really helped the team in both phases.
Krunic kept it simple and did a lot of the dirty work whilst we finally saw some of Tonali's passing he was also dangerous going forward and drawing fouls for his team, which helped Milan win the midfield battle albeit against a rookie opposition pairing.
4. A different player
Rafael Leao has finally arrived back from the World Cup as he looked like a completely different player against Tottenham. We saw lots of his tricks as he forced Spurs to double and sometimes triple team him pretty quickly.
The Portuguese winger showed great commitment as he also helped the defence on several occasions and was unlucky to not pick up a goal or assist in the second half.
However, he did look fatigued towards the end so he might not be at a hundred percent just yet, but if Pioli can find a way to rotate him a bit then Leao can hit his peak form at just the right time of the season.
.@RafaeLeao7 completed 8 successful dribbles last night. No player has registered more in a single #UCL game this season.

[via @WhoScored] pic.twitter.com/tOktXzdNen

— MilanData📊 (@acmilandata) February 15, 2023
5. The power of the collective
It's as simple as the sub-heading suggests. Milan played compactly and as a team with every player fighting for the ball, which is exactly the Milan that won the title last year but has been missing through January.
Pioli's formation changes and rotations seemed to have worked out and the desire and hunger seem to be back. The coach will have the task to keep things going as they have in the last two games and hopefully rely more on some of the other new signings.
The focus will now be on the league as Milan has 3 important games to play before the reverse fixture against Spurs, one of which is Atalanta, which will be crucial for the top four places.