They say that most things in life come full circle and on 23 May 2021, a cycle that began on 22 December 2019 with a 5-0 drubbing against Atalanta ended with a 2-0 win at Bergamo to take Milan to the Champions League after seven long years of waiting.
During a season that was filled with ups and downs, Milan fans experienced a rollercoaster of emotions. From the 25-penalty shootout on a rainy night in Portugal to defeating derby rivals Inter, going on an unbeaten 28-game run to almost throwing the bare minimum of a top four finish, before reviving hopes with a 10-0 aggregate win over the Turin clubs – this season would have easily got an IMDB rating of 8/10 if it were a Netflix series.
But for any champion who wishes to prove that success is no accident, it is always essential that a review of their actions are taken to rectify errors and replicate the correct decisions. For Milan, a fallen giant it is of paramount importance that they scrutinise every avenue related to the club because the margin for error is very small.
With the failed project of the Super League highlighting the disparity of income between the cash-rich English Premier League and Italian Serie A, Milan needed to be careful with their strategy to ensure that they do not fall into financial obscurity. Entwined in a club's finances are its transfer decisions.
With this review we intend to examine what Milan have done well in the 2020-21 season and what they got wrong in terms of the clubs finances and transfer decisions.
What we got right
➤ A balanced market
Milan were under scrutiny from UEFA under FFP regulations and hence had to balance their exits and entries. As per Transfermarkt, Milan made a total of €30.73m worth of purchases and sold players worth €47.95m making it a positive net spend of €17.22m. Tthis came with Milan's on-field performances not suffering, as the Rossoneri finished with their highest point tally since 2011-12 season. A job well done indeed by everyone in the management.
➤ Trimming the wage bill
One of the problems plaguing Milan was that the wage to turnover ratio was an undesirable number, which meant that the wages were at an unhealthy high and the results did not follow.
Therefore the exercise of trimming the wage bill started since the 2019-20 season when Bonaventura (€2m net), Biglia (€3m net), Suso (€3.5m net), Musacchio (€2m), Pepe Reina (€3m net), Rodriguez (€2.2m net) were offloaded and players like Conti (€2.2m) were loaned, partially offsetting their wages. This reduced Milan's wage bill to a total of €83.94m.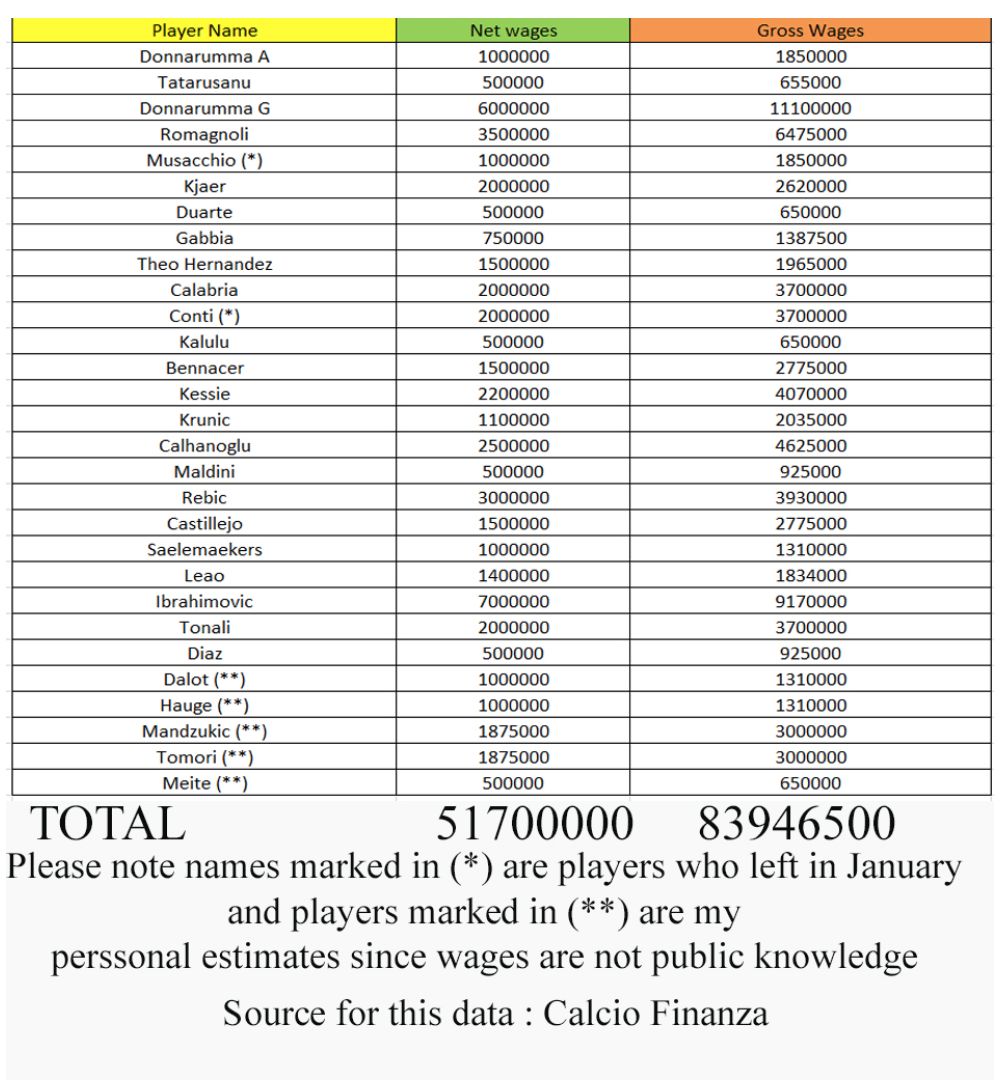 ➤ The signing of Tomori
The centre-back duo of Romagnoli-Kjaer were strong and Milan were coasting in the early part of the season. A failed attempt by Milan to land Simakan in the summer and winter window as a strong third centre-back option meant Milan had to turn to a different target.
Milan decided to turn their attention to Fikayo Tomori, a Chelsea youth product, overlooked by then-manager Frank Lampard. The Diavolo took him on a loan after a protracted negotiations and had an option inserted into the deal for €28m. Tomori came on as substitute for Kjaer in the Milan derby in the Coppa Italia and impressed so much that – after Romagnoli's horror show in the league derby – he took a starting spot.
At the end of the season Milan finished with five clean sheets in a row and two of them came against Juventus and Atalanta. Tomori finished the Serie A season with no yellow cards, and even scored a against Juventus in the 3-0 win.
➤ Depth signings with loans
Milan's main problem going into the 2020-21 season was how thin they were on depth, especially in midfield. Without a Manchester City-esque budget to work with, Maldini and co. needed to bring in quality signings especially Biglia and Bonaventura left on Bosmans.
Brahim Diaz, Diogo Dalot, Sandro Tonali and Soualiho Meite (winter signing) arrived to add depth, albeit not with world class quality but without significant spending. Diaz especially showed better signed later in the season with his low centre of gravity, quick feet and work rate, while Dalot acted as a great cover for both full-backs, plus Meite and Tonali supported the double-pivot.
➤ Prize money
And of course, saving the best for the last, Milan get an injection of cash with their foray into Europe's elite club competition. This comes from the uniform TV revenue share, historical club share ranking share and position based extra.
This must be added to the €15-20m Milan received from Europa League group stage qualification in 2020-21 all the way to the Round of 16 exit. Maybe with small sections of fans allowed into the stadium next season Milan will have even more money into the coffers.
What Milan got wrong
➤ The striker situation
Milan made quite a splash when they signed Ibrahimovic in 2020 January who was 38 years old at the time, but his impact on the team was unfathomable and eventually raised the level of players around him. In the summer Milan had a delicate situation on their hands, they knew that Ibra at 39 was no longer the physical force he once was and therefore an able backup who could play 20-25 games in a season was required.
However, the management put undue faith into Rafael Leao and Ante Rebic to slot in the No.9 role when both of them were more comfortable playing off a striker and did not have the kind of hold up play the Sweden offered. Eventually, Zlatan ended up missing 20 games of the 38 in the season and Milan were scrambling to plug holes.
➤ The Mandzukic transfer
To ease the burden of relying on Ibrahimovic, Milan went the free transfer route by signing Mario Mandzukic on a free after he left Al-Duhail, but the transfer turned out to be a disaster. Mandzukic ended up missing more games than Ibra in that time period as his injury issues were never-ending.
The January mercato was a very strange one, not just for Milan but for Europe too due to the effects of the pandemic, which meant only one or two transfers breached the €20m mark. It is understandable that Milan were wary of investing, but Mandzukic didn't just work out.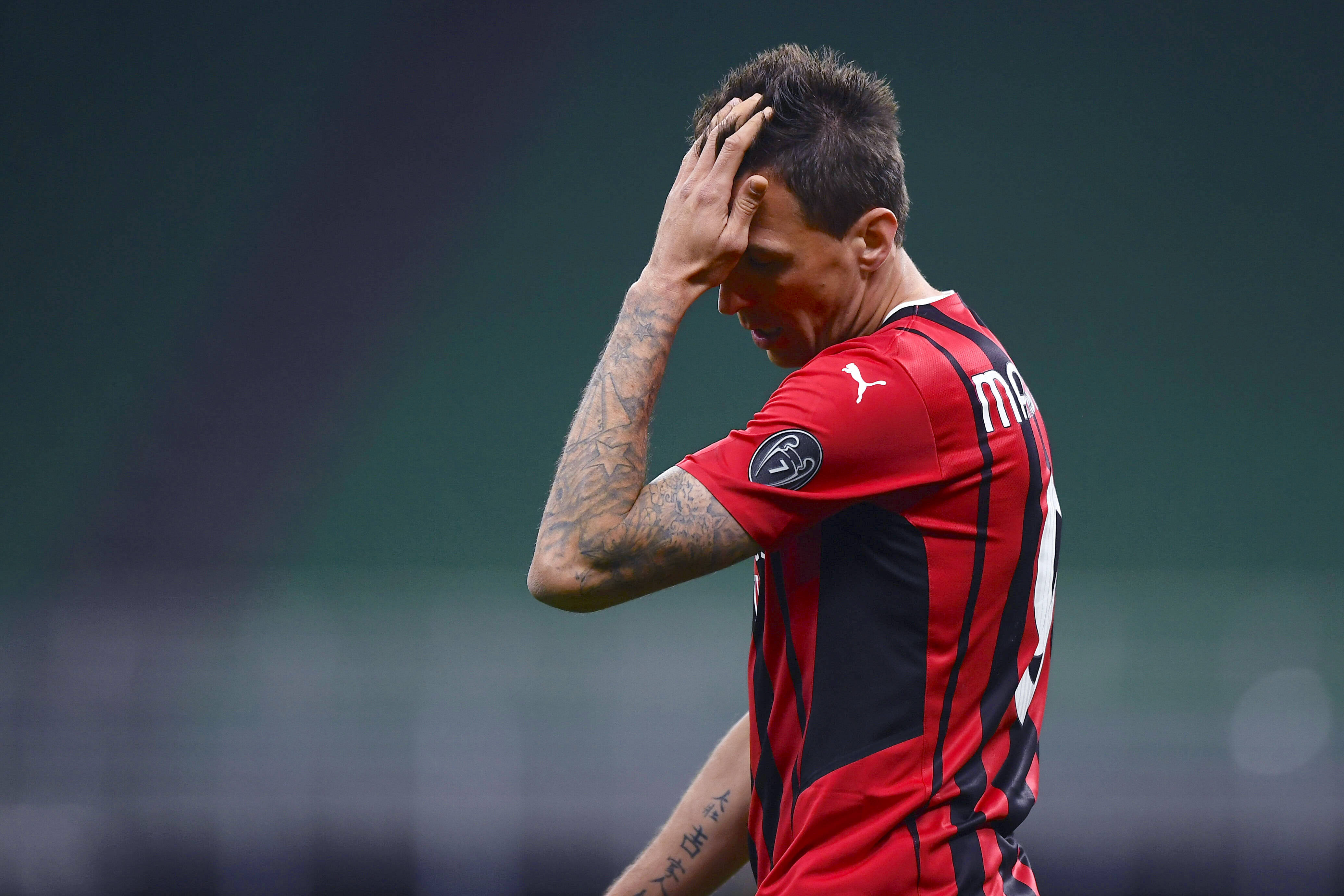 ➤ Ignoring the right wing issue
Another area that needed Milan to invest or get creative was the right wing position. Everybody knew that Samu Castillejo and Alexis Saelemaekers were not the explosive creative soul that Milan wanted or needed, with Castillejo in particular struggling regularly.  While Saelemaekers helped to keep the system functional, it was evident against teams who played a low block that Milan needed a creative outlet just like they had on the left. We can blame this on the pandemic-affected economy, but it was a gaping hole that needed to be filled.
➤ Not finding a solution for Krunic
A square peg in a round hole is the most apt description for Krunic. He was a misfit who came on whenever Pioli wanted to close games down. He fought for the shirt and often covered the most ground whenever he played a full game, while he never complained about the role he was given, but somehow it makes one wonder whether Krunic is an opportunity missed to raise some cash and have it re-invested for a player that could suit the system.
Conclusion
Various sources have reported that Milan are set to close the 2020-21 season with a loss of €95m, which is €100m less than what they did from last season. Commercially the good times are about to begin. More prize money, more sponsors and with exciting projects like Milan Studios plus collaborations with RocNation, EA Sports, BMW shows the Milan brand is growing.
Gazidis, in his interview with il Corriere dello Sport, mentioned the 2021 summer transfer window will be different from the previous ones and Milan have already shown their intentions by signing Mike Maignan and are in advanced negotiations to keep Diaz, Tonali and Tomori.
In the next edition we will review Milan's on-field performances and tactics.
---
READ MORE: Milan seriously considering sale of Romagnoli – asking price set with Barcelona in talks