AC Milan moved onto nine points out of nine available with a comprehensive 2-0 win over Lazio at San Siro on Sunday night.
Club football is once again in full flow after the international break and Serie A had a treat for fans in the form of Milan versus Lazio, two teams who had won their first two games of the season scoring 14 goals between them
The biggest feature of the game was the man on the Lazio bench, Maurizio Sarri. The banker-turned-idealist coach has a concept of playing known as 'Sarriball', which swept through Italy and later English shores, with a system based around football played in an entertaining way and with results to match.
For Milan the "big" news was that Zlatan Ibrahimovic was on the bench after a four-month injury lay-off. Milan started with their usual 4-2-3-1 while Sarri went with his favourite 4-3-3 with Marusic playing as right-back and Rebic playing as a false 9 for Milan.
Pressing
One of the most talked about aspects of the game before the ball was kicked was how both coaches played a pressing-oriented style, urging their team to win the ball back quickly and now allow the opposition to settle.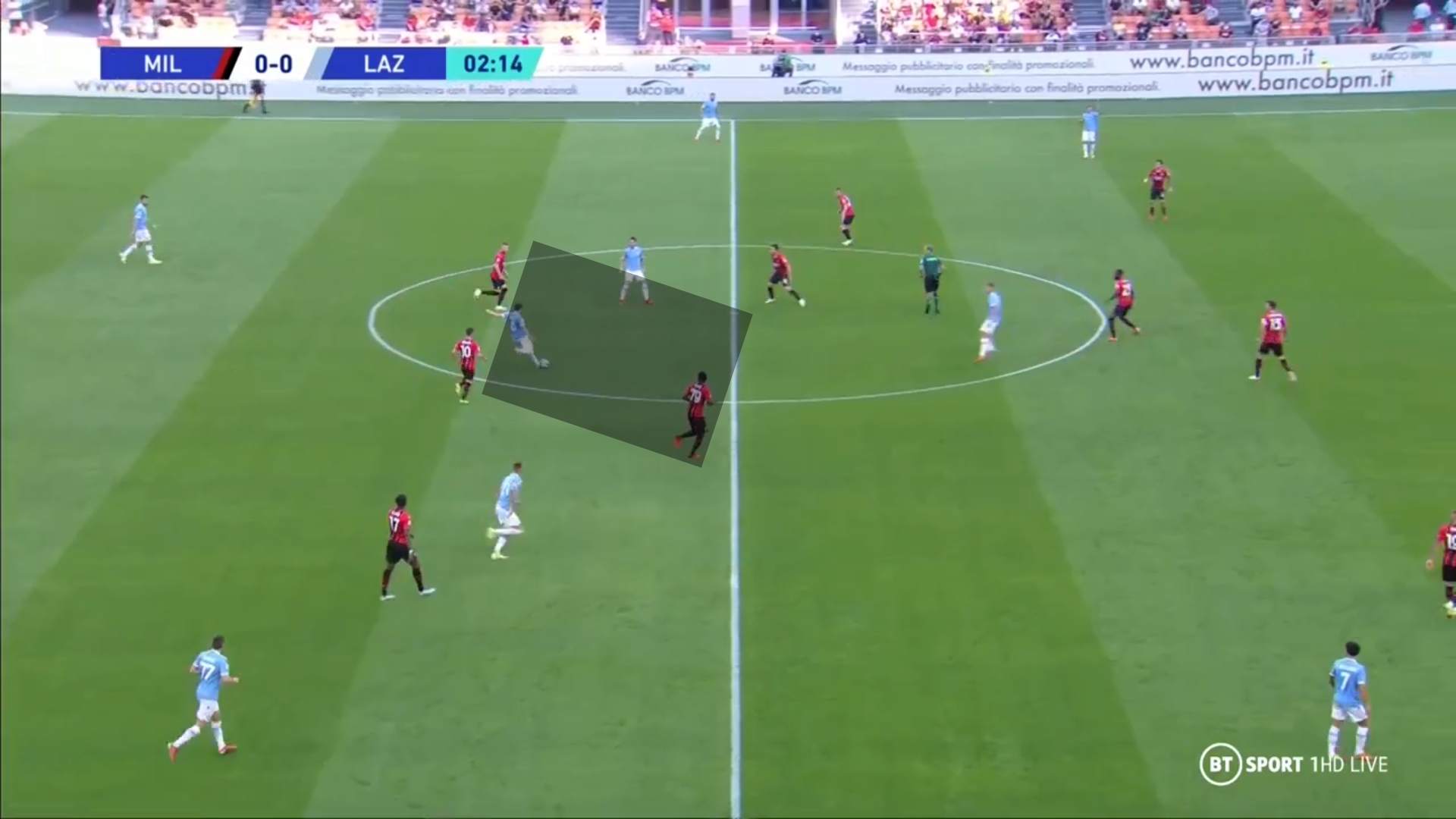 Milan used a combination of zonal as well as man-oriented pressing. Milan used its man-oriented pressing higher up the pitch and tried to block the passing lanes.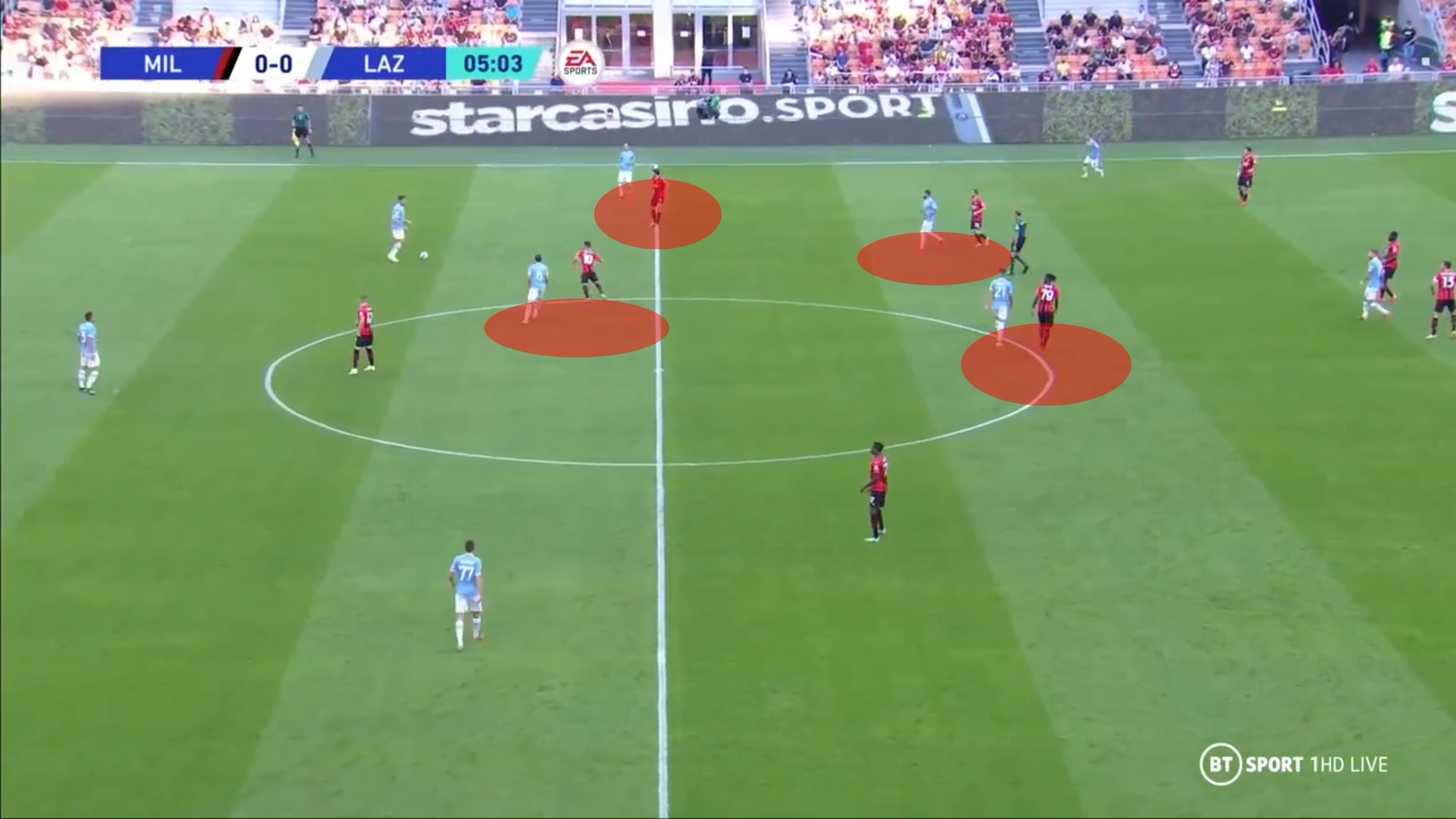 If Lazio managed to manoeuvre around Milan's pressing then a zonal form of pressing was used where the Rossoneri tended to create a zonal overload, thus trying to isolate the player with the ball and cut off his passing options.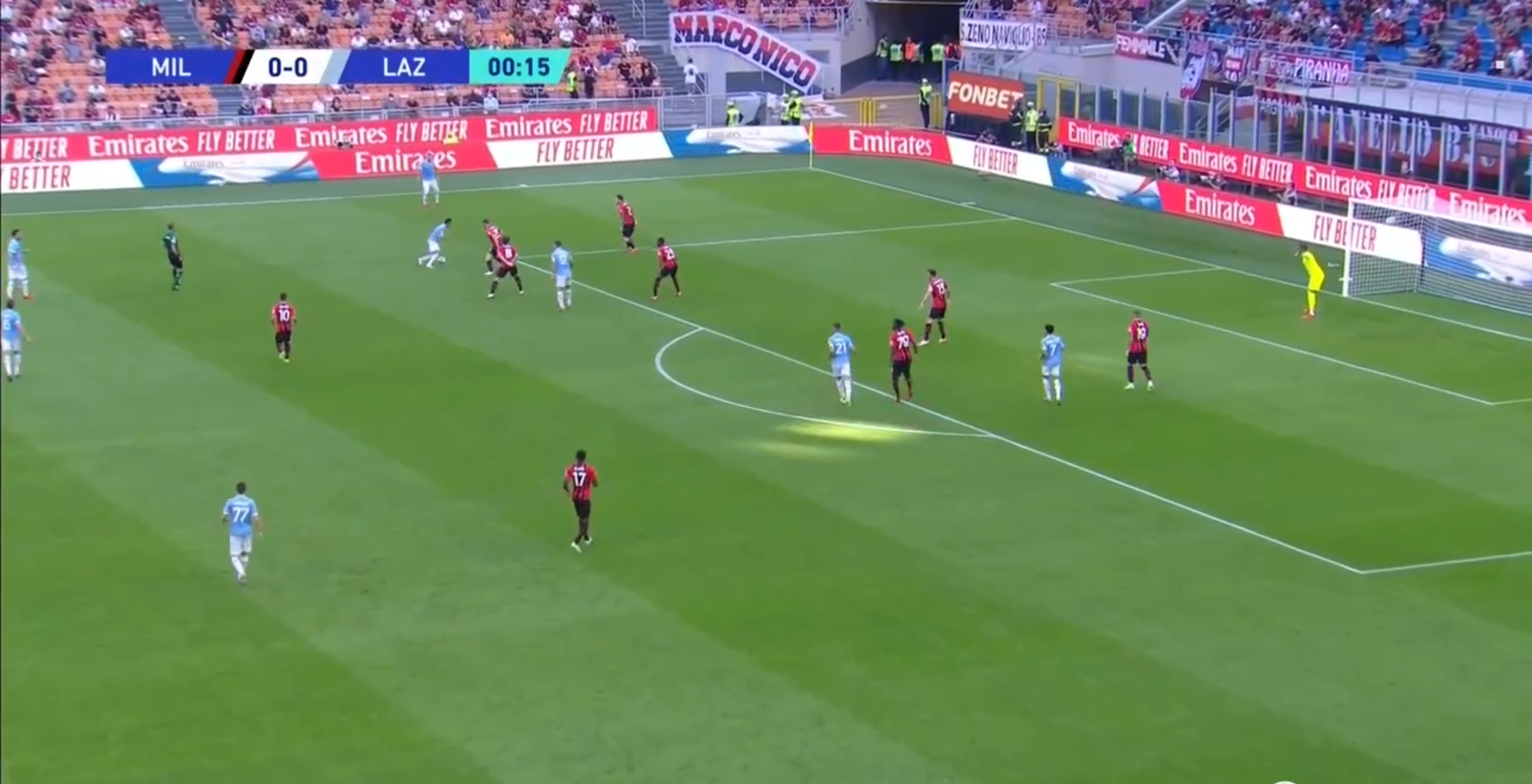 Milan's entire shape was narrow and it was bound to create an overload as seen below, where Milan outnumber Lazio 8 to 7 on one side of the field.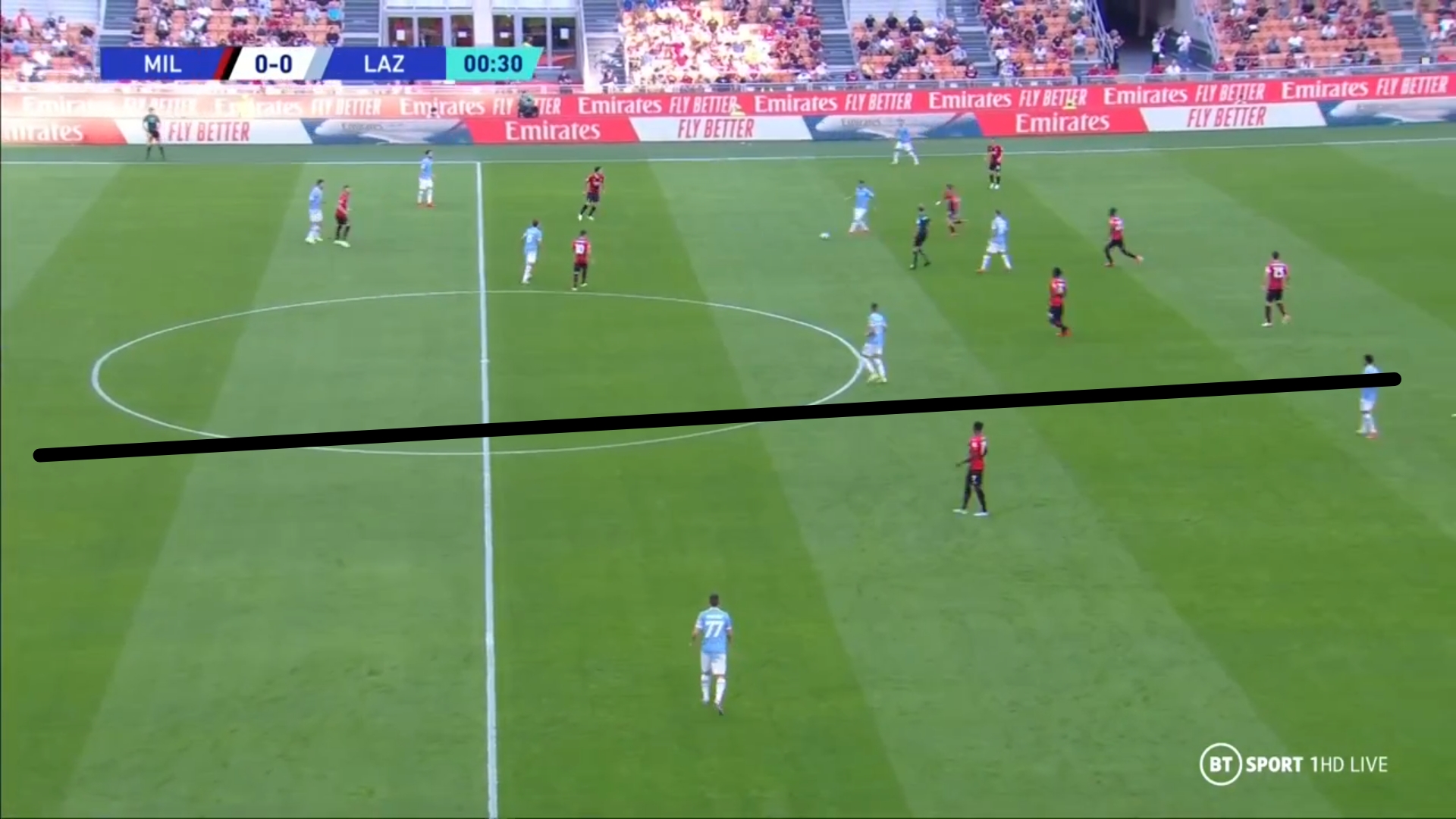 If Lazio tried to use the width of the pitch to progress the ball forward, then Milan pressed them to the sides and used the touch line as an extra man, thus suffocating the attack.
With only 2 games under his belt and the players not technically as competent as his Napoli and Chelsea sides, Lazio did not sync to Sarriball in this game and made a lot of errors, resulting in a failure to retain possession.
In terms of man marking you could see Kessie sticking to Sergej Milinkovic-Savic like glue, while Rebic broke the passing routine of Lazio by marking Leiva.
Lazio's chance creation
Sarri usually depends on using width in case his centre-backs are pressed, but he only allows one full-back to join the attack while the other sits back. In this case it was Hysaj going up while Marusic sat back.
Lucas Leiva would sit back and form passing triangles with ball playing centre-backs Acerbi and Luiz Felipe, with either Milinkovic-Savic or Alberto sitting back to build play.
One such principle was to create a numerical superiority in the space between the lines.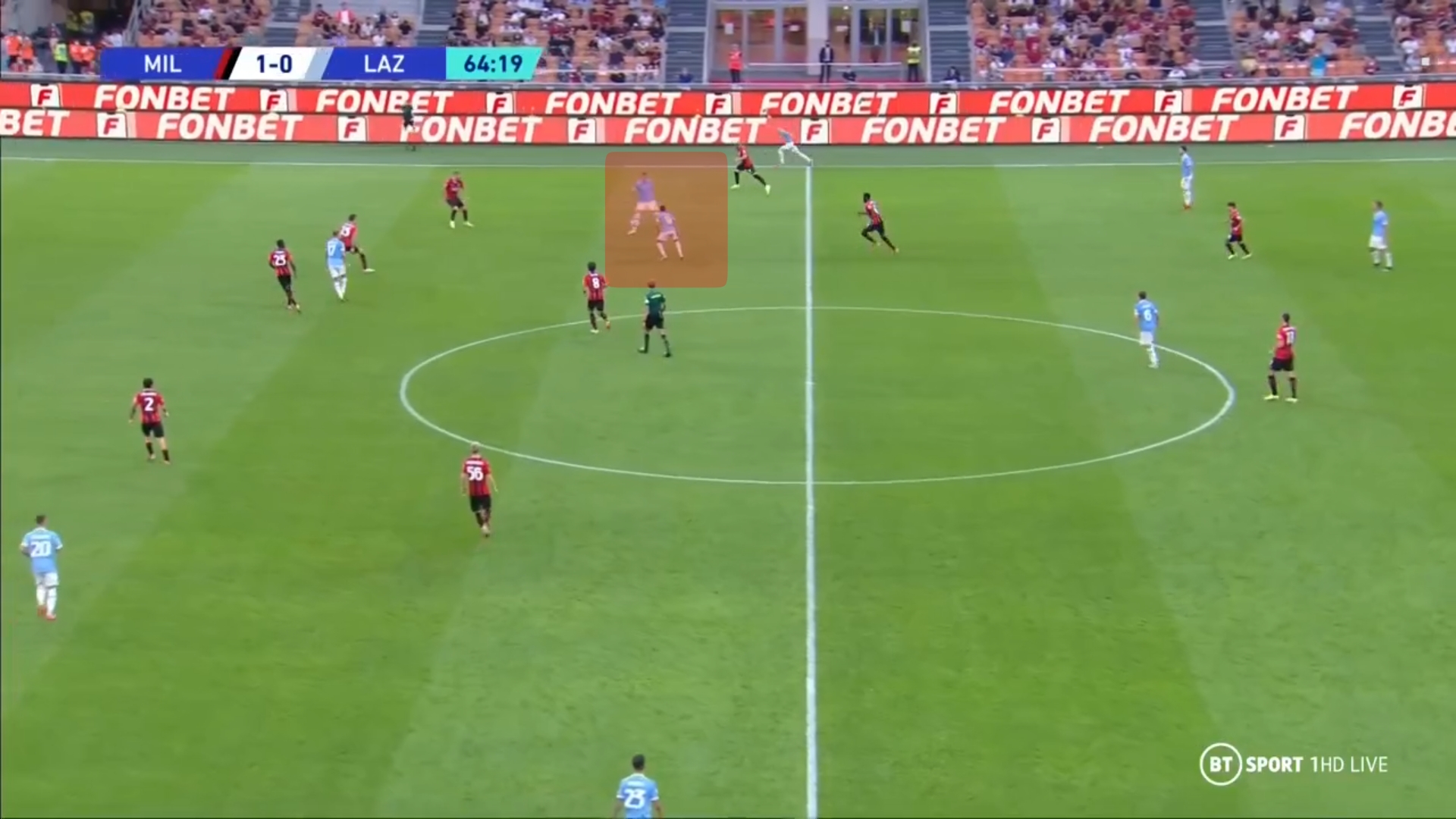 Sarri favoured the left more than the right as most of his best players played on that side. His prognosis included making passing triangles with quick one touch passes to try and prise open the defence.
With Napoli and with Chelsea, Sarri had two very gifted ball playing centre-backs in Kalidou Koulibaly and David Luiz who were experts at breaking man-oriented pressing and creating chances. Luiz Felipe did the same for Lazio and created a chance for Felipe Anderson.
Lazio's best chance came when Alberto fooled his marker by drifting infield and creating space for Hysaj and crossing it for Milinkovic-Savic to head.
Milan's advances
A lot of Milan's build-up play was centred around the momentary disorganisation of Lazio, whether it was counter-attacks or slick passing. Unlike their opponents, Milan were experts at switching play from one wing to another wing which caught out the Biancocelesti's narrow ball-oriented press.
In this clip you can see Lazio going three against one, but Leao was able to beat this press which exposed a huge gap in Lazio's armour: they cant handle pace.
What has significantly improved this season is Milan's verticality in play. With this angle you can see how Tonali wastes no time in releasing a quick vertical ball to set Rebic free for the assist.
Vertical passes are – according to legendary coaches Heleno Herrera and Nereo Rocco – one of the most potent ways of breaking down defences as they are not easily dealt with.
The data
The Touch Map Indicates that Lazio are currently adapting to Sarrismo with a lot of touches in the opposition Half spaces while a brilliant display from Leao shows a lot of touches on the left.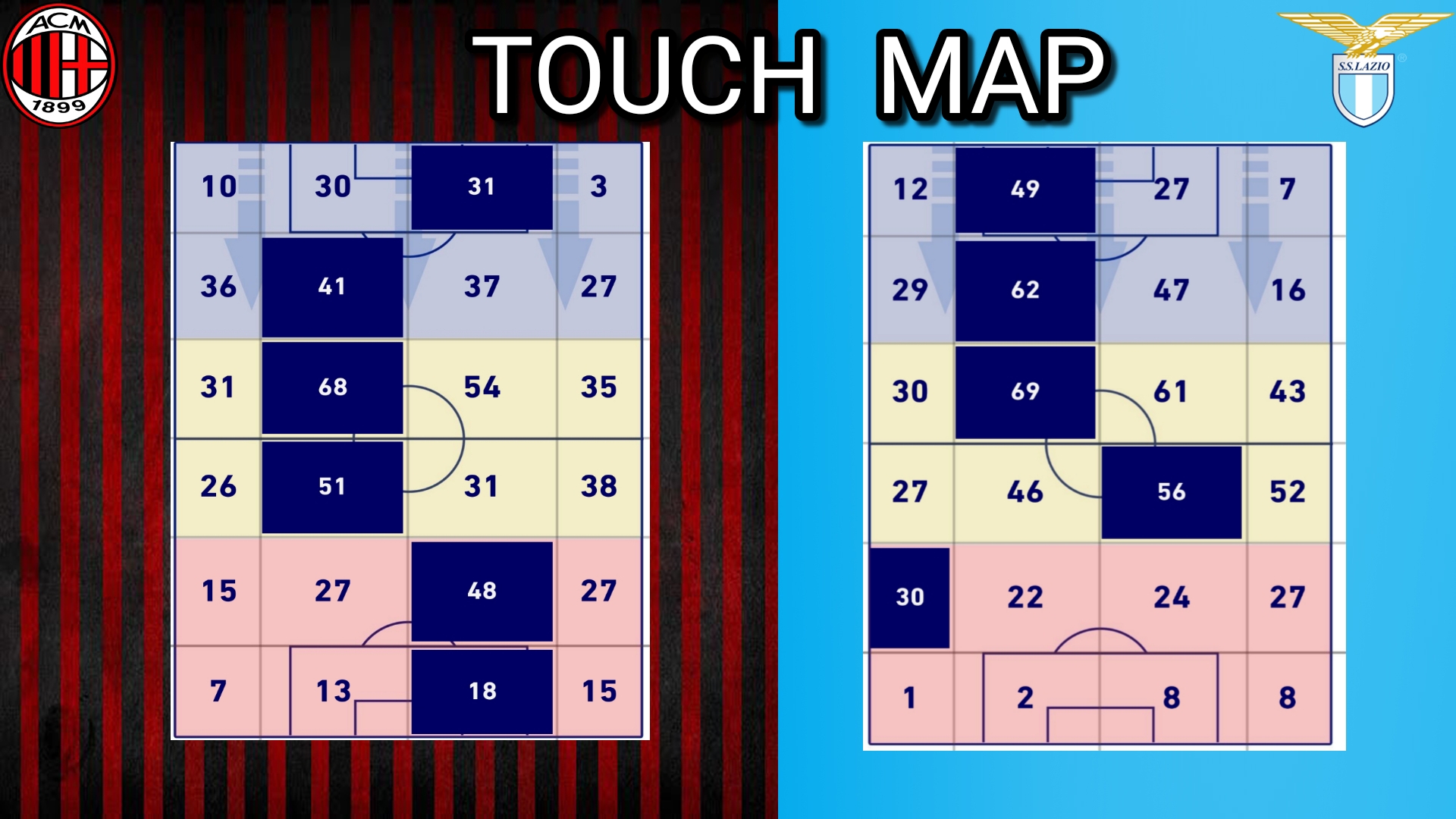 We can also see how narrow Milan played, never having the distance between the wing players at more than 30 metres out of possession, while the away side did not explore the wide areas as much.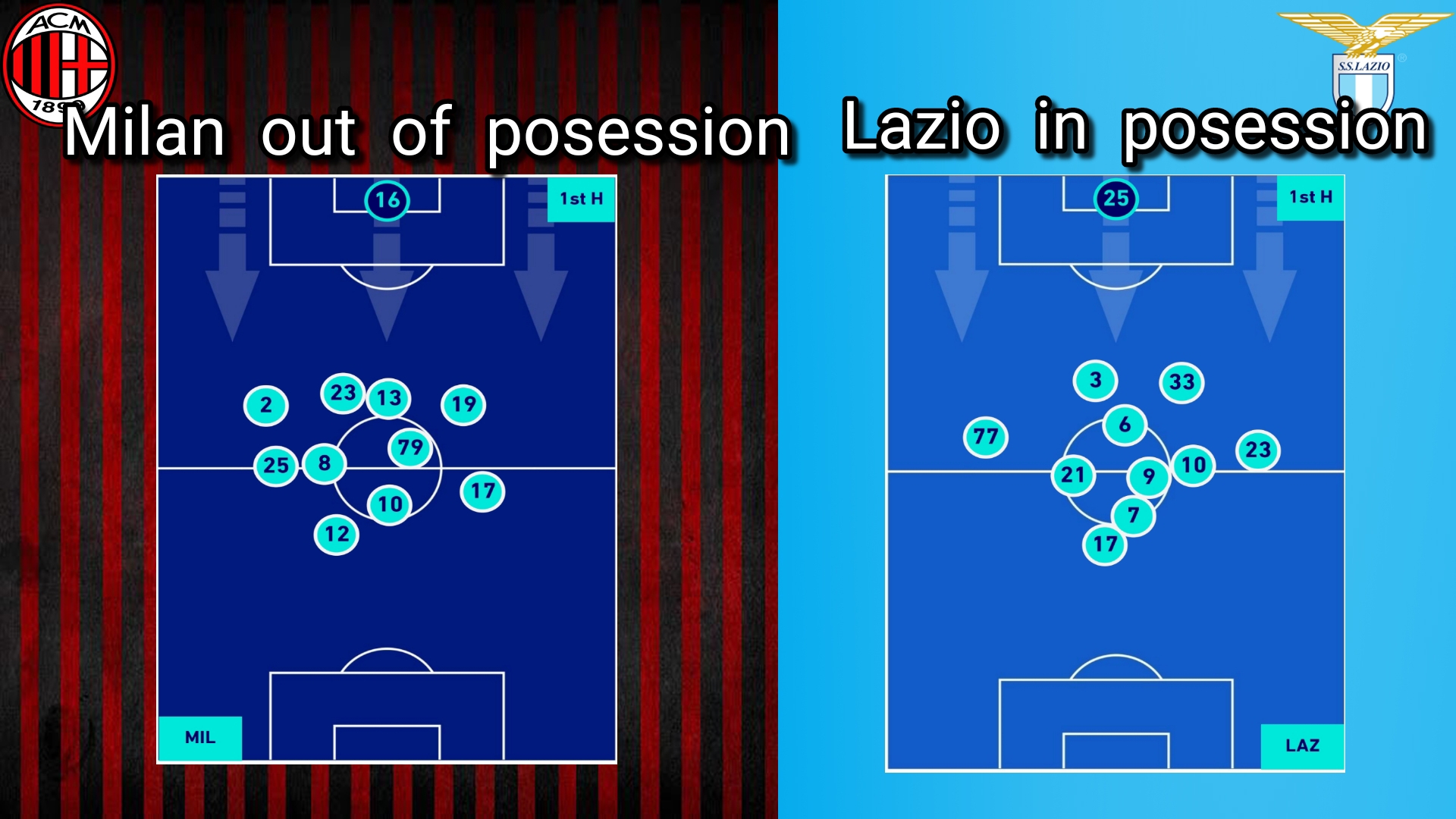 Milan meanwhile played to their strengths and used the width of the pitch switching well between flanks and stretching Lazio.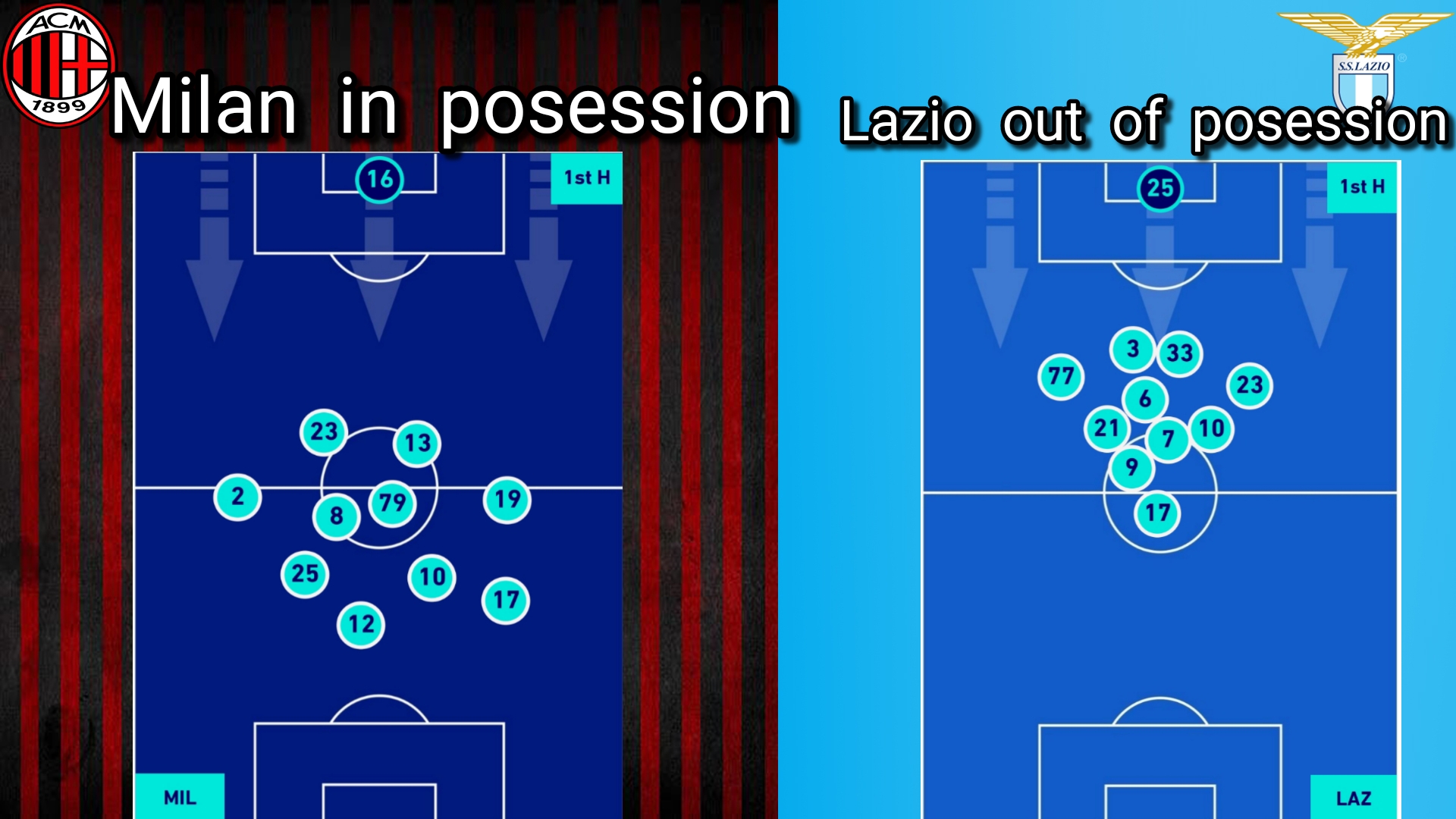 No performance like this is incomplete without the athletic data. Milan covered less ground than their opponents owing to them running less in the second half with a lead of 2-0 by 66 mins, but the intensity was brilliant in the first half.