The transfer window has come to an end for this time, with AC Milan bringing in a total of 12 signings. Despite losing a few key players, the Rossoneri did well to make up for that on the market. 
Paolo Maldini and Ricky Massara were very active from the start and can be content with their efforts this summer. After all, they have reinforced where Milan needed it the most. All the figures below are via Transfermarkt.
---
Mike Maignan
Deal: Permanent, five-year contract
Cost: €13m
From: Lille
The goalkeeper was the first to be announced by Milan as Gigio Donnarumma decided not to renew his contract. The club acted fast and as has been confirmed in the first two games, they secured a very good replacement.
Given Maignan's salary, which is considerably lower than Donnarumma's demand, this solution was actually cheaper for Milan rather than keeping the PSG man. You certainly can't fault the management for this one.
---
Fikayo Tomori
Deal: Permanent, four-year contract
Cost: €29m
From: Chelsea
The centre-back was absolutely stunning for Milan in the second half of the 2020/21 season and it wasn't a surprise that they decided to redeem him. After trying to lower the price tag, they gave way and paid the €29m clause.
Hopefully, Tomori will do just as well this season but the feeling is that he will and that the investment made was absolutely necessary. Time should only confirm that.
---
Sandro Tonali
Deal: Permanent, five-year contract
Cost: €10m last summer, €7m plus €3m bonuses and Giacomo Olzer (buy-back included)
From: Brescia
It took some time for Milan to wrap this one up after what seemed like a certainty ahead of the summer. In the end, though, they really did get a fantastic deal as they shaved a total of €15m off the initially agreed price.
And the midfielder is finally starting to show his qualities for the club, scoring his first goal with a lovely free-kick against Cagliari. He will certainly be needed in the midfield this season and for the future.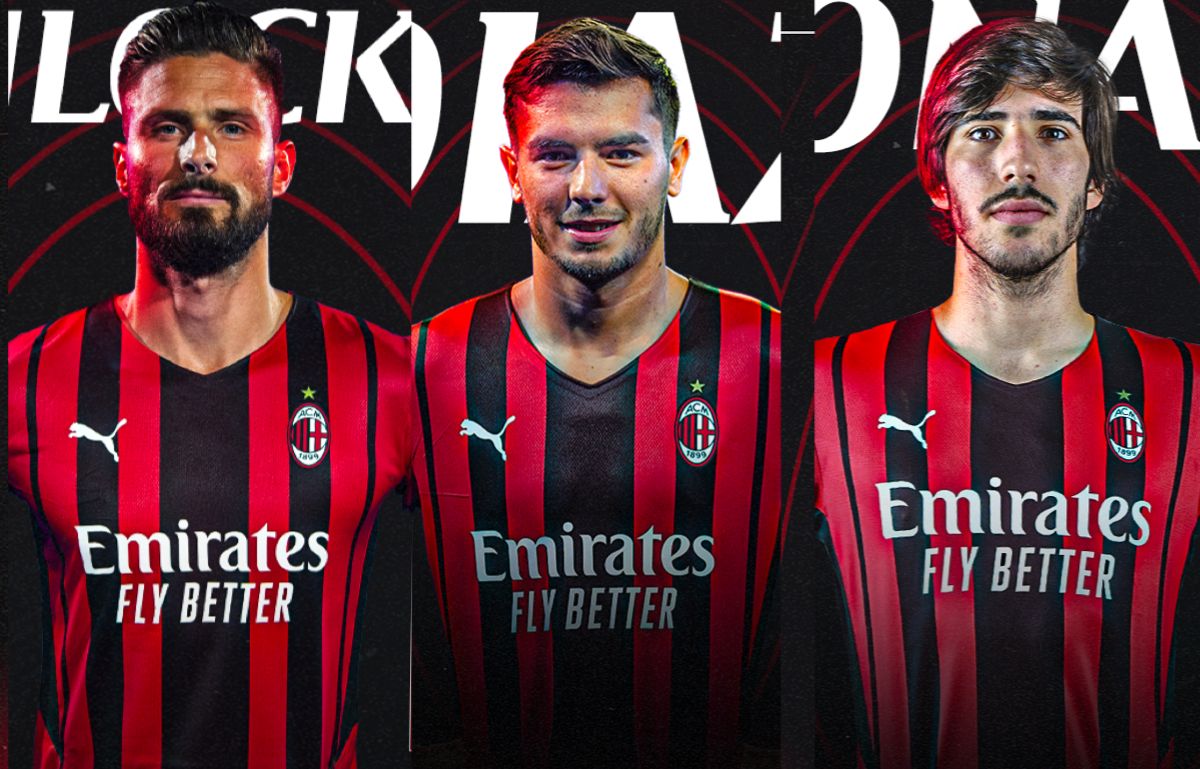 ---
Olivier Giroud
Deal: Permanent, two-year contract
Cost: €1m plus €1m in bonuses
From: Chelsea
Milan needed a proper alternative for Zlatan Ibrahimovic and they got one. Giroud has been very good since he arrived, not only scoring in pre-season but also in Serie A, bagging two goals last time out.
He could very well break the No.9 curse once and for all. It's clear that the experienced Frenchman could be an important player for Milan this season, especially in the Champions League.
---
Fode Ballo-Toure
Deal: Permanent, four-year contract
Cost: €5m
From: Monaco
With Diogo Dalot's departure, this was a must signing for Milan and the investment made was very appropriate for a deputy role. It remains to be seen how well Ballo-Toure will do for the Rossoneri, but he has the potential.
Of course, Theo Hernandez is the undisputed starter for the Rossoneri but he won't be able to start all of the games in all three competitions. Therefore, as said, this signing was a must.
---
Brahim Diaz
Deal: Two-year loan with option
Cost: €3m loan, €22m option, €27m buy-back
From: Real Madrid
The Rossoneri's new No.10 has started the season in the best way possible and looking back at it, his confirmation was crucial. Milan never ended up bringing in another trequartista so the feeling is that Daniel Maldini will be the alternative.
The formula is also a very good one as the Rossoneri will have him for two seasons before having to make a decision on the option. Real Madrid will have a buy-back, but we'll deal with that potential problem then.
---
Alessandro Florenzi
Deal: Loan with option
Cost: €1m loan, €4m option
From: Roma
Milan had been linked with several right-backs but eventually decided to go with Florenzi, who indeed is a versatile option for Pioli. The latter used him as a right-winger against Cagliari and this could come in handy during the season.
Mainly, though, the Rossoneri can take great comfort in that they have Davide Calabria and Florenzi for the right-back position. The former Roma man, of course, is very experienced and this is always good to have.
---
Pietro Pellegri
Deal: Loan with option
Cost: €1m loan, €6m option plus €1m in bonuses
From: Monaco
Zlatan Ibrahimovic and Olivier Giroud aren't exactly getting any youngster so this signing makes a lot of sense for Milan. We all know the potential Pellegri has and with this price, he could potentially be a steal.
Hopefully, he will return to the form we saw at Genoa after a less successful spell at Monaco. The latter has surely given him some good experience though and that could perhaps help him.
---
Tiemoue Bakayoko
Deal: Two-year loan with option
Cost: €2m loan, €15m option
From: Chelsea
The midfielder has longed for this return and it's nice to see him back at the club, also because he will be needed during the season. Ismael Bennacer and Franck Kessie will take part in the AFCONS, so Bakayoko should then start with Tonali.
We all know that he can perform on a high level and the hope is that he will do that with consistency. And at the reported price, it makes sense for Milan to bring him in, although Chelsea were tough in the negotiations.
---
Junior Messias
Deal: Loan with option
Cost: €2.6m loan, €5.4m option plus €1m in bonuses
From: Crotone
This was the big surprise of the summer as Messias hasn't played for any big teams before, although he did relatively well for Crotone last season. It will be interesting to see the 30-year-old, but it's not a signing that has excited everyone.
Certainly, there are doubts that he isn't good enough to play for Milan in the Champions League, but he will have to prove us wrong on the pitch.
---
Yacine Adli
Deal: Permanent move (with loan back)
Cost: €8m plus bonuses
From: Bordeaux
The midfielder was heavily linked with Milan throughout the summer and an agreement was eventually reached at €8m. That's because the Rossoneri agreed to send him back to France on loan for this season.
In other words, Adli will join Milan for next season and will continue his development at Bordeaux in the meantime. Hopefully, he will be even stronger when we see him again.
---
Chaka Traore
Deal: Permanent move
Cost: €600K plus bonuses
From: Parma
The midfielder has made three appearances in Serie A (for Parma last season) despite his tender age (16) and he will play for the Primavera initially. It's an interesting signing from Milan, as Juventus were also interested.
READ MORE: Milan said no to Real Madrid man, Everton outcast and €70m Man City playmaker