As reported previously, Milan had 13 players called up to their respective national team squads. This is a sizeable number, especially when looking back at the last few years where only a small handful got picked with most of those being bench options.
Now with a much larger number being represented nationally, this is direct evidence of the great project and work that Pioli has done so far. Below is a small round-up of the players that left of international duty, the game they featured in what contributions they made.
Davide Calabria and Sandro Tonali – Italy
12 November 2021: Italy v Switzerland, Rome (Italy) – 2022 FIFA World Cup Qualifiers
Both the Italy games were quite underwhelming with this one playing out to a very uninspiring 1-1 draw. Switzerland are no joke in terms of a national side, but the European champions could not break down the Swiss 4-2-3-1.
Neither Calabria nor Tonali started from the first whistle, but both players did feature in this game coming off the bench. Tonali in particular played almost a full 45 mins replacing the ex- Milan man Locatelli, whilst Calabria only cam on for the last 15 replacing Emerson.
With the overall team showing not being brilliant, both Calabria and especially Tonali did come on and make an impact, not enough to change the course of the game, but hopefully enough to sway Mancini's mind in terms of starting spots, as both have a serious case of replacing the current starters in their respective positions.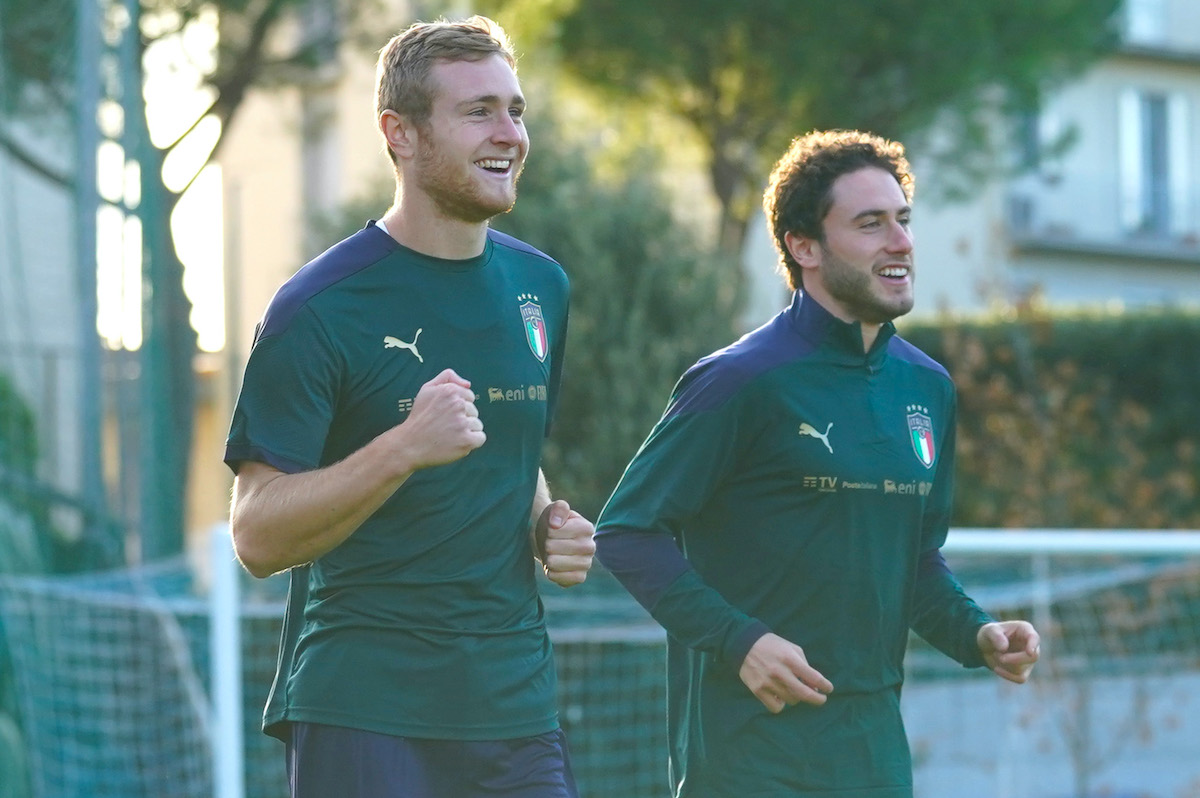 15 November 2021: Northern Ireland v Italy, Belfast (Northern Ireland) – 2022 FIFA World Cup Qualifiers
This game like the one before it was an abysmal showing from the Italians, they only had win against a much weaker side to confirm their place in the 2022 World Cup, however, it was not meant to be.
Tonali started this game, which was hist first ever senior side start, after convincing in his showing against Switzerland, and hopefully he will become a regular starter moving forward.
However, Calabria did not play after getting an injury in training, one that means he is likely to miss the Milan match against Fiorentina at the weekend. There is not a huge amount to report as the whole team played poorly in this game, and it will surely be one for the Italians to forget about.
Alexis Saelemaekers – Belgium
13 November 2021: Belgium v Estonia, Brussels, (Belgium) – 2022 FIFA World Cup Qualifiers
A convincing win for the 'Devils' after pumping Estonia 3-1, Alexis didn't start this game, but came on in the 62nd minute, replacing Meunier. It must be noted that the Belgium coach Martinez, likes to deploy Saelemaekers as a wing-back and not a right midfielder/winger as he plays at Milan.
He was effective in this game as he is at Milan, offering a lot of defensive cover but limited attacking output. Either way it is good to him play for such a talented side and it is clear Martinez appreciates his qualities.   
16 November 2021: Wales v Belgium, Cardiff (Wales) – 2022 FIFA World Cup Qualifiers
Belgium had already qualified for the World Cup before this game, but nonetheless fielded a strong eleven against a very defiant Wales. The score was a fairly underwhelming 1-1 draw, with Martinez again subbing on Alexis in the 58th minute but for this time one of their strikers De Ketelaere, seemingly to add a bit more defensive nous to close out the game. Not much else to report other than another solid national showing for Saelemaekers.
Rade Krunic – Bosnia and Herzegovina
13 November 2021: Bosnia and Herzegovina v Finland, Zenica (Bosnia and Herzegovina) – 2022 FIFA World Cup Qualifiers
An underwhelming showing for Bosnia and Herzegovina who will not feature in the 2022 World Cup, and more so when considering some recent political turmoil occurring currently in the Balkan area. However, the ever-adaptive Krunic is one of the stars of the Bosnia national team and started on the right flank (as he has done on occasion at Milan) and played the full 90 minutes.
16 November 2021: Bosnia and Herzegovina v Ukraine, Zenica (Bosnia and Herzegovina) – 2022 FIFA World Cup Qualifiers
In this game Krunic was actually benched as the Bosnia and Herzegovina coach changed formation from 4-3-3 to 4-2-2. However, Krunic was fairly quickly added to the game and was subbed on in the 64th minute into the centre of midfield.
However, it was to no avail as Ukraine convincedly dispatched of the Bosnian's 2-0. If nothing more, these two matches further showcase how many positions Krunic can play.
Simon Kjaer – Denmark
12 November 2021: Denmark v Faroe Islands, Copenaghen (Denmark) – 2022 FIFA World Cup Qualifiers
Probably Milan's most important and convincing nationally represented player. Captain of the side and an absolutely stalwart defender, it is not a far-stretch to say he is even better and even more of a leader when he plays for Denmark.
Kjaer played as the central centre-back in the 3-4-2-1 the Danish coach employs. There is not a huge amount to report other than another solid showing from the Danish captain in their 3-1 win over the Faroe Islands.
15 November 2021: Scotland v Denmark, Glasgow (Scotland) – 2022 FIFA World Cup Qualifiers
Up until this game, Denmark were THE best team in the qualifying rounds of the World Cup, after a very respectable showing in the Euros, in the qualifiers they won every single game except this one.
Again, Kjaer being captain started and was the central defender in a slightly more defensive 3-4-3 formation. Unfortunately, conceding two goals meant that it was a bit of a slip up for the Danish with their very high standards. Ultimately, Kjaer is captain and remains one of the key players in this successful Danish set-up, it will be good to see the defender play at the World Cup.
Theo Hernández – France
13 November 2021: France v Kazakhstan, Paris (France) – 2022 FIFA World Cup Qualifiers
This game was a supreme rout by the French with the obscene score line of 8-0. Theo Hernandez, after getting his first call-up in the prior international break is continuing his great form and attacking output for his country.
Starting from the first whistle, he provided two great assists both of them in the first half, one for Mbappe and the other for Benzema. It seems that Theo is building his reputation both for the French fans and of course within the squad. It was even revealed that the French coach Deschamps wasn't quite sure why he hadn't been called up earlier!
.@TheoHernandez 🆚 Kazakhstan

✌️ Two assists for our man!

— SempreMilan (@SempreMilanCom) November 14, 2021
16 November 2021: Finland v France, Helsinki (Finland) – 2022 FIFA World Cup Qualifiers
After qualifying for the World Cup, Deschamps clearly fielded a weaker side, with the exception of the attack against Finland. Another great 2-0 win for the supremely talented French squad, unfortunately, Theo didn't feature but it is good to see that he has seemingly cemented a place in the squad.
Rafael Leão – Portugal
11 November 2021: Ireland v Portugal, Dublin (Ireland) – 2022 FIFA World Cup Qualifiers
Like Theo, Leão has recently been awarded his first senior national call-up. He also started from the first whistle against Ireland and provided the same technical ability and speed we have come accustomed to.
Unfortunately, he couldn't contribute a goal or an assist and was subbed off for the veteran defender Fonte in the 83rd minute. However, like Theo, the more he features the better, and it seems he has fully convinced the Portuguese boss that he is a fantastic option for the attack.
14 November 2021: Portugal v Serbia, Lisbon (Portugal) – 2022 FIFA World Cup Qualifiers
This was one of the large upsets of the World Cup Qualifiers, with Serbia beating Portugal 2-1 and topping the group, meaning like Italy, Portugal has to win in the play-offs in order to book their ticket to Qatar. Not only this, but Leão didn't start, nor did he come on from the bench, unfortunately, a bad performance from Portugal overall.
Brahim Díaz – Spain
11 November 2021: Greece v Spain, Athens (Greece) – 2022 FIFA World Cup Qualifiers
Díaz like both Theo and Leão received his first senior Spain call-up during this qualifying round. In this game however, he was on the bench and did not feature at all in Spain's 1-0 win over Greece.
14 November 2021: Spain v Sweden, Sevilla (Spain) – 2022 FIFA World Cup Qualifiers
Another 1-0 victory for the Spanish, this is yet another game after Brahim's call-up where he is yet to feature. It must be noted though that the current 4-3-3 formation Spanish coach Luis Enrique adopts does not favour Díaz's playing style, and with many talented players ahead of him in terms of caps and continuity, he will likely have to wait a little longer to get his national team chance.
Zlatan Ibrahimović – Sweden
11 November 2021: Georgia v Sweden, Batumi (Georgia) – 2022 FIFA World Cup Qualifiers
This match was a huge upset amidst the return of Sweden's (and Milan's) talisman Ibrahimović. Georgia dealt Zlatan's Sweden a 2-0 defeat with both goals coming from the heavily Milan linked Khvicha Kvaratskhelia.
Zlatan donned the striker role alongside Isak and was by far Sweden's most impactful player. This was ultimately a very bad team performance that not even the legendary Ibrahimović in his triumphant return could change.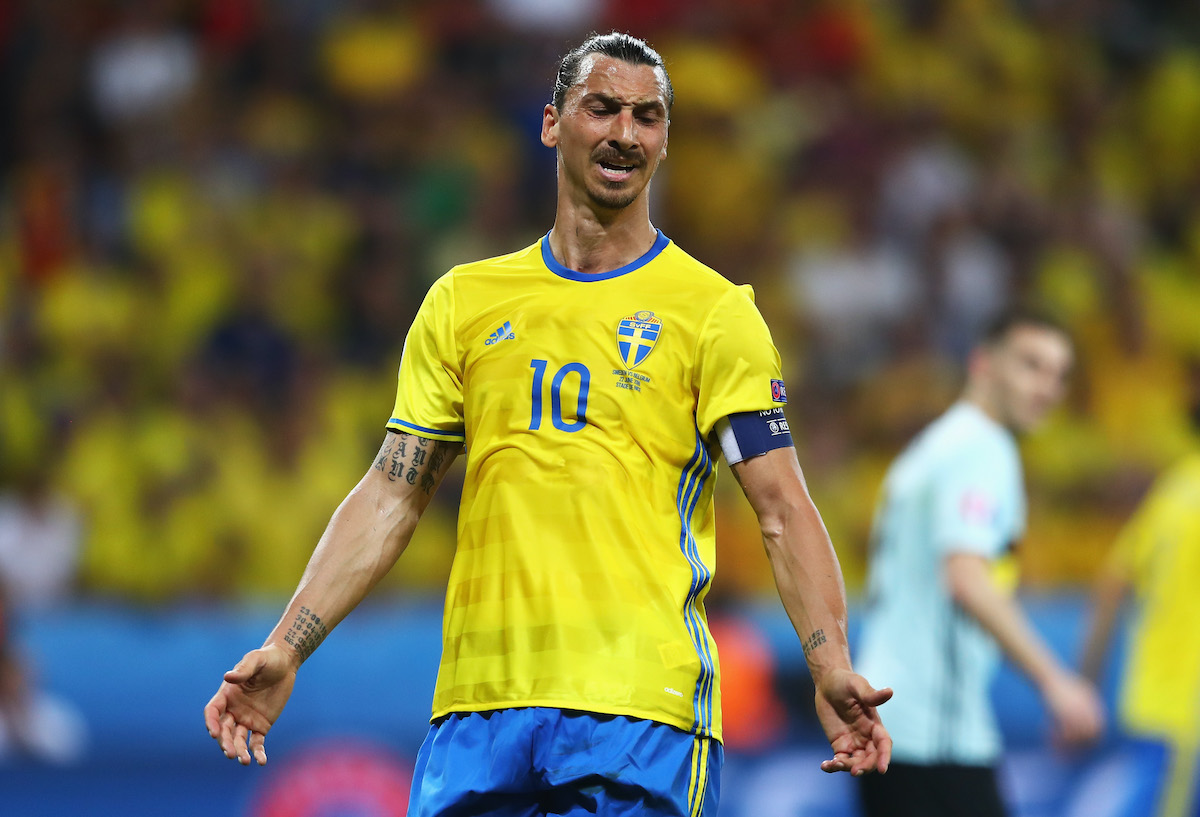 14 November 2021: Spain v Sweden, Sevilla (Spain) – 2022 FIFA World Cup Qualifiers
As noted above, this was a fairly routine win for Spain and another underperforming loss for the Swede's. This time Ibrahimović featured from the bench in the 73rd minute replacing Isak. He again was the shining light for this Sweden side but was unable to do it all by himself.
Sweden like Portugal and Italy represent the three biggest nations that will feature in the play-offs to decide who will go to Qatar. I think I speak for all Milan and especially Zlatan fans, lets hope Ibra can make a return to the world stage in 2022.
Ismaël Bennacer – Algeria
12 November 2021: Djibouti v Algeria, Cairo (Egypt) – 2022 FIFA World Cup Qualifiers
Algeria is a fantastic national side, having booked their place in the final round of qualifications for the African nations already. They boast some really talented players, none more so than Milan's own Bennacer.
He featured from the first whistle in Algeria's 4-0 thumping of Dijbouti before being replaced by Riyad Mahrez late into the second half. Bennacer often plays a slightly more advanced midfield role for his nation but still offers fantastic passing and defensive cover. Another solid all-round performance from the midfield dynamo.
16 November 2021: Algeria v Burkina Faso, Blida (Algeria) – 2022 FIFA World Cup Qualifiers
A hard-fought 2-2 draw where again Bennacer started. Another solid showing from the midfielder, who unfortunately was subbed off in the 89th minute via a stretcher. However, it seems it is not a serious injury but rather some form of cramp.
Either way Bennacer has further proved and cemented himself to be a pivotal and irreplaceable cog in the Algerian national team. We all look forward to hopefully seeing him play come Winter 2022.
Franck Kessie – Ivory Coast
13 November 2021: Ivory Coast v Mozambique, Cotonou (Benin) – 2022 FIFA World Cup Qualifiers
Like Bennacer, Kessie is a prominent feature of the Ivory Coast's team. Featuring from the first whistle, the midfielder put in a very solid performance in their 3-0 win over Mozambique. However, this was not enough as they will miss the World Cup. It is a shame as their team consists of many talented players Kessie being no exception.
16 November 2021: Cameroon v Ivory Coast, Douala (Cameroon) – 2022 FIFA World Cup Qualifiers
This was the game that essentially put the nail in the coffin for the Ivory Coast's chances to progress. They needed a win against the group leaders, but it was not to be. Cameroon edged the Ivory Coast 1-0.
Kessie unfortunately was fairly anonymous in this match, and actually put out one of his less convincing performances. This is a worrying trend with the midfielder amidst the contract renewal debacle that Milan and all fans hope is resolved one way or another very soon.
Fodé Ballo-Touré – Senegal
11 November 2021: Togo v Senegal, Lomé (Togo) – 2022 FIFA World Cup Qualifiers
Like Algeria, Senegal have managed to book their place in the final round of qualification for African teams even after drawing this game 1-1. Ballo-Touré unfortunately is not a regular starter for this team and didn't feature at all in this match.
This is slightly concerning when – after their talisman and Sadio Mané who plays for Liverpool – Ballo-Touré plays for the next biggest club in their nation. However, let's hope Senegal progresses all the same and Ballo-Touré can feature more heavily in the future.
14 November 2021: Senegal v DPR Congo, Thiès (Senegal) – 2022 FIFA World Cup Qualifiers
Even more concerning was that not only did Ballo-Touré not feature, but he was also sent back to Milanello early, as he was surplus to requirements. This is not a huge deal as he isn't a starter and has hardly featured, and at this point Senegal had more than confirmed their progression.
Pierre Kalulu – France U21
11 November 2021: France v Armenia, Grenoble (France) – 2023 UEFA Euro U21 Qualifiers
Kalulu is actually a huge part of this very successful France U-21 team that seems even more talent being produced by the French. This was an absolute rout by the young men as they dispatched Armenia 7-0.
Kalulu was ever-present in both the attacking and defensive phases and was unlucky to have not gotten a goal or assis he also featured for the full 90 mins. Yacine Aldi, also of Milan but currently on loan to Bordeaux, is another important part of this U21 set-up and he also put in a fantastic performance.
16 November 2021: North Macedonia v France, Skopje (North Macedonia) – 2023 UEFA Euro U21 Qualifiers
Another easy win for the French, they beat North Macedonia 3-0 with Kalulu scoring in the 89th minute with a lovely driven finish on his right foot from the centre of the box. He played fantastically well and seems to be developing very nicely within this U21 set-up and when he is called upon by Milan.
⚽ Kalulu gets on the scoresheet for France's U21 side!

📽 @IlBuonFabiopic.twitter.com/A6U9mprm8P

— SempreMilan (@SempreMilanCom) November 16, 2021
It seems only a matter of time – given Theo's senior success – that Kalulu will get his chance in the senior squad. Unfortunate, Adli did not feature in this game, but that is not a bad mark on his name as he is smashing it in Ligue 1 with Bordeaux this season, but rather it reaffirms how strong the competition is to get into any French national side.
---
READ MORE: Positional rotations, pressing and improved individuals – How Milan have changed from 2020-21 to 2021-22