Much has been said about Rangnick and his possible arrival to take the hot seat at Milan.
CEO Ivan Gazidis flatly denied when asked in December, director Paolo Maldini and Zvonimir Boban showed their displeasure at his appointment and Ralf Rangnick himself spoke of contacts with the top brass of Milan but no agreement reached.
The fanbase has been divided over this decision. While some are excited about the prospect of Rangnick joining Milan, the expense it comes at, that of the the sacking of Paolo Maldini, makes Milan fans emotional as Paolo stands for everything that has been Milan and its splendour.
A comprehensive analysis is needed to understand Milan's situation and why Elliott seem to press for Rangnick.
A chronological order of events
To understand the extent of the crisis we face it because imperative to construct a chronology to grasp it.
1. The 2012 mass exodus: 2012 represented a power shift in Serie A and the start of a dominant era for Juve. Milan finished second in Serie A and Antonio Conte's Juve side win the Scudetto.
To balance the books Milan sold their two best players for to PSG in Ibrahimovic and Thiago Silva. This was followed by the mass exodus of Milan's old guard as Nesta, Seedorf, Inzaghi, Zambrotta and Gattuso all said farewell to the Rossoneri in an emotional game against Novara.
😪 Milan also said goodbye to Gattuso, Nesta and Seedorf after the 2-1 victory against Novara.

❤️️🖤 pic.twitter.com/JHHKJukgbQ

— MilanData📊 (@acmilandata) May 13, 2020
2. The lean years: With Ibrahimovic and Silva sold and a number of retirements, a dearth of talent possessed Milan. While Milan signed Mario Balotelli, Alessandro Matri, Kevin Constant, Francesco Acerbi and Bakaye Traore, it never bridged the gap left by the legends of the club.
This was followed with little or no investment from Milan's president Silvio Berlusconi. All of Milan's success in the previous years came with the purchases of the Mediaset owner and media tycoon, but after 2012 he did not invest into any areas of Milan and the well dried up. Milan were making losses and debts were racking up thanks in part to a damaged Italian economy.
3. Free agents and inflated wages: With no money invested by Silvio and the club plunged into making massive losses, the management was forced to sign players who were at the end of their contracts or available on frees. This inflated Milan's wage bill grossly (free agents are signed at higher wages than what they used to earn as the demand for the player s higher than a normal transfer) and it led to taking a toll on already crippled finances.
4. The sale and Fasobelli disasterclass: Finally in 2017, Berlusconi sold Milan to the then-unknown Chinese businessman Yonghong Li. He in turn appointed Marco Fassone as the CEO and Massmimiliano Mirabelli as the sporting director.
Milan spent around €250m in that transfer window, bringing in a total of 11 players including negotiating the renewal of goalkeeper Gianluigi Donnarumma with super-agent Mino Raiola in a very protracted saga. However, a season with high hopes ended in despair as most of Milan's new signings went bust. The club reached the Europa league thanks to a mini-revival under Gattuso but still missed the intended Champions league mark by a huge point margin.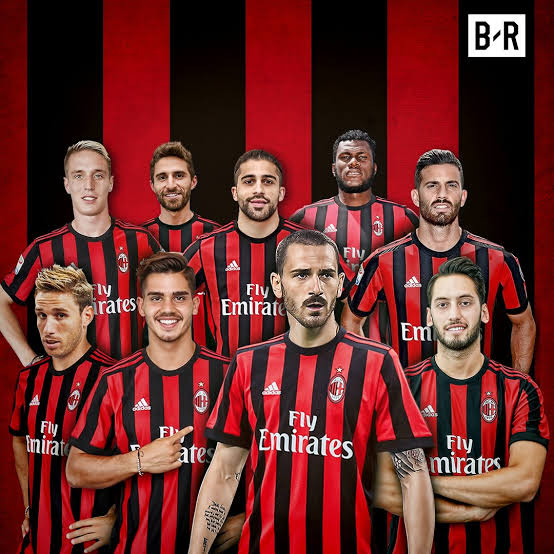 5. Leonardo adding salt to the wounds: The Chinese ownership failed to cough up the €32m they owed to money lender Elliott Management, a US-based investment management firm. As a result they took over Milan and appointed Leonardo as the sporting director.
Milan overturned a ban which was set to prevent them from playing in Europe by UEFA and with only one month left in the market Leonardo's experience was expected to come forth. He negotiated a player swap with Juventus as Mattia Caldara arrived for the departing Leonardo Bonucci. He then signed Gonzalo Higuain on a paid loan with option to buy, signed Samu Castillejo, Tiemoue Bakayoko on a loan and Diego Laxalt as a backup for Ivan Strinic who was diagnosed with a heart ailment.
However come December, Higuain jumped ship to Chelsea and Milan brought in Krzysztof Piatek and Lucas Paqueta for substantial sums. However, Milan still did not reach the top four – missing out on the last game of the season – and Leonardo left the club with Elliot changing direction once again.
6. Current season: With Leonardo leaving, Maldini took over the role of technical director and brought his old teammate Zvominir Boban to from FIFA to Milan as Chief Football Officer.
With the help of new sporting director Ricky Massara, they brought in Theo Hernandez, Ismael Bennacer, Rafae Lēao, Ante Rébic, Leo Duarte and Rade Krunic. However their appointment of Marco Giampaolo was a sour note as he lasted just seven games and was sacked, with Stefano Pioli brought in as a temporary fix.
Milan then saw its worst result in 23 years when they got trashed by Atalanta, with more talk of a relegation fight than a top four pursuit. This forced were forced to bring back Zlatan Ibrahimovic, albeit seven years older than when he left, and Simon Kjaer arrived to add experience the defence. This brought and upturn in fortunes and Milan are now actively fighting for European football next season.
In the same winter market that saw Zlatan return to Milan, Milan sold the misfiring Piatek, injury prone Caldara and the ever-polarising Suso. Milan also loaned out players Reina and Rodriguez making a gain of a total €35m in salaries and transfer fees.
A financial mess
In the footballing calendar the dates July 1st to June 30th constitute a financial year. All finances of the club are prepared according to this calendar. I thank Swiss Ramble (@SwissRamble) for their amazing work to collect Milan's financial details for the season 2018-19 which incidentally is our best season post 2012-13 in terms of sporting achievements.
– Milan's loss after tax widened by €20m from the previous season (17-18) to €146m. The worst in Serie A.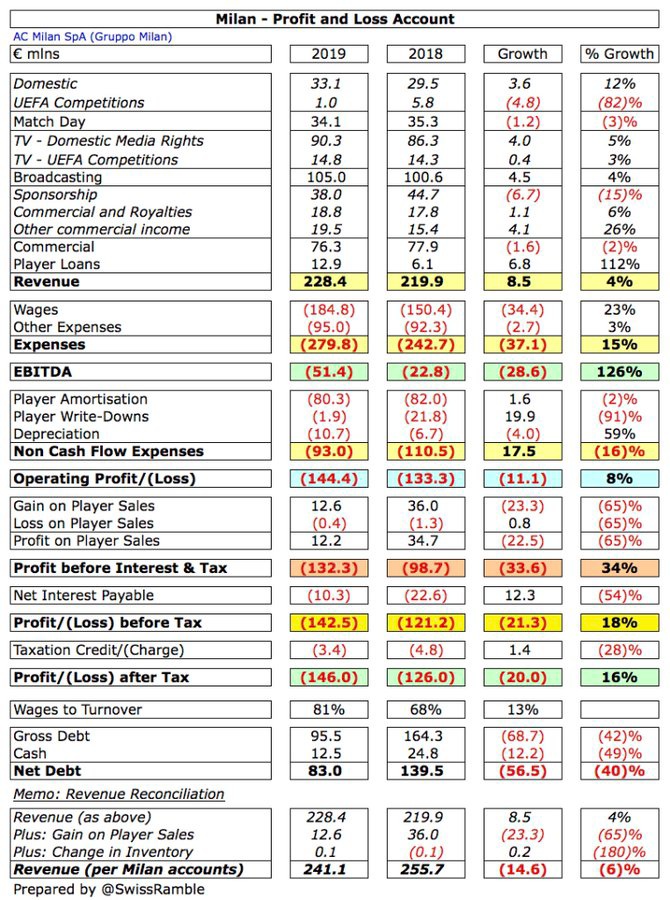 – The major contributor towards our expenditure is our over-inflated wage bill which rose to €185m (inc. €34m)
– This brings our total losses (before tax) up to €543m in the last 6 years.
– Major cause of these losses could attribute to poor player recruitment over the years along with bad sales. The total profit for Milan in last 5 years is only €55m while Juve have made €417m, Roma made €391m and even Inter made €185m.
– Milan have only made €29m from participating in European competition while Juventus have made €451m, Roma has made €255m and Napoli made €188m.
– Milan's total revenue of €228m is behind Juventus' €494m, Inter's €370m and Roma's €236m. In terms of losses, Milan have the highest in Serie A with €100m more than Juventus and Inter.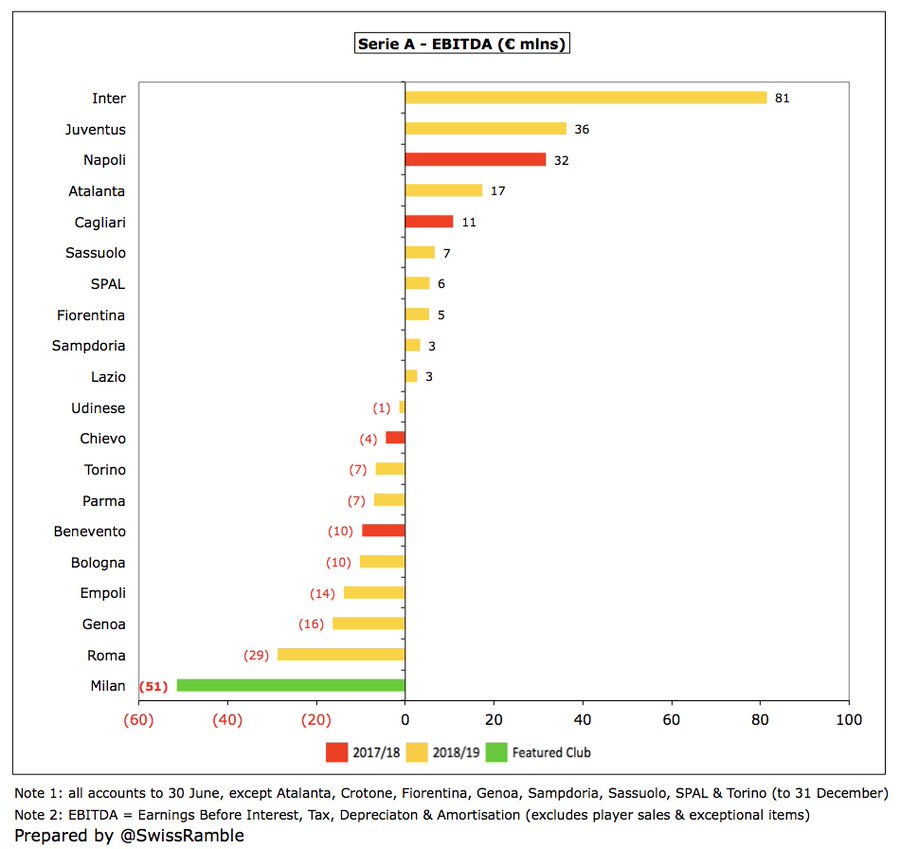 – In 2004, Milan were ranked 3rd in the money leagues (Clubs making most revenue) , but now have dropped to 21st in the rankings.
A close look at these metrics can give us a fair understanding as to why Scaroni chose to say: "Why are Milan not doing well? Milan have €200m revenue and Real Madrid €700m. It means they can buy better players and pay them more." It is the imperative need of the hour that Milan start making money again do that a sort of balance can be restored for it to reach the top of the money leagues again.
Shackles from Switzerland
With clubs recklessly overspending money to get player, UEFA had to step in to restore balance and ensure a level playing field, so they brought out the Financial Fair Play (FFP) system. FFP covers pages and pages of rules of information requires teams to spend money in the mercato based on their earnings.
Essentially, the spending should be proportionate to the revenue the club earns, the capital gains it makes on player sales and the profit/loss it makes in a three-year period. This rule works as per the law of seperate legal entity, i.e. it sees the club seperate from the owners. This means that FFP has limited owner spending for the club.
Milan's losses are huge and FFP is not very supportive of the Rossoneri's violation of the rules. Milan were initially banned for the violation of the FFP rules during the period 2014-2017 for 1 year but it was successfully appealed by Elliott in the Court of Arbitration for Sport. Milan were allowed to play Europa but were handed a heavy fine. Milan were once again found to have violated the FFP for the period 2015-2018 and in tandem with UEFA agreed to sit out the 2019-20 Europa league to wipe the slate clean.
Now the objective of the owners will be to enter an agreement with UEFA called the settlement agreement to prevent repeated violations and appeals at CAS. The settlement agreement would see Milan come under imposition of a lot of restrictions as dictated by UEFA. One of the restrictions would be to cut down the clubs losses to €30m and squad size restrictions in case of playing in Europa League.
With the arrival of the COVID-19 pandemic UEFA has suspended FFP monitoring of clubs for the 2019-20 season. However this does not mean that FFP will be suspended entirely either.
Thus ends part one of the analysis from @Keralista. Stay tuned for the second part!