AC Milan are on the hunt for a new centre-back after Simon Kjaer suffered a season-ending knee ligament injury, and Sven Botman continues to be the man constantly reported as being the number one target.
MilanNews reported earlier today that Milan's owners have confirmed their willingness to make a financial investment to strengthen the defence and cover for Kjaer. While Elliott no longer have anything to do with Lille, the two clubs have good relations as seen with the Leao, Djalo and Maignan operations.
A loan with option to buy is what Paolo Maldini and Ricky Massara are shooting for, and there is another boost: Botman's asking price could drop from the original €30m to about €20m plus bonuses.
Is he the right target? And if he were to arrive, what could Milan fans expect? Our writer Rohit dives deep…
Style and strengths
Old fashioned centre-back: Botman, unlike modern defenders, prefers to play safe with short passes to his flanking full-back or a midfielder backing up to collect the ball from defence to start the attack.
He does produce the occasional ball over the top to attackers whenever opposition presses high but then he can be inconsistent and inaccurate with it, therefore it is not considered a weapon in his arsenal per se.
Instead, the 21-year-old is more of a traditional defender who is comfortable to dribble the ball with his favoured left foot and carry it forward, and he does not keep the ball for more than required to avoid danger.
Aerial ability: Being 1.95m tall, Botman would automatically be one of the tallest players on the pitch. Whenever the ball is put into his areas he would always be the first to head it away making it difficult for oppositions to cross the ball or even go over the top.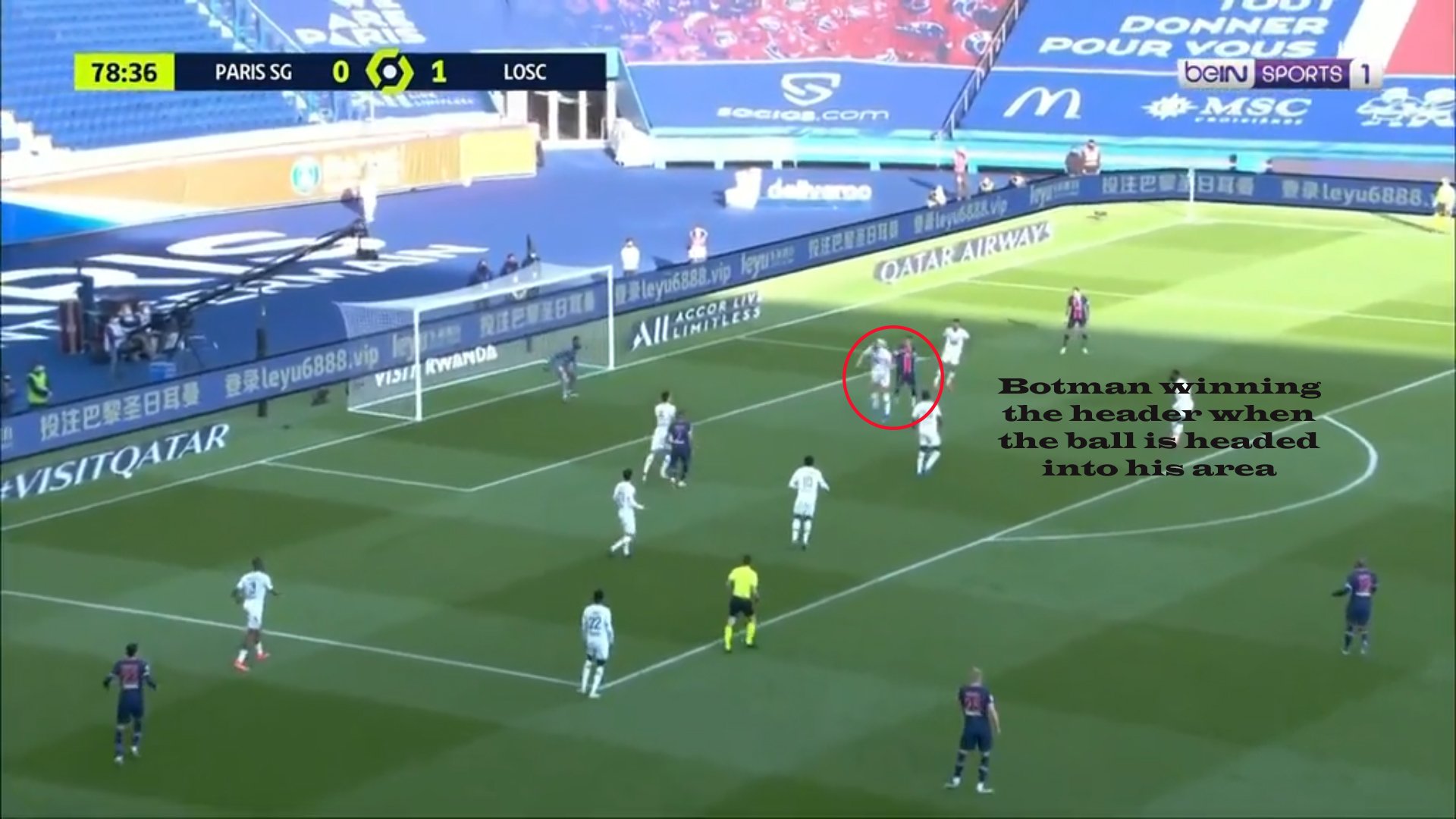 Reading of the game: Botman is an excellent reader of the game as he is extremely aware of his position to anticipate the ball being played towards different parts of the pitch. With his ability to anticipate what the opposition player is likely to do he is able to sense the danger and clear the ball before the attacker can react and change course.
Pace and 1v1 strength: He might not be as pacy as say Tomori, but Botman does have speed enough to deal with loose balls and recover when the ball is put behind the defence. He is not the slowest therefore, with pursuit angles key as seen below.
In terms of 1v1, which is one of the most key areas for a defender – especially playing a high line – the Dutchman does have his moments of weakness. Attackers with quick feet can get past him but no player is completely insulated from these isolated situations, and it is an aspect to be improved given he is only 21.
Tackling: A 195cm tall, the former Ajax man has incredible reach to the ball when making a tackle. This means that he can seize possession even when a striker has dropped in to play with his back to goal, because such a long frame allows him to block the forward getting possession.
Physicality: Botman is not just tall, but extremely physical as well. He is not easily be shaken or pushed off the ball and he packs a real punch when it comes to pushing opposition strikers (fairly of course) to win the ball. This makes it difficult for players to advance and makes them think twice about taking him on individually.
Areas to improve
Closing down spaces: One of the most important parts of the modern game is space management. For defenders it is most crucial to close down space and not allowing the time for the opposition player to shoot/cross.
It is in this area that Botman needs to improve because he tends to back away from the player taking on a shot instead of closing down the space, giving them time to make a decision. Romagnoli has had similar problems, it must be noted.
Lack of acceleration: Botman may have a decent top speed, but the acceleration needed to get to that marker leaves a lot to be desired. This makes him a bit prone to the 1v1 situations or means he cannot get back quickly whenever a ball is put behind him.
How he would fit at Milan
Sven Botman would bring various qualities if signed to Milan. One big factor will obviously be his height given that the Rossoneri have suffered on set pieces at both ends of the field, so adding some size and stature in that sense would be very beneficial. It would also reduce the burden on Zlatan Ibrahimovic, who is always the man required to be in place to cut out corners.
Having previously worked with Mike Maignan at Lille in their title-winning 2020-21 season, it should be easy for Botman to gel with the goalkeeper and creating an understanding.
In addition, being a left-footed centre-back means that the former Heerenveen man can help in creating a long term pairing with Fikayo Tomori.
Conclusion
Obviously negotiations are ongoing at the time of being published, but things point towards Botman being a very shrude purchase for the Rossoneri at the prices quoted; a very forward-thinking signing that fills a need and simultaneously adds another valuable piece to an ever-developing young core.
Botman too should seriously consider the move, because there are some raw edges to his game that a move to Serie A and working under Paolo Maldini's gaze could very much help to iron out.
---
READ MORE: Settlement Agreement and revenue projections – Why Elliott might be waiting to invest in the squad