Davide Calabria, Matteo Gabbia and Daniel Maldini are three primavera graduates currently in Milan's first team. Lorenzo Colombo, Marco Brescianini and Tommaso Pobega are another three who will fight for first-team places when they return from their loan spells next summer. But who are the up and coming stars? In this article, we take a look at three players rising through the ranks.
After a 10th-placed finish in the Primavera 1 in 2020-21, Milan's Primavera have had a tougher start to the season in 2021-22. After four games played, the Rossonerini are sitting second to last with two points, and in the UEFA Youth League, they have collected one point in the opening two games after a painful loss to Liverpool U19 and a tie at home to Atletico Juvenil A.
Despite the results, though, there is plenty of talent in the primavera this season. Just like previous seasons when we looked at Lorenzo Colombo, Luan Capanni, Marco Brescianini and Daniel Maldini, we will take you through who they are. In this article, we will focus on three players in particular who stand out.
Milos Kerkez

The 17-year-old Hungarian left-back Milos Kerkez was signed by Milan in February 2021 from Hungarian second-tier side ETO FC Győr and is without a doubt the player who is closest to the first team, for whom he has already featured and impressed during preseason. He has also won two caps for the Hungarian U21s despite playing several age groups higher.
Kerkez is an explosive left-back. Without stretching, he reminds you a lot of Theo Hernández due to the speed and style he travels down the pitch with, but also his excellent offensive qualities, attacking initiative and the way he uses his speed as a tool to get past the opposition in 1v1 situations. This set of offensive qualities resulted in a few goals for the first team in pre-season, two goals in two minutes against Pro Sesto for example.
The Hungarian already has experience playing with seniors as he featured for ETO FC Győr's first team 16 times as a 16-year-old before he left for Italy for Milan. 
Defensively Kerkez has strong qualities, too. He's a strong tackler as shown countless times for the primavera both last season and at the beginning of this season. He's fearless, confident and doesn't second-guess himself. He follows through in tackles and puts his body on the line when it comes to blocks. 
Furthermore, Kerkez is in possession of a nice left foot. He has great technique, nice crossing and strong shooting. For example, he's able to carry the ball in high pace and demonstrated against Pro Sesto that he has nice finishing as well.
Looking at the weaker parts of his game, he's still a bit small for being a defender. At 176cm he can struggle against bigger players. However, he's still a teenager and hasn't stopped growing. He will grow and gain size with time – but for now, it could present itself as a problem in senior football. 
What's for certain, though, is that Milan seems to have found themselves a massive gem in the Hungarian second-tier division.
Youns El Hilali

The next player in focus is 18-year-old Italian striker Youns El Hilali. El Hilali is a natural second striker, but in the Primavera, the Milano-native has primarily played as an attacking midfielder or on either wing. 
Last season El Hilali led the Primavera in assists with five, and was the second-best goalscorer with seven goals. That, after being the U17s top goalscorer the year before with 18 goals scored.
As a player, El Hilali is very unpredictable. His great technique and his flair make him hard for the opposition to read and anticipate his next move. He's the type of player who loves to take on his defender 1v1, does it with confidence and usually succeeds – ultimately creating chances for himself or his team-mates. He is the mould of player we have not been spoiled with in the Primavera the last couple of years.
On top of the above, El Hilali is also skilled with setting up his team-mates. As mentioned previously he led the primavera in assists last season and proved that he really has an eye for a pass. He 
Despite being a very skilled player with a whole lot of potential, there's a fundamental part of El Hilali's game he needs to improve: his finishing. As seen against Liverpool in the Youth League, for example, the forward gets in good positions and gets set up by his team-mates quite a bit but he doesn't make the most out of them.
To get himself to the next level, and to the first team even more so, he needs to capitalise on these chances more. Because if he does, he will most likely provide the first team with a fairly unique style of play Milan basically only has in Rafael Leão. A style of play that's quite non-Italian and rare in Serie A.
El Hilali has already trained with the first team this season. However, he's only made four appearances for the Primavera across all competitions. Once he starts playing, even more, he will be one interesting player to follow.
Luca Stanga

The 18-year-old Luca Stanga started his journey at Milan at the age of seven, and in September 2020 he signed a new three-year deal with the Rossoneri to extend his stay. 
After having started out as a right-back, Stanga has established himself as a centre-back in the Primavera throughout the last couple of years. A defender who leads by example and who never backs down from a fight. A few of the attributes that led head coach Federico Giunti to move Stanga to the Primavera permanently after only three games when he guest-starred from the under 17s in 2019.
The 18-year-old is a strong and powerful centre-back. He holds a physical advantage from his height, pace and strength, making him very a tough opponent to beat in ground duels and aerials. In addition to that, he also reads the game really well due to his high footballing intelligence.
But what sets him apart from most centre-halves is his great technique and passing, which he developed during his years as a right-back. Stanga tends to start play from the back and be the first stage in the build-ups with his terrific right foot. He's a very modern defender in that sense, and also has the adaptability to go back to his natural position of full-back if needed.
Stanga was called up to the first team's pre-season camp in 2020 already, as a 17-year-old, where he left an impression. On top of impressive displays, he scored in a friendly against Vicenza at Milanello when Milan won 5-1. He then continued to play guest-star for the first team in preseason this summer and played 31 minutes against Modena in the first friendly, also at Milanello. 
The fact that he has already received the chance to play for the first team in two back-to-back preseason camps shows that there's faith in his abilities both from Primavera manager Giunti and Stefano Pioli's staff, which can be seen further in the fact that he's gotten to train with the first team thereafter.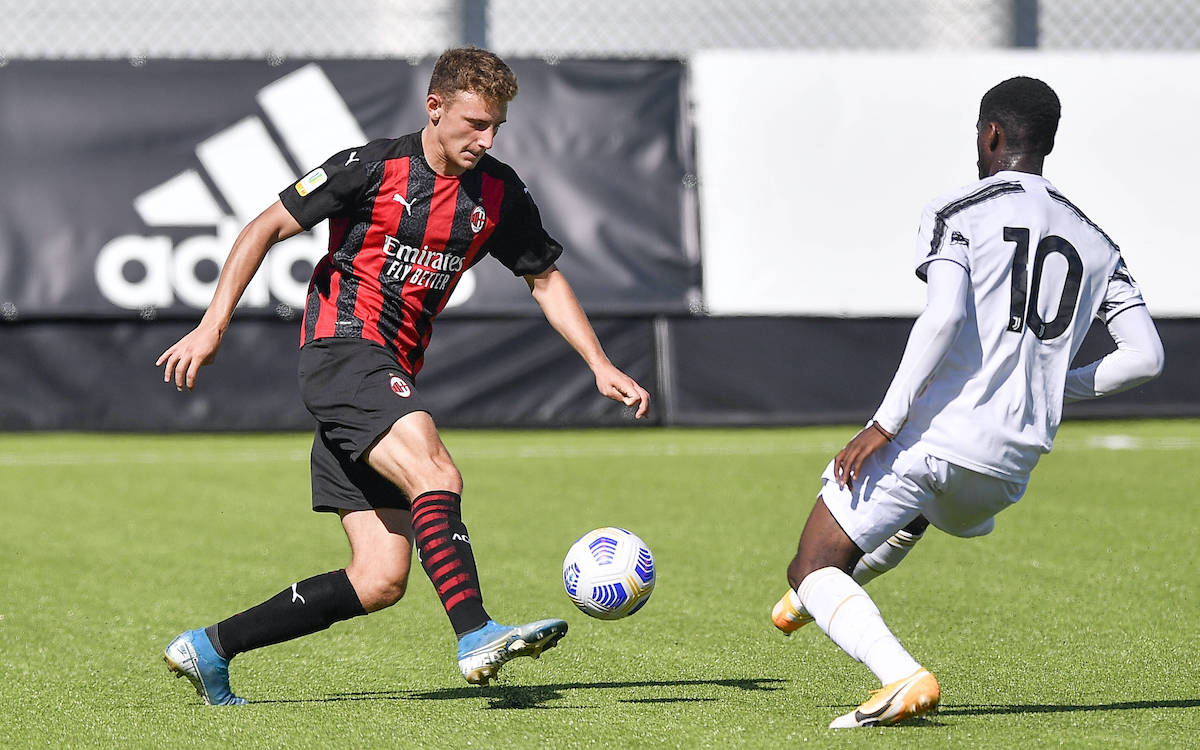 Looking at Stanga's game, there aren't any clear areas he needs to improve. What he probably needs is further game time to develop his overall game. He most certainly has the potential to make the first team long-term, but before that, he could benefit from a loan spell to gain more experience with senior football.
That's something he hasn't gotten a lot of apart from the features he's made for the first team in pre-season. Perhaps, that could even be a good idea for him in January: to go out on loan and test his ability against grown-ups and gain experience. He's ready for it.
---
READ MORE: Moments of carelessness and a rude awakening – Tactical analysis of Milan's defeat to Porto