In our mid-season review of Milan's Primavera team, we lifted three players, who, in our opinion, are the closest to reaching the senior squad. Daniel Maldini, Luan Capanni and Marco Brescianini.
This is the third and final article in a series of three where we will profile these three players, and in this article, it's time to take a deeper dive into Marco Brescianini.
During one of Stefano Pioli's first training sessions as manager of Milan, a blonde kid from Calcinate southeast of Bergamo was the one impressing the most. Marco Brescianini had stepped up to train with the first team after he featured in the team's pre-season tour in the US, and took center stage during an in-house game against Milan Primavera as he scored a hat-trick and left mister Pioli very impressed.
Primavera captain Brescianini is found as the engine and heart of the team in the center of Milan's Primavera team, which has gone undefeated in the second division this season to earn promotion.
Profile and skill set
He has been at the club since he was only eight years old, when he moved from his hometown Calcinate to Milano, and is a player who leaves his all on the pitch.
Purely seen to style of play, it doesn't come as a surprise that Brescianini is captain of the Primavera. Brescianini can be seen down in his own penalty box, at the corner flag supporting his fullback, or smashing crosses to put his wingers and strikers in good positions to score.
He helps the team wherever he is needed, doesn't think twice about doing so and never complains. His most important qualities in defensive aspect is his ability to read the opposition, his persistence in pressing and in duels, and his work rate.
Offensively, he usually drives the ball forwards. Either by collecting the ball in the defensive zone or in the central parts of the pitch to drive forwards using his speed on the ball, agility and blistering technique to get past the opposition's defense, or he put his teammates in scoring positions with line-breaking crosses or flicks.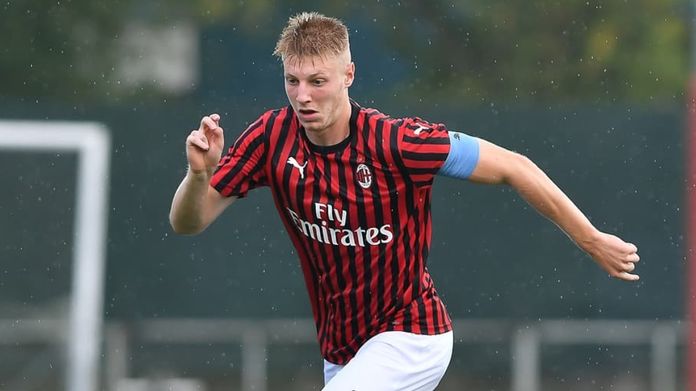 During attacks, he tends to roam around the penalty box to be ready as second wave and blast of a rocket towards the goal if he is given the rebound.
Brescianini is a modern-day two-way central midfielder who puts in the work at both ends of the pitch – although his excel qualities lie in the offensive part of the game.
His main asset is his left foot. It has the technique and close control to manage in crowded areas and tight spaces, he can launch mesmerising crosses deep into the opposition's half or flick passes in-behind the opposition defense, and he also has a missile of a long shot.
Throughout the 2019-20 season with Milan's primavera, Brescianini has played as a central midfielder in all of the 12 games he has featured in. He has contributed with six goals and two assists in those games – averaging a goal every other game – which is a very impressive average for a central midfielder.
Areas for improvement
If there is any part of his game Brescianini needs to improve on, it's that he sometimes takes too many touches on the ball when he can circulate it to his teammates. It's almost more of a bad habit.
He usually doesn't need does extra touches; it seems more like he just wants to have the ball as much as possible, but with guidance that can easily be fixed and even though he holds his own in duels as it is. It wouldn't hurt Brescianini to build some more muscle if he's going to play on senior-level against grown men, too.
Brescianini's chances of becoming a part of the senior squad are good. He has a great personality, maturity in his game, and exceptional character of the pitch. He wouldn't be selected captain for nothing.
At Milan, he currently has the likes of Çalhanoğlu, Kessié, Bennacer, Bonaventura, and Lucas Paquetá ahead of him in the pecking order. So perhaps a loan to a top table Serie B club or bottom half Serie A club to successively introduce him to senior-level would, and to give him continued development, would be good.
That being said, at this moment in time, it feels like seeing Marco Brescianini in the senior squad is a matter of when – not if. Milan's first order of business after the summer deadline in 2019 was to extend his contract to 2024, an act from the management which speaks volumes of how highly rated he is within the club.
🎥 Highlights 🎥
Milan 🆚 #MilanPrimavera

Marco Brescianini hat-trick hero ️⚽️️⚽️️⚽️#SempreMilan pic.twitter.com/fUBPmP1LYV

— AC Milan (@acmilan) October 12, 2019
https://platform.twitter.com/widgets.js