While AC Milan were busy completing the change of ownership from Elliott Management to RedBird Capital, they also managed to agree a deal for Aster Vranckx with Wolfsburg.
Of Congolese descent, Vranckx came through the ranks of Belgium club KV Mechelen before signing for Wolfsburg in the Bundesliga last summer. So what can the Rossoneri expect from the Belgian? Here is an analysis…
Playing style
Vranckx likes to play on the wings and likes to take on full-backs and wide midfielders of the opposition. He occupies wider areas of space and likes to receive the ball and either create a 2v1 with the wing-back or make space for runs from his attackers.
On the ball ability: Perhaps Vranckx's strongest area is his ability to play the ball. His good first touch, his close control and his ability to hold up and retain possession is very good for a player only 19 years old.
— Rohit Rajeev (@keralista_v2) August 31, 2022
Vranckx – who is 183cm tall (6ft) – uses his frame to shield the ball away from his opponent while he has the quick feet to turn or change direction making him a tricky customer for players to deal with.
— Rohit Rajeev (@keralista_v2) August 31, 2022
Tactical intelligence: A midfielder must be able to understand the flow of the game before he can influence it. As you can see here Vranckx always positions himself between the lines to receive the ball and understand the space.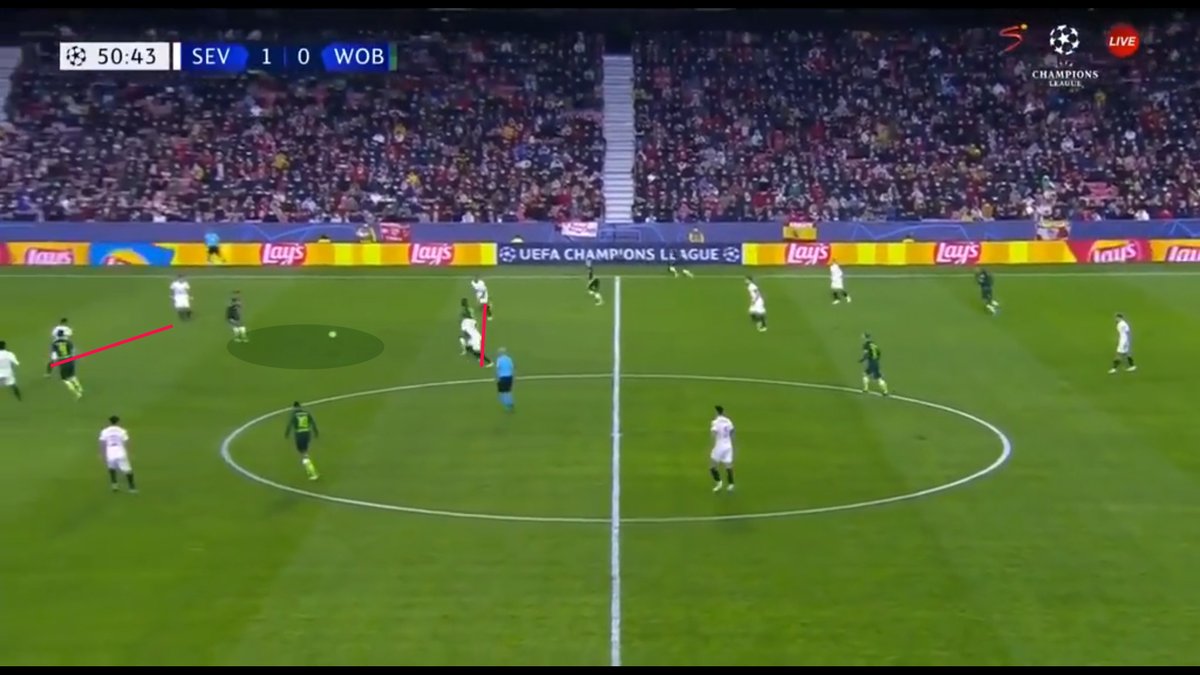 His ability to make runs into space especially in the final third of the pitch makes him a tricky customer, as Sevilla found out.
— Rohit Rajeev (@keralista_v2) August 31, 2022
Passing: Vranckx is not the silkiest of passers but most of the time prefers the safest option instead of trying a risky through ball and losing possession. This means he keeps the play ticking and recycles possession.
Pressing: Wolfsburg use a form of cover shadows while pressing which is essentially cutting off the passing options of an opponent player on the ball. Vranckx always identifies player who is unmarked as he scans his surroundings by looking over his shoulder and behind.
— Rohit Rajeev (@keralista_v2) August 31, 2022
Tackling and interceptions: Vranckx's defensive forte is his ability to intercept passes and use his long legs to tackle. One of his main methods of doing this is to anticipate the play like how he sees the pass to Renato Sanches as soon as he saw him drawing out.
— Rohit Rajeev (@keralista_v2) August 31, 2022
His tackles are also clean and he reaches out to the ball very well.
— Rohit Rajeev (@keralista_v2) August 31, 2022
Pace: Vrankx has real long strides and covers ground really quickly. His acceleration to reach his top speed is very fast and it is difficult for defenders to anticipate his moves.
If asked which player he resembles the most he looks more like Renato Sanches rather than a Franck Kessie mould of midfielder. This would lend credence to the idea that Pioli is slowly planning to chance his structure from a double pivot to a midfield threee.
Statistical analysis
Thanks to Scout7Calcio for this 'pizza wheel' of Aster Vrankcx. This visual denotes the percentile rank of Vranckx when compared to the rest of Europe.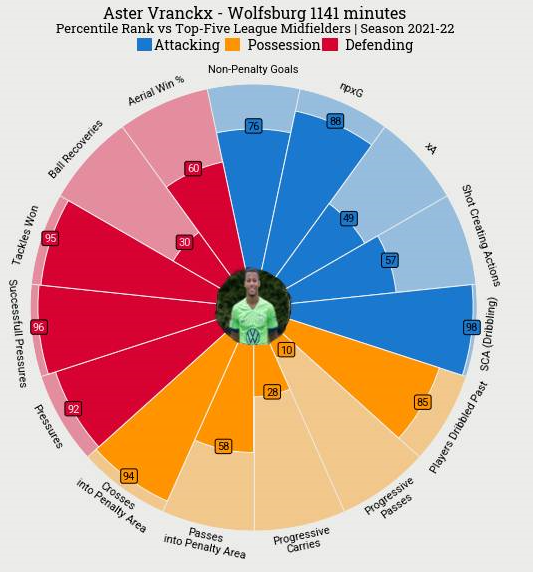 As we can see, Vranckx presses a lot and his team have successfully achieved turnovers with his pressing. He also has a very high percentile for tackles won.
He has a high percentile in terms of Shot Creating Actions though his dribbling, while he ranks a very good 85 percentile for dribbling past players.
Areas to improve
Passing: As mentioned earlier Vrankcx isn't a skilled passer so he needs to improve on this aspect in order to not lose possession so cheaply especially to teams which can be deadly on the counters.
Work rate: Playing for a team with a high pressing unit like Milan it will demand him to physically exert himself a lot more unlike Wolfsburg.
Conclusion
After tasting Scudetto success fans may not like the approach that the club are taking – especially after being linked with much more established midfield targets – but Milan are building something with players that could be a formidable core in time.
Vranckx is a part of this and he could well become a wonderful player if given the right patience and opportunities, adding to a group that mean in years Milan could be a dominant team in Europe.
Transfer rating: