The new name that has entered the AC Milan orbit in the last few days is Carney Chukwuemeka of Aston Villa, who is now seemingly a target for the midfield department.
Chukwuemeka is just 18 years old and has been playing for Aston Villa since he was 12. However, it seems that he now wants to change scenery and has half of Europe's eyes on him, not just because he helped England win the U19 European Championships last month, with a goal in the final against Israel and a place in the team of the tournament.
The Athletic reported first that Chukwuemeka is being chased by both Milan and Barcelona, while Villa have tried and failed to extend the contract of the teenager since October, and the Rossoneri's interest was backed up by many other sources since.
We spoke to Charlie Jennings of The Villa Academy to get all the insight on Chukwuemeka's rise through the ranks to being considered one of England's top talents and his current situation.
Milan have been linked with Carney Chukwuemeka in recent days, and he is talked about as a very big talent. What is the player's background and how quick has his rise been?
"Carney joined the Villa Academy aged 13 and his rise has been rapid since. In his first years as a Villa player he was part of a triumphant 2018 Premier League U15 Floodlit Cup campaign before also starring in Villa's 2020/21 FA Youth Cup win, finishing as the top scorer in the competition with six goals which included a hat-trick in the 6-1 quarter final demolition of Newcastle.
"A Premier League debut also came that same season, with two late season substitute cameos in wins against Tottenham and Chelsea. More recently, Carney amassed 294 2021/22 Premier League minutes across 12 appearances with two starts, recording a single assist in that time.
The midfielder's most notable achievement to date is winning the U19 European Championships with England, assisting two and scoring three including the winning goal in the Final. Carney was the standout player in the tournament."
There has been some disagreement among the Italian press about his best position. In your opinion, where does he play best?
"Carney has been used varyingly in international age group and Premier League football. His most notable performances in an England shirt have come as part of a double pivot playing alongside fellow Villa midfielder Tim Iroegbunam or Bristol City's Alex Scott.
"He is someone with the creative attributes that demand a certain level of freedom within a team – and that tactic certainly bore fruit in the U19 European Championships. In the Premier League it has been a more structured role for Carney, normally operating from the left side as somewhat of an inside forward and this has, perhaps, created some difficulties with his adaption to Premier League football in playing an unfamiliar position."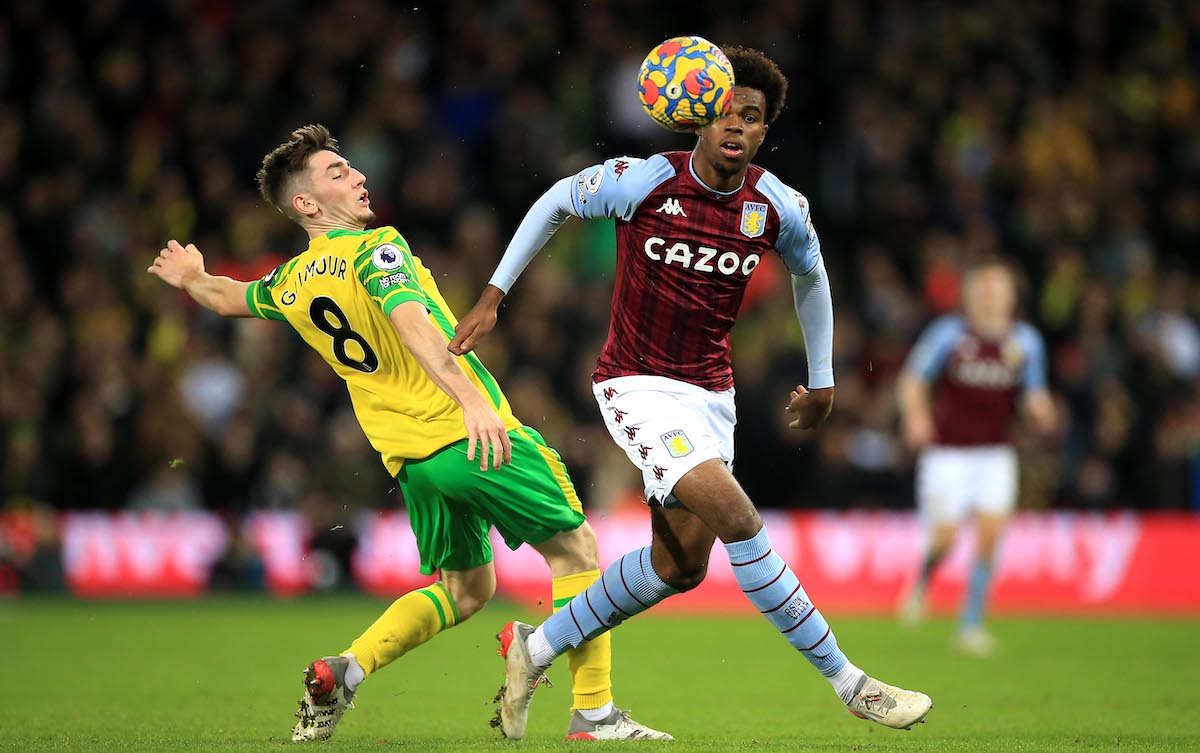 What are Chukwuemeka's strengths and weaknesses? Is there a player you would compare him to?
"Carney is an outstanding ball carrier from deep areas of the midfield. He is known for marauding, mind-boggling dribbles through tight areas and compliments this with a delightful array of passes which drew an immediate comparison to another heralded Villa product in Jack Grealish.
"His dribbling ability and close relationship with the ball occupies defenders in a way we so productively saw during Grealish's time at the club. His array of passes allows for delicate and precise combination play, often linking up well with his wide men while driving into those half spaces.
"He also presses extremely effectively in the final third when asked, one of the features of Villa's FA Youth Cup triumph was the unrelenting nature of Villa's final third press and this was encapsulated by Chukwuemeka winning the ball in dangerous areas and providing the killer pass which often led to huge numbers of chances being created.
"A perceived weakness could be a tendency to attempt a little much on occassion in the final third, trying to work the perfect position rather than accept a shot with the half yard he has created – I view this as somewhat of a hangover from the amount of age group football Carney has played where creative expression is encouraged but equally is the type of trait that is honed with increased and more frequent exposure to higher levels of football, and something which can be altered with good coaching.
"His languid dribbling style and dominant physique has drawn comparisons to Paul Pogba, probably most similarly to Pogba in his time at Juventus as someone who drives the team forward with his ability to carry the ball while also possessing that flair which he demonstrates in his final third play.
"Sergej Milinkovic-Savic is another favourable comparison to draw, with the directness of the dribbling into wide areas. SMS attacks extraordinarily similar areas in the final third to what we have become accustomed to see of Carney in a Villa or England shirt, but also shares the same ability to pick off the opposition in a press and allow his team to dominate in that fashion."
Does he have the potential to become a top player in Europe?
"Undoubtedly. Anyone who tuned into any of the England matches during the recent U19 European Championships will attest to the undeniable talent Carney possesses and the biggest barrier to him fulfilling this talent and potential right now is playing time.
"His skillset is so clear as one which is attributable to any of the top European Leagues, and you only have to look at the clubs rumoured to be interested in him to see how widely enamoured European Football is with his talent."
Is he ready to make the jump to a club like Milan straight away, and are you surprised by the level of clubs linked given reported interest from PSG and Barcelona?
"He is capable beyond words, and my personal belief in him is such that I trust him to make the most of any move which comes about. The interest from prestigious European clubs only reaffirms to me the stops Villa should be looking to pull out to keep him, and the interest comes as no surprise to those who have observed his rise to one of the Villa Academy's brightest prospects and the knowledge of just what he is capable of on a football pitch."
Finally, what kind of a valuation would you say Chukwuemeka has?
"He has struggled for consistent minutes in a Villa midfield which has lacked consistency so I can understand his frustrations and, with his relatively unique contract situation, sympathise with the way this is being dealt with so publicly.
"Owing mostly to the unique set of circumstances that surround Chukwuemeka's mooted departure, a fee of £15m upwards would represent value for Villa but, in truth, this is in no way representative of just what a talent Carney is.
"The main fear Villa as a club hold is losing to Chukwuemeka to a nominal UEFA Training Fee next summer. If Carney is to leave, the club would like to recoup money on the production of what I am sure will be a fantastic asset to whichever club acquires him."