AC Milan are still among the most well-recognised football teams in the world. With more than a century of history, the club has won a total of 18 Serie A championships, six Supercoppa Italiana, 5 Coppa Italia and 3 Intercontinental Trophies.
The team has also won 7 Champions Leagues, 5 UEFA Super Cups, and 2 cup winners' cups, which made them very popular with bettors in several online casinos. There's no doubt that the Rossoneri have always been blessed with a wealth of world class talent, except with more skill comes more difficult decisions. While not every player is eligible for inclusion in this list, here are the top eight greatest athletes who have worn the famous red and black.
8. Marco Van Basten
At only 29 years old, Van Basten was forced into retirement due to injury, and if he had not, he would have surely gone on to become one of the elite players of all time. With Paolo Maldini and Baresi out due to injury, Van Basten was Milan's third-most crucial man on the field, which is no slight on the Dutchman's abilities. Yet, despite his brief professional career and the numerous accolades he received, everyone will always wonder what may have been had he stayed.
7. Ruud Gullit
Gullit was one of three members of an excellent trio which included fellow Germans Marco van Basten and Frank Rijkaard. He was an extremely agile and gifted player. The Dutchman was not only physically strong and quick, but he also possessed excellent dribbling ability, precise passing, a good shot, and a genuine all-round attacking threat.
6. Andrea Pirlo
The deep-lying midfielder embodies the adjectives elegant, easy, and one-of-a-kind. Despite his lack of physical prowess, the architect was more than a match for his opponents in terms of technical superiority.
Even then, it's hard to say how much of an influence he's had simply by looking at numbers. Those with a keen sense of strategy will be able to discern the subtleties of his skill set. Despite the controversial circumstances of his exit and move to Juventus, it is impossible to deny his talent and his impact.
5. Kaka
As a player, Kaka is not only one of the most talented athletes in the world, but he also has a heart of gold. Kaka is a celebrity both on and off the field, but for quite separate purposes, as seen by his 2004 appointment as the United Nations World food Program's youngest ever champion and his yearly donation of a 10% of his salary to his religion.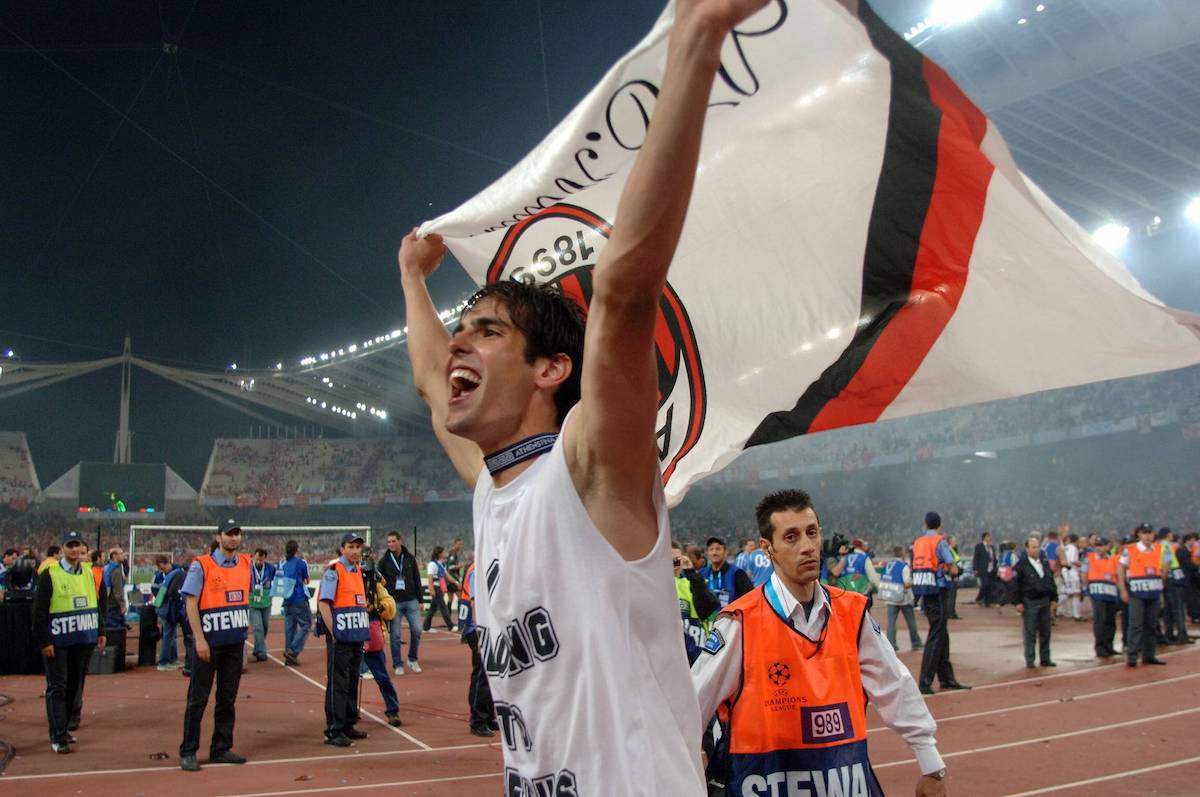 A Ballon d'Or and Champions League winner with the Rossoneri, he was one of the most electrifying forwards that the club have ever had.
4. Andriy Shevchenko
Sheva soon became a Milan fans favourite after signing for the club in 1999 for a price of €25m and going on to score 24 goals in 32 games in his first year. His departure from the San Siro in 2006 seemed devastating, but he never really hit the same heights after leaving. He is still adored by the fans of Milan and is the team's second-highest all-time goalscorer with 173 goals.
3. Franco Baresi
Baresi is the clearest illustration of Inter's cast-offs coming back to bite them in spectacular form, along with Clarence Seedorf and Andrea Pirlo. Franco tried out for Rossoneri after struggling to reach the mark with Inter's development team and the youthful Baresi ended up getting recognised as one of the best defenders in Milan's existence (where he played his whole career) and also among the finest defenders of all time after 719 games, and 33 goals.
2. Gunnar Nordahl
It's a mystery that the Scandinavian isn't more known as one of the league's all-time greatest goalscorers. For eight years, Nordahl scored an incredible 0.817 goals per match while playing for the Milanese club, with 210 goals scored in 257 matches. Nordahl's 422 goals in over 500 games ranks him at an incredible 0.837 goals per match scoring rate, making him one of the greatest strikers in the history of the sport.
1. Paolo Maldini
Maldini began his professional career aged sixteen as an injury substitute on 20 January 1985, but he would go on to have a 25-year long tenure at the top stage of the sport after that. Maldini is unquestionably among the best defenders the world has known as a spectacular athlete and a leader amongst leaders.