After a heavy defeat to Atalanta, Milan had to react immediately and grab a win to boost their confidence. Fortunately for Pioli, they got away with all three points against Bologna and now face an 'easy' stretch. 
The game against Bologna was supposed to be an easy one, at least on paper, as the Rossoneri had a long unbeaten record against their opponents. However, after going 2-0 up, Milan did struggle a bit in the final minutes of the game, but eventually managed to get the job done and collect all three points.
With Hakan Calhanoglu absent, it was Rafael Leao that played in an unusual position behind Zlatan Ibrahimovic. Fikayo Tomori got his first start in red and black after Simon Kjaer's injury and Ismael Bennacer was finally in the squad after being so missed by the entire team.
Ante Rebic opened the scoring in the first half as he pounced on Zlatan Ibrahimovic's penalty, which was saved by the goalkeeper. And early on in the second half, Milan got another penalty and this time Franck Kessie stepped up. The Ivorian made no mistakes and that goal was decisive in the end. Here are five things we learned.
1. Quick to react
After their second defeat of the season against Atalanta (Serie A), Milan were quick to bounce back and win against Bologna. It's the second time the team has needed to react after a heavy loss against a rival and compared to previous season the team has actually managed to do so.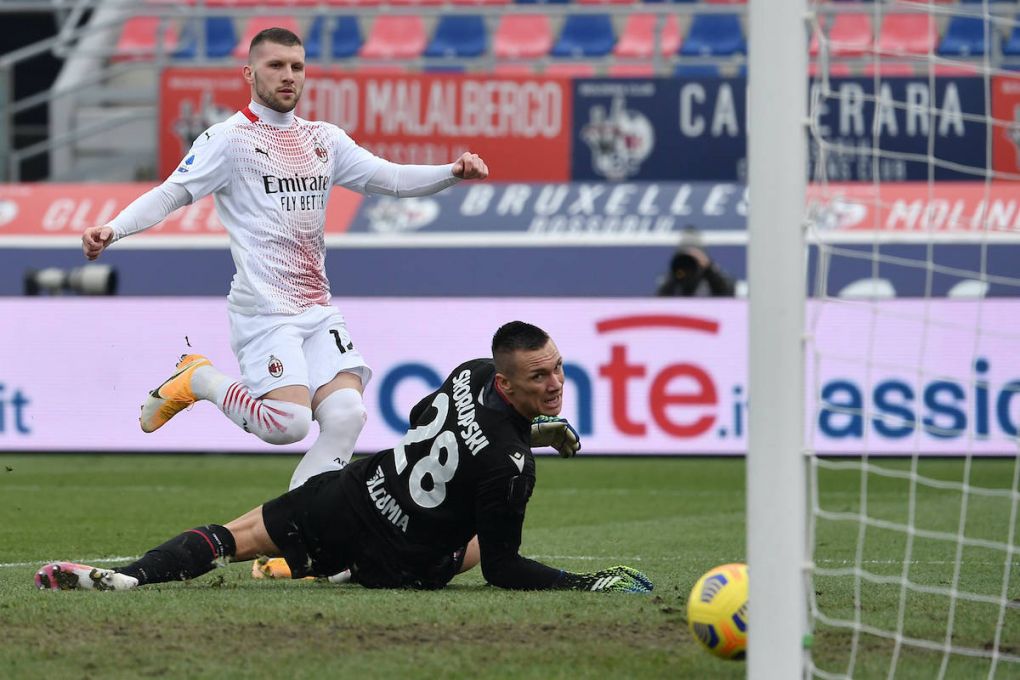 Picking up the point against the smaller teams will be crucial in the Scudetto race and while Pioli's squad may lack some of the quality and experience Inter and Juventus have, his team has shown great mental improvement.
After the Bologna game, Milan have two relatively easy fixtures (Crotone and Spezia) ahead before the big game against Inter. And with all the key players coming back it's going to be an interesting one to say the least.
2. Full debut done right
Fikayo Tomori played a good chunk against Inter in the Coppa Italia and impressed with his pace as well as ability to read the game. Due to the unfortunate injury of Simon Kjaer, the Englishman was handed his first start against Bologna and it was a very good debut for the Chelsea loanee.
Tomori made a few crucial interceptions and his pace gives him the ability to track back nicely. It's also impressive that the defender arrived just a week ago, but the chemistry between him and his teammates looked quite good. A very promising start and perhaps Milan will be exercising the buy-out option in the summer.
.@fikayotomori_'s first #ACMilan start:

➤ 3 tackles
➤ 3 interceptions
➤ 4 clearances
➤ 1 blocked shot
➤ 4 aerial duels won
➤ 90% pass accuracy

🏴󠁧󠁢󠁥󠁮󠁧󠁿🔴⚫️

[Via @WhatGattusoMad] pic.twitter.com/LdzO3WOozZ

— MilanData📊 (@acmilandata) January 30, 2021
3. Goalkeeping display crucial in Scudetto race
Excluding the final 15 minutes of the game, Milan were the team dominating their opponent and also had quite a few shots on target in the first half. Unfortunately for them, they weren't clinical enough to extend their lead even further.
That being said, Bologna did have a few great opportunities going one-on-one with Donnarumma. Gigio, though, was quick to come out and made himself big on both occasions, making two fantastic saves to keep his side ahead.
The Italian has been making these saves since the start of the season and he remains a big reason for Milan's success. So of course, Gigio's performances and saves will be crucial from now on to keep Milan top of the table and put pressure on their rivals.
.@gigiodonna1 🆚 Bologna

🇮🇹 Italy's number one.

📹 @CompsACMpic.twitter.com/C4bQpxdpTF

— SempreMilan (@SempreMilanCom) January 30, 2021
4. Experiment played out well
In the absence of both Calhanoglu and Brahim Diaz, Pioli decided to play Rafael Leao in an unusual position behind the striker. The Portuguese managed to adapt and had a decent game behind Zlatan as he won the first penalty for his team and had a few good runs forward, creating some nice chances.
The youngster also helped a lot in defence as we have started to see him work more and more off the ball, week after week. He did drop the tempo a bit in the second half, but he can't really be blamed as the whole team played poorly after the second goal, but nevertheless his display was encouraging.
.@RafaeLeao7 🆚 Bologna

👊 Great shift in a new role.

— SempreMilan (@SempreMilanCom) January 30, 2021
5. Substitutions gone wrong
Pioli has done amazing this season, especially if you consider all the problems he has dealt with over the last few months. That being said, his substitutes in the second half weren't his best. Bringing on Bennacer was the only positive out of the three changes made.
Mario Mandzukic was brought on for Rebic to play on the left and while Mario has height and strength the help his team defend or attack, the 34-year-old simply lacks the physicality to play on the left-wing for the time being.
The other change was Rade Krunic and although we can't be too harsh on the Bosnian, everything seemed to collapse after his introduction. Krunic has rarely had a decent performance and after the two subs, Milan were struggling until the final whistle.
On the bench, Pioli had the likes of Jens Petter Hauge and Samu Castillejo to bring on and freshen up the wings with more pace compared to Mandzukic. Daniel Maldini was another one that could have played behind Zlatan, but playing Krunic instead is questionable.
READ MORE: Romano on Milan's summer budget and the main targets they have