Although the goals have still been flowing Milan's attacks haven't been the same in Zlatan Ibrahimovic's absence. Therefore, we have identified four targets as a Zlatan deputy through this statistical analysis.
As January approaches, Milan have a few areas that need to be strengthened. A centre-back and a central midfielder have more or less been confirmed by the management to be on the agenda, but another position that's frequently been discussed throughout the fall has been a deputy to Zlatan Ibrahimović.
When the 39-year-old Swede has been missing – first due to Covid-19 and then due to muscular injuries – his absence has been felt in Milan's attacking play. Without Ibrahimović there's no longer a focal point in the attacks and there's no one to hold up play in order for the team to gather.
Lorenzo Colombo is a fitting profile. Physically strong, relatively good in the aerial game, etc, but it's clear that he's not ready to mantle a deputy role to Zlatan. His decision making is sometimes questionable and at other times he goes missing. He has the potential to take on the role in the future, but right now the best move for him would be to go on loan to gain senior experience. After all, he's only 18-years-old.
But Colombo not being ready means that Milan have to dip into the market to find someone to back up the magical Swede. Therefore, we have made a statistical analysis of potential targets from Serie A, Premier League, La Liga, Bundesliga, Ligue 1, Liga NOS, and Eredivisie.
The main criteria have been goals scored, aerial duels, key passes, and how many times the player has been dispossessed. This, because aerials are a key part of the Zlatan-role, dispossession shows how good the player is at holding up play, and key passes because the role needs someone who can collect long passes and set up his teammates.
After that search, these are the candidates…
Nicolás González
The Argentine Nicolás González made the move to Europe in 2018, when he left Argentinos Juniors for Stuttgart. Since then he's established himself as one of Stuttgart's key players whilst also impressing with the national team, La Albiceleste, as well with two goals in five caps.
In Germany, González has mostly played as a left-winger but throughout his professional career he's mostly been used as a striker and that's why he's included as an alternative for Milan.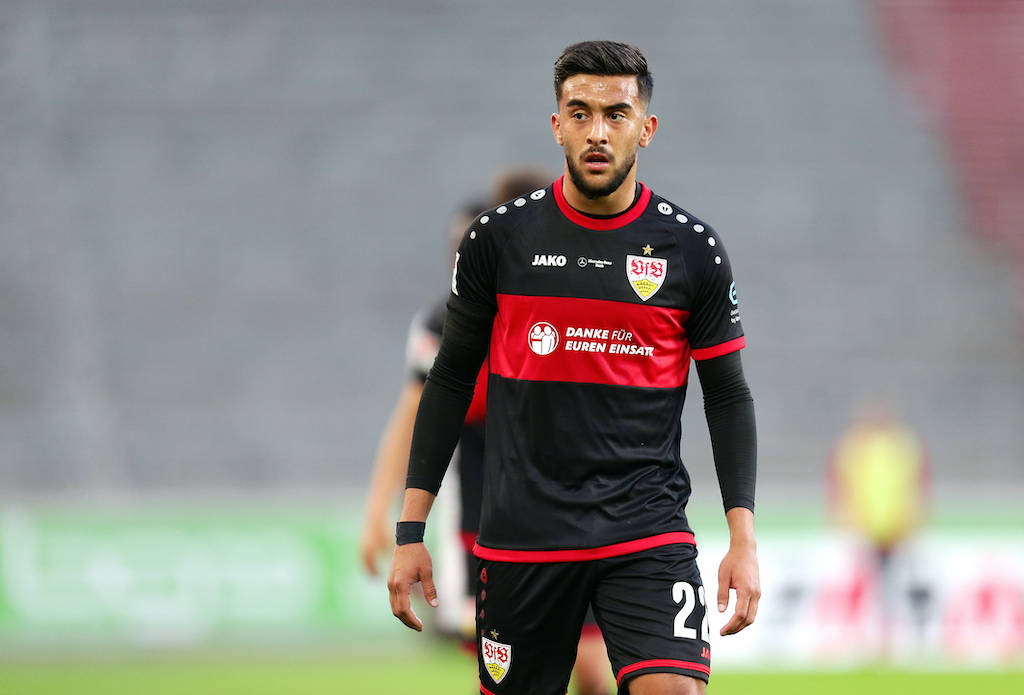 From a physical standpoint, the 22-year-old doesn't fit the Zlatan mould as he's only 180cm tall and super strong – but González still fits what Milan need. He's averaging an impressive 65.29% of his aerial duels won in one of the most physical leagues in the world and he's only been dispossessed 3 times contra Zlatan's 4 dispossessions.
This is because of his timing, elasticity, and ability to hold on to the ball with his technique. Even if you're not the tallest player you can still win your aerials if you time then right, which is the case with González. Then, when he's in possession of the ball, he has a great ability to hold onto it with his technique, quick thinking, and agility.
Apart from that, he's scored 4 goals and made 1 assist in 8 Bundesliga appearances this season, as well as creating 6 chances. He also averages 3.96 shot-creating actions per 90.
All this combined makes him an unorthodox fit for the role of being a Zlatan deputy.
Yussuf Poulsen
Since switching Lyngby for Leipzig in 2013, when Leipzig wasn't the team we know them as today, Yussuf Poulsen has led the team to success. But as Leipzig have bolstered their offensive set up this past year with names such as Dani Olmo, Alexander Sørloth, and Hwang Hee-chan, he's not been featuring regularly in the starting eleven as he used to. That is something that makes him an even more exciting alternative for Milan.
At 193cm, Poulsen is a big player and strong player – which he builds his style of play around. In the past, he's had the same role at Leipzig as Zlatan Ibrahimović now has at Milan. Much of the attacks were based around him holding up play to gather a numerical advantage or for him to finish crosses off in the box. That is a big plus for Milan as they should be looking for someone of that profile to back up Zlatan.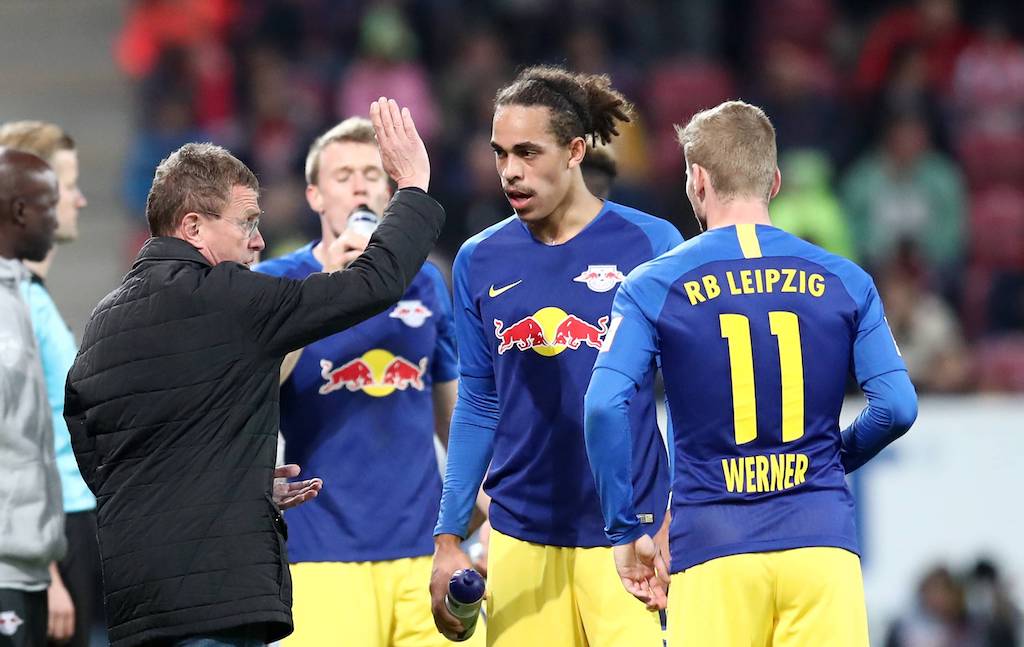 Poulsen has won 65.71% of his aerial duels in the Bundesliga this season and has only been dispossessed 9 times. On top of that, he's created 9 chances, scored 4 goals (2.6 xG), and made 3 assists from only 7 starts. He also averages 2.47 shot-creating actions per 90.
So, since the Dane has been at the club for a long time, and his minutes have decreased this season, it might be worth trying to convince him to join the Rossoneri.
He's only 26-years-old and has loads of senior experience – at both club and international level – and is a character who likes to lead with example. He never backs down from a duel and he always gives his all.
Sargis Adamyan
Sargis Adamyan has had a rocket rise in the German league system throughout the past two or three years. As recently as in 2019 he was playing in 2. Bundesliga with SSV Jahn Regensburg, but since Hoffenheim signed him that same year he's development curve has gone up.
Last season he provided 7 goals and 3 assists in 17 appearances for Hoffenheim, which without a doubt could've been more if he didn't injure his ankle that required surgery. This season he was on his way back and provided 1 goal and 1 assist in 72 minutes across 3 appearances – before getting infected with covid-19 and missing another 4 matches.
But overall Adamyan has made 11 appearances this season, scoring 3 goals and providing 2 assists. In-game he's won 80% of his aerial duels, provided 4 key passes, and never been dispossessed.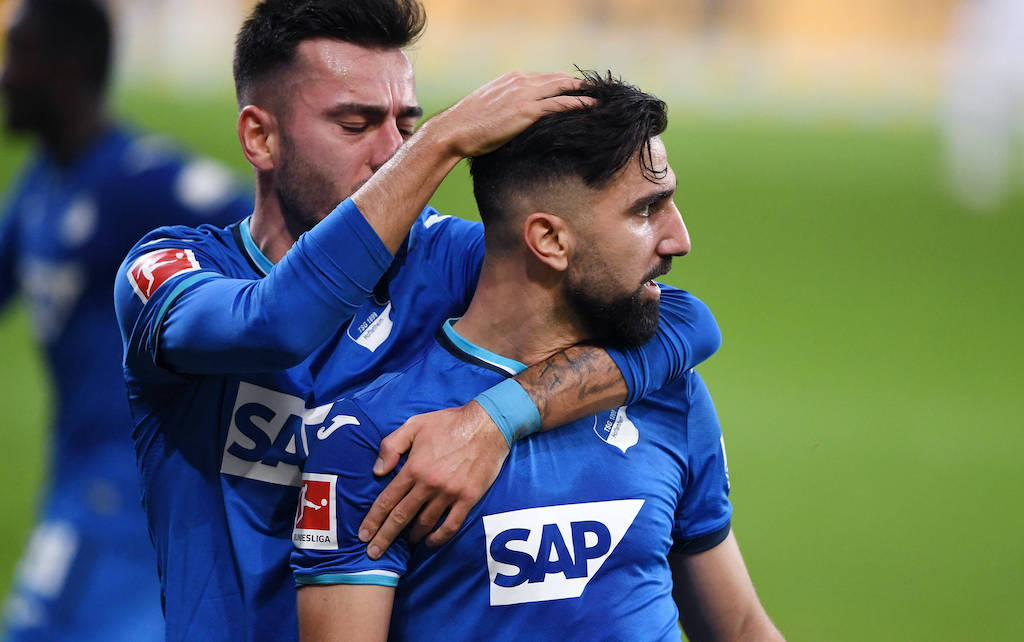 Admittedly, the sample size of minutes for Adamyan isn't ideal and that boosts his numbers somewhat compared to the other alternatives mentioned in this article. But going by the eye-test across both last season and this season, the feeling is that he'd be a good Ibrahimović deputy.
The 27-year-old Armenian national is a clinical finisher, strong, effective aerially, unpredictable on the ball, and rather big-sized despite "only" being 184cm tall. Adamyan could be yet another bargain for Milan and a player who makes the difference when Zlatan is unavailable.
Leonardo Pavoletti
Most certainly a wild card, but then again, why not include him?
Before Leonardo Pavoletti tore his ACL in 2019, he was a consistent goal scorer on Serie A-level for Genoa and Cagliari. 11 goals in 33 matches for Cagliari in 2017-18 and 16 goals and 1 assist in 32 matches in 2018-19, before he got injured.
Pavoletti is now 32 years old and comes with a lot of experience. But more importantly, he fits the profile Milan needs in an Ibrahimović deputy. He's won 69.39% of his aerial duels this season, has created 3 chances, scored 1 goal, and only been dispossessed 3 times. One less than Zlatan.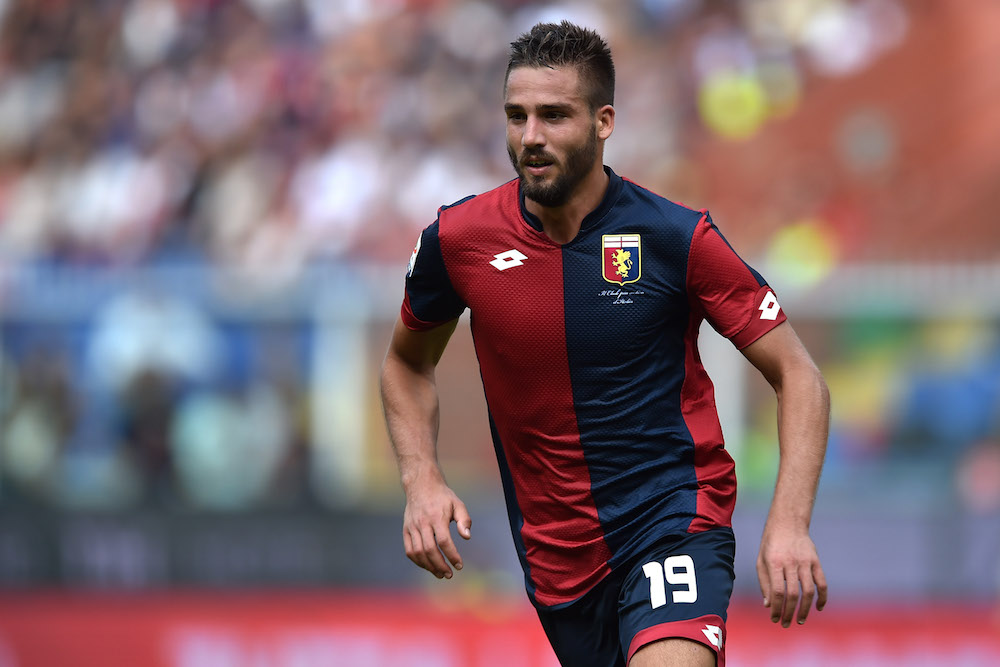 He's currently started 4 matches and got subbed on 8 times in Serie A, which makes his status clear: he's a player Cagliari subs on for impact. Mostly to feed crosses to in the box.
But that also comes with a benefit, it most likely means he's not untouchable for the Sardinians. And due to that and his age, Milan could likely strike a cheap agreement to lure the Livornese to San Siro as someone who can provide experience and leadership to a young team, the qualities Milan need if Zlatan is unavailable, and someone who is a natural goal scorer.
It's a long shot, but it could be a cheap and effective short-term solution.