It has been a busy but strange summer for AC Milan so far as the face of the team and the project has changed quite drastically compared to the end of last season.
The weekend of the final game against Hellas Verona, it became apparently that Zlatan Ibrahimovic would be saying goodbye to Milan, but it was a shock for many when he addressed the fans after the match and announced his retirement from football in general.
Less than 48 hours after that news and with fans just about beginning to digest the idea of a Zlatan-less Milan, Paolo Maldini and Ricky Massara were sacked as the technical and sporting director, arousing questions about the plans moving forward.
The reasons for the fall-out between Maldini and RedBird Capital were debated at length, but then Giorgio Furlani and chief scout Geoffrey Moncada got to work, quickly selling Sandro Tonali which created another violent storm.
Six signings have arrived to somewhat calm things and it feels like the dust is settling, but one thing that has not been addressed is what will be done to fill the huge Ibrahimovic-shaped hole that is left.
Speaking of the Swede in particular, there has been a lot of talk about what the future might hold for him. There were rumours that Cardinale might well offer Zlatan a role with Milan as a sort of first team manager, which would essentially be a liaison figure between the squad and the directors like Christian Abbiati briefly had.
Presuming, given the lack of news, that Ibra is not enticed by an immediate return to the red and black, we must begin to ponder internal solutions who can step up to be a leader on the field and in the dressing room plus a standard-bearer on the training ground.
In his latest piece for MilanNews, Franco Ordine suggested that Simon Kjaer could well be one of the candidates for the position given his seniority and experience.
"It is (good) news that has gone unnoticed but I think it can be enhanced by future events. In the team group there is a very authoritative candidate to take the place of leader, albeit without being a very titular, of the locker room," he said.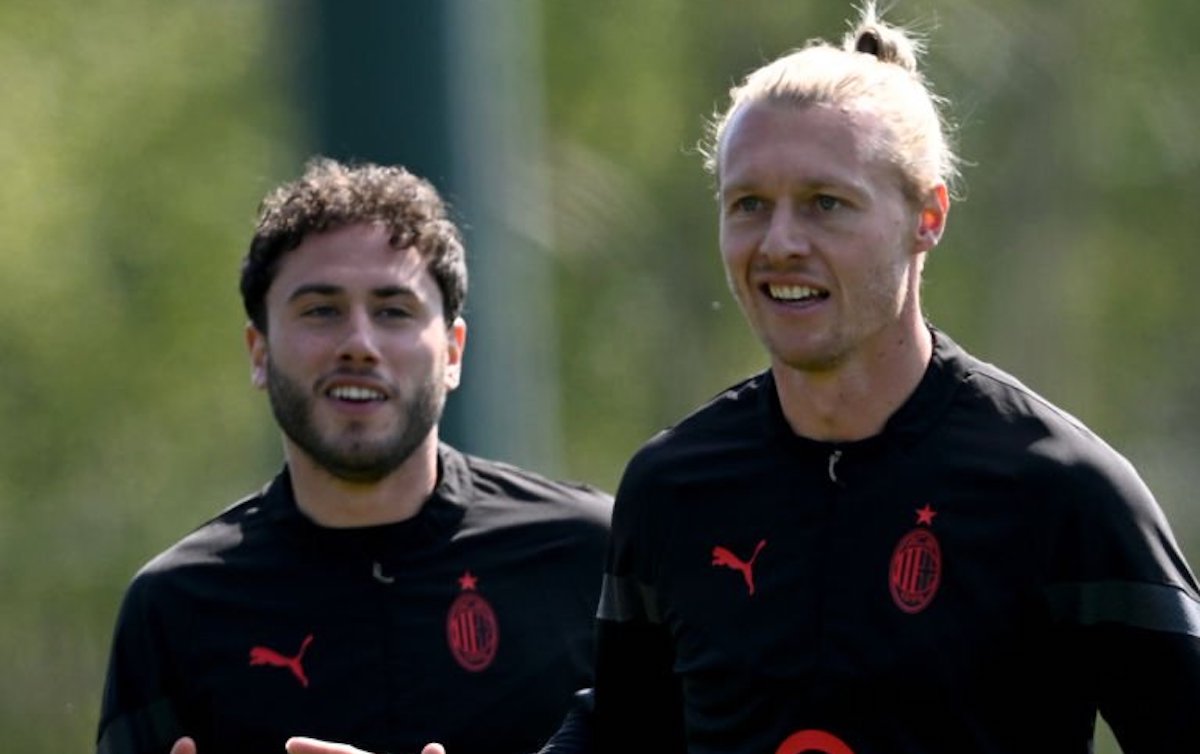 "And we're talking about Simon Kjaer, the Danish defender whose arrival at Milanello, together with Ibra, another favourable combination, coincided with the start of the Rossoneri crossing of the desert. He will become an ideal and certainly not silent collaborator of Stefano Pioli."
Kjaer is a smart shout based purely on his longevity in the game, with over 120 caps for Denmark (most as captain), over 500 in his club career and almost 100 for Milan. However, he isn't likely to be a regular starter.
Captain Davide Calabria should be an obvious. While he is nearly a decade younger than his Danish team-mate, he fully embodies 'Milanismo' having been a boyhood fan of the club who graduated through the youth sector.
He has navigated struggle at various times in his Milan career with times when he was in and out of the starting line-up and some bad patches of form, though this could be his moment to step up and make it clear who his team-mates can count on.
Some of you will remember the short but rousing message that Mike Maignan delivered to the team before the second leg against Spurs last season. The Frenchman is now No.1 for his country, is among the best in the world in his position and seems to be a vocal leader.
🔊 "LET'S GO MILAN, LET'S GO!"

😍 Love this from @mmseize ❤️️🖤pic.twitter.com/SSRwAHiBCj

— SempreMilan (@SempreMilanCom) March 9, 2023
An indication has already come from Stefano Pioli to that effect, as he was asked the following during an interview with Sky that aired just before the team left for their USA tour: "What will Milan be like without Ibra and who are today's leaders?"
He replied: "Ibra was the leader of this team. And there is no one who can take his place. If I had to name a player who is a leader, then that is Mike Maignan. He has a mentality, a determination and an obsession with being the best that can be contagious. He is a point of reference."
Among the other options, more on the secondary row perhaps, are Theo Hernandez and Olivier Giroud. The former is also an elite player in his role, while the latter has so much wisdom to give and has won virtually everything there is to win.
Speaking to Milan TV while in Los Angeles, Rafael Leao also seemed to throw his hat into the ring by admitting that – having been at the club for four years now – he feels like he can be an example for younger players and new signings too.
"I've been here at Milan four years, when I arrived some players looked after me and now I'm doing the same with the new arrivals, giving them a hand and helping out, because Milan are a historic and massive club and as times it isn't easy to show from the off the qualities that brought them here," he said.
"This is why I try help the younger players out. I always try to connect off the pitch first and then try and find the chemistry on the field. It's easier this way, to play well together."
There is no doubting that the Portuguese forward could be the face of the new Milan. He improved his goal tally to 15 goals in Serie A 2022-23, marking the third consecutive season he has upped the number, while the goals directly earned 12 points.
It was an important year for the former Lille man, who also added 8 assists, contributing to 23 goals in the league. He will be the main man in the attack, with some help from other signings too, but the club's top earner can do plenty off the field as well.
A figure could of course come from outside to truly try and make up for Ibrahimovic's charisma, his intelligence, his experience and the standards that he sets for himself and for others. It has to be someone though, because the importance of Zlatan cannot be understated.