After a long and arduous pursuit, AC Milan finally got their man as Charles De Ketelaere has joined on a five-year deal from Belgian champions Club Brugge.
It was a mentally exhausting saga by the end, but Paolo Maldini's persistence along with the player's will to play for the Rossoneri broke the Club Brugge wall down and he was officially announced as a new Milan player on Tuesday. His agent even revealed a very interesting back story regarding the soap opera and who Milan were competing against.
The big questions among Milan fans so far have been regarding his role, his playing style and whether he is worth such an investment given the reported fee of €32m plus bonuses. Here, we analyse the playmaker in detail…

Background
De Ketelaere made his debut for Club Brugge on September 25 2019 against Francs Borains, playing the full 90 minutes. His second appearance came against PSG in a 5-0 loss in the Champions League. He had a breakout season during the 2020–21 campaign where he scored 5 goals and managed 8 assists in 46 games (3129 minutes) at the age of just 20.
A student at Law University, De Ketelaere also trained to be a professional tennis player but he couldn't handle his mistakes or deal with losing on an individual basis. His answer to this problem was playing football.
Ever since the age of 8 he had been at Club Brugge's youth academy. As a born and bred Brugge product, he was called affectionately King Charles by their fans.
To cap it all, CDK was named the Belgian promising talent of the year in 2020, which is a prestigious award won by players such as Romelu Lukaku, Kim Clijsters, Yari Verschaeren and others.
Playing style
To understand what De Ketelaere can bring to the Stefano Pioli's system it is important we understand what his traits are both on and off the ball.
Dribbling: A very important function for any modern forward and something coaches look for in their players is to be good on taking defenders on and/or to be good in 1v1 situations. CDK is good at taking on his marker and beating them, making him good in tight spaces and more often than not.
Finding spaces: A large part of tactics in football is about creating space and restricting space for your opponents. In a game which is so dynamic, the job of an attacker is to find space whether it is in the middle of the pitch or in wide areas
De Ketelaere's tactical intelligence makes him an expert at finding these spaces especially those between defensive lines of the opposition.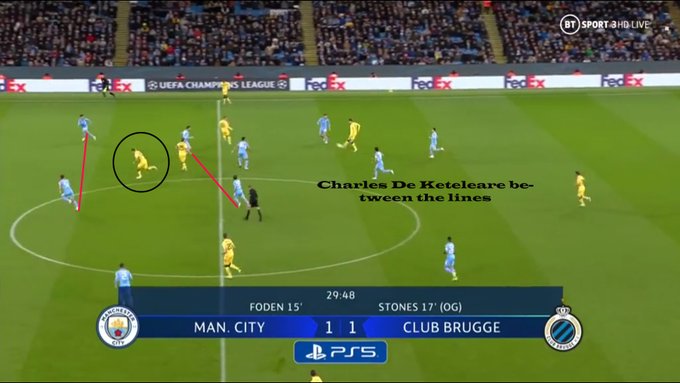 Here is another example of how he uses quick feet to make space for a shot, turning fast for a player of his stature and not being afraid to fire on goal.
The 21-year-old also has a knack of running into space to help link up play with the wingers or midfielders of Club Brugge, to create passing combinations.
De Ketelaere also makes intelligent runs in the box to receive passes and then take a shot or cross.
Like old school strikers, De Ketelare likes to play on the shoulder of the last man and make runs behind the last defender.
Ball control: With the pace of the game growing at a frightening rate, it is important for players – even goalkeepers – to have a good first touch and bring the ball under control before it is snatched away.
De Ketelaere has an assured first touch and he is not easily pushed off the ball. He also has a very good technique to bring down long balls being played into him. He predominantly uses his left foot to dribble but can also use his right foot to take a touch or to throw defenders off.
Passing: De Keteleare's main strength is his passing ability. According to The Athletic, his progressive passing compared to the rest of Europe puts him in the 83 percentile which is impressive. It shows the amount of passes he makes forward and into the penalty box, and he also has the ability to switch play brilliantly.
Hold-up play: Having played as a centre-forward, De Ketelaere was expected to develop skills that suit a striker and that involves holding the ball up. Brugge play a lot using counter-attacks and this needed CDK to essentially quarterback the moves in transition.
Aerial ability: Standing tall at 192cm, De Keteleare is a tall player and therefore is naturally expected to be good at headers and be the target of long balls and crosses. While his numbers suggest he isn't aerially as good as he is expected to be, he has shown considerable improvement, like how he headed down the ball for Vananken below.
Quick turns of pace: Unlike Rafael Leao, De Ketelaere will never be the quickest player on the pitch but he has a very rare ability to accelerate very quickly and use quick feet which can help startle defenders. It also helps in the case of pressing and closing down opposition players.
Paredes knew he had De Ketelaere behind him but there was a considerable distance. Paredes made a bad touch and before he knew CDK was on to him and took the ball. This is a useful weapon while pressing.
Pressing and defensive work: Club Brugge, unlike Milan, are not a team that prefers a high press, but rather settle into a mid-block and invite the opponent into their half before launching counters.
For this reason De Ketelaere is not engaged in heavy counter-pressing, however he has been given the freedom to close down attackers or cut off passing lanes between opposition centre-backs as we can see below.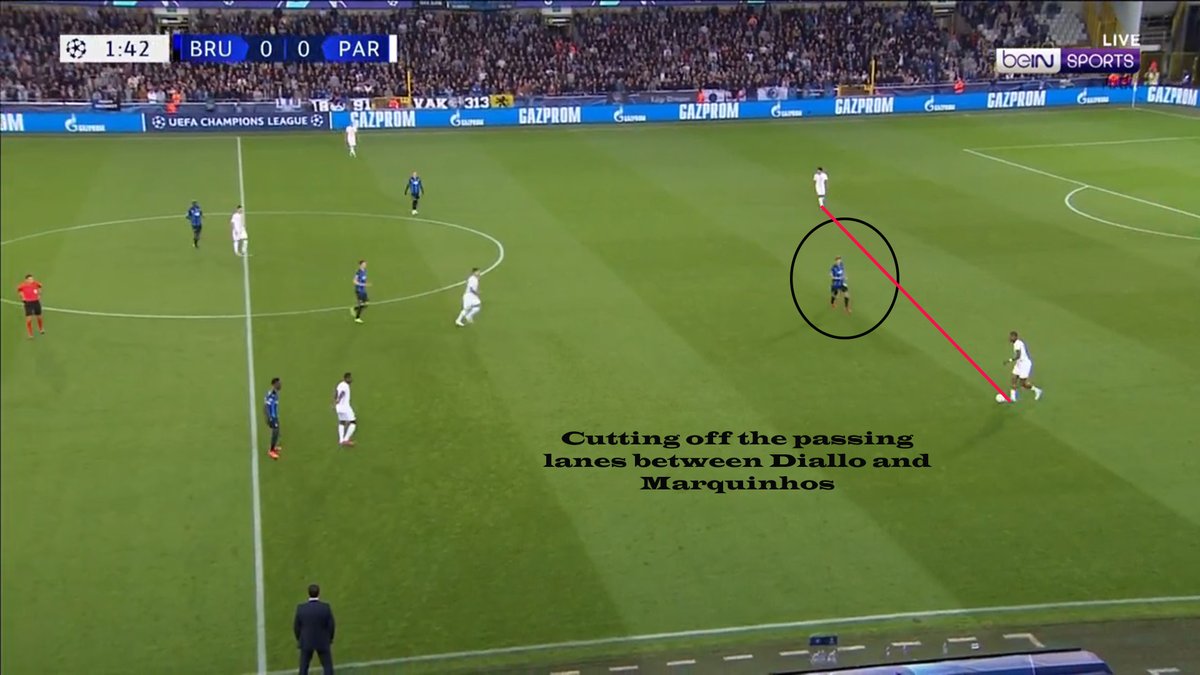 Being 6ft4, De Ketelaere has the novelty of using long legs and this gives a better reach and therefore can tackle better for the ball. His work rate has been lauded by his managers and he often tracks back to help his defenders out.
Shooting and crossing: Of course, being a forward player would mean that one needs to have good shooting technique as well. This goal from the Belgian shows his ability to take shots without taking a touch using the outside of his boot on the volley.
In addition, CDK always looks up while making a cross, hence waiting for a player to make run into the box as seen below.
Statistical comparison
So how do Charles De Keteleare's stats look? Here are some of the key numbers…
If a player makes a pass which moves the ball from an area where the team is unlikely to score to where they can score they have increased the xT. In short it is a stat which can be used to measure chance creation capacity of the play. Owing to his versatility, De Ketelaere has the highest xT in his team.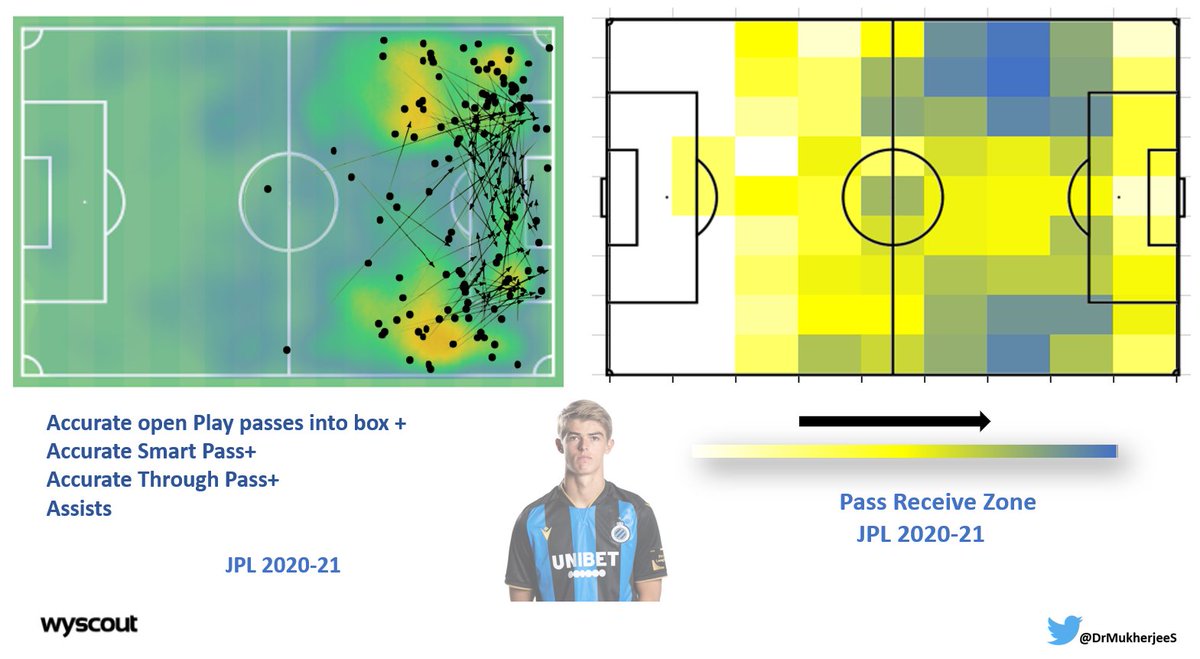 De Keteleare's data radar for this season can be as seen below.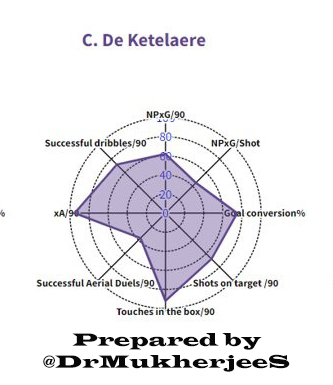 Conclusion
The analysis started with the question "What is De Ketelaere's best position?" The answer is probably that he has no best position. What Maldini, Massara and chief scout Geoffrey Moncada have done is crunched the numbers, scouted the player for two years and have found a player with qualities that suit Pioli.
He is a highly versatile player that is yet to reach his peak and find his strengths, while Pioli now has the freedom to mould him into a player that is a perfect cog in his system.
De Ketelaere leaves Belgium as a champion. With three Belgian league titles and two Super Cups on his CV before his arrival is certainly a good start, and under the senior players he could blossom into something special to justify every penny that was spent on him.
Transfer rating: 9/10