AC Milan's win over Fiorentina on Sunday saw them open up a gap of five points atop the Serie A table. They are six points above defending champions Juventus and five above city rivals Inter.
What started out as an innocent suggestion at its embryonic stage, the idea seems to have gathered pace among the fanbase that this team could put up a serious title challenge.
The club's last taste of the Scudetto came in 2011 and while Milan are widely known for being more of a team that favoured European trophies than domestic titles, winning the league would send a huge message to the biggest of sceptics.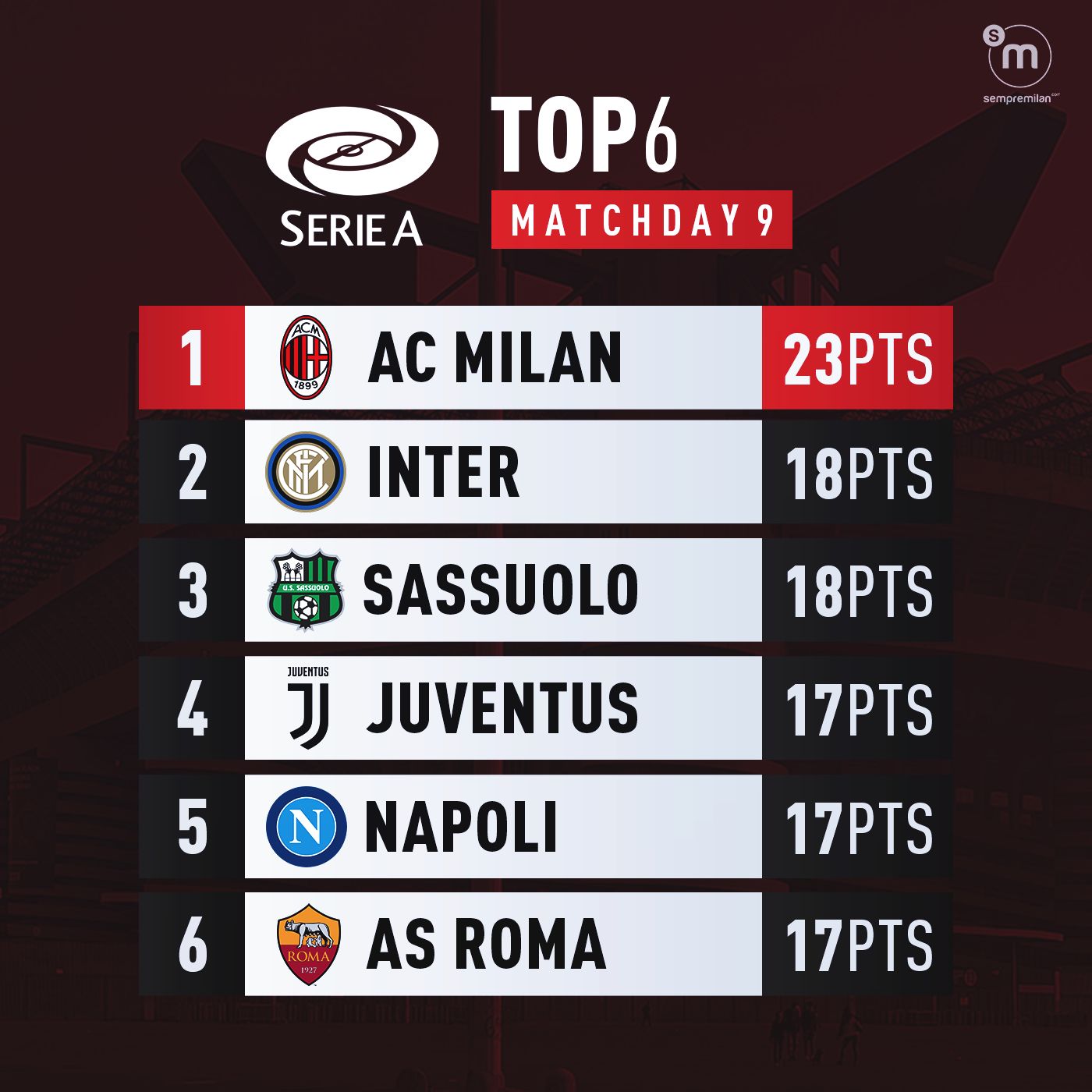 In the poetic sense, Milan were the last team to win the Scudetto before Juve's run of nine-in-a-row. Ending this dominance and making Italian football competitive again would bode well not only for Milan but for Serie A as a whole.
However it is too early to fuel these hopes too much, as 76% of the league season is still to be played and in a long and arduous season things can change. Here is an impartial look at reasons why Milan can do the unthinkable or why it's too early for getting hopes too high
Why Milan could win the Scudetto
Milan's style of play: The standard of Serie A is not as once it used to be. The technicality and physicality of the league is one or two notches down when compared to other divisions in Europe and Milan have benefitted from this by recruiting very shrewdly.
Maldini and the scouting team have replaced earlier stalwarts like Suso, Cutrone and Piatek and brought in Saelemaekers, Leao and Diaz. This has brought in the much needed pace combined with technicality making Milan too hot for a lot of opponents to handle.
Leao dancing past Lovato and D'Ambrosio is a clear indiciation of how Milan have changed, when they never had a player of this magnitude.
Competitors: Traditionally Milan's competitors for the Scudetto has been Juventus and Inter. Juventus – after their recent shock appointment of Andrea Pirlo as head coach – have not been the force they are used to being. While Cristiano Ronaldo always gets them out of tight spots, it's a completely different ballgame when he isn't playing with Juventus struggling to break down teams who play low-blocks.
In the blue half of Milan, all neutrals and pundits alike predicted Inter to mount a title challenge with Conte – a manager who has massive experience – expected to take them all the way. However, until the 3-0 win over Sassuolo Inter have not been performing up to the expectations and potential of the squad. The team is seen as too dependent on Lukaku and otherwise look toothless in attack.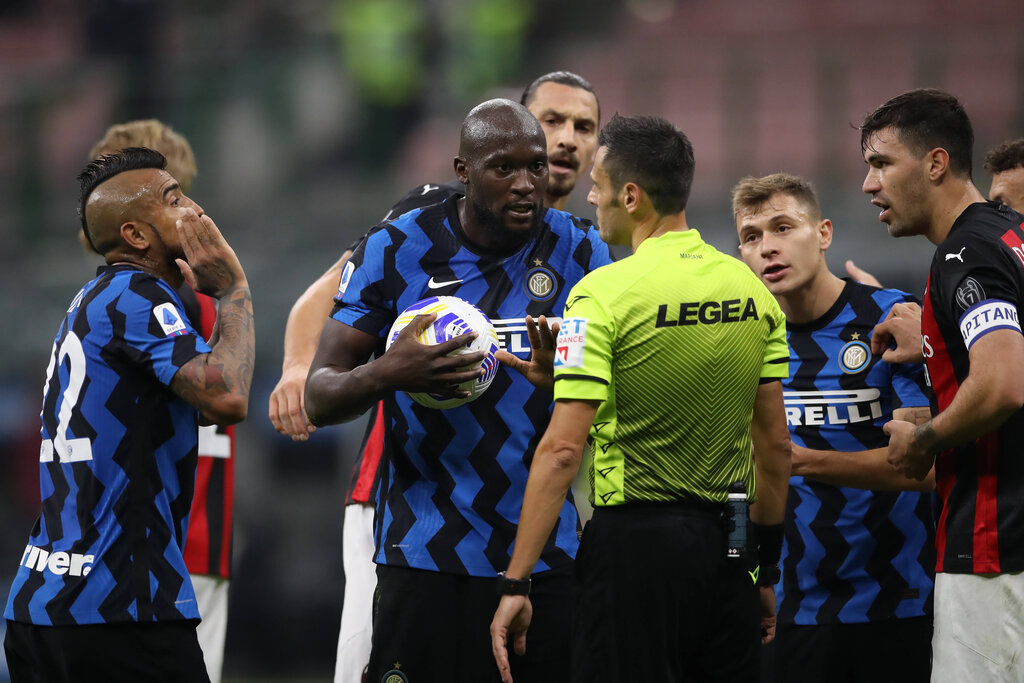 Elsehwere, Napoli have started the season brightly but of course were beaten 3-1 by the Rossoneri, while Atalanta and Lazio have not had the best beginning and Roma appear to be blowing hot and cold.
Why Milan might not win the Scudetto
A long and winding road: As mentioned above, only 24% of the season has been completed. Juventus on paper has the best squad in Serie A in terms of technicality and depth.
Dybala seems to be running through a rough patch while Juve's midfield is not supplying enough balls to the forwards. But Juve cannot be ruled out and can come out of their slumber anytime soon.
They were behind Napoli by eight points in the 2015-16 season and completed a comeback to win the Scudetto. Andrea Pirlo may not be experienced but he was one of the best minds in the game on the pitch.
However for Inter, Conte is an unstable but shrewd tactician. With a squad that has experience, he can turn the ship anytime around as he showed against Sassuolo.
Napoli, Roma, Lazio and Atalanta may not be title challengers but they sure can put up a fight and if Milan drop points to them it can change the complexion of the title race.
Lack of depth: Around this time last season, a Scudetto challenge seemed possible for Lazio, who appeared certain to take Juventus right to the wire before Coronavirus plunged Italy into three month of lockdown.
This broke Lazio's momentum and once football re-started their lack of depth was exposed. With injuries coming at fast pace all over the leagues, Lazio had no back-up's to any of their talismanic players such as Immobile, Savic, Correa and Acerbi, and fatigue took its toll with the Aquile ending the season very unceremoniously.
Milan too so far have no "quality" depth in areas of the pitch, and with Coppa Italia starting in the New Year the players' fitness will be called into question.
Against Fiorentina, Milan were missing Leao, Ibrahimovic, Bennacer and Castillejo due to injuries and perhaps more worryingly some fatigue. In the long run, this could be a huge factor, but with winter transfer window coming up there might be a chance for Maldini and Elliott Management to address it.
Lack of experience: Unlike Juventus, very few of Milan's players have been involved in a title challenge. Towards the end of the season, when fatigue will be at a peak, many times Milan would need to grind out wins and at these times the experience and grit of these players will be called into question. How our players respond to this will result in Milan title hopes.
Conclusion
Ultimately, qualification for the Champions League via a top four finish has always been the final goal but now players and pundits are beginning to mention 'the S word' with more insistence than hope.
A key factor could be how Milan handle the depth situation and make key signings in areas like centre-back, midfield and attack.
Qualifying to the Champions league would end years of hurt for Milan fans, but winning a 19th title will make it feel like the toiling year of 2020 on and off the pitch was all worthwhile.