There has been a worrying drop-off in both results and performances between 2020 and what we have seen so far in 2021 for AC Milan.
The Rossoneri are struggling to match the levels they did during the post-lockdown period of last year which has culminated in home defeats against Juventus, Atalanta, Inter and Napoli plus recent draws against Udinese and Sampdoria.
Alberto Riccardi has compiled an excellent thread on Twitter which looks at some of the data metrics that indicate changes in Milan's performances since the turn of the year.
First of all, almost all the underlying numbers are worse in 2021 compared to 2020. Milan are comfortably worse off in points per game (2.43 to 1.79), average goals scored per game (2.29 to 1.50), expected goals (2.23 to 1.62), average net expected goals (1.06 to 0.28) and average net expected non-penalty goals (0.72 to 0.03). The Rossoneri are also worse defensively, as their average goals conceded per game has gone from 1.14 to 1.21 and the average expected goals against from 1.16 to 1.34.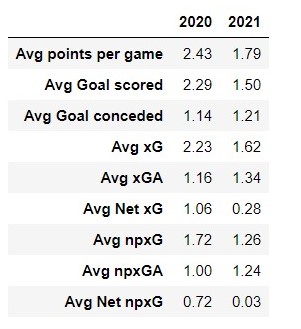 Athletic data for each team is defined as the following:
– Total distance covered (km)
– Jog: speed below 7.92km/h
– Run: range of 7.92 to 15.84km/h
– Sprint: above 15.84km/h
– Average Speed (km/h)
Looking at how Milan compare athletically to the rest of the league, Milan are 14th in distance covered, third in jogs, 18th in runs and 3rd in sprints. Essentially, Milan lacks on medium intensity (runs) and average speed, but excels on high intensity (sprint).
The graph below shows how Milan were athletically outperforming their opponents in 2020 in terms of runs and sprints, but in 2021 they have come out much worse with several teams at least matching them.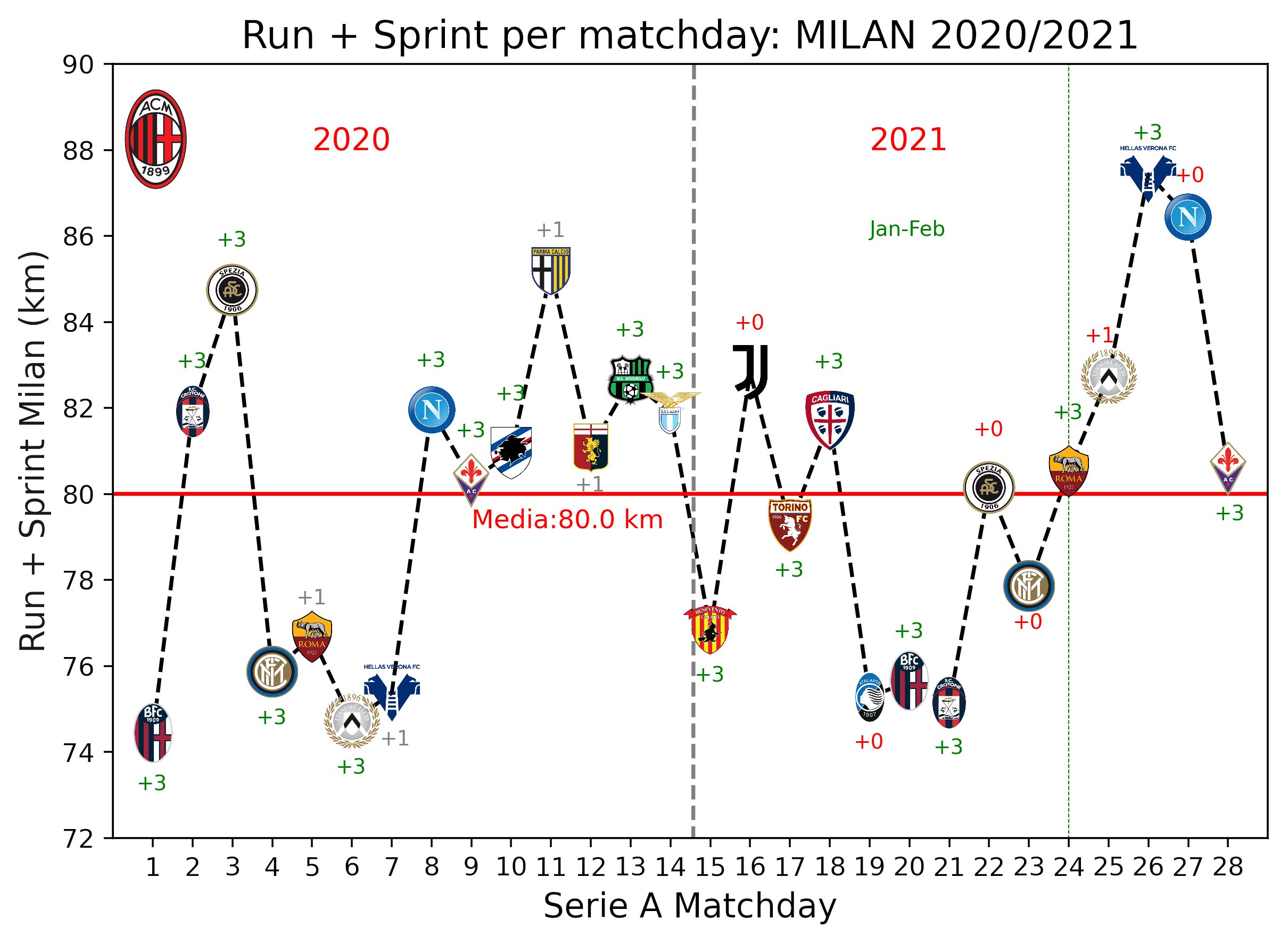 Interestingly, there is no decrease on the absolute value of the average speed but in 2021 Milan are more often slower than their opponents. That essentially means that Pioli's side haven't got slower necessarily, but other teams have got quicker and the athletic advantage has now been wiped out.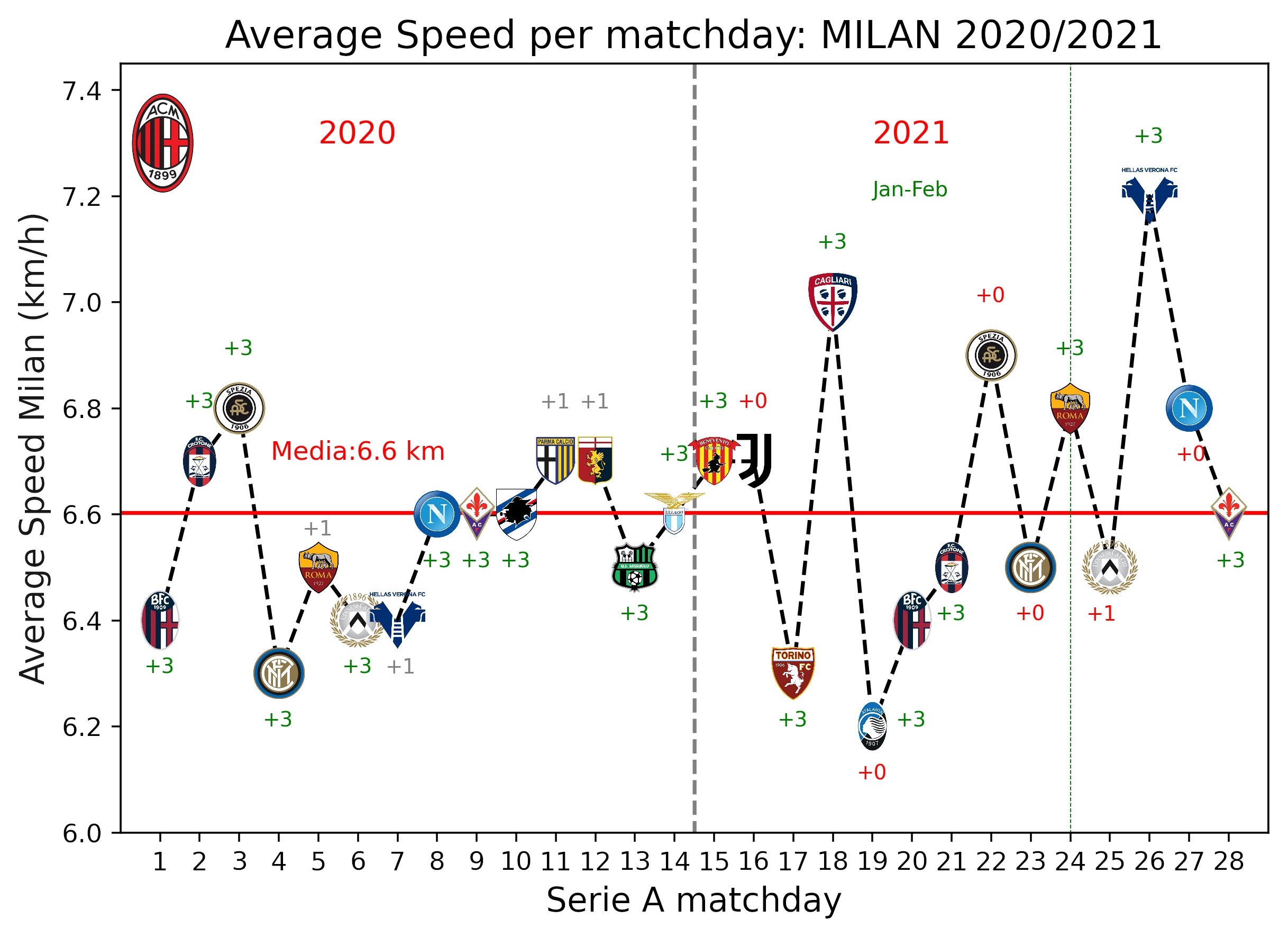 Riccardi states in his thread that there is a positive and intrinsic correlation between relative average speed and sprints and the outcome of the match. As seen below, in the games where Milan are faster than their opponents, they win.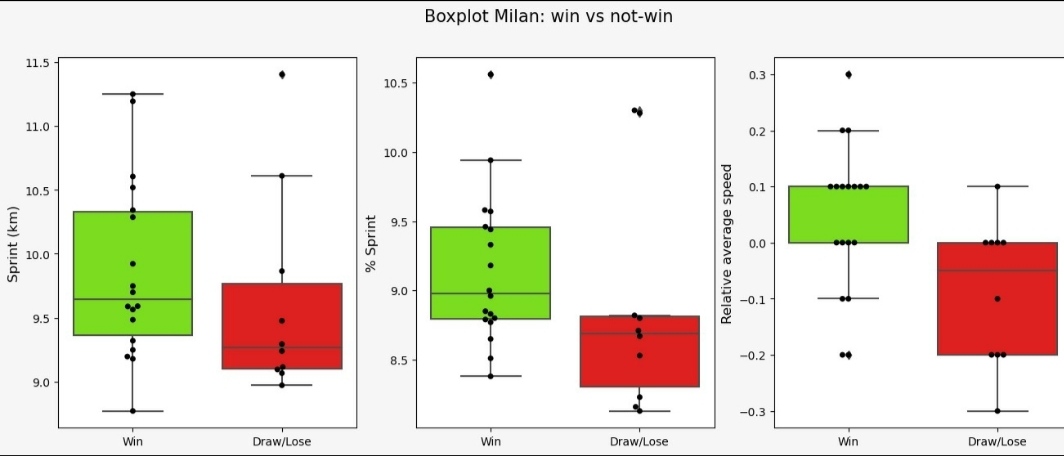 He concludes by saying the following: Milan must improve their offensive performances when match intensity increases or they have a better control of the ball to choose their favourite rhythm. On the defensive side, more studies on pressing are needed. As an underlying trend, good performances are obtained when Milan run more than their opponents.