Over the last couple of days a new name has been linked with AC Milan with regards to potential midfield reinforcements in Liverpool's Naby Keita.
MilanLive reported on Wednesday that Keita could leave Anfield this summer due to a lack of consistent playing time, despite that fact that the Reds spent €65million to snatch him from RB Leipzig three years ago.
Several Bundesliga clubs are thinking of making a move, but the report added that the Rossoneri have looked at the Guinea international in the past, and Ralf Rangnick – who worked with Keita at Red Bull Salzburg and Leipzig – could be key in relaunching a fresh move.
As much as being linked with glamorous names from top clubs generates excitement in what has been a dire season, there are a few reasons why Milan should stay clear of Naby Keita.
1. Economic investment
Reports from England have insisted that Liverpool intend to keep the midfielder, who according to Calciomercato.it is worth in the region of €40million due to a difficult last couple of years at Anfield.
The Premier League leaders splashed out €65m to sign him from RB Leipzig and are yet to see that investment full returned, so it is unlikely that they would sell off a prised asset so cheap.
It is possible that a deal could be struck on the basis of a loan with option/obligation to buy but it is also unlikely given that the initial report claims Liverpool want Ruben Neves in to replace him, a deal they would need cash for.
Meanwhile German outlet Bild reported in March that Keita is on around €11m-a-year before tax, a figure that does not at all fit inside the parameters of Milan's vision for the future, and the player is unlikely to take a pay cut given that he appears happy under Klopp.
2. Injury record
If Milan are somehow able to shell out the kind of financial package like the one it would take to bring Keita to Italy, there is a strong argument that there are much wiser investments out there.
First of all, a player that costs in that region should be able to give a guaranteed 30 league games per season, and Keita for various reasons has been unable to do that on Merseyside so far.
He has had a number of troubling and niggling injuries that have kept him out of key stretches of games in the last couple of years, and that is perhaps why Klopp is yet to fully rely on the 25-year-old.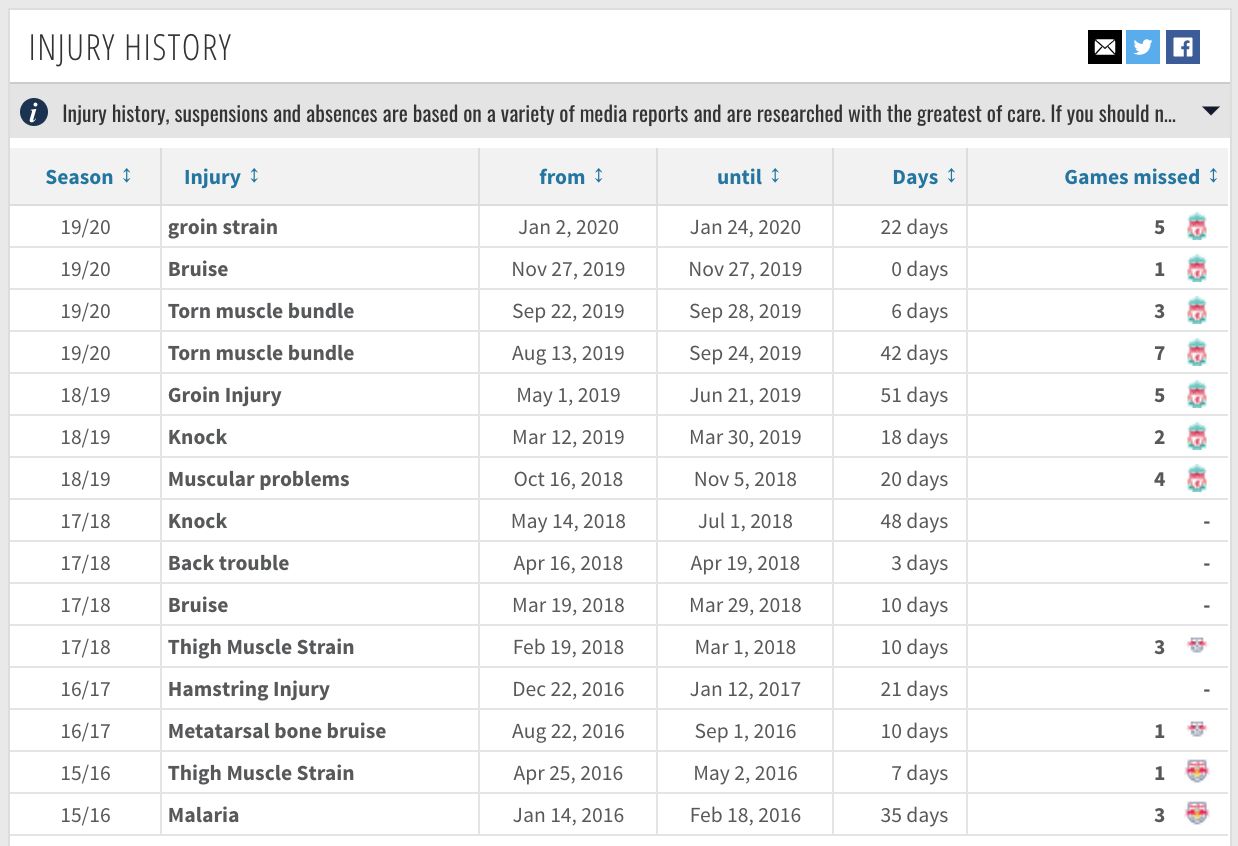 3. Other priorities
Ralf Rangnick – should he become the next manager – is going to inherit and unbalanced and thin squad that needs lots of different areas properly addressing, and not just bandages putting over them for six months like has been the norm in recent years.
There will be the need for two centre-forwards if Zlatan Ibrahimovic leaves, a creative midfielder to cope with Giacomo Bonaventura's absence (maybe more), a holding midfielder with Lucas Biglia leaving, possibly two new centre-backs, a new right-back and a back-up left-back.
Quite simply put it isn't justified to spend a huge chunk of the budget on something that would be a high-risk deal, and even Rangnick knows that it could be damaging to invest so much on one of his former favourites.
There are more affordable alternatives which fit within the club' financial guidelines; players like Florentino Luis of Benfica, Samuele Ricci of Empoli, Marc Roca of Espanyol or even Sandro Tonali of Brescia. All of those would cost less than Keita.
4. The internal solution
A recent report from Calciomercato.com stated that Franck Kessie's future at the club looks relatively secure under Rangnick because he is the kind of player the German will find use for.
The outlet specifically mentioned how the 61-year-old tends to prefer a 4-4-2 formation and there is always room in the midfield for a player with the characteristics of the Ivorian, as seen with the likes of Keita, Amadou Haidara and Diego Demme (now at Napoli) at RB Leipzig.
Referring back to the first three points, why would Milan fork out a huge economic package to bring in a player less reliable than Kessie in terms of injury record, who performs a similar role, on a much higher salary and would need time to adapt to the league?
It seems to make more sense to stick with Kessie and sign a deep-lying midfielder who offers something a bit different, like the aforementioned Roca or Tonali who are better playmakers.