AC Milan have focused all of their efforts in the market up until this point on the midfield and the attack, and it is easy to make a case that it could be a strategy which backfires.
The Rossoneri have welcomed the signings of Brahim Diaz, Sandro Tonali and Ciprian Tatarusanu as well as having secured the renewal of Zlatan Ibrahimovic and a permanent deal for Ante Rebic.
It is for that reason that supporters could be forgiven for getting a little bit carried away regarding predictions that top four is now looking more achievable than it has done for years, especially given the fact the team ended 2019-20 by winning nine of 12 league games.
However, if you were to ask any Milan fan at the end of the 2019-20 season what the one weak point of the current starting XI or indeed the squad was, the vast majority would tell you it was the right-back role.
Here we stand on the day of the Rossoneri's first competitive game of the 2020-21 campaign in the Europa League against Shamrock Rovers still none the wiser as to whether the right side of Pioli's defence will be a weak spot or whether it may have somehow sorted itself out.
Let's take a look at both sides, with a cautious and an optimistic view…
A costly mistake
Firstly, it is understandable that Paolo Maldini, Ricky Massara and the rest of the management are working with a tight budget, especially given the drop in revenues due to Coronavirus and the fact that Milan missed out on the Champions League again.
However, there is (or there was) budget available to strengthen the squad. Milan will pay a €10m loan fee for Tonali and most likely a €15-20m option to buy, who will not be an immediate starter, while Brahim Diaz has joined – albeit on a dry loan – and Ibrahimovic got his wish at €7m-a-year salary.
Add to that the fact most major sources are reporting Milan are firmly in the market for another holding midfielder, a centre-back, a winger and possibly even a back-up striker and you start to build a bigger picture in the sense that the management clearly did not prioritise the allocation of funds available towards a new starting right-back.
The recruitment team have instead focused on making 'targeted and precise additions' by their own words, opting to fine tune the squad rather than revolutionise.
So, when you consider that was the one solitary indisputable weak link of the team last season – even during the incredible post-COVID run – was on the right of the defence, it seems criminal that Milan will go into next season with Davide Calabria, Andrea Conti and perhaps Pierre Kalulu.
The former two names disappointed all season due to a combination of injuries, suspensions and general poor form, while the latter was signed on a free transfer from Lyon to be part of the Primavera, let us not forget.
A couple of the targets repeatedly mentioned were Serge Aurier of Spurs and Denzel Dumfries of PSV Eindhoven, and both had their upsides at around the same affordable €20m price tag.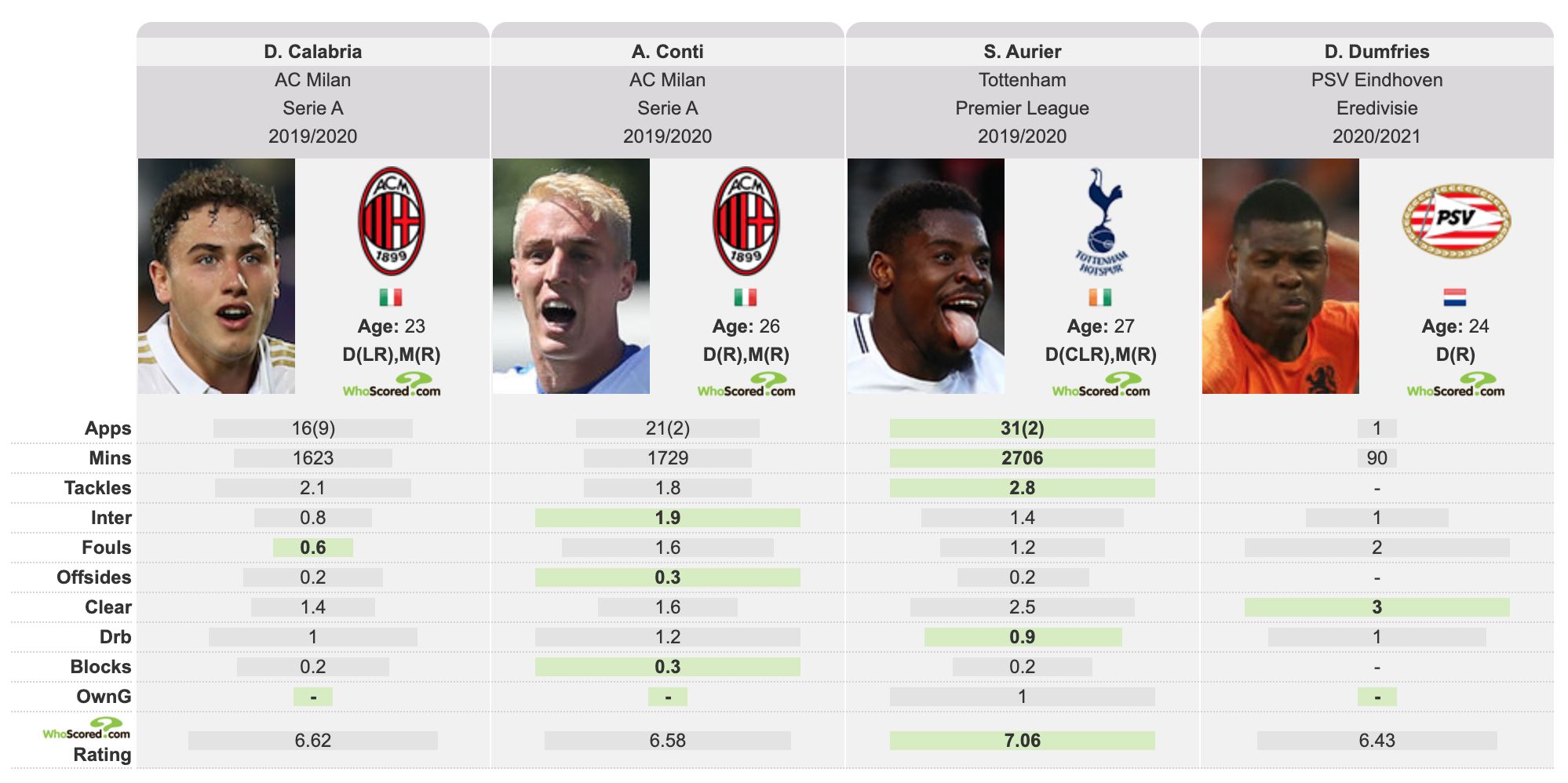 Aurier is a player that has played at the highest level for over five years now and has Champions League experience, while Dumfries is PSV's captain at 24 years old and looks every bit the solid but marauding full-back that would perfectly compliment Theo.
If things do not go well for Conti, Calabria and Kalulu then fans will start to wise up and point fingers, but just what might Maldini and co. have had in mind?
A wise gamble
When judging players in an important position like full-back, it is important to have receipts ready to show, and Calabria does have plenty of good games under his belt.
He was a bedrock of what was a very effective defence under Gennaro Gattuso, and the Primavera graduate actually had some fans labelling him as the surprise performer of the season after what had been a breakthrough year in 2018-19.
Pioli actually came out with a very interesting quote during an interview with DAZN earlier in the week regarding the attitude of Italian clubs towards youth products and young players.
"In Italy we are a bit strange, when we don't give space to young players we blame the clubs, when we find promising young players we look for other deputies," he said.
The second bit could refer to Davide Calabria pretty explicitly. He's 23 so is not yet in his prime years, but has over 110 appearances for Milan in all competitions – you don't rack up that many by being a poor player.
So there is a case for counting on Calabria to rediscover his form, while Conti will start the season injured so he should get a run of games to show what he can do.
If it is an unmitigated disaster, then the suggestions are that Pierre Kalulu is not as far away from the senior side as people think. He left Lyon in order to find first team opportunities having been stuck exclusively with their youth system, so he would not have moved to the San Siro if he didn't think he had a chance to break through.
The potential that the 20-year-old has is reassuring, and in one or two years this article may read back as a bit of a wild take, should Kalulu really push on and nail a starting spot.
Then there is Conti. He will start the season recovering from injury but should be back a few games in, and there were glimpses of what he can do last season even when the angry mob against him was growing.
In truth, Milan made a big investment on a player that hasn't yet returned it. Conti has been injury prone, has struggled to adapt to a four-man back line and has committed several silly errors that have cost points, but he does seem driven to prove his worth.
So, from potentially not having any right-backs of starting calibre, Milan could find themselves with two or three and may have prevented a log jam that would have angered the current crop in order to focus on areas of the squad that – in the management's eyes – needed more attention.
Time will tell, but this does seem to be a roll of the dice from Maldini and Massara. They may not roll two sixes, but after last season a pair of fives might do.