It is almost hard to believe that a year ago there was an almost incalculable wave of optimism that had wafted over the club as Lucas Paqueta and Krzysztof Piatek arrived.
After 19 rounds Milan were fifth in the Serie A standings and arguably in need of just a couple of additions to help the team achieve its ultimate goal of a top four finish.
The Rossoneri – under the guidance of Gennaro Gattuso – had fallen as low as 12th after the 1-0 defeat to Inter in the ninth game of the season, but somewhat of a rejuvenation occurred. Four wins between then and the winter break were enough to thrust Milan into a fight for the Champions League with Inter, Atalanta and Roma.
A creative midfielder arrived in the form of Lucas Paqueta from Flamengo in a deal costing €35m. It was tied up in December and was a product of then sporting director Leonardo's persistence with negotiations to beat PSG to the Brazil international.
Paqueta hit the ground running. He found space in the XI and looked to offer a dynamic different to any of the other midfielders. With Tiemoue Bakayoko and Franck Kessie forming an effective anchor, it seemed that Gattuso finally had his difference maker among the trio.
Meanwhile, Gonzalo Higuain's performances had dropped off and he chose to cut short his loan to move to Chelsea, but Milan had already swooped to land his replacement in Krzysztof Piatek from Genoa.
The Poland international had only arrived in Italy six months prior, but he had racked up 12 league goals before the winter break which was enough to convince new owners Elliott Management to part with the €35m required to sign him.
Piatek also built up a head of steam immediately. He scored in five of his first six league starts, and also became the first Milan player to score in his first three starts in the league since Mario Balotelli in 2013.
Most would agree that the best conditions to help two young players grow, having impressed in their first few months at the club, would be to provide stability and consistency. What ensued was anything but that, and it is here where the fairytale turns sour for the duo in question.
Fast forward to the summer, and seemingly everything around the squad shifted. Gattuso resigned after the club missed out on the Champions League in the final game of the season, while Leonardo chose to return to PSG.
Paolo Maldini, Zvonomir Boban and Ricky Massara were brought in to form a new-look technical area, while Marco Giampaolo was chosen as the new head coach.
Whether you believe in curses and superstition or not, Piatek changed to the No.9 shirt ahead of the 2019-20 season, all while Giampaolo attempted to implement a two-striker system.
In theory, Paqueta – naturally a trequartista – should have been perfect for the role behind the strikers in the 4-3-1-2, but for some reason the ex-Sampdoria boss tried to shoehorn Suso into that role and was determined to sculpt the Brazilian into a 'mezzala' or box-to-box midfielder.
Piatek meanwhile was no longer the sole focal point of the attack. Instead he was working in tandem with a support striker; an idea which should have worked in theory given how effective he was for Genoa alongside Christian Kouame, but in the end he never had a consistent partner.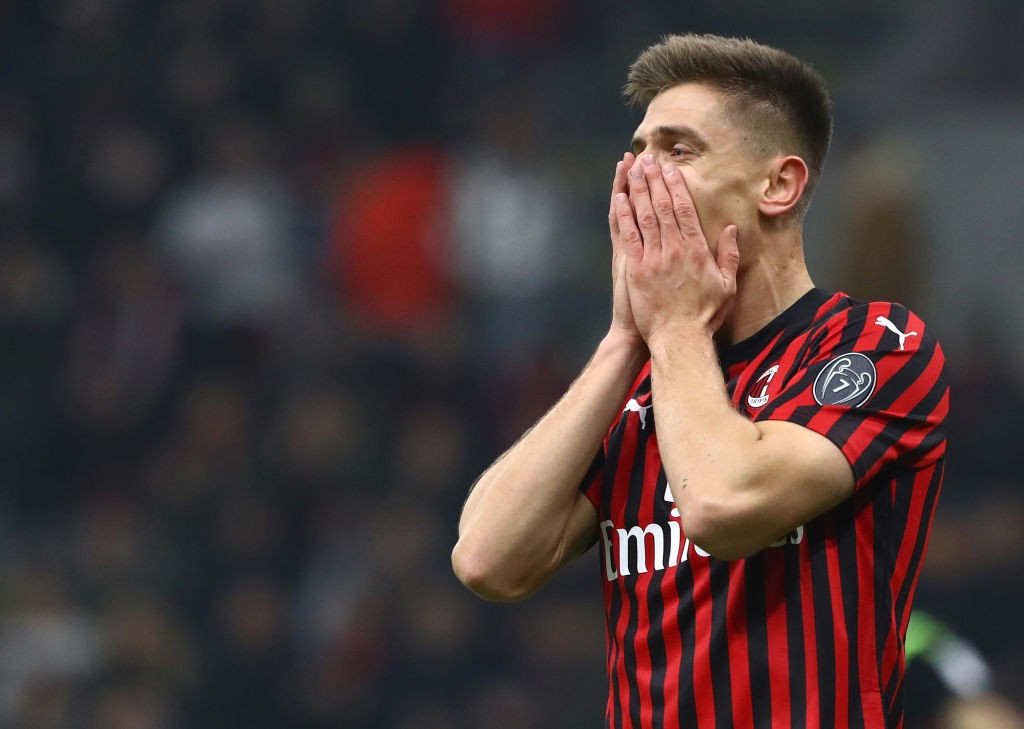 As Giampaolo ditched the failing 4-3-1-2 in favour of a 4-3-3, Piatek also seemed to be lost tactically. Having known his role perfectly as a penalty box striker in Gattuso's system, he was now being required to drop deep and operate both as a link-up forward and as an out-and-out number nine. In the end, he was proving ineffectual at both.
Paqueta meanwhile had started just twice in the seven games it took before Giampaolo was fired, and in one of those he was yanked off at half time.
Giampaolo's departure saw Stefano Pioli arrive, a manager many thought would at least bring a clear tactical identity and simplistic way of playing that could once again benefit Piatek and Paqueta. While that arrived in the shape of the 4-3-3, the former never really got himself back into form while the latter struggled to obtain starts.
Now we fast forward to more recent times, and specifically another winter of change for the Rossoneri. Zlatan Ibrahimovic's arrival has seen Stefano Pioli switch to a 4-4-2 – the problem for Piatek being that Rafael Leao has now climbed above him in the pecking order.
Paqueta meanwhile has become the victim of a system which simply doesn't allow for a player of his qualities, and now both are being linked with sales.
To all the Milanisti who are screaming 'Sell!' at every rumours linking Piatek and Paqueta with an exit this month, take a moment and garner some perspective. They are not terrible players; whether they are worth a combined €70m is your judgement, but nobody can deny that things started well and turned sour.
This is instead a perfectly isolated case which exposes the bigger picture that is Milan's problems as a football club over potentially the last decade: a complete lack of stability at pretty much every level, and that filters down.
Admittedly there can be the argument that there are players who have performed well throughout the turbulent periods such as Alessio Romagnoli and Gianluigi Donnarumma, but they have performed well in spite of the instability not as a result of it.
For every Romagnoli there is a Calabria, for every Donnarumma there is a Suso – players who have completely lost their way and not because they suddenly forgot how to play football.
And to all the people who are telling Paqueta to pack his bags and leave for PSG, consider the fact that he had a tachycardia due to anxiety and stress after the game against Udinese, a game where he remained as an unused substitute.
Things have gotten so bad that a 22-year-old, who uprooted to move halfway around the world at a young age to thrust himself into the unknown, now considered himself unavailable for selection due to his mindset. If that isn't the sign of the damage that such a situation can do, I don't know what is.
The bottom line is this: whether you believe Piatek and Paqueta are good players or not, whether you think they can somehow salvage their Milan career or if you think they should leave and close the door behind them, their cases should be treated at face value.
From heroes to virtual villains in the space of a few months, and you have to question how much of the blame lay upon their shoulders or whether they have become yet further victims of circumstance. If that's the case, then they should join the club – it's getting bigger every year.