A topic that is now being discussed with increasing insistence regarding AC Milan at the moment is the possibility of a change in formation to counter-act the current glut in form.
What is becoming increasingly apparent is that the potentially small defects in Stefano Pioli's 4-2-3-1 system and the style of play it promotes that existed during 2020 are increasing in magnitude, perhaps due inefficiency, the opposition becoming wiser to the mechanisms, other factors or a combination of everything.
There are two solutions therefore on the table. The first is to stick with the aforementioned formation and work to nullify the flaws that seem to have effected recent form, especially with mass absences no longer an option. The other – which Pioli himself has not ruled out – is to look at an alternative formation that not only brings the best out of his players but also counters difficult opponents more robustly.
Here, we have chosen to take a look at the latter and in particular a game system that is being put forward by fans with escalating enthusiasm.
The words 'three-man defence' appear to be quite divisive at the moment, with some supporters suggesting that playing a back three would help to offset a lot of the issues that have arisen recently, while others suggest it could potentially be very detrimental to try such a fundamental change in style at a delicate moment in the season.
What we are here to argue though is that it makes an awful lot of sense, at least on paper. This isn't just because it nurtures the strengths of the majority of the key performers that Pioli leans on, but it also concentrates the power of the collective and helps to counter-balance the struggles against certain types of opponents which has become a trend.
The two proposed schemes
There are essentially two schools of thought regarding how Milan could best use a three-man defence in order to fit the 'best players' within the squad.
3-4-1-2
Looking firstly at the more 'round pegs round holes' approach, Gianluigi Donnarumma would be in goal with the three centre-backs Tomori, Kjaer and Romagnoli ahead for protection. The order and positioning of these three can be debated and tweaked, but their arrangement in the graphic below will be justified later.
The usual full-back pairing of Calabria and Theo would be pushed up to right and left wing-backs respectively, with Kessie and Bennacer forming the double pivot to anchor the midfield. This in turn gives Calhanoglu more freedom to play as the more advanced of the trio, between the lines in his usual playmaker role.
Finally, the front two of Ibrahimovic and Leao is something we have seen used before – in early 2020 to be precise when Pioli was desperate for his team to start scoring – and it worked well. The Swede dominates in the air with knock-downs and flick-ons, while the Portuguese (or even Rebic for example) drifts wider in addition to making more direct runs in behind.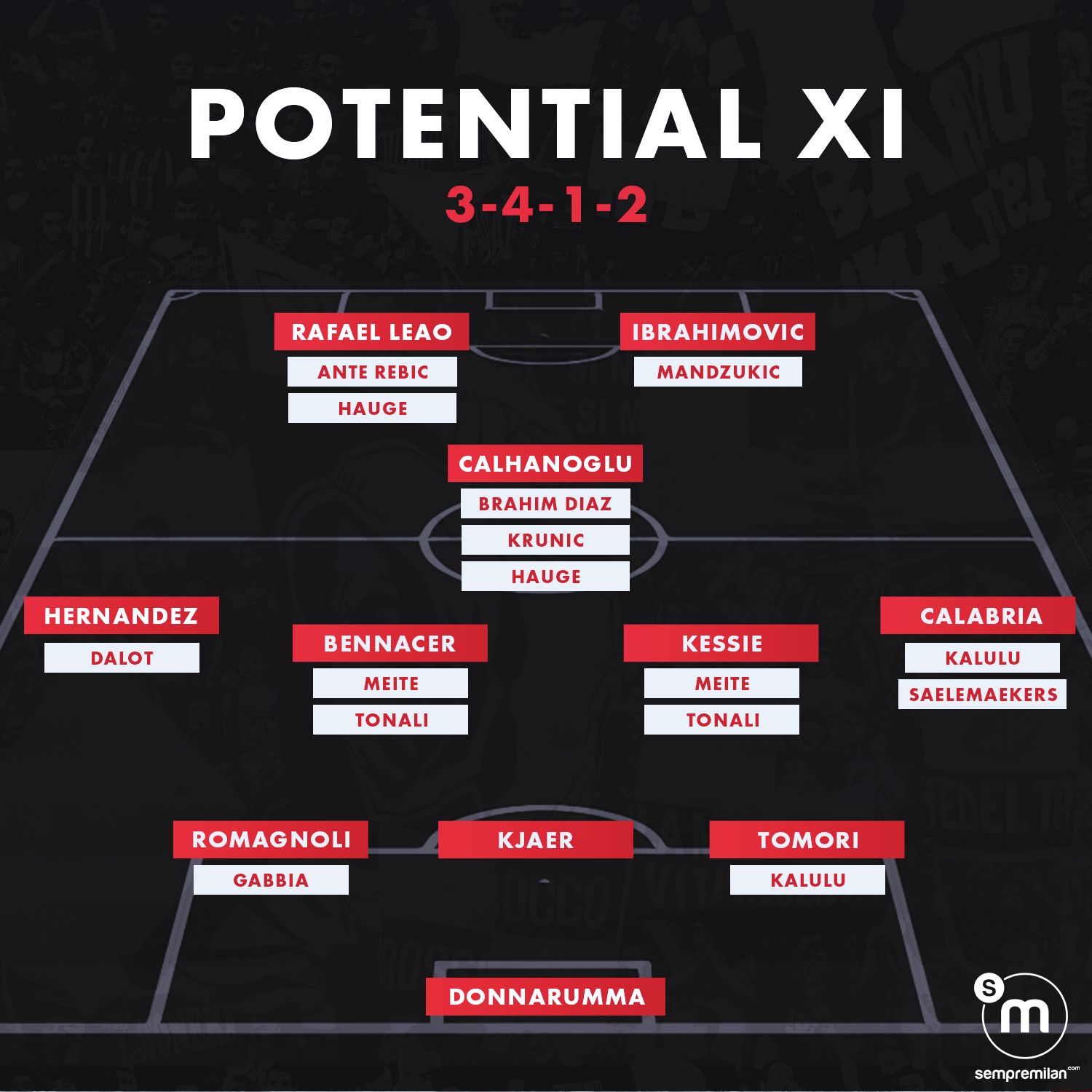 3-5-2
The 3-5-2 only really has one difference from the formation above and that is the presence of a deeper-lying midfielder and two mezzala-type players to flank him. Earlier in the season Inter's Antonio Conte experimented with the two before eventually finding that the 'flat five' provided more security and allowed his side to constantly overpower opponents in midfield.
Kessie seems the most natural pure defensive midfielder given his characteristics, but were this to be transformed into a regista role then it could be ideal to bring the best out of Sandro Tonali, especially if the centre-backs split allowing him to orchestrate with protection in space and show off his distribution.
It is also a case of asset maximisation, as all the other variables remain the same regarding centre-backs, wing-backs and forwards, but the likes of Soualiho Meite and Rade Krunic suddenly find a purpose as both are able to play the mezzala role, with the Frenchman also a possible deeper-lying presence.
So, how do each of these two formations present a better solution to maximise the potential of Milan's squad. To begin, here's what we know are the strengths of Pioli's philosophy…
➤ Pressing and counter-attacking: These perhaps should not be combined into one, but they are very much intrinsically linked. Pioli draws upon inspiration from Bayern Munich, a team that have built a way of playing based around not only winning the ball back quickly through pressuring the opponent, but causing immediate damage after doing so through lightning breaks. We have seen Milan do this with varying effectiveness since Pioli joined, and it is clear that it has been a foundation of a lot of the success the team has had over the past 12 months.
➤ Passing triangles: One thing that has been missing from previous instalments of Milan over the past few seasons is an inherent ability to strike fear into opponents with quick movement of the ball. Milan's passing networks both feed into the notion of a quick-counter style but also demonstrate that they can beat the low block via a systematic and prolonged use of the pass-and-move ideology that has seen great Rossoneri sides succeed.
➤ The double pivot: Following on from that and also discarding the last couple of months in which injury problems have denied any consistency in selection, it is impossible to deny that the Bennacer-Kessie midfield pairing is an integral cog to the machine we have seen post-lockdown. The pair perfectly compliment each other
➤ An offensive quarterback: For want of a better phrase we are having to borrow a term from another sport, but it is clear that Zlatan Ibrahimovic on his day is the man who commands the attack. He occupies a larger patch of the pitch than most 39-year-old centre-forwards would choose to, but in doing so he impacts the game more. He uses his size and physique to pin defenders and establish a 'base' of sorts for Milan in the final third, and also his excellent distribution to bring other attacking weapons into play effectively and efficiently. That is without mentioning of course his goal threat from pretty much anywhere inside the box with head or either foot. There is nobody quite like Ibra in this sense.
➤ Width, overloads and balance: The function of Milan's 4-2-3-1 is fascinating to watch in games where the team have executed it perfectly. The ability of the full-backs to function almost as wing-backs – Theo Hernandez more so than Davide Calabria – and the subsequent effect this has on the wingers to play as inside forwards, with Calhanoglu then drifting into space to pull the strings, is poetry in motion. The attacking threat is all about numbers and command; controlling the ball in dangerous areas, finding an option, getting close to goal and creating a good chance.
Highlighting the positives
How exactly does the 3-5-2 (or the 3-4-1-2 for that matter) assist in bringing out the strengths of this Milan, or better still accentuate them further?
➤ Safety in numbers: The system is absolutely ideal for creating overloads in every single department and is actually very beneficial for the press. Milan's constant undoing recently (as we will come onto later) has been teams that pack out the midfield and cut off the ability to play through the thirds.
With three centre-backs and three central midfielders the chance of getting completely overrun down the middle is virtually eradicated apart from some instances whereby the opponent has much greater quality. Instantly, your mind should be drawn to Sunday's derby defeat and how Milan were both forced to go direct (over the top) as they could not play through Inter's midfield, but simultaneously found themselves overrun when asked to defend.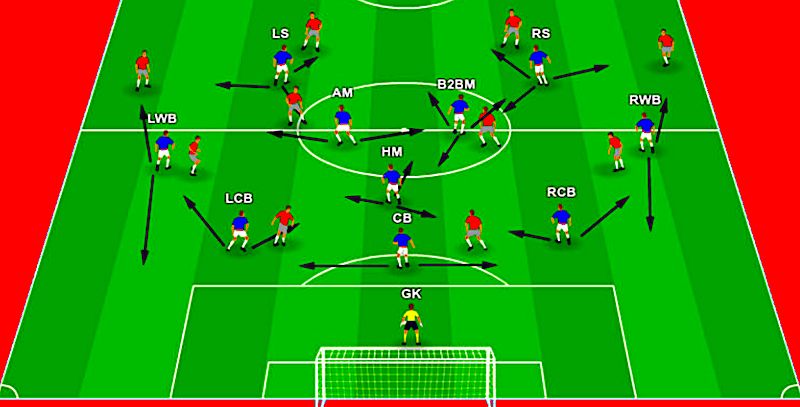 ➤ Hunting as a pack: When Milan press, they press from the front. Having two up top allows them to push opposing central defenders further back and cut off passing lanes when necessary, while the wing-backs can push up with intensity and use the touchline as an extra man, allowing the midfield to press in pairs too (depending on where the ball is), covered by the anchoring midfielder and the presence of three centre-backs for cover.
As mentioned, a huge strength of Milan's approach since Pioli arrived has been the blitzkrieg style of winning the ball back as high up the pitch as possible but also countering at frightening speed in transition.
➤ Defensive cover: This, right here, is big. It would be reasonable to remark that Alessio Romagnoli hasn't been in good form as of late and his struggles in isolation and when he gets turned have been well-documented in our recent feature. Nonetheless, dropping your captain is a dynamic that Pioli might not want to test the waters with, so the best solution for everyone is to try and get the best out of him.
By playing Romagnoli-Kjaer-Tomori, Milan have the perfect balance of awareness, physicality and pace, at least in theory. The former would be on the left given it is still his more natural position and he is left-footed, but he wouldn't suffered from being subjected to helpless situations as much given the cover from a three-man midfield and more importantly two centre-backs to his right.
Kjaer seems suited as the anchor in the middle given his ability to command in the air and distribute, while Tomori on the right seems logical because he has the speed to cover the pocket of space required. All three centre-backs are actually good at stepping out of the line to challenge the ball player – even if we haven't seen it much from Romagnoli recently – and they would be encouraged to do so in this formation because of the strength in numbers as a three.
➤ Double trouble: This has already been briefly mentioned before, but even the dynamic of having a front two as varied as Leao and Ibrahimovic, Rebic and Mandzukic or any combination of those would potentially breathe new life into the attack. One is the more direct runner and the more aggressive presser, while the other is the target man and the hold-up forward capable of flicking balls in behind or nodding them into dangerous areas. We have already seen how dangerous a Leao-Ibra pairing would work, now imagine that with stability behind them. Having a two-pronged press from the front is also big as it means a Milan player is always pressuring the ball-player while another is cutting passing lanes.
➤ Wide berth: One of Milan's brightest signings in recent years has been Theo Hernandez, but more because of what he offers in the final third and his reputation as one of the best attacking full-back/wing-backs in Europe. The switch to a 3-5-2 would only help him, as it would reduce the pressure on his defensive work rate and ability while allowing him to get forward at will, in theory into more space too given how preoccupied the opponent will be with two strikers and three midfielders.
As for the right side, it might not seem the most natural role for Calabria as a wing-back, but it must not be understated how he contributes to Milan's build-up on that side through passing triangles and his deep runs which he has been making with increasing frequency. Again, these would only be helped by having more freedom, and the ground covered by both him and Theo suggests the balance would be there for it to work.
➤ Passing triangles: A phrase that has already been used multiple times in this analysis, passing triangles have been a critical part of how Pioli's side have been able to move the ball through the thirds at speed with efficiency. The simplest way to put it is that there should always be an option for players to advance the ball vertically, and if another angle is needed then they can go laterally, or even pass back to retain possession and reset the attack. The diagram below shows just how the interlocking network of a 3-5-2 can create so many options just from passing to the closest player.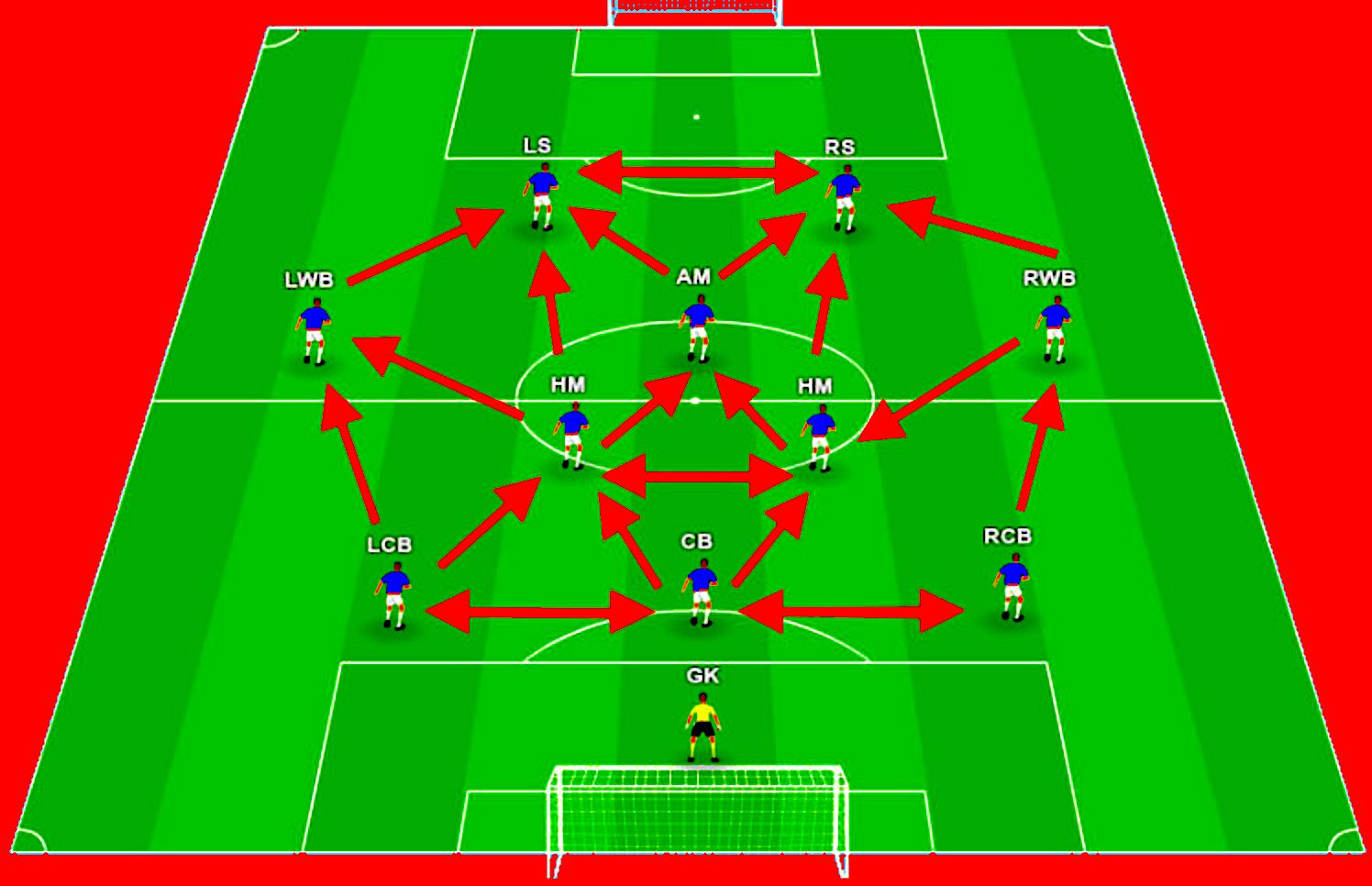 Fixing problems
The positives of a three-at-the-back formation have been highlighted therefore, but what specifically does it do in terms of fixing Milan's current issues? We analysed the key flaws in the current system in an article earlier this week, and below is how the new formation would counter that issue…
➤ Left half-space: A problem for Milan has been the gap between Theo Hernandez – who pushes up a lot with his wing-back tendencies – and Romagnoli. It has been far too big at times, and switching Kessie to be a left-sided defensive midfielder has only part negated the problem as the captain still gets left in isolation far too much and gets exposed.
While you may be thinking that Theo playing as a wing-back (which he virtually does anyway) does not help this issue, everything around Romagnoli should provide for more coverage. The map shown below roughly demonstrates how each player's responsibility might work from a coverage point of view.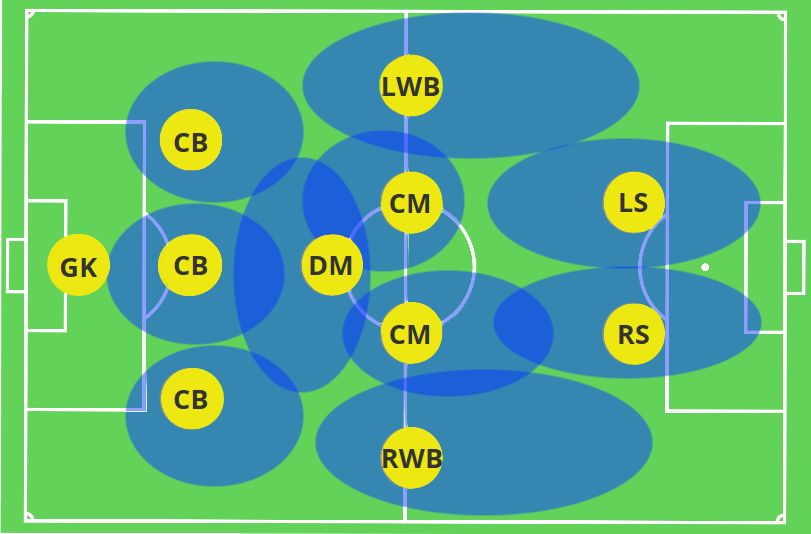 Theo has license to cover the flank, with Romagnoli sliding over behind due to the presence of two other centre-backs. The defensive midfielder covers much more lateral ground than vertical, with a more creative midfielder (like Calhanoglu) on the right prong able to get forward, and a box-to-box presence to his left (such as Bennacer) providing more cover but also driving player.
➤ The double pivot: While it has been one of Milan's big strengths in recent months, there have been signs that the double pivot is not as effective at the moment as it has been. The pair remain close and press as a duo either horizontally or vertically, though when overrun in midfield they tend to get separated and are unable to operate as the functional and cohesive unit that is absolutely fundamental to how the entire 4-2-3-1 works.
The 3-5-2 or 3-4-1-2 for that matter does not rip up all the good work, but rather gives the double pivot an extra hand in succeeding with the presence of further defensive cover and more passing networks in order to farm the ball quickly through the opposing team's lines. Playing a higher line with two centre-backs to support the press might have been a risk before, but with three that should be mostly negated which would allow the more deeper-lying midfield presence – as in Inter and Atalanta's systems, which have been kryptonite to Milan – to recover balls and drive as a wave.
➤ Building from the back: Not every attack can be a counter-attack, and so ball retention is key in building pressure. We have seen before against Atalanta and even against Vincenzo Italiano's Spezia that covering all of Milan's passing options and blocking the centre of the pitch has created big problems. The latter even deployed a more physical press often pushing up in triangles targeting Milan's double pivot.
Simply put, having two wing-backs, two deeper midfielders, a playmaker and three centre-backs gives more options and more width to distribute the ball. Milan like to build up the flanks with triangles, and if one wing is blocked up there are almost more 'islands' (players) in midfield and defence to shift the ball around and target the other side. We have seen against Inter – a point of reference for a well-drilled 3-5-2 – that the ball can be moved devastatingly quickly by creating fast overloads just through movement.
➤ Lack of a creative force: In our diagnosis of Milan's issues we also concluded that Calhanoglu is not very press-resistant nor is he particularly able to force opportunities like some of the elite creative players in world football. By having two men up front, it gives the Turkey international a big helping hand as the strikers will pin the opposition defence in, inadvertently creating more space to operate between the lines and establishing that zone further up the field.
Under those conditions we have seen the best Calhanoglu, and the proof of that is how Milan played their best football a similar way post-lockdown, with Theo a left wing-back and Rebic an inside forward close to Ibrahimovic, and Saelemaekers wider on the right. It creates space by occupying defenders and asking more questions, it's that simple.
The prime example is how Inter have Lukaku-Lautaro leading the front line allowing Barella to pull the strings in most circumstances, and now even Eriksen is getting that luxury.
Other benefits
Hopefully by now you have reached the conclusion (or are some way to being convinced) that there is a lot to like tactically about the 3-5-2 and a reason why a lot of sides use it to add value to the way in which they play. There are even more benefits for Milan specifically, too…
➤ Squad maximisation: All of a sudden, new roles have appeared that could breathe new life into forgotten players. Summer signing Jens Petter Hauge could easily play as a left striker, given how intense he is in the press, the ground he occupies and the goal threat he provides. Saelemaekers could finally become the wing-back he has always threatened to be better doing.
Diogo Dalot's defensive frailty could be eradicated with more freedom as a wing-back, as we saw him excel against Sparta Praha when asked to do what Theo does. Soualiho Meite would return to a formation he is better suited to and can join a three-man midfield, the same for Rade Krunic.
Mandzukic and Rebic could form a front two as in the national team from time to time, while even the likes of Matteo Gabbia (as the left-sided centre-back) and Pierre Kalulu (as either RCB or even RWB) could see further potential unlocked.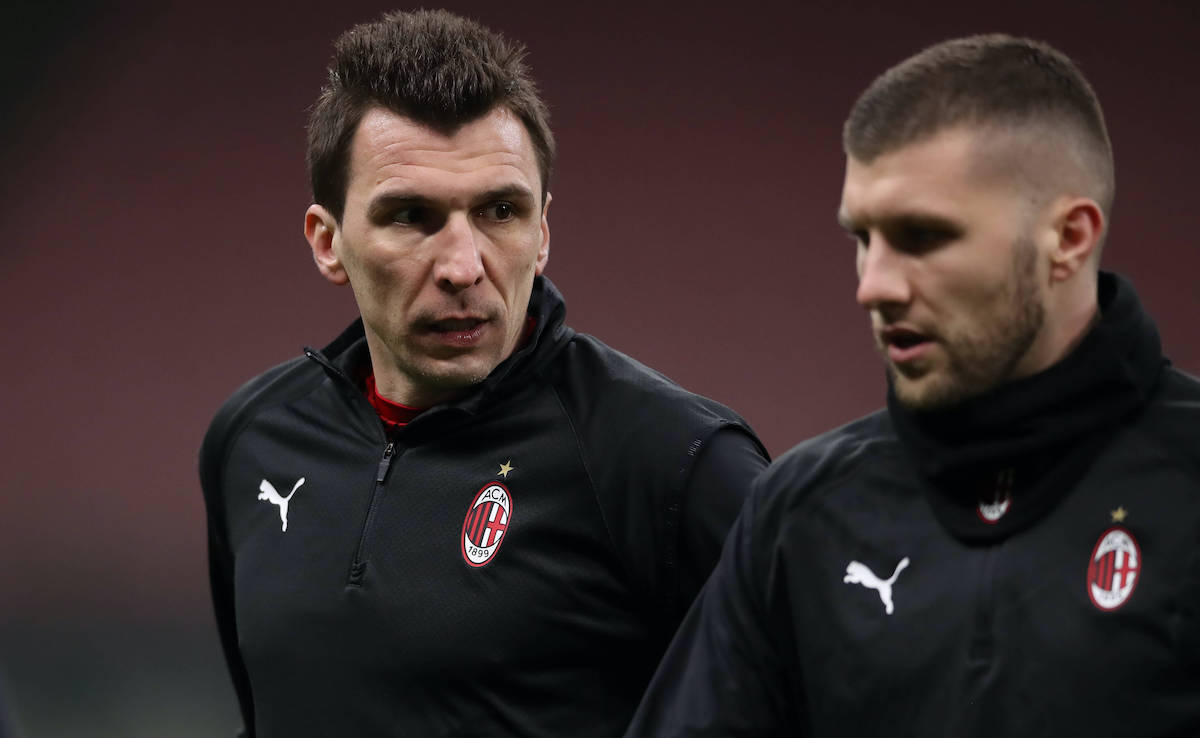 ➤ Adaptability: This one doesn't need too much explanation, but the ability to be able to switch from a more sturdy 3-5-2 with a defensive midfielder versus a 3-4-1-2 which allows for a pure playmaker in front of the double pivot when really on the front foot is a subtle but potentially crucial in-game change that Pioli could make. It seems that he struggles to stem the tide and reverse momentum when things aren't working with the 4-2-3-1, as seen against Lille, Atalanta, Inter and Spezia.
➤ Flexibility: It seems, at least on paper, as though there are positions in the 3-5-2 that multiple players can occupy, which mainly revolves around the fact Milan have five central midfielders all capable of playing across the trio, with the odd exception (such as Krunic not being a regista) as seen below…
GK: Donnarumma
RCB: Tomori (Kalulu, Kjaer)
CB: Kjaer (Romagnoli, Tomori)
LCB: Romagnoli (Gabbia, Kjaer, Tomori)
RWB: Calabria (Kalulu, Saelemaekers)
CM: Calhanoglu (Tonali, Meite, Krunic, Kessie)
CDM: Kessie (Tonali, Meite, Bennacer)
CM: Bennacer (Tonali, Meite, Krunic, Kessie)
LWB: Theo Hernandez (Dalot)
ST: Ibrahimovic (Mandzukic, Castillejo)
ST: Leao (Rebic, Hauge)
Note: In a 3-4-1-2, Brahim Diaz, Krunic or Hauge could also play as an attacking midfielder.
Potential weaknesses
The most obvious potential flaw to this grand idea is that the players have been signed (for the most part) to play a particular system and have been trained almost exclusively, we assumed, to suit a certain formation. Changing so radically could result in a lack of cohesion and may make it quite difficult to translate these ideas onto the field.
Also, things are unlikely to go perfectly from the minute a ball is kicked. It could be that it takes a few games for Romagnoli and the other centre-backs to get used to playing in a three, for the midfielders to become accustomed to having different zone coverage assignments, and for the team to learn to live with having vast channels of space behind the wing-backs and not having actual wingers.
It would also leave a question mark regarding how certain players fit into the squad, like Castillejo and Hauge. However, these are offset by the fact it is a change that overall would bring the best out of other players.
Moreover, Milan will come up against sides that play the system better than them for some time. For example, had the Rossoneri tried it on Sunday as opposed to playing to what they perceive to be their own strengths, it could have ended a worse scoreline. In spite of things, the only way to face up to teams that know how to stop you is to change the way you do things.
Finally, as a more general point, the 3-5-2 is based on having very strong units. There is a cohort in defence, in midfield and in attack. If one player is off kilt in any of these, it jeopardises the balance of the entire operation and can lead to three disjointed looking lines.
Conclusion
To make it abundantly clear, such a tactical overhaul is not quite a total revolution as some might think, but it is also not something to be taken lightly and it must be acknowledged that there would be teething pains.
However, the best coaches do not sit still. They adapt, changing formations often – even if only slightly – to get the best from their squad. They instil a way of playing, milk it dry and then look again at how to freshen things up.
When Ibrahimovic first arrived we saw Pioli use a 4-4-2 focused on giving Milan more of a focal point to their attacks by utilising the wide play, having a target man in the box and also a player to run off the Swede – initially Rafael Leao – in order to fix an attack that could not score. The goals then began to come: 13 in the first five games after the switch to two up front, and the Rossoneri began to learn where the net was once again.
Pioli understood that playing a 4-4-2 with such minimal midfield depth would eventually come unstuck against sides that aim for a midfield overload and creating chances through the middle, such as Antonio Conte's. His solution was to switch to a 4-2-3-1 – a more balanced solution keeping width but consolidating the middle by shaping up 4-5-1 off the ball.
Whatever comes next we don't yet know. Pioli may choose not to change at all but rather to stick with a formation that has brought him success and created an entertaining brand of football. However, the history book suggests it is better to be proactive than reactive, especially with so much on the line.
---
Want more Milan? Check out our podcast and sign up for notifications on our website for the latest Rossoneri updates. Take a look at our shop, and join in the discussion over on the Rossoneri Discord!