When Stefano Pioli was named as Marco Giampaolo's successor back in October, it would be reasonable to state that his appointment split opinion amongst the Milan fanbase.
The majority of speculation leading up to the eventual hiring of the former Lazio and Fiorentina boss was centered upon Luciano Spalletti; a serial top four finisher who was out of work, albeit contracted by Inter until 2020 and that ended up being the undoing of those negotiations.
When Giampaolo's successor was eventually named, #PioliOut reached the number one trend in Italy on Twitter, while a fan even stood outside the club's headquarters to protest against the leadership.
There were however a number of reasons to try and be positive about Pioli, though most of the optimism seemed to centre around a 'we cannot possibly get any worse' mentality.
The 50-year-old has been dubbed as a 'stabiliser' on the field as well as off it and has been credited with restoring a positive environment to psychologically damaged squads such as the ones he inherited at Inter and Fiorentina, and that was certainly the case with the current Milan squad.
Pioli also had a reputation for playing players in their best roles and in the most familiar system; i.e. returning them to familiarity to try and give them the best possible success of chance and subsequent increase in confidence.
Now we are 132 days into Pioli's reign, it feels as though we have had an adequate chance to take stock of what we have seen thus far, but we begin with a reflection of sorts.
If Giampaolo was a man who arrived on his first day at Milanello with a crystal clear tactical identity, system and style of play that he wanted to try and implement, than Pioli has proven to be anything but that.
The ex-Sampdoria manager was very rigid in his approach and he would try and ram square pegs into round holes as long as it meant his compact 4-3-1-2 worked.
Just look at the damaging effects it has had on Suso – now in Spain after failing to recover from a disastrous spell as a central playmaker – and Lucas Paqueta who has lost his decisive spark from being used as a mezzala.
It becomes a battle of a concrete approach versus a much more flexible and encompassing one. Legendary Milan boss Carlo Ancelotti is pretty firm in his stance.
"I don't want that my team has a really clear identity. If you have a really clear identity, then you can play football in only one way," he recently said (via ToffeeWeb).
"You can play football in different ways. The team can play football being aggressive, defensively, with an attacking style, with counter-attack."
"You cannot say one is good and one is not good. There is no one winning system. I think the winning system is to put the players on the pitch comfortable."
"Our work is to put a team that has a clear idea – not clear identity – on the pitch. The players that are going on the pitch, they have to know what they do.
"And, of course, the goal is to give happiness to the supporters. This is the ambition."
Pioli is very much of that school of though, and when it comes to assessing his first three-and-a-half months in charge, he must be given immense credit for one thing: the identification and resolution of problems with the squad by addressing them one by one.
The 50-year-old was given a tough start to life as Milan boss purely based on the fixture list alone, with Juventus, Lazio, Roma and Napoli all to face early in his tenure.
The turnaround in results has not been as dramatic as what he achieved with Milan's city rivals in the 2015-16 season, but the transformation in ideas and the switch from being a team bereft of ideas and creativity to one that is fun to watch has been very noticeable.
When referring back to the positives that Pioli was supposed to bring and combining it with his idea of problem resolution, we begin to see his precise methods at work.
He initially focused on putting players back into a position where they feel most comfortable. Suso returned to the right wing and Krzysztof Piatek went back to being a centre-forward, while positionally the rest of the team went back to a game system in the 4-3-3 which they knew much better from Gennaro Gattuso's time in charge prior.
Though the players began to come out of their shells with notably impressive performances away at Juventus and at home against Napoli, the results did not follow due to a lack of goals.
Zlatan Ibrahimovic's arrival – and his impact cannot be understated enough – allowed Pioli to switch systems to a 4-4-2 focused on giving Milan more of a focal point to their attacks by utilising the wide play, having a target man in the box and also a player to run off the Swede, initially Rafael Leao.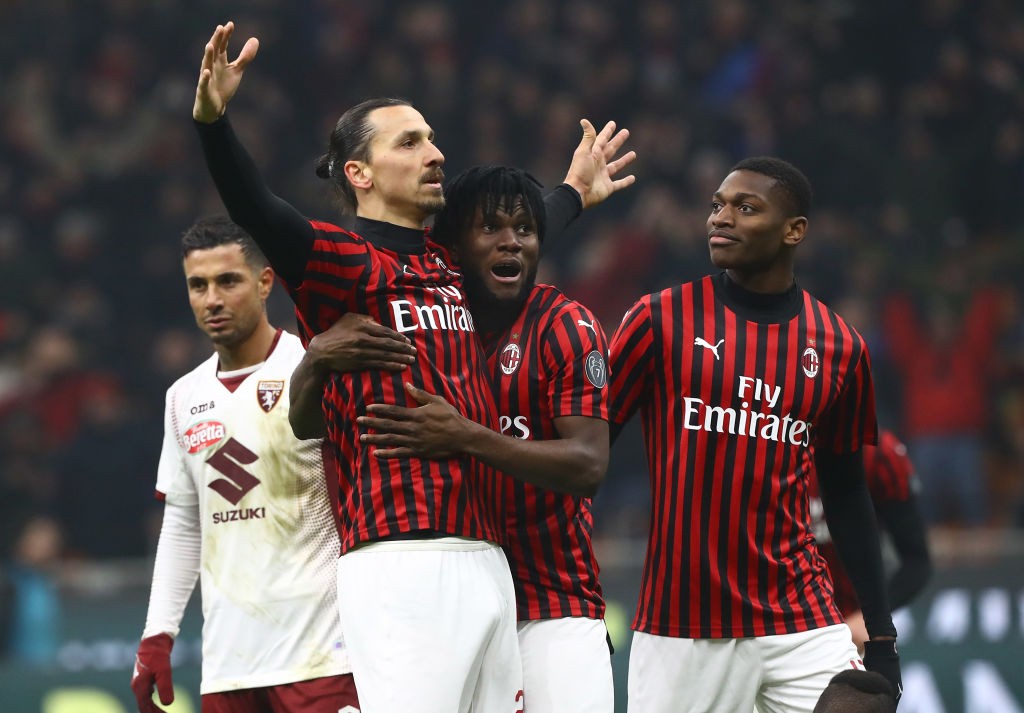 The goals then began to come: 13 in the first five games after the switch to two up front, and the Rossoneri began to learn where the net was once again.
Then came the all-important Derby della Madonnina against Inter, and the most recent change in approach from Pioli. He understood that playing a 4-4-2 with such minimal midfield depth would eventually come unstuck against sides that aim for a midfield overload and creating chances through the middle, such as Antonio Conte's.
His solution was to switch to a 4-2-3-1 formation or a 4-4-1-1 depending on your interpretation. The thinking behind this was that it would still offer the option of having someone playing off Ibrahimovic and would utilise the threat Milan generate in the wide areas.
The most significant point though was that it would allow for a more balanced solution, consolidating the midfield by shaping up 4-5-1 off the ball but also by being able to deploy a more effective press and one that does not completely compromise the safety of the middle of the pitch.
The first 45 minutes against Inter were the most the Nerazzurri have been outplayed all season, and though the final result wasn't there the platform to build from was. Another dominant performance against the now league leaders Juventus in the Coppa Italia semi-final followed, and the Diavolo thoroughly deserve to be taking a first leg lead to Turin for the return in early March.
There could be an argument that Monday's 1-0 win against Torino in the league at San Siro was a step back in terms of performance, and that would be a fair observation, but the result was there and that breeds confidence.
Speaking of which, it is also worth a mention that Pioli has lived up to his reputation of being an 'arm around the shoulder' kind of manager, rehabilitating and bringing the best out of players low on confidence. We have seen this through the likes of Ante Rebic (give Zlatan the assist on that one), Theo Hernandez, Samu Castillejo, Franck Kessie and we will hopefully now see it in Davide Calabria, Lucas Paqueta and Rafael Leao.
The bottom line is this: the expectation at Milan is huge, but putting bandages over the cracks in the foundations of this squad was not working. What Pioli has done is come in and take on the responsibility of repairing from the bottom up by identifying the problems, fixing them one by one and adapting for the better the more he learns about his group of players.
A crossroads will inevitably arrive at some point in the coming months just as it seems to every year; one that entails either going for a new, more established coach (in terms of major honours won) in the summer or opting for some much-needed stability sticking with Pioli.
That decision doesn't have to be made now and ultimately the final position in the table could be key, coupled with Milan's fate in the Coppa Italia, but Stefano Pioli's report card is getting more impressive by the week.
A tinkerman he may be, but with every change Pioli makes tactically he seems to simultaneously change the minds of a lot of his doubters and – perhaps most enjoyable – he is giving fans an enjoyable team to watch once again.