AC Milan secured the services of Diogo Dalot on a dry loan towards the end of the summer window as he became the fifth and final new face.
A marauding full-back at Porto, it surprised everyone when Manchester United paid €22million for his services back in 2018 when his compatriot Jose Mourinho was in charge.
However, with Mourinho leaving United and Dalot's move coming a bit too early for him, he got relegated to being a third choice right back under Ole Gunnar Solskjaer, who preferred Aaron Wan Bissaka and Timothy Fosu-Mensah.
Here's Milan fans can expect from the latest signing…
Profile
Name: Diogo Dalot
Age: 21
Foot: Right
Back story
Diogo Dalot was born on 18 March 1999, and joined Porto's youth system when he was just nine years old. After playing in the Porto academy he went on loan to Pardonese in the 2014-15 season, and he was recalled for the 2015-16 season to play for the U17 team. His impact was so great that he earned a call up to the U19 team at the age of 17.
Another promotion beckoned after impressing for the U19 team as he was called up for Porto's reserve side before he made his debut for the senior team against Sporting Lisbon. He made a total of eight appearances for Porto before joining Manchester United.
Playing style
Diogo Dalot is an attacking full-back who can cover as a left-back and a right-back. At Porto, he played as inverted full-back for eight games. His gameplay differs when playing on the right versus being on the opposite flank.
When deployed in his natural role of right-back, Dalot plays as a pseudo wing-back whereby he tucks in and reduces the numerical advantage of the opposition when they try to overload the centre.
When in possession Dalot can play like a normal winger where he has the pace to take players on and try create one-on-one situations. He has the technical ability to create chances with his crosses and is a constant attacking threat to the opposition.
His understanding with the Porto wingers was quite
crucial to his performances. If the wingers prefers to push wide Dalot tucks inside and waits outside the box. If the winger is playing as an inside forward then the 21-year-old plays out wide and tends to pull the full-back out of position.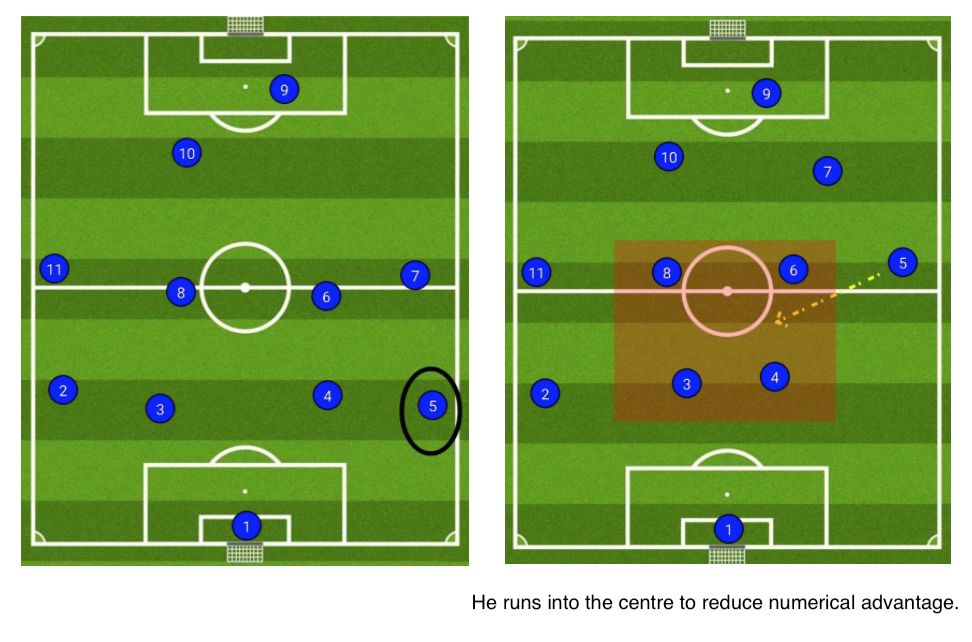 When playing as a left-back, his work ethic and role while defending remains the same – it is his method of attacking that differs. Instead of cutting inside, Dalot stays wide to receive the ball from the midfielder and then cuts inside for a cross or to find the winger with a cut-back.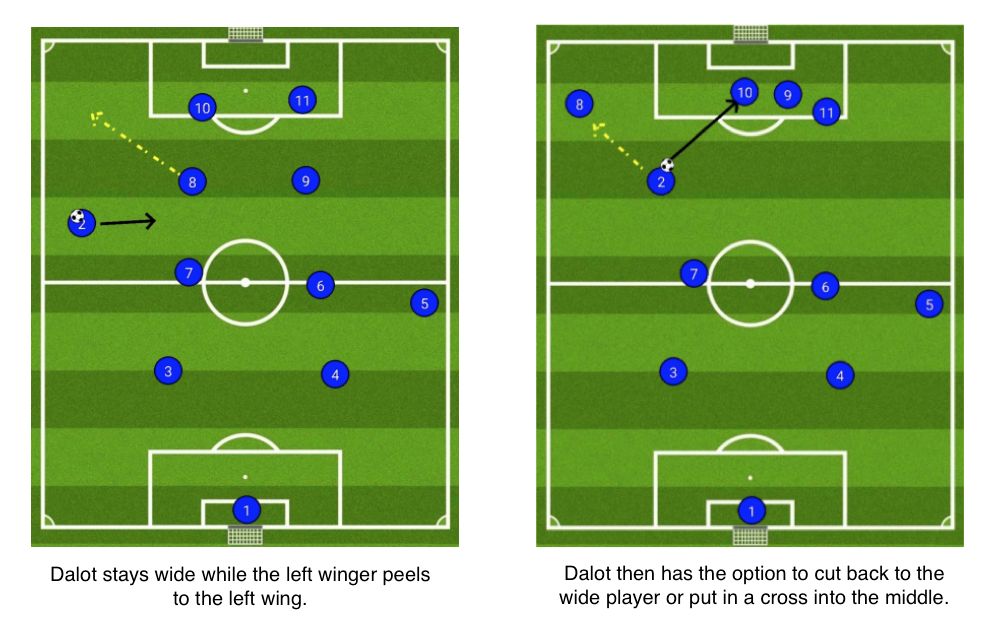 Tactical awareness is a very strong trait of Diogo Dalot. Porto played a 4-4-2 which changed to a 4-2-2-2 and this required alternative full-backs to push up to provide width.
Dalot is more comfortable in teams that use zonal defending and zonal marking rather than man-to-man marking which makes him very tactically aligned to Pioli's style of play.
He rarely dives into tackles even if he gets outnumbered on the flank. Dalot also has a very sound dribbling technique and uses the outside of his boot to cross and make passes. He often hugs the touchline to help switch play when the opposite flank is clogged.
His ability to dive into tackles can sometimes put him into trouble. He backs off quite often and this gives time to the opponent to advance the attack. When playing with Porto, Dalot was often seen dropping too deep and playing opposition attackers onside so he needs to improve his positional sense.
Player comparison
With Dalot making very few appearances it is difficult to make a statistical analysis.
After quite a bit of research on the internet and watching Dalot play he resembles a lot like former Inter and Juventus right-back Joao Cancelo. Both stand at 6ft tall and with the ability to burst forward with pace and join the attack, Dalot has followed the path taken by his compatriot.
With an injury crisis awash at Manchester City, Pep Guardiola was forced to play Cancelo as an inverted full-back. Against Lyon he often started from inside and dribbled out wide allowing Sterling to make inside runs between Lyon's compact lines. Being right-footed, Cancelo easily slid in passes into the path of sterling which caused a few problems for Lyon.
Deal or no deal
With Laxalt joining Celtic on loan and Conti as fragile as ever, a profile like Dalot is exactly what Milan needed especially since they will be playing three competitions this season in a very jam-packed schedule.
A low-risk high-reward signing, the loan of Dalot can see Milan try out multiple combinations in play as it gives ambidexterity to Pioli if he wants to put pressure on opposition and play two attack-minded full-backs.
However, there must at the same time be reservations regarding his lack of experience, and the fact it may be a short-term fix as it is not a player Milan own.
Transfer rating: 6.5/10