AC Milan faced the daunting task of going to Anfield to face Liverpool after a seven-year hiatus from the Champions League, and they did themselves proud.
The Rossoneri marked their return to the Champions League with a loss at Anfield, but it was certainly a rollercoaster of a game and Milan even had the lead heading into half time thanks to goals from Ante Rebic and Brahim Diaz.
Nonetheless, the 3-2 final scoreline was probably a fair reflection on the balance of play as Jurgen Klopp's side were sharper and more imposing across the park for the majority of the game.
Here is a tactical analysis of Milan's 3-2 loss at Anfield…
Biggest weapon
One of Liverpool's most potent weapons is their pressing and this one of the topics that deserves touching upon. Jurgen Klopp's side use 3 varieties of press and one of them is cover shadows they use for pressing their opponents high up the pitch. It is also a variety of positional pressing.
Below we can see Salah and Jota placed diagonally between Kjaer and Calabra while Salah covers Tomori and Theo Hernandez. Origi is covering Bennacer and Kessie which has cut off all passing options for Maignan and he is forced to go long where Liverpool's high line will sweep up the ball.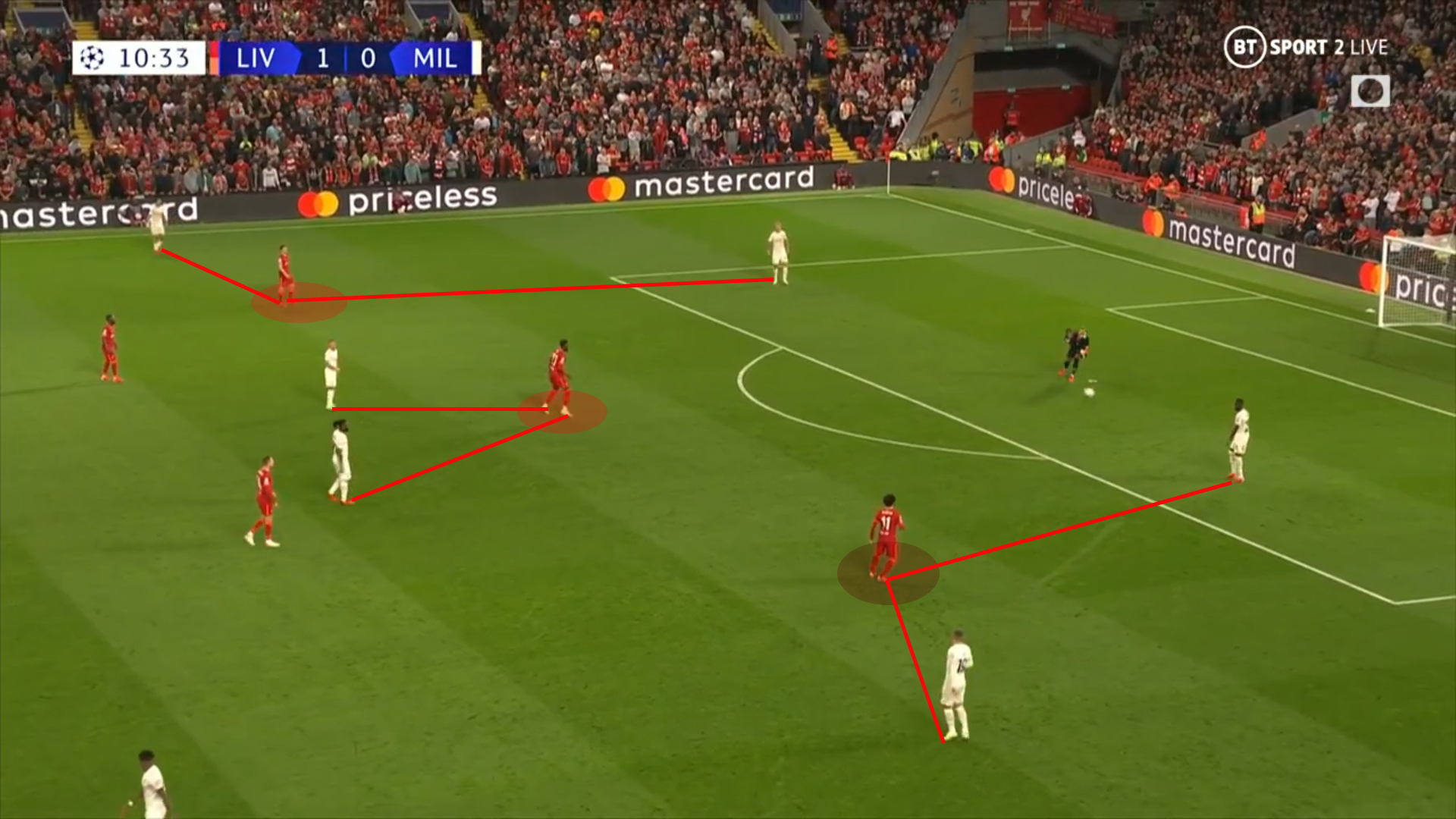 Another style of pressing is the physical press where two to three players leave their positions/zones and attack the player on the ball. This press is extremely physical and tiring for the team so they use this very sparingly.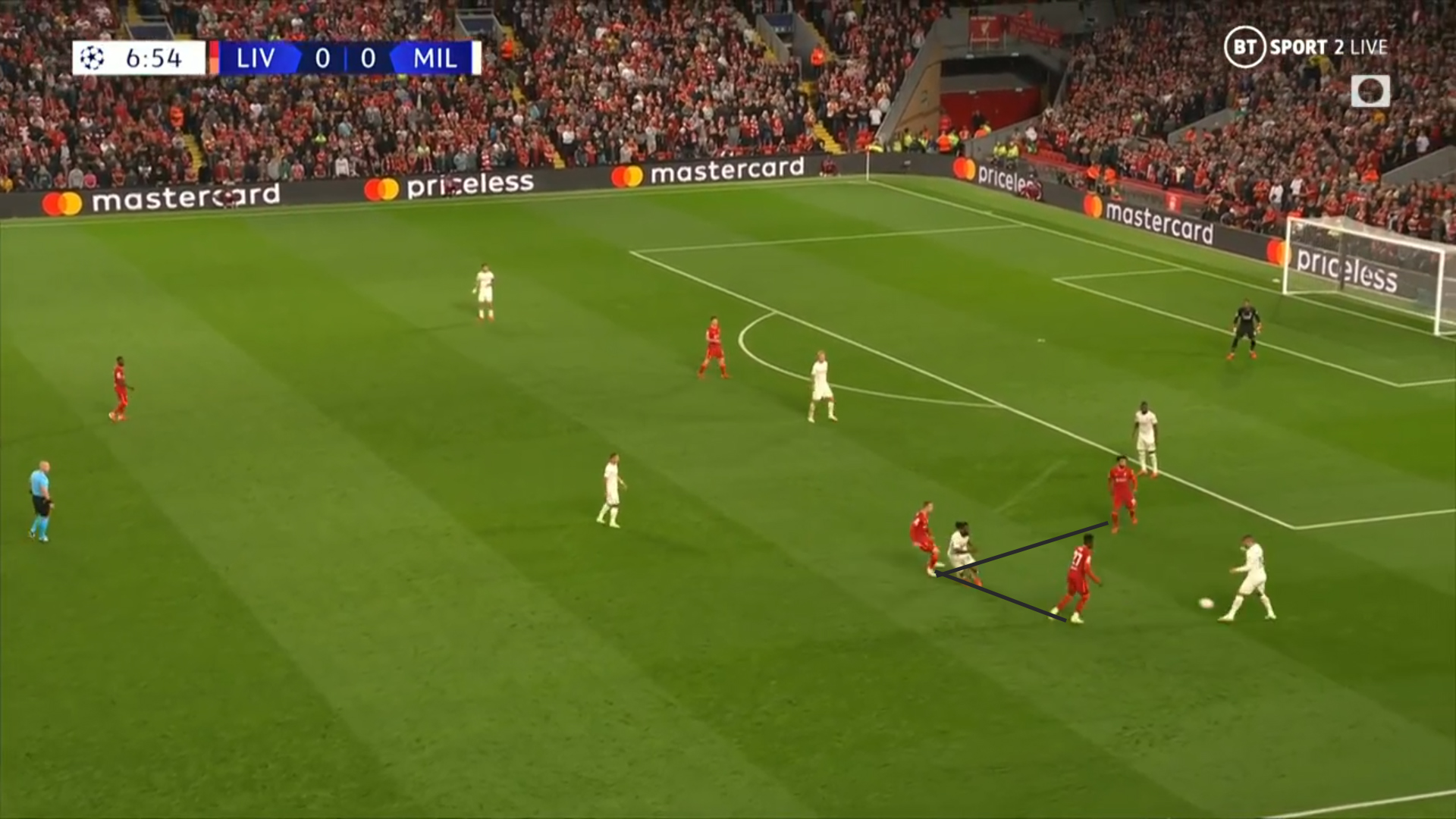 Another press is to press the opponent against the touchline, using it as an extra man and outnumbering the opposition. This is seen in the six vs. five situation created below.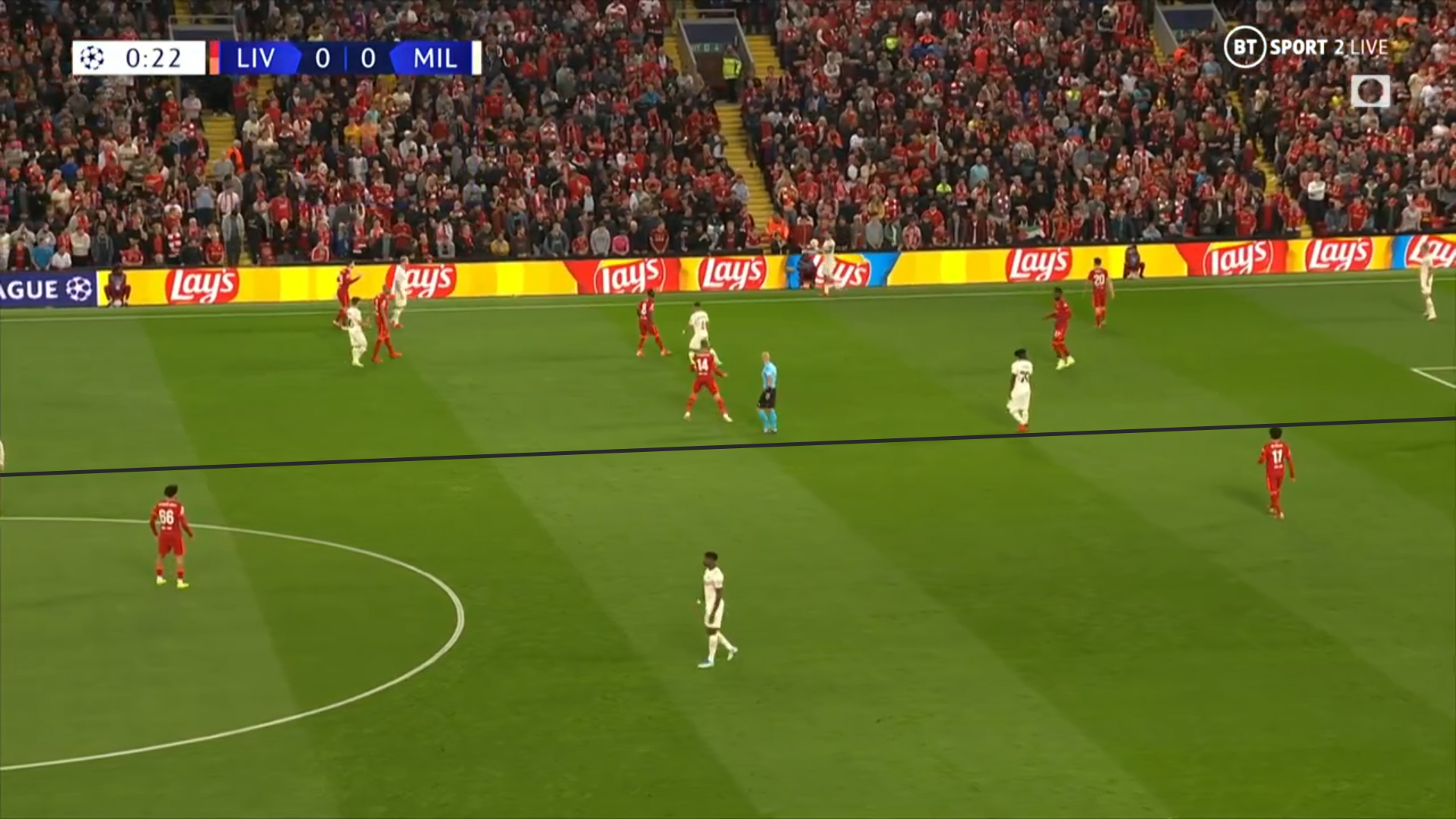 Liverpool are also good at pressing traps. In this sequence you can see that the home side have covered all other passing options that Kessie has, so his only choice is Calabria who is open on the right flank. This is a trap from Liverpool.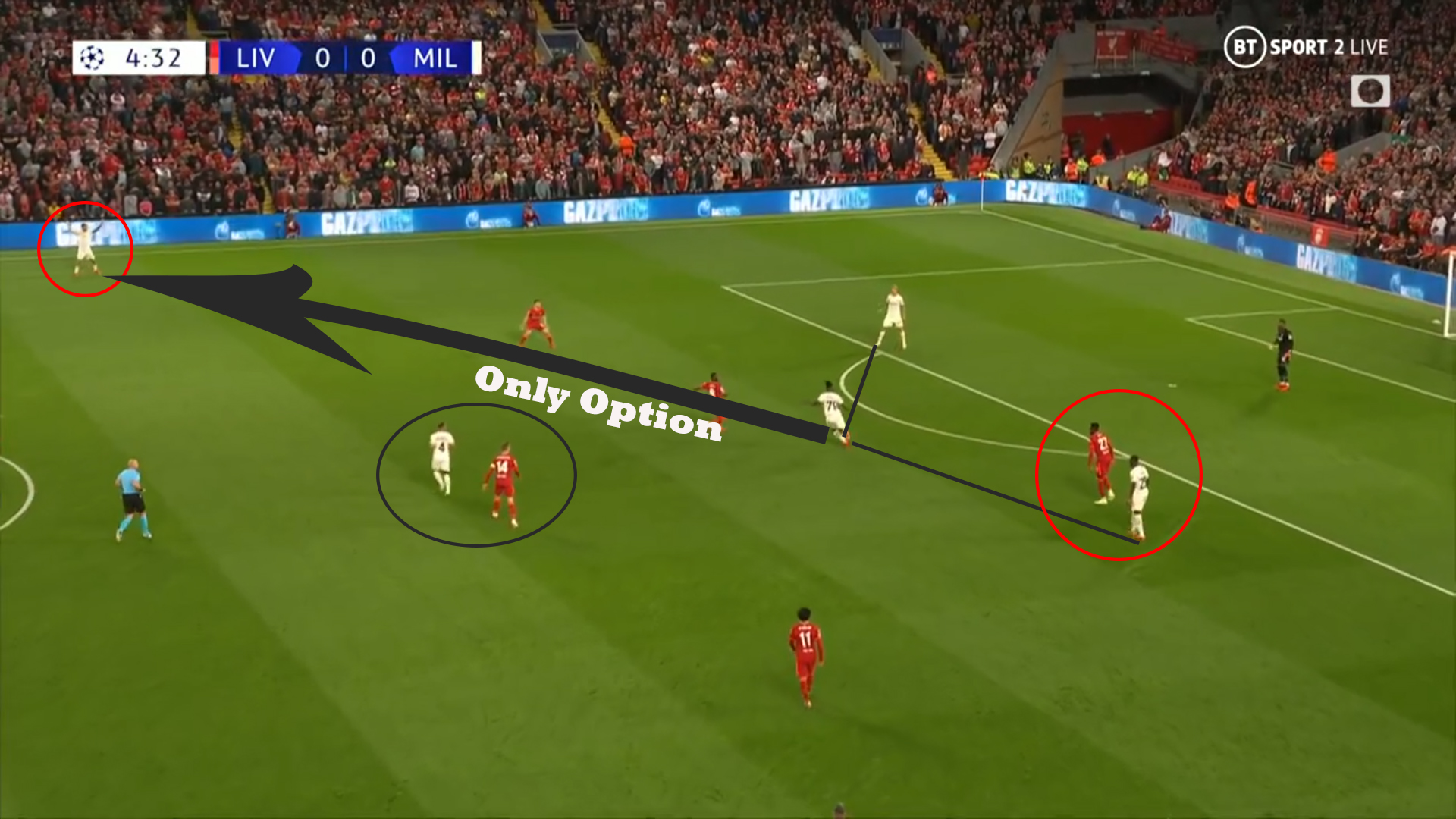 As you can see in this picture, Robertson quickly closed down the loose ball from Kessie to Calabria and start a quick counter.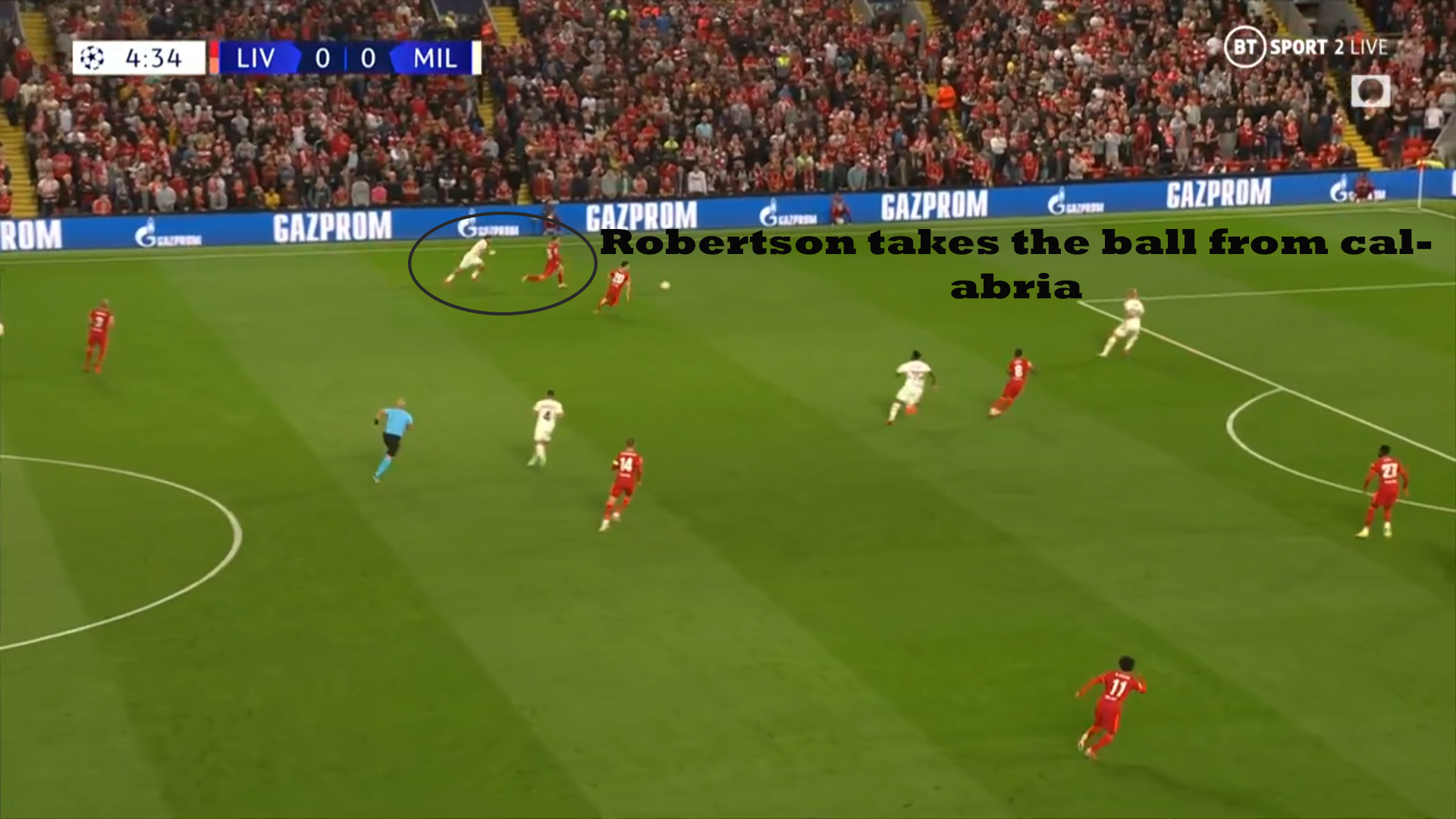 Milan's disorganisation
A bit of nerves and a lot of Liverpool's tactics contributed to Milan being out of shape plenty. As we can see, the Rossoneri are seen to be in no particular shape off the ball and not covering their man giving space and time to players.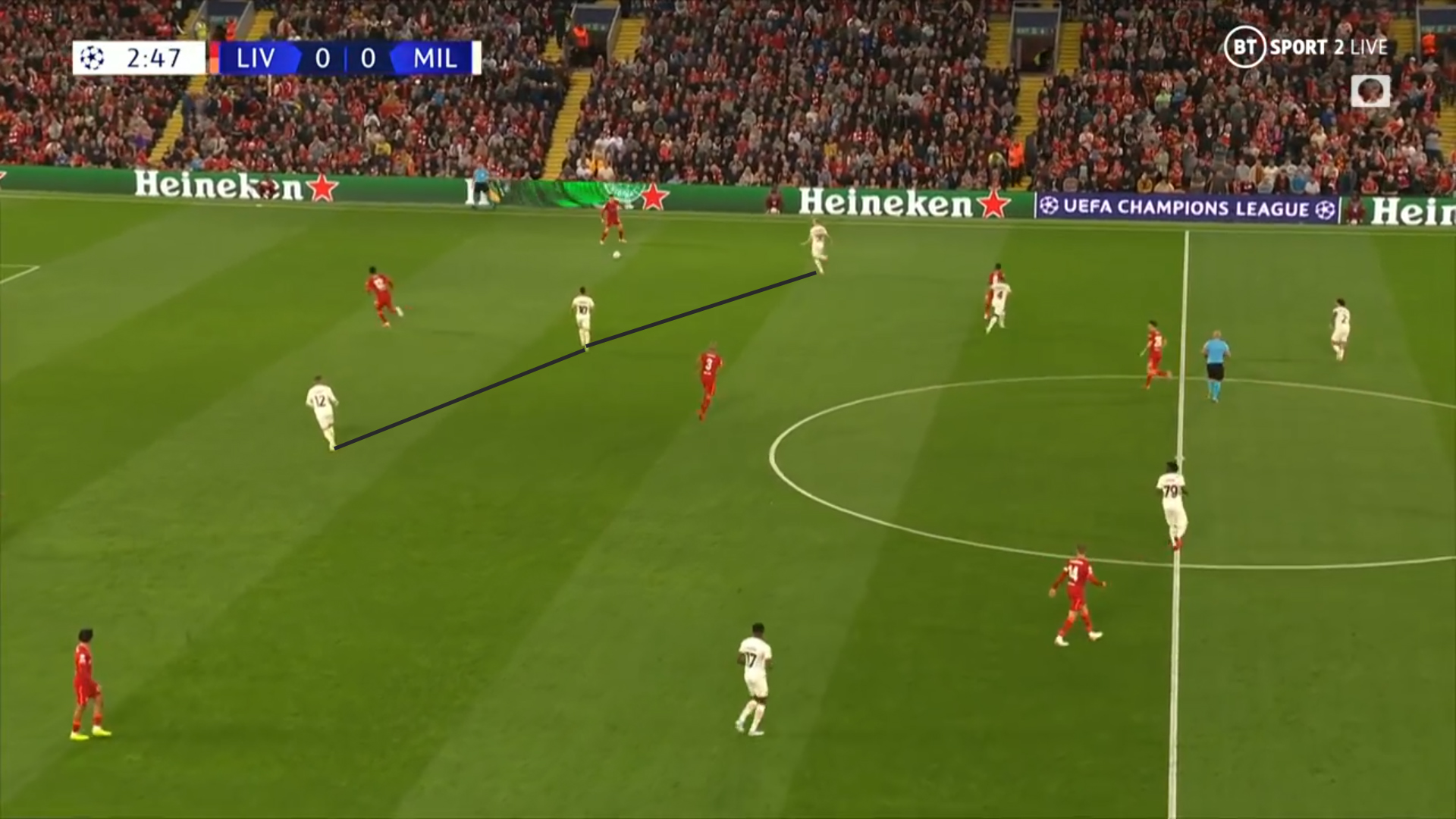 Even on the ball Milan were not helping each other out and providing passing options or making quick passes to each other.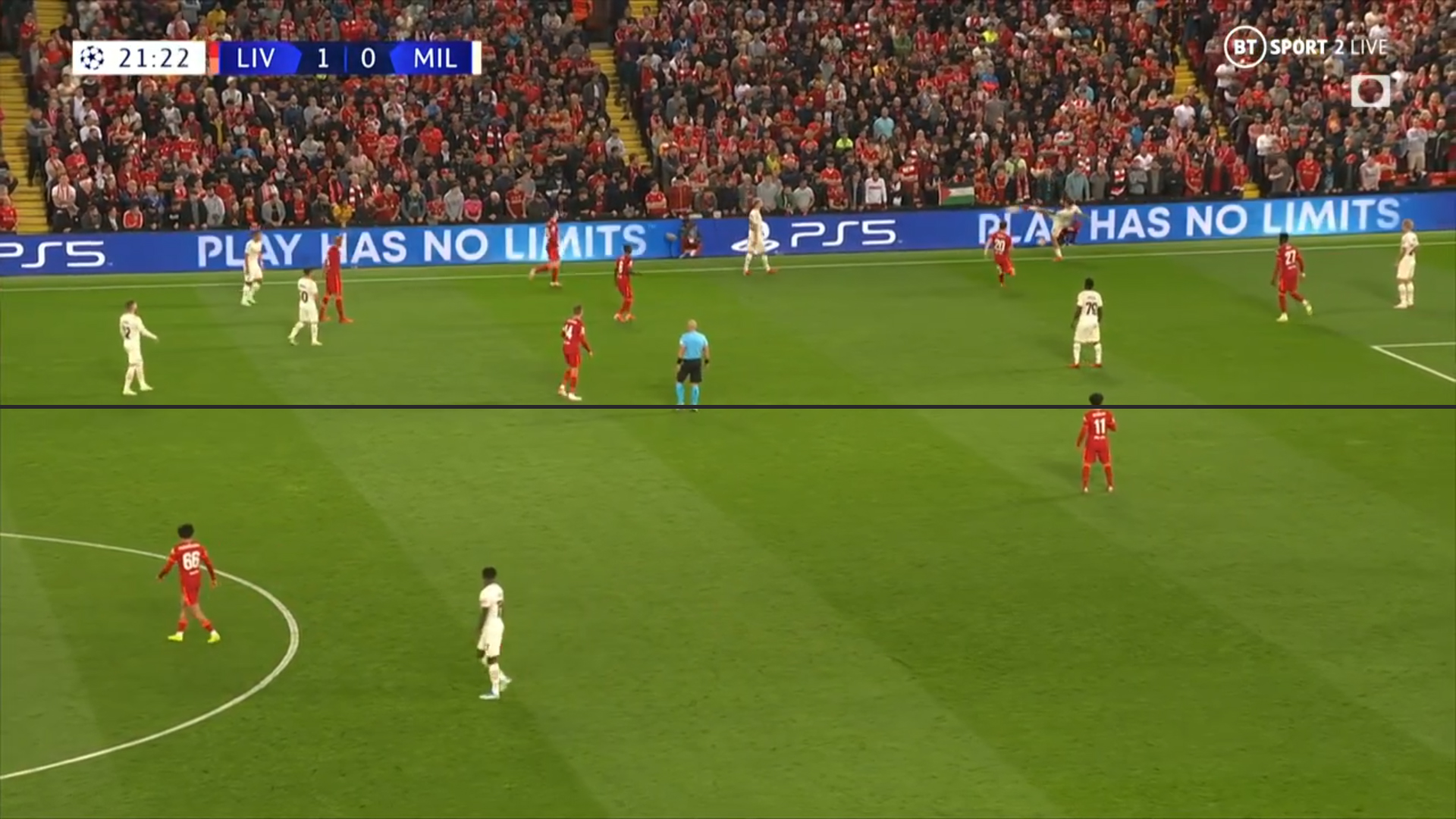 In Pioli's 4-2-3-1 the double pivot are expected to play close to each other and cover. However, the space between Bennacer and Kessie was too big and Liverpool exploited that in the first goal they scored.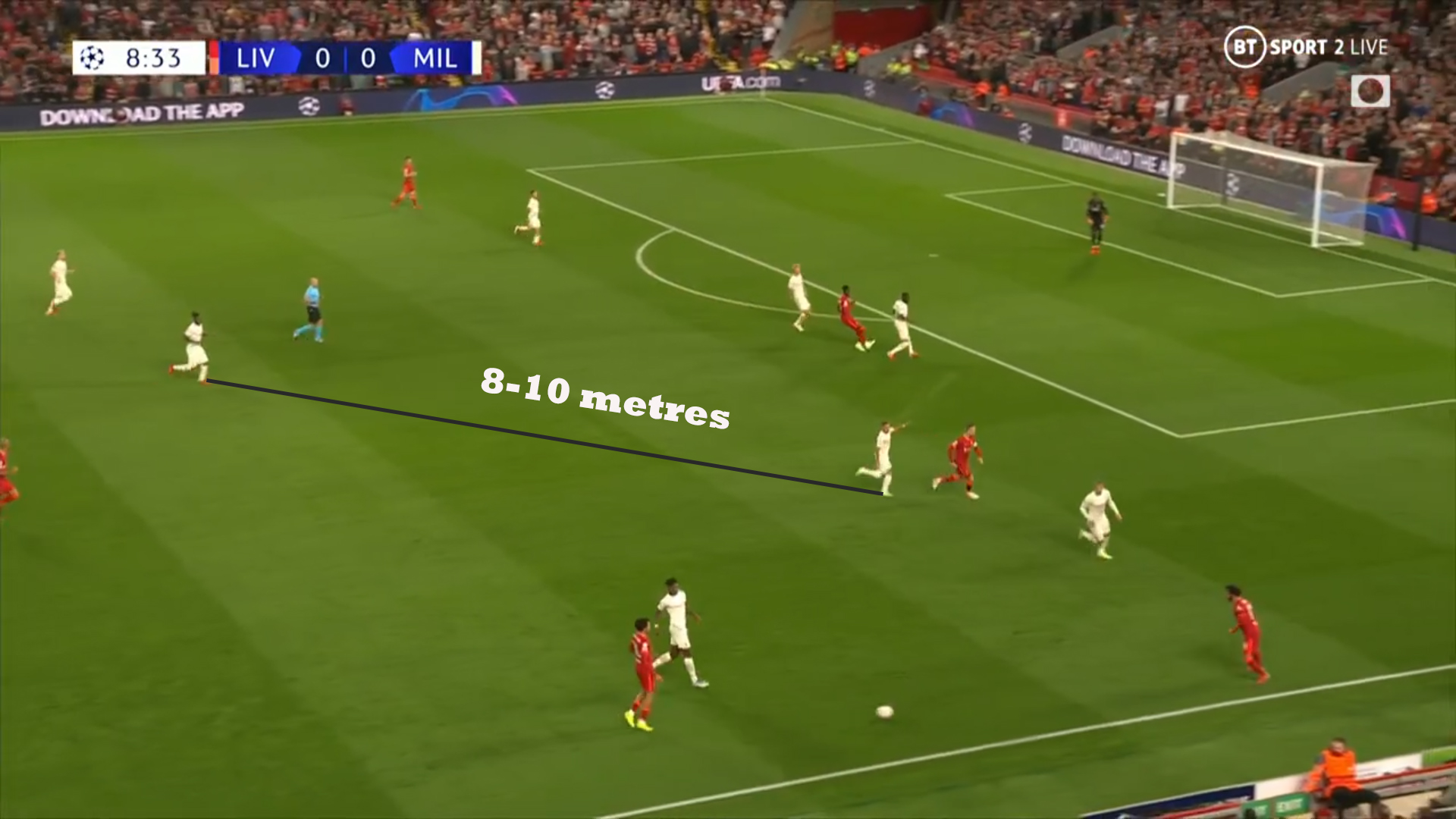 Attacking principles
In Liverpool's full strength 4-3-3, Firmino acts as a false nine and comes in between the lines drawing his marker out and making space for Mane or Salah. Here, Jota and Origi alternated as the "space maker" and took turns drawing defenders out.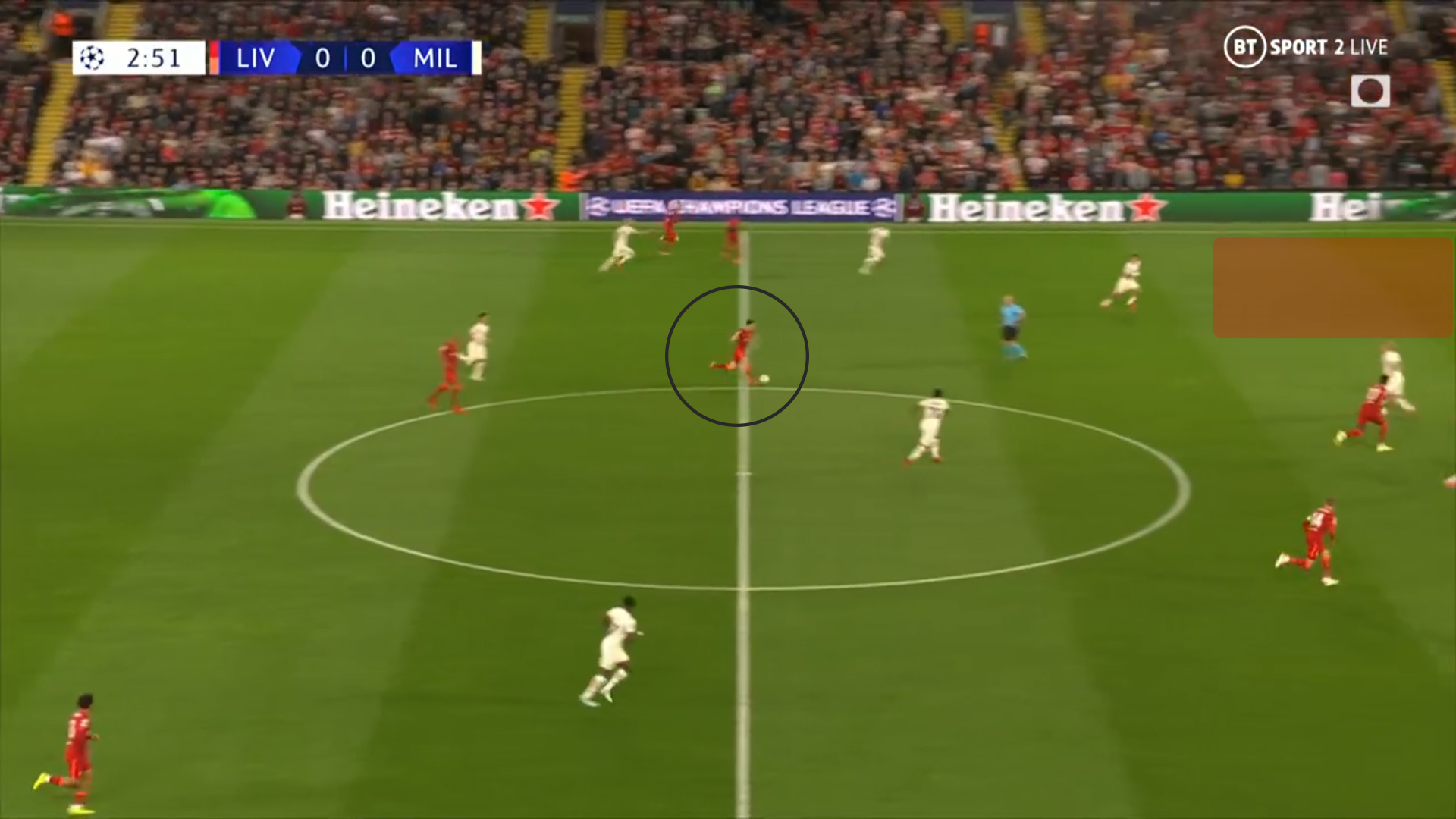 Below you can see Origi drawing Kjaer out and putting Calabria in a 1v1 situation against Jota.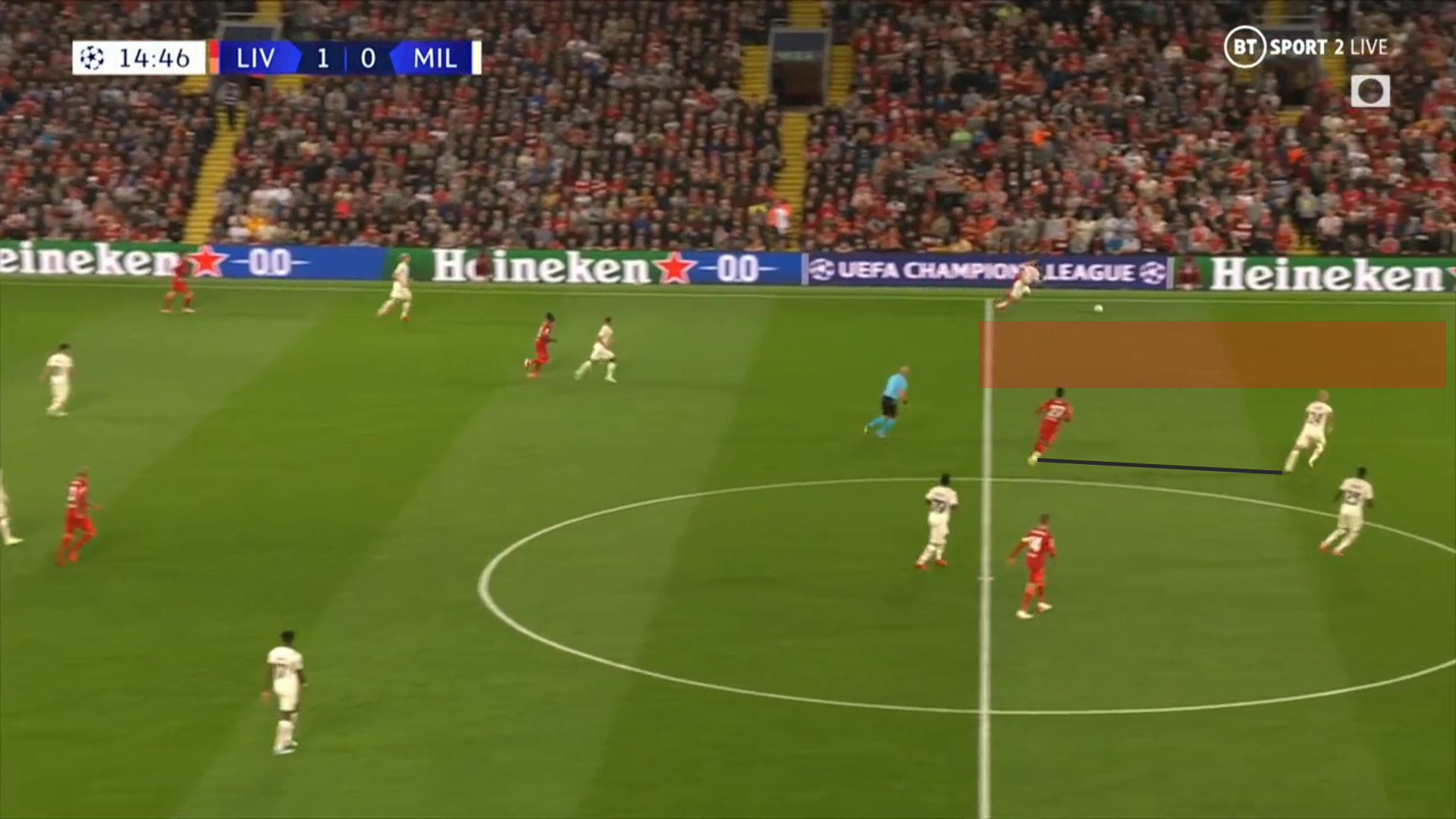 Liverpool created a lot of triangles on the left wing with Mo Salah, Fabinho, Trent Alexander-Arnold all taking part.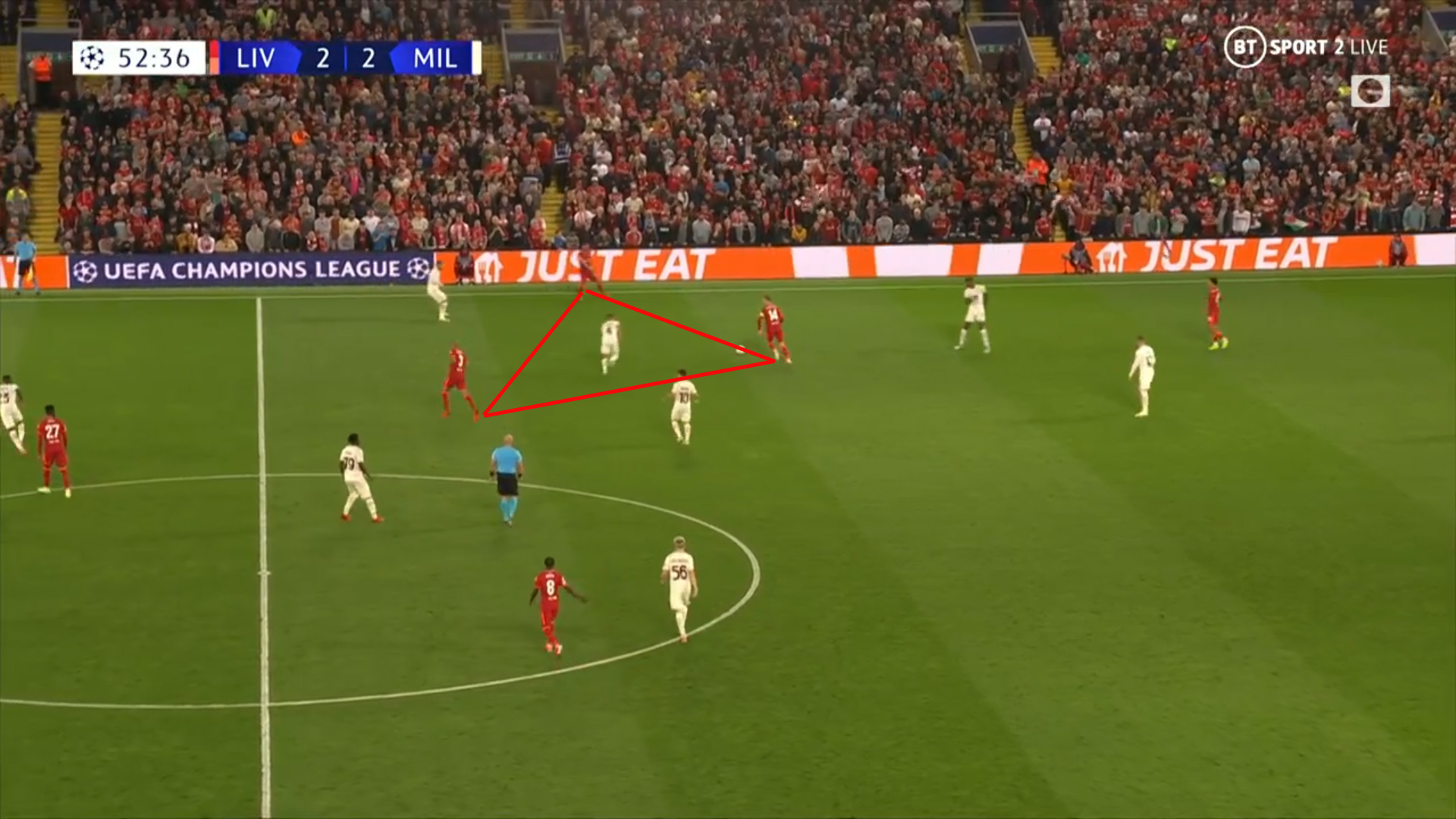 Another technique Liverpool used using the wingers – who would tuck infield – to keep the full-backs infield and hence creating space for the wingers.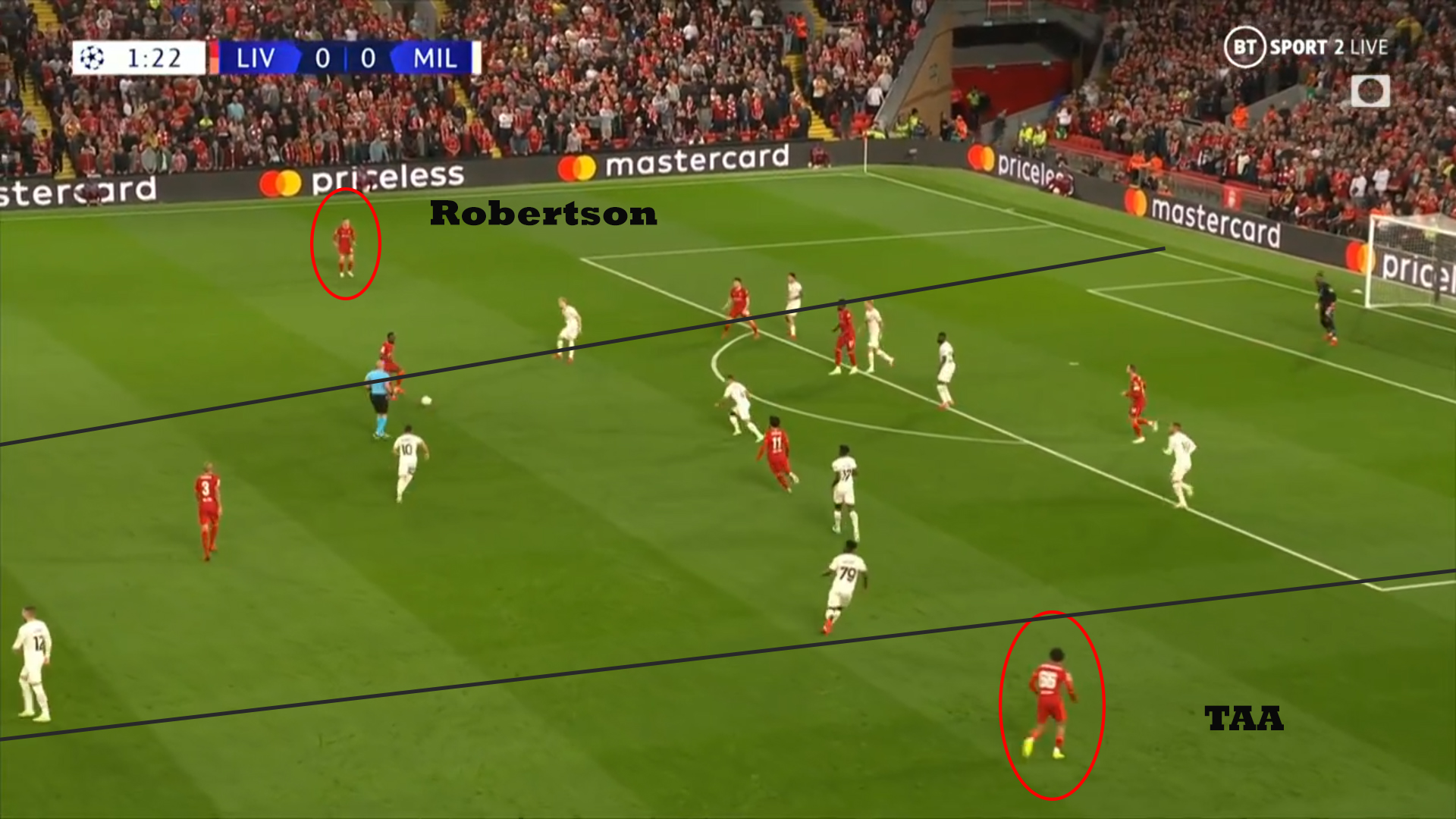 Milan used the spaces behind the full-backs to their advantages. With Trent Alexander-Arnold given the license to bomb forward, it created a lot of space for Leao to roam. He did exploit it a few times but was pinned to the wings by Matip, and with no Giroud as an aerial presence the Portuguese winger had no one to aim his crosses at.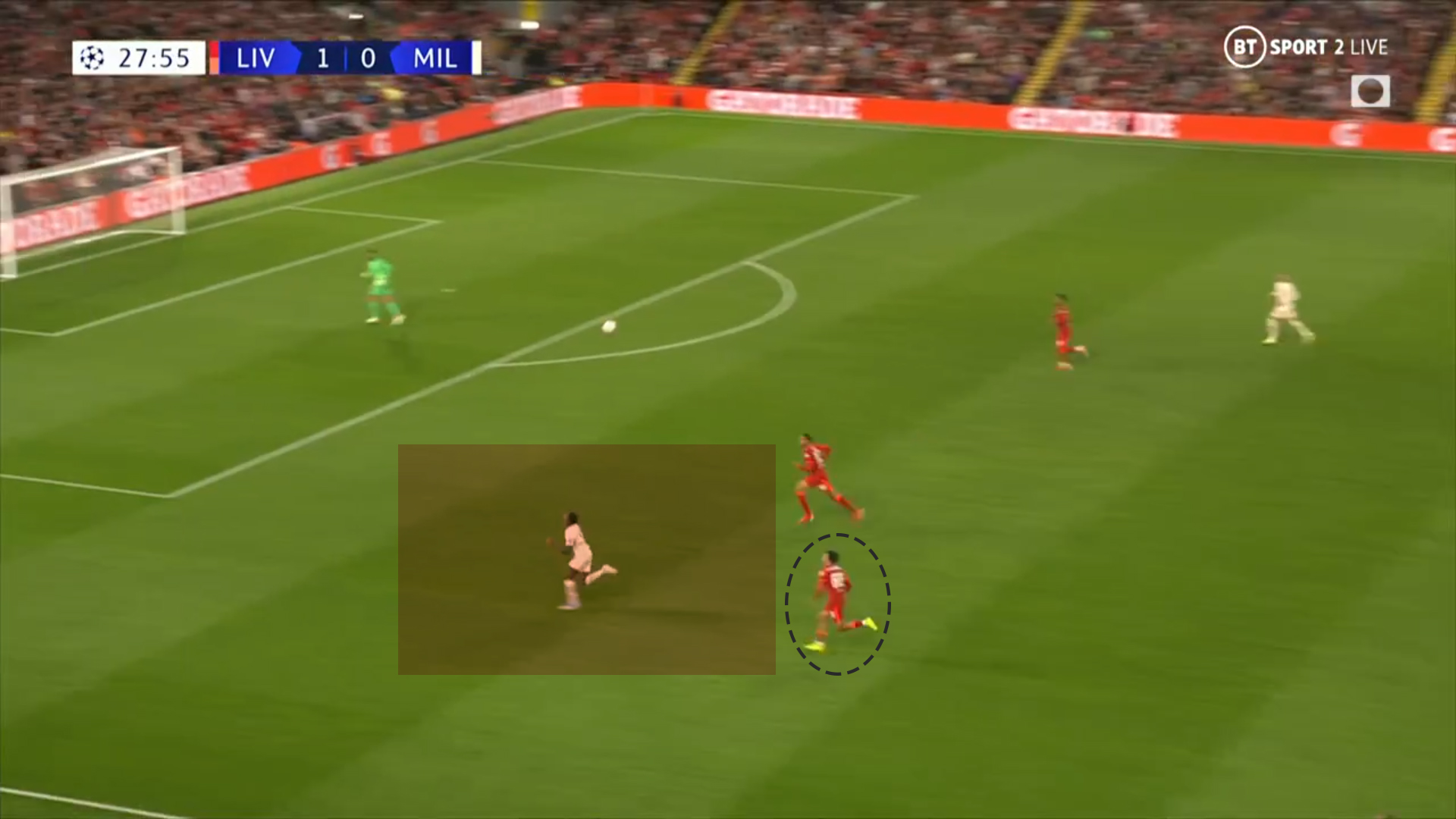 One thing that undoes any pressing is quick short one touch passing and both of Milan's goal came with making those good passing combinations.
The data
La Gazzetta dello Sport carried an interesting average position map which is taken from the overall positions that the players took up. As can be seen, Rebic dropped deep plenty to try and get involved as an outlet, while Brahim held a pretty firm position.
The cluster of bodies down the left side is perhaps a reflection of the strength down Liverpool's right, where the passing triangles called all kinds of issues. Saelemaekers cuts a lonely figure, especially considering that his movement inside contributed to the equaliser.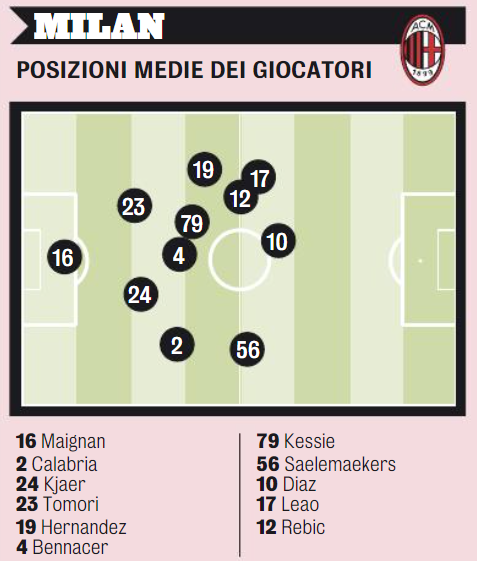 Looking more closely at the goal, the aerial map provided below offers a more clear overview of how Milan managed to cut through their opponents for the first time. Smart movement of the ball, confidence to pick passes through the lines and find the gaps.
This was AC Milan's first goal in their return to the #ChampionsLeague: a great play featuring Brahim Diaz, Saelemaekers, Rafael Leão and finally Ante Rebic. #ACMilan #Liverpool
-Powered by @MetricaSports Automated Tracking Data pic.twitter.com/TqCcQfINiM

— Last Row (@lastrowview) September 15, 2021
Conclusion
Milan are not used to a pressing team like Liverpool in Serie A, and only Atalanta comes close to what Klopp has built from a system stand point, but the English side are full of household names that have the quality to hurt.
Milan however can hold their heads high and take positives before their tough trip to Turin in Serie A, and it serves as a conditioning test more so than anything else.