AC Milan managed to kick off their season in the right fashion with a hard-fought 1-0 win over Sampdoria at the Marassi on Monday night.
In the end it would be a goal from Brahim Diaz that was enough to earn the three points for the Rossoneri in what was a 94-minute battle in Genoa, and while it was hardly a vintage performance from the Rossoneri it was certainly a psychological test that they passed.
Below are some tactical points from the game…
Early intent clear
It did not take long for us to see the excellent distribution that goalkeeper Mike Maignan possesses. The Frenchman launched a long ball over the top where we also saw how effective Rafael Leao's movement can be when he sprints in behind off the shoulder of the last defender.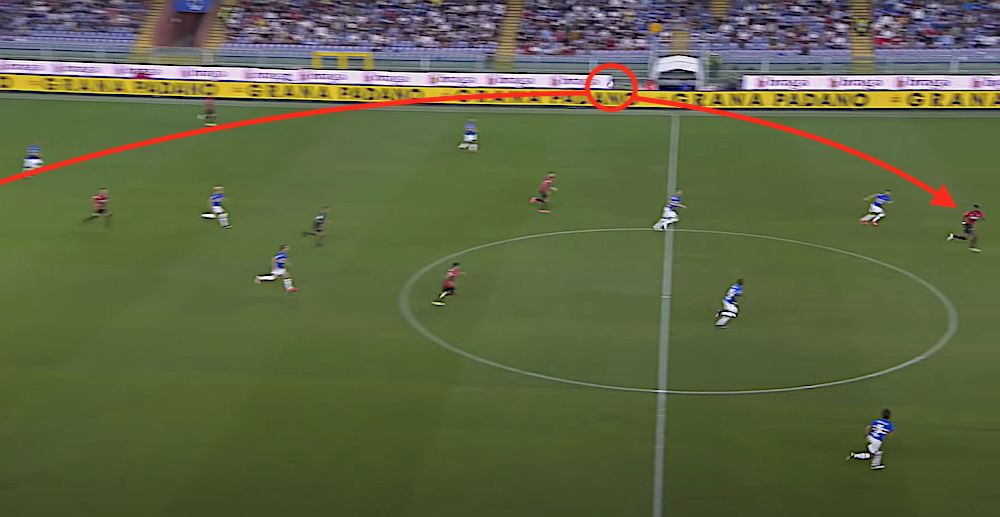 The Portuguese forward manages to breach the line that D'Aversa's side were trying to play, and although his first touch was not perfect he did well to bring a fizzing 70 metre pass under control and set himself.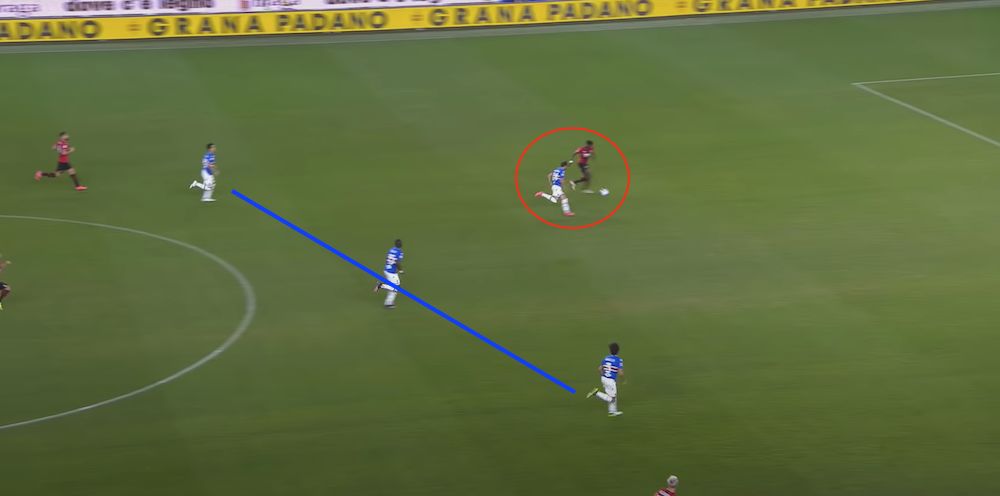 It was in the seconds that followed that we also saw what Leao can offer in isolation. His movement towards Bereszyński had the Polish full-back very non-committal, before he eventually got a clear shot on goal that Audero saved well. It is also worth noting that he had to go it alone in this instance, given the lack of support from team-mates.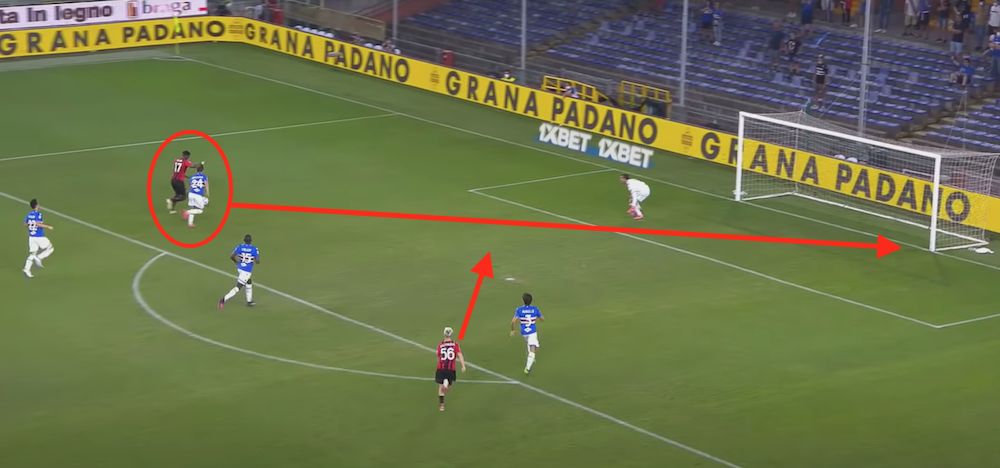 Pressure leads to goal
It was another long ball from Maignan that was responsible for the opener, as Davide Calabria pressed high up the pitch showing good battle to pursue a ball that others may have considered lost. He dispossessed Augello and made a dart to the byline to buy himself time, with no team-mate in the final third for support.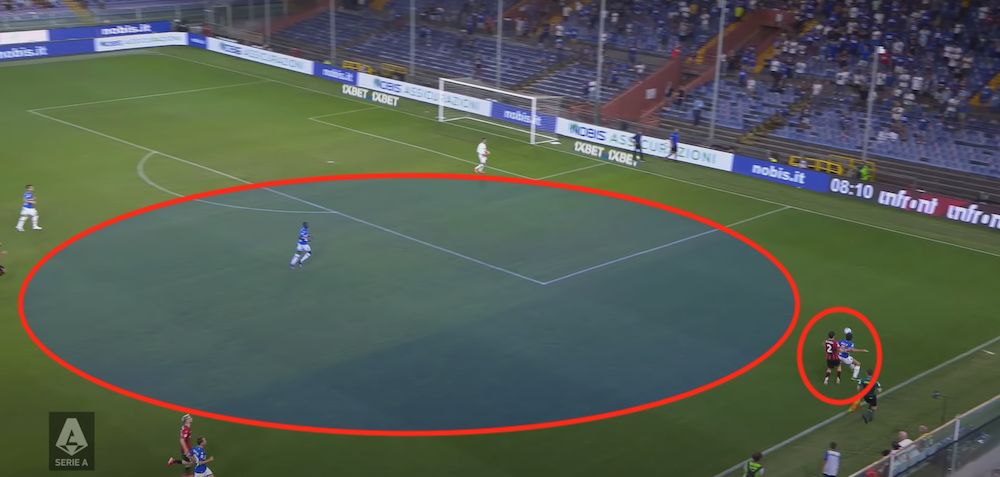 It was the buying of time that proved to be crucial, as well as an excellent decoy run (well, a run that ended up being a decoy) to the near post to draw Yoshida over. This created the space for Brahim Diaz to run into, and he attacked it perfectly.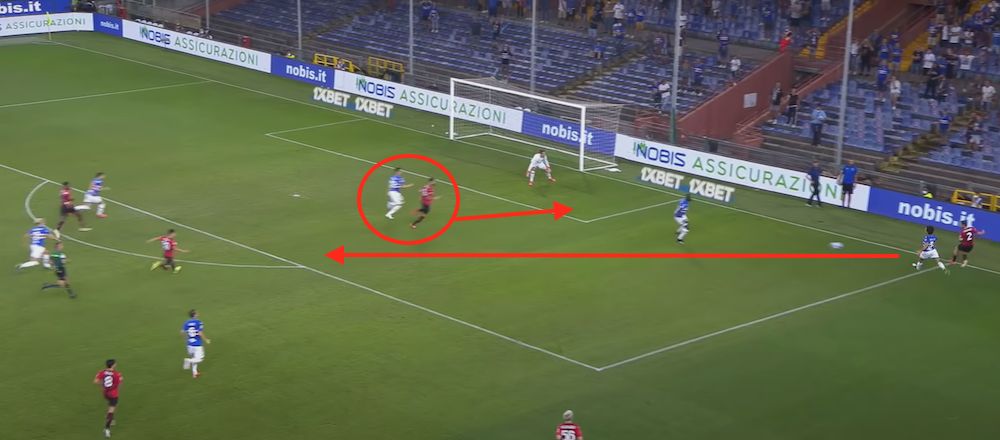 Another perhaps unintentional positive of Giroud's intelligent run is that it caused enough disorganisation for Yoshida to then end up getting in the eyeline of Audero in the Samp goal, which could be a crucial factor in why the ball squirmed under him.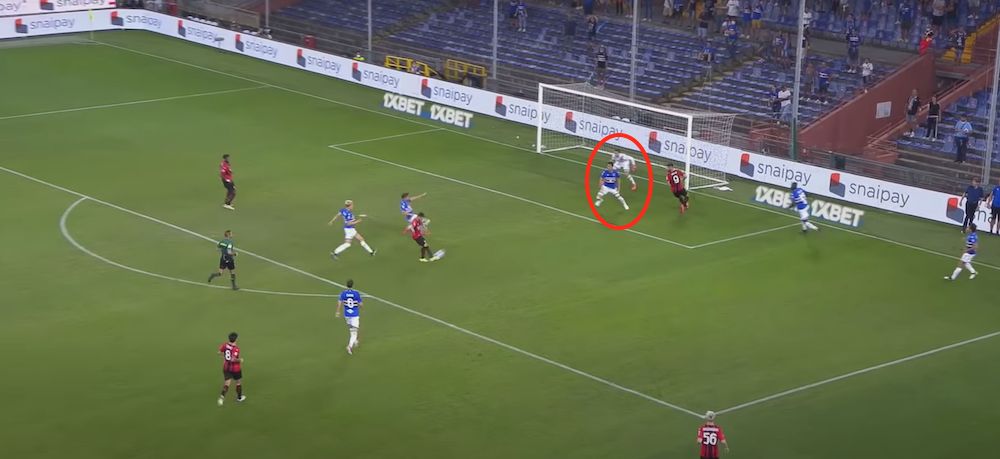 Momentary madness
Despite taking an early lead to settle the nerves, it was far from plain sailing for Milan as they were threatened by the home side. In the moment captured below, Samp are breaking at speed and have broken the lines, with Kjaer (circled at the bottom) way out of position, the double pivot (represented by the line) 10 yards behind the attack and Theo forced to tuck and and cover, causing a dangerous gap on the right.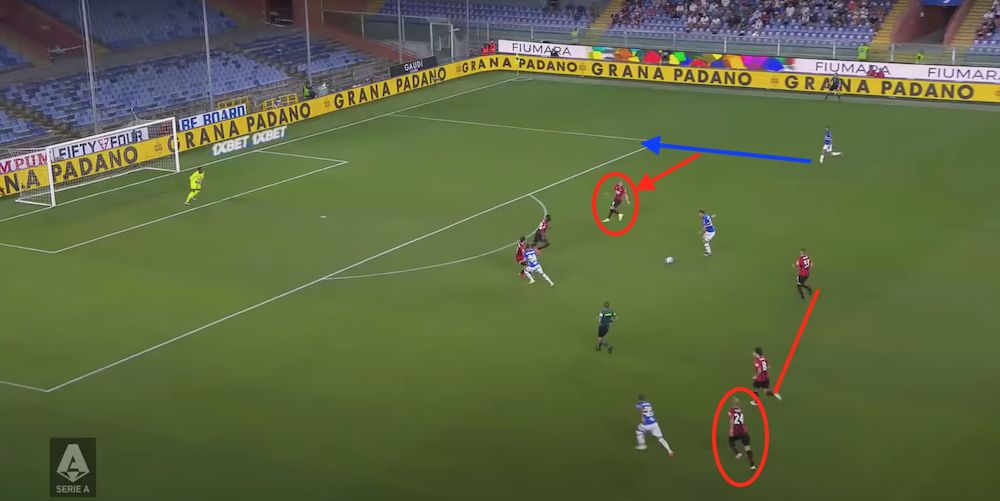 The disorganisation could have been fatal as the attention was then drawn to Candreva in possession down Milan's left side, leaving a man unoccupied (circled in blue) over at the far post, which a cross could have found with Calabria and Kjaer again behind the play.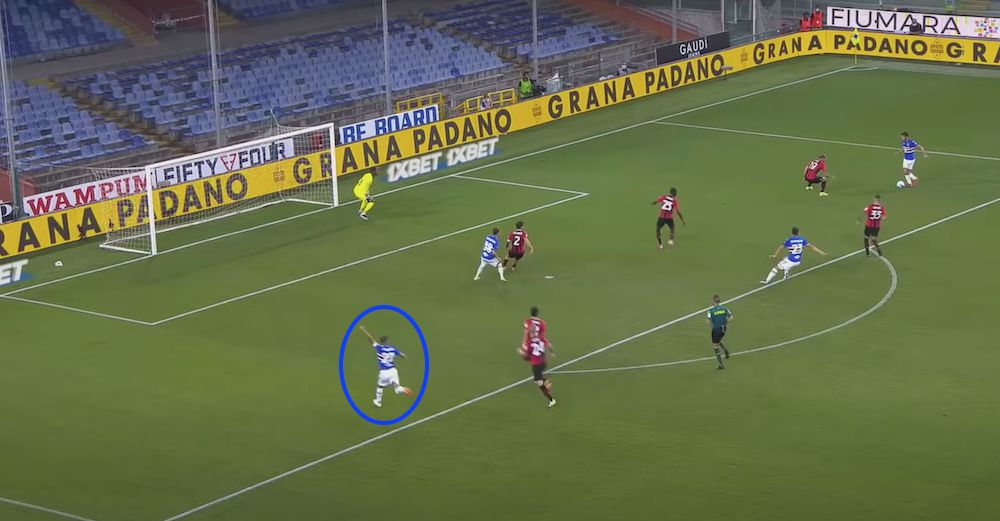 In the end a good defensive line was formed, but Milan still left two men unmarked right in front of goal and ended up being very lucky that the delivery flashed across the six-yard box rather than being turned in.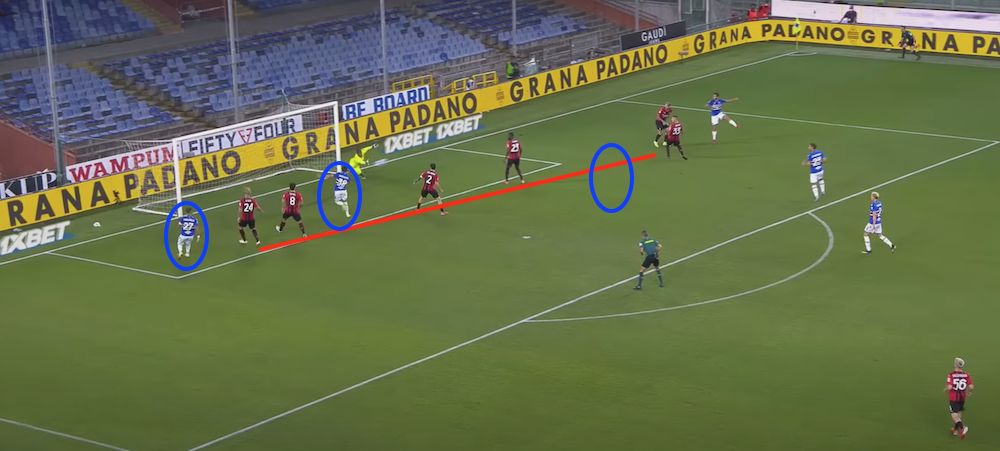 Clumsy and careless
There isn't too much to analyse or reason with here, but in the second half Theo could have cost Milan their lead. Under slight pressure from Gabbiadini, the Frenchman should have just taken a touch with his stronger left foot away from the box and out towards the sideline.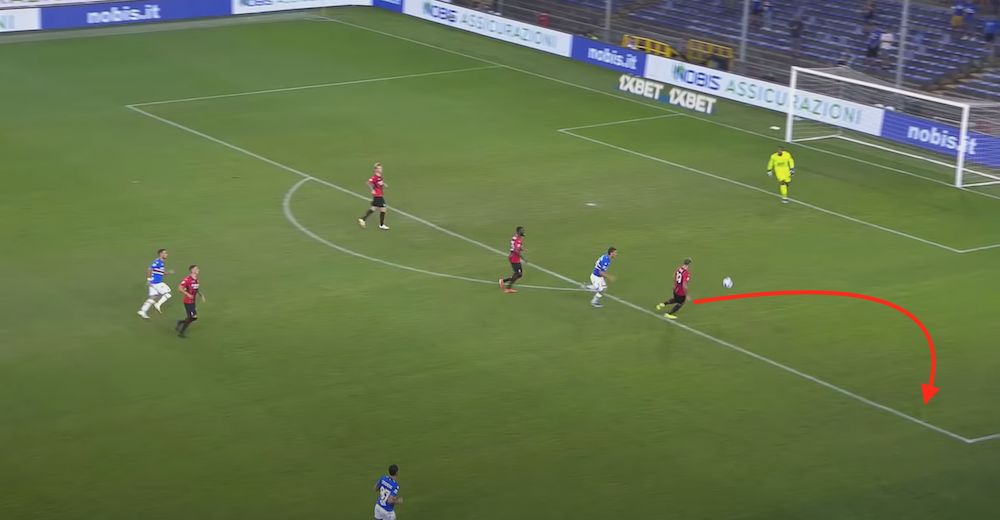 Instead, he ends up in a position where he looks like he is trying to jockey the ball out for a goal kick (which obviously was never an option). He falls over weakly thus negating the chance of drawing a foul, and fails to even try and swipe the ball to safety.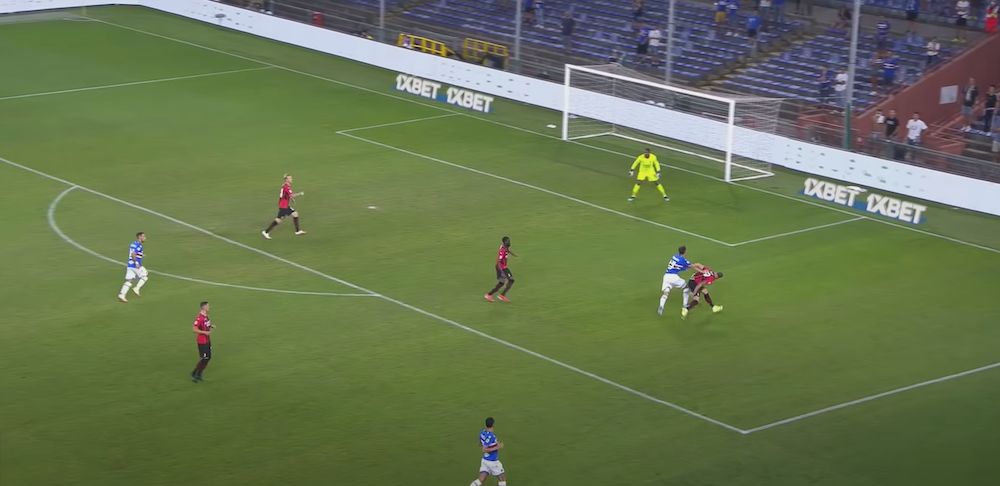 The bizarre sequence of events ends with a shot from a narrow angle being saved and Kjaer eventually clearing, but this was a real moment of madness from Theo.
Between the lines
In a second half that was not exactly full of incident, one thing to notice was that Brahim Diaz seemed to show some encouraging signs with regards to his movement off the ball. He acknowledges the space available, shifts into it and presents himself for the ball. A real dynamic performance from the Spaniard.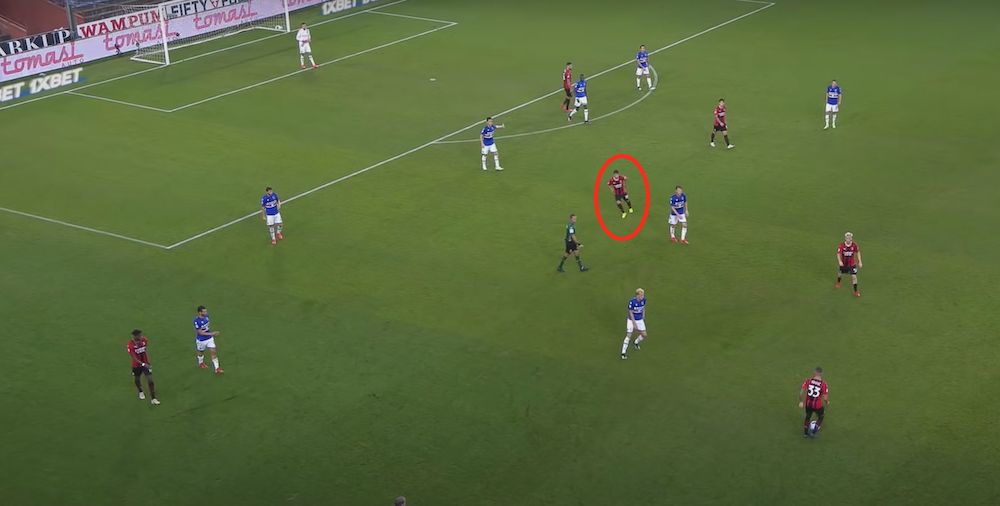 What was frustrating to see when a second goal would have been killer was a lack of awareness and anticipation from the other forwards. Leao should be making a run the moment he sees the pass threaded through, while Giroud is offside and Tonali is facing the wrong way.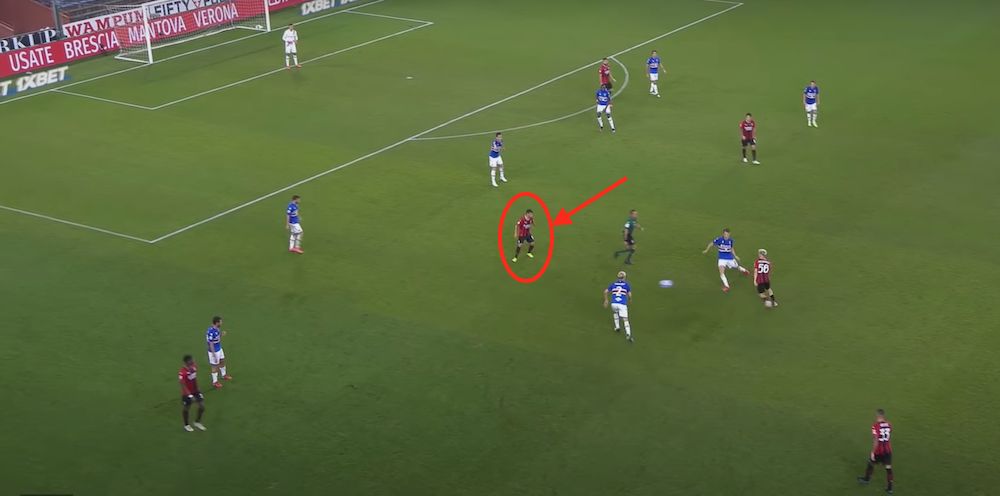 Sigh of relief
The final incident was another moment of panic caused by a Samp delivery from the byline. Generally, the defensive line is good again but there is a failure to pick up the spare man in Thorsby, which might have been costly with the right delivery.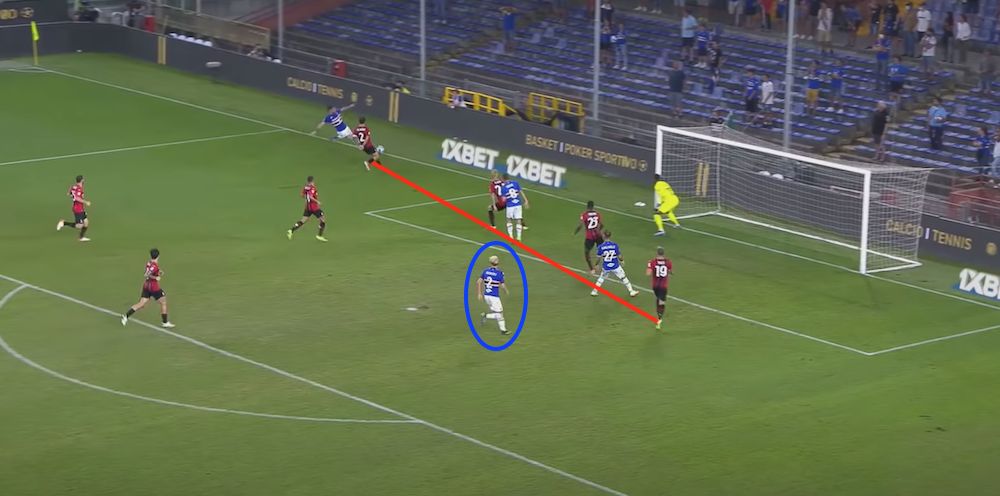 What should have been the moment of undoing was when the team stood still and failed to react to the second ball coming in from Candreva, leaving at least two players in prime position for a tap in, but again it thankfully drifted through.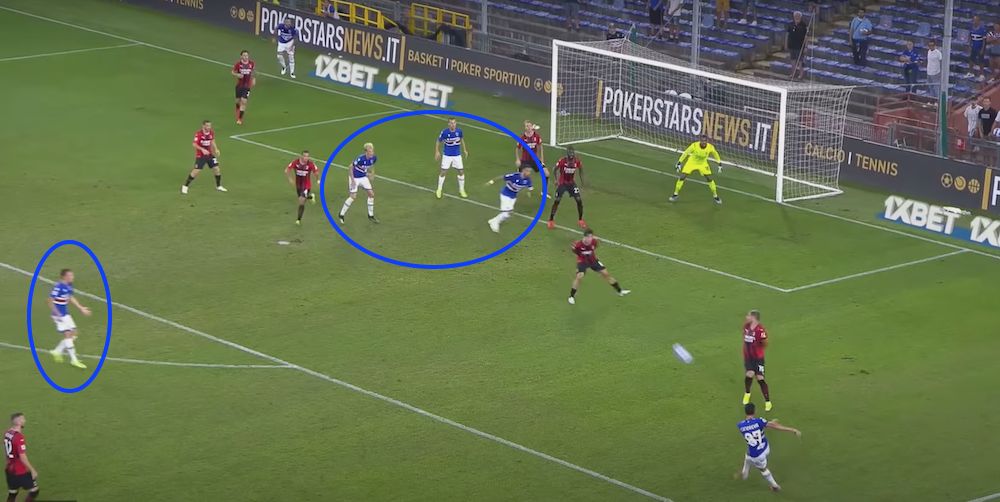 The data
In a fairly non-descript game in terms of obvious attacking patterns, what is striking is how much Milan targeted the central channels rather than shifting play out wide, something the Brahim's performance certainly facilitated. In the attacking third, there were comfortably more touches down the middle-left channel.

Looking at the position map, Samp are certainly heavy on the right side which shows they were targeting Theo Hernandez, as the touch map above showed (33 and 20 touches down Milan's left in the final third, 22 and 4 down the right).
For Milan, the most notable observation is that Krunic – who appeared to play deeper at times – actually overall held a level and compact line with Tonali.

Conclusion
As mentioned at the top of the article, this was not a classic and there was not a lot to go off. Both teams were guilty of lapses in concentration, while both stuck to their guns in a style vs. substance battle. Milan clearly have some chemistry issues to iron out, but that comes with game time.