The Italian media have heaped praise upon AC Milan for their excellent performance during last night's 1-1 draw against Manchester United.
A defeat would have been very harsh given the superb display that Milan offered, to the extent that the goal Kjaer scored in the 92nd minute was actually a very well-deserved equaliser and even the English media agreed.
Kjaer scored his first goal for the Rossoneri in the process, and like a lot of the players he – despite the many absences – took the field against Manchester United with great courage and without any fear.
La Gazzetta dello Sport went with the following on their front page…
"EuroMilan is back. What a Devil: Better than United at Old Trafford. They dominate Manchester, score twice (but the referee disallows), risk defeat and then Kjaer equalises (1-1)
Pioli hails his squad: 'What a group, we were in control'
On Thursday at San Siro a clash worth the quarter-finals."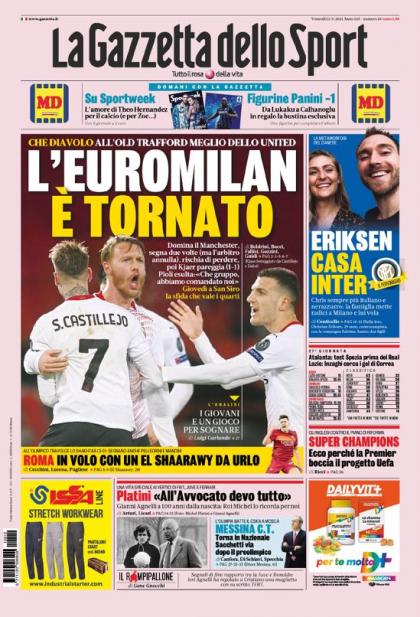 Il Corriere dello Sport went with…
"Kjaer stuns United at the 92nd minute: qualification is possible. Manchester had taken the lead through Diallo, the ex-Atalanta starlet. Pioli: 'In the second leg we need another performance like this'."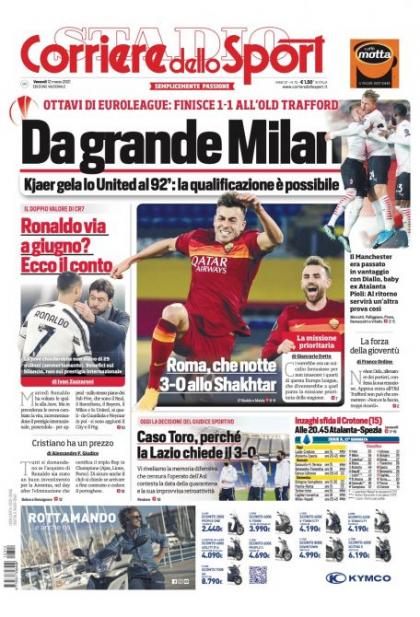 And finally, Tuttosport: "Devil, what a Milan! Rossoneri show up in Manchester to get a 1-1."