Against all odds Milan improved their chances of qualification to the Champions League with a huge win over Juventus at the Allianz Stadium.
Goals from Brahim Diaz, Ante Rebic and Fikayo Tomori sealed the triumph that served a double purpose as the margin of victory means that the Rossoneri now have the head-to-head advantage over the Bianconeri too, as well as Napoli.
Below, our writer Rohit Rajeev analyses what could be regarded as a tactical masterclass from Stefano Pioli…
Formations
Milan started out with a rather strange line-up as Hakan shifted onto the left wing of a 4-2-3-1 with Brahim Diaz acting as a No.10, while Kjaer and Tomori were preferred as the centre-back pairing after Romagnoli appeared in the game against Benevento helping to keep a clean sheet.
Pirlo fielded his 35th different line-up in Serie A opting for 4-4-2 with Chiesa on the left wing while McKennie played on the right in a false winger role. Juventus under Pirlo have been a very inconsistent side, defending in a narrow 4-4-2 choosing to pack the centre of the park to prevent shots.
Juve's strategy
Their build-up varied. Building from the back, Bentancur would drop off to form a passing triangle with the centre-backs and McKennie would drift in to let Cuadrado overlap him.
Once the ball progressed into Milan's half, McKennie would push up to support Morata as a second striker while Ronaldo would drop between the lines as a makeshift attacking midfielder. Chiesa meanwhile stayed wide to let Sandro underlap.
Key battles
In the modern game, football is about a lot of one-on-one duels. Morata was tightly marked by Tomori.
Bennacer was given the tough duty of marking Ronaldo, especially when he dropped off into the false attacking midfielder role, as mentioned above.
The screenshot below perhaps perfectly demonstrates how these two key assignments were clearly stuck to, which was a significant factor in the Rossoneri's success.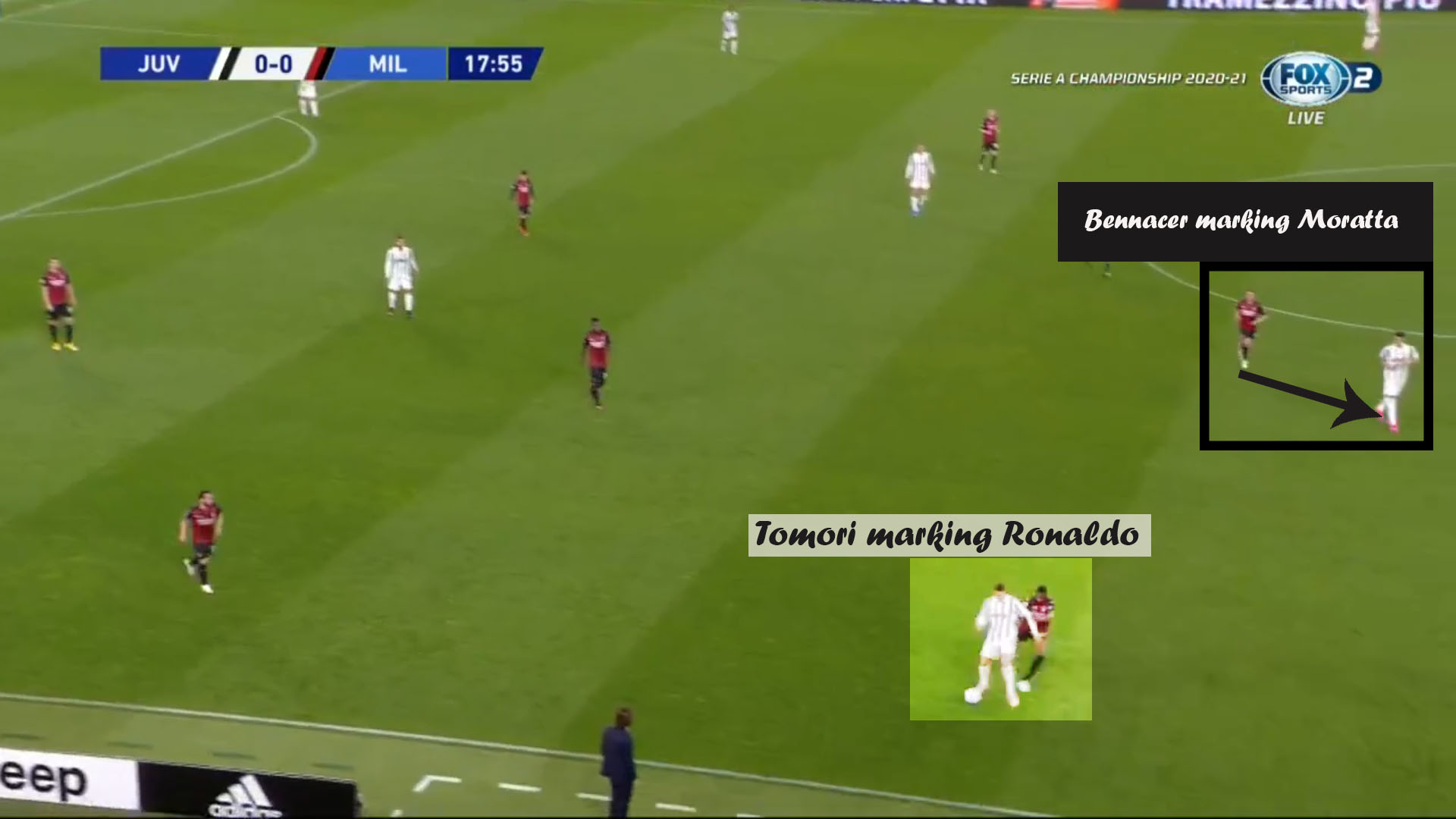 For Juventus, Chiesa preferred to stay wide and let Sandro underlap him.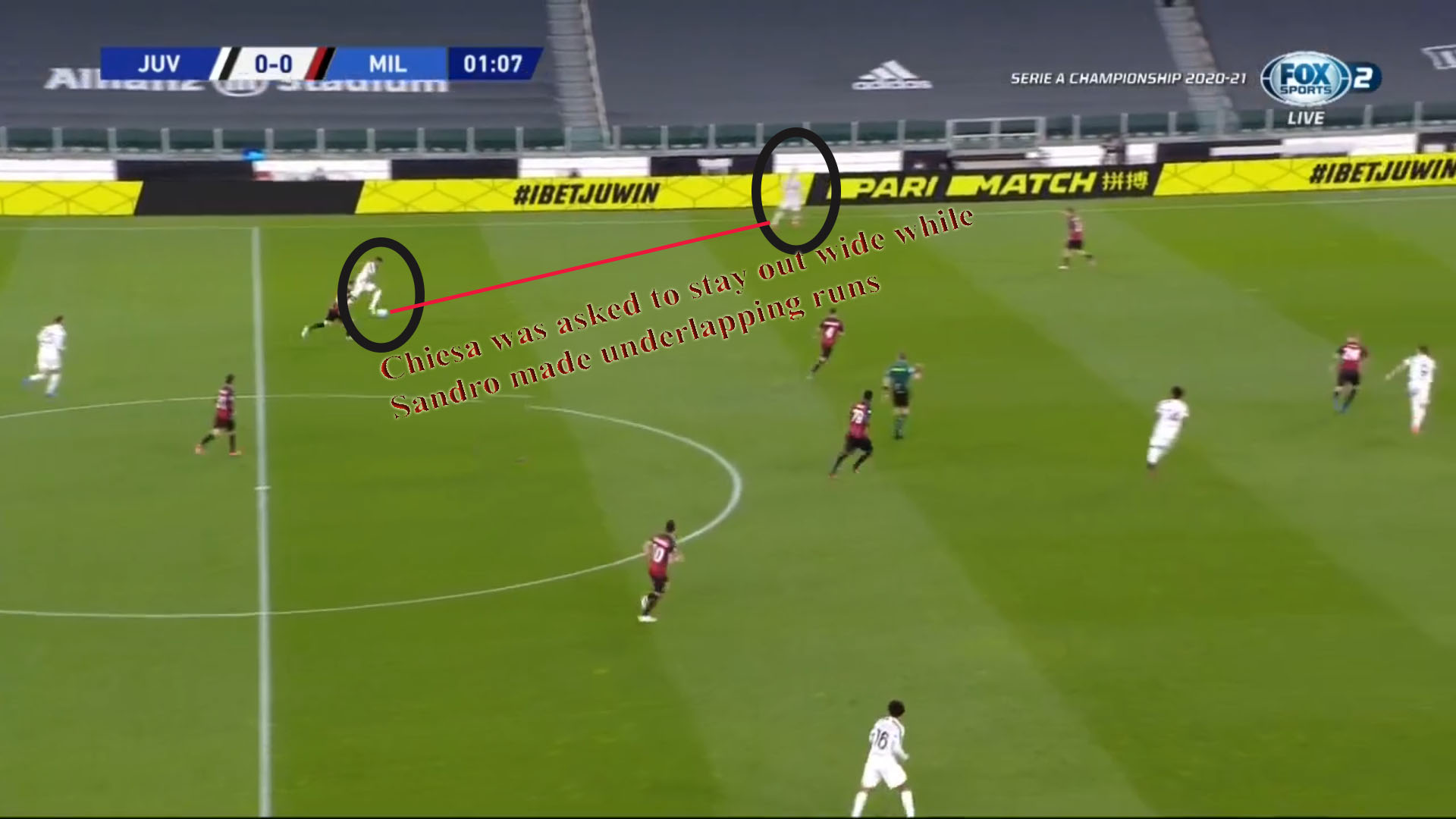 The threat of Chiesa made sure that Calabria did not join the attack and stayed back as the third centre-back to prevent counter-attacks.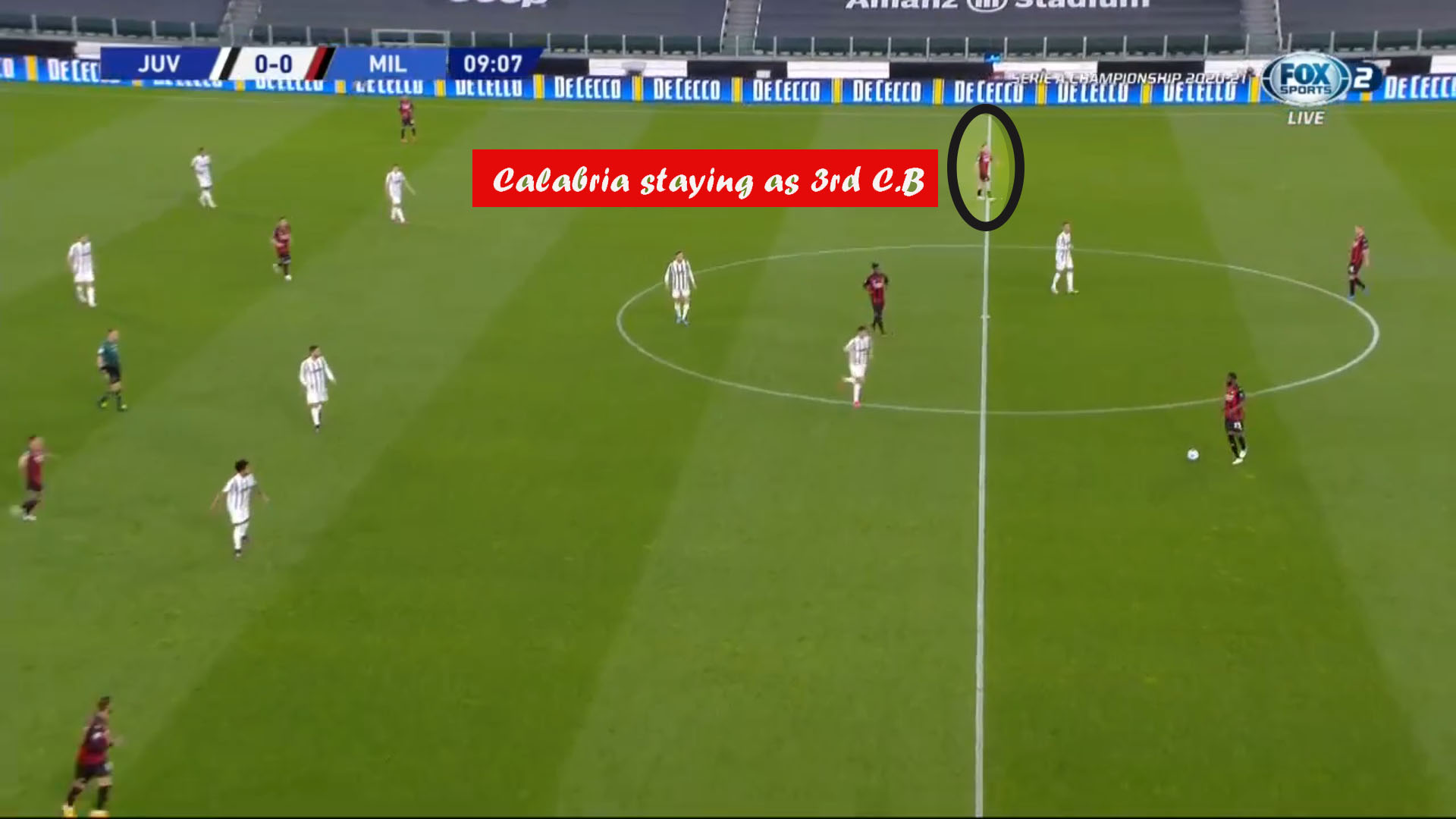 Bold selection pays off
As we saw in the earlier tweet, Bentancur dropped off to form passing triangles with the centre-back. With Zlatan Ibrahimovic not able to press like before, Pioli opted to put Diaz and press the Juventus midfield two and it worked a treat.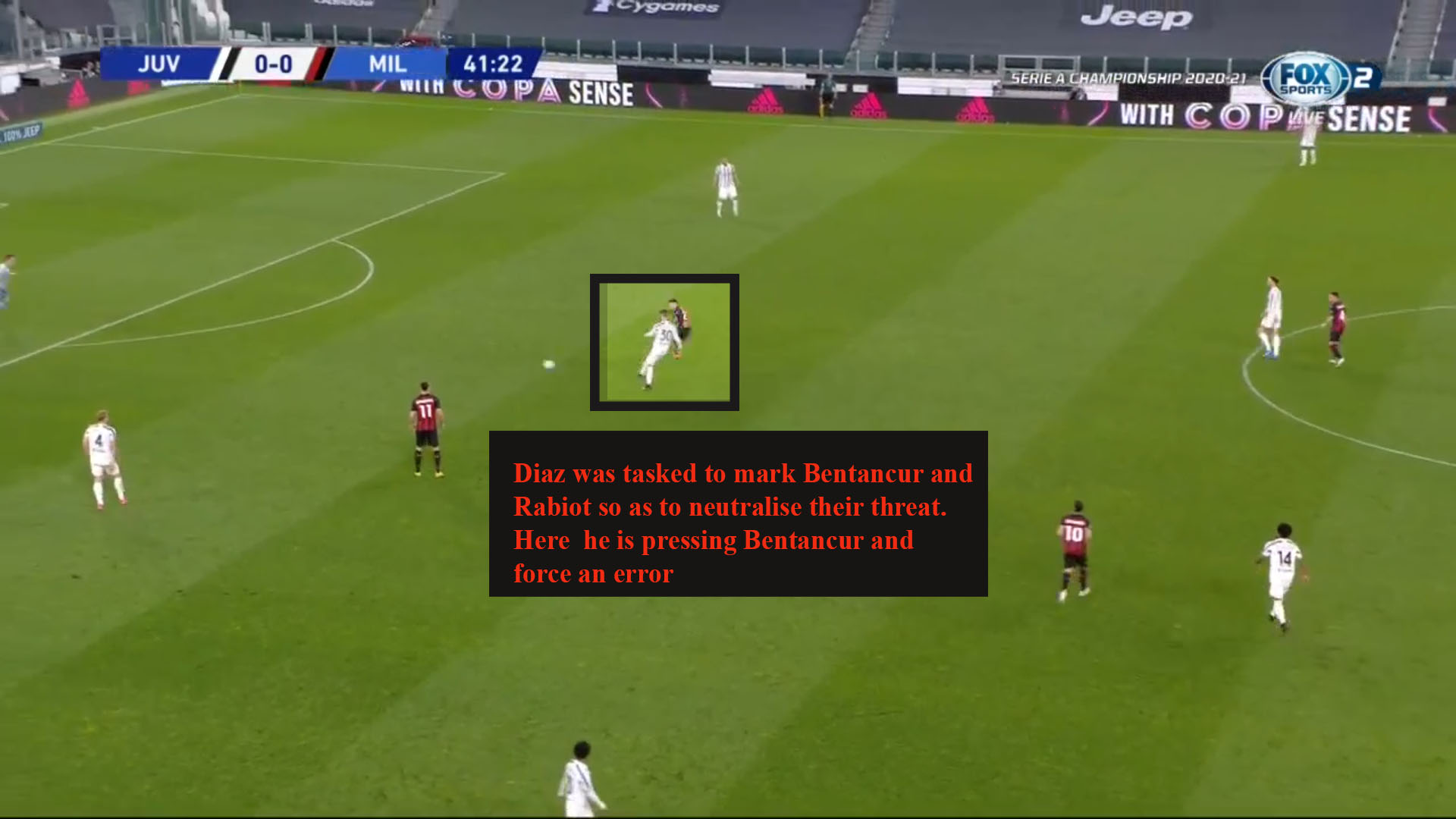 In attack, Diaz has an uncanny ability to find space and position himself and wait for his opponents to find him.
The most important point is that during transitions Milan employed a zonal system where the team did not have positional play but rather attacked zones they were supposed to occupy. This made it difficult for Juve to mark.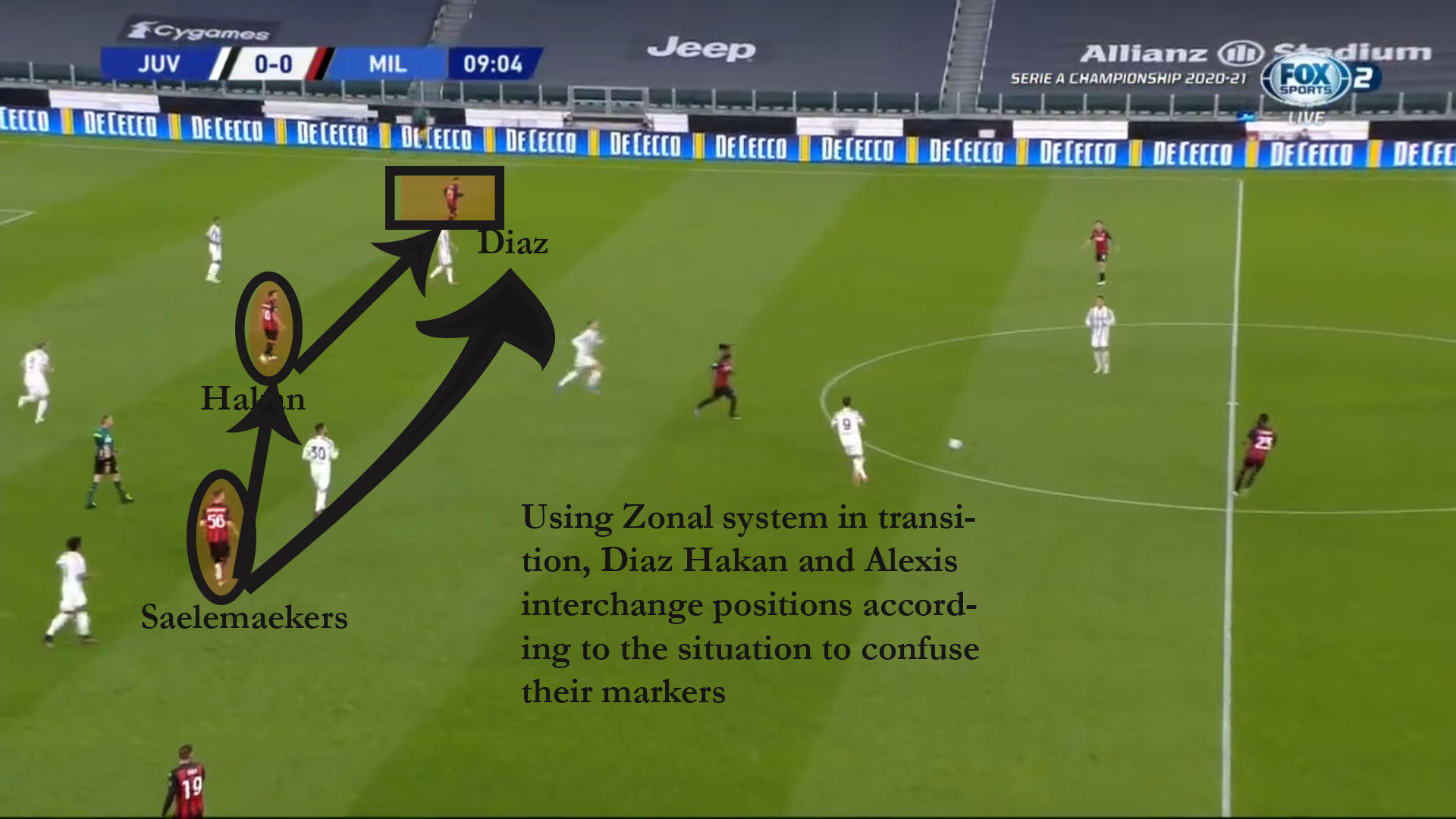 With an extra midfielder Milan prevented Juventus overloading the wings and this largely nullified their threat. Pioli got his tactics spot on.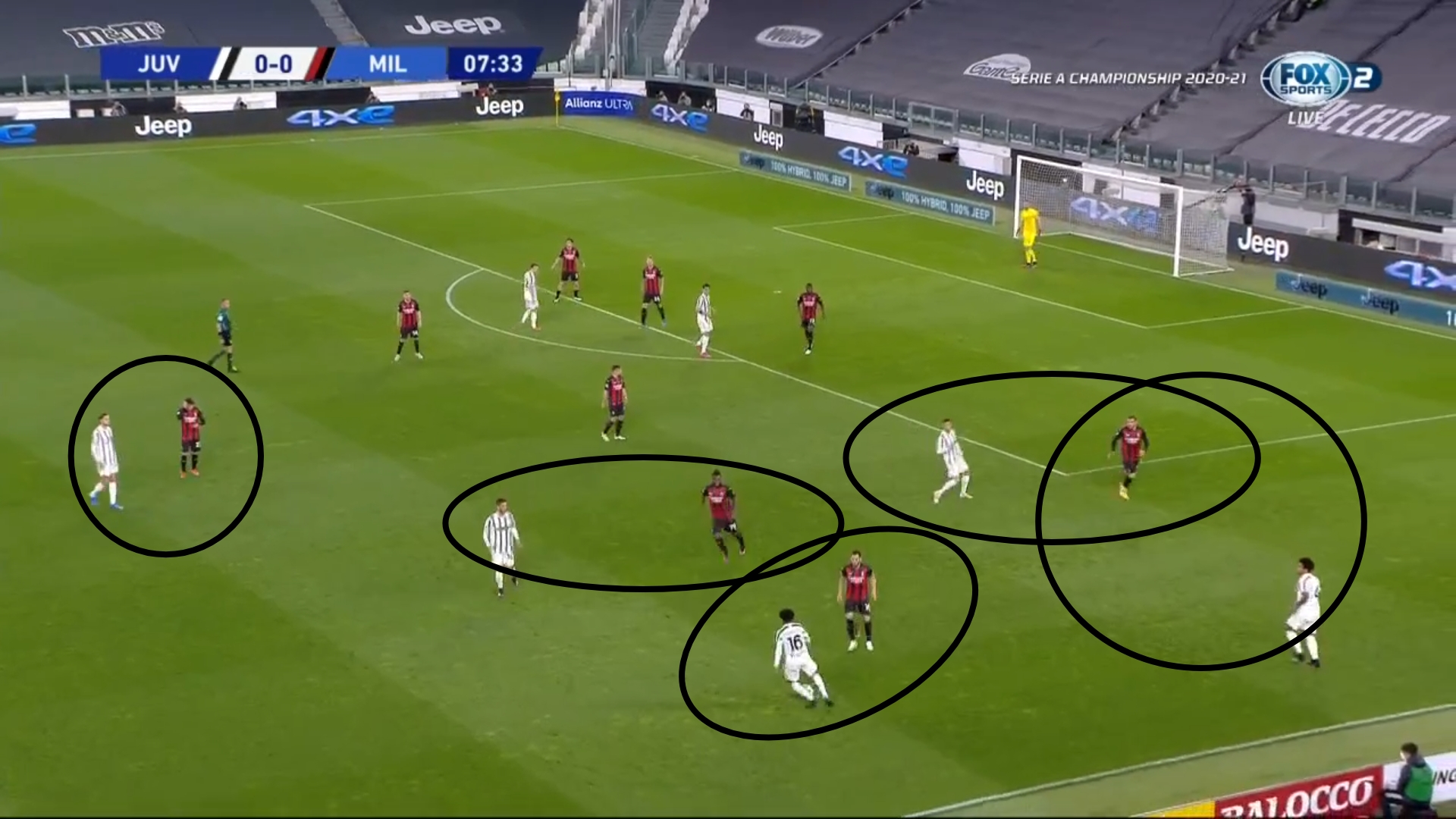 Jekyll and Hyde
Hakan Calhanoglu is a very frustrating player. Below we can see him throwing away an easy chance and then in the second sequence putting on a peach of a pass to Theo.
Meanwhile, Kjaer was on of the man of the match form. He excelled at pressing his marker, Cristiano Ronaldo, almost following him into Juve's half.
In case Juve threatened to spring quick counters, Kjaer would come out of his defensive line and assist Calabria to thwart Chiesa.
Juve's one and only shot on target came via a clever run and flick by Morata drawing Tomori out of the way to make space for Bentancur to shoot.
A plan of action
In the reverse fixture Chiesa tormented Theo Hernandez and therefore fans of both sides expected Pirlo to put him on their right wing again. However, Pirlo put the Italy international on the left and he was largely quiet until Pirlo was forced to switch McKennie and Chiesa. However, the switch was ineffective as Chiesa and Cuardado got into each other's way.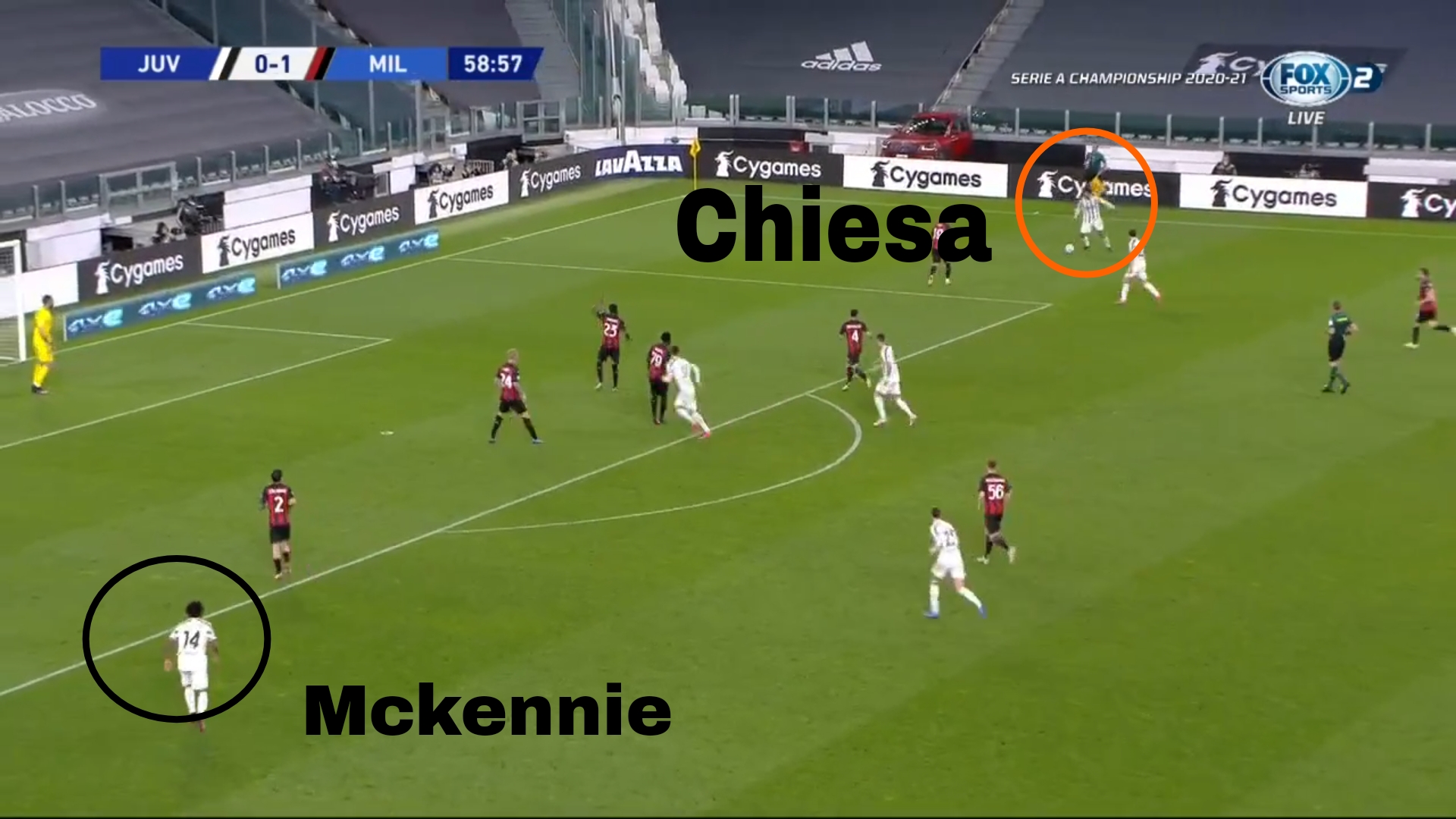 Inspired change
With Ibra injured, Rebic was introduced by Pioli instead of Mandzukic. This was in fact to negate De Ligt who was pushing forward with the ball and trying to play long balls towards Morata.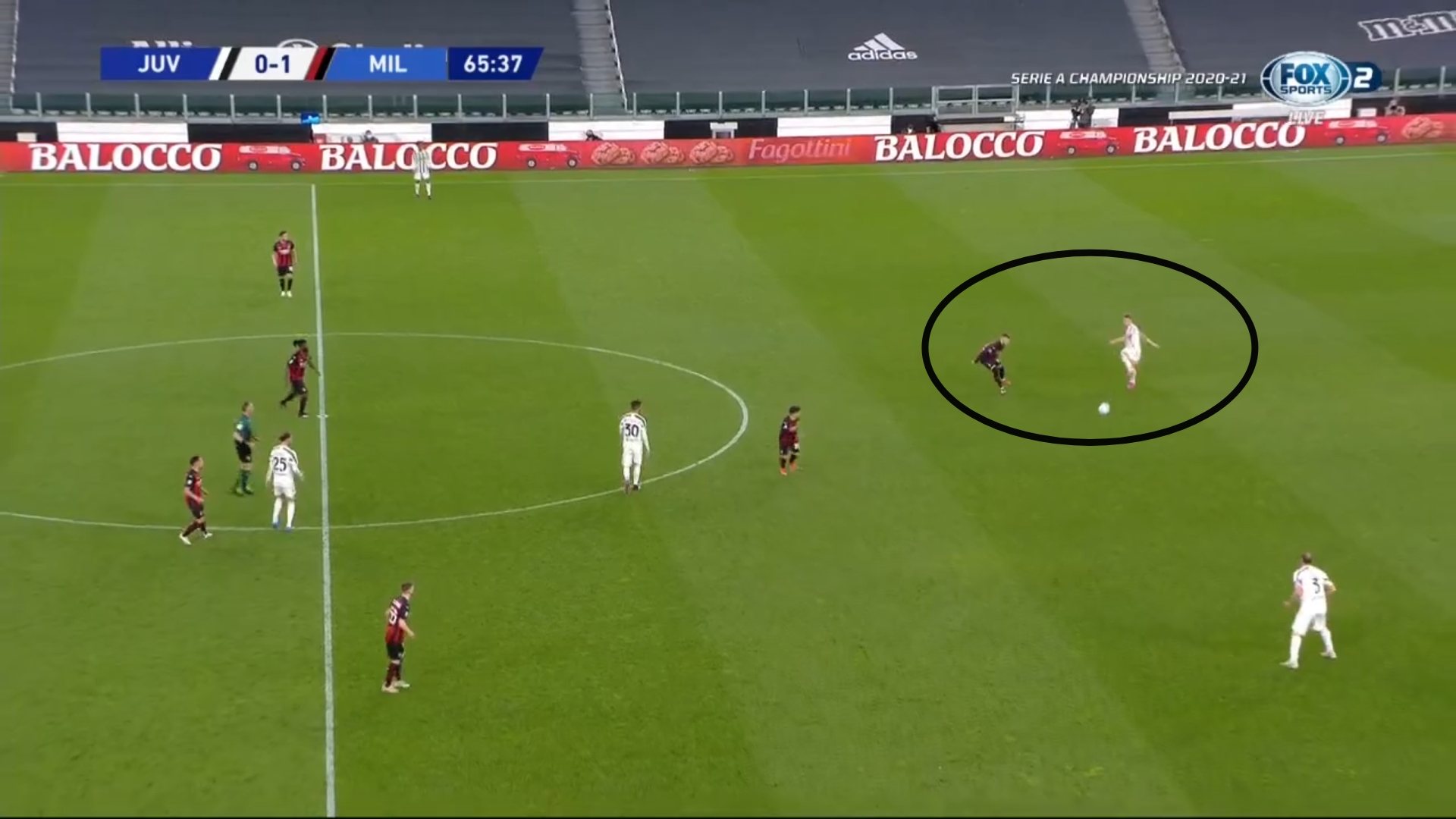 Milan – after missing their penalty and defending a 1-0 lead – switched to a 4-5-1 formation when defending.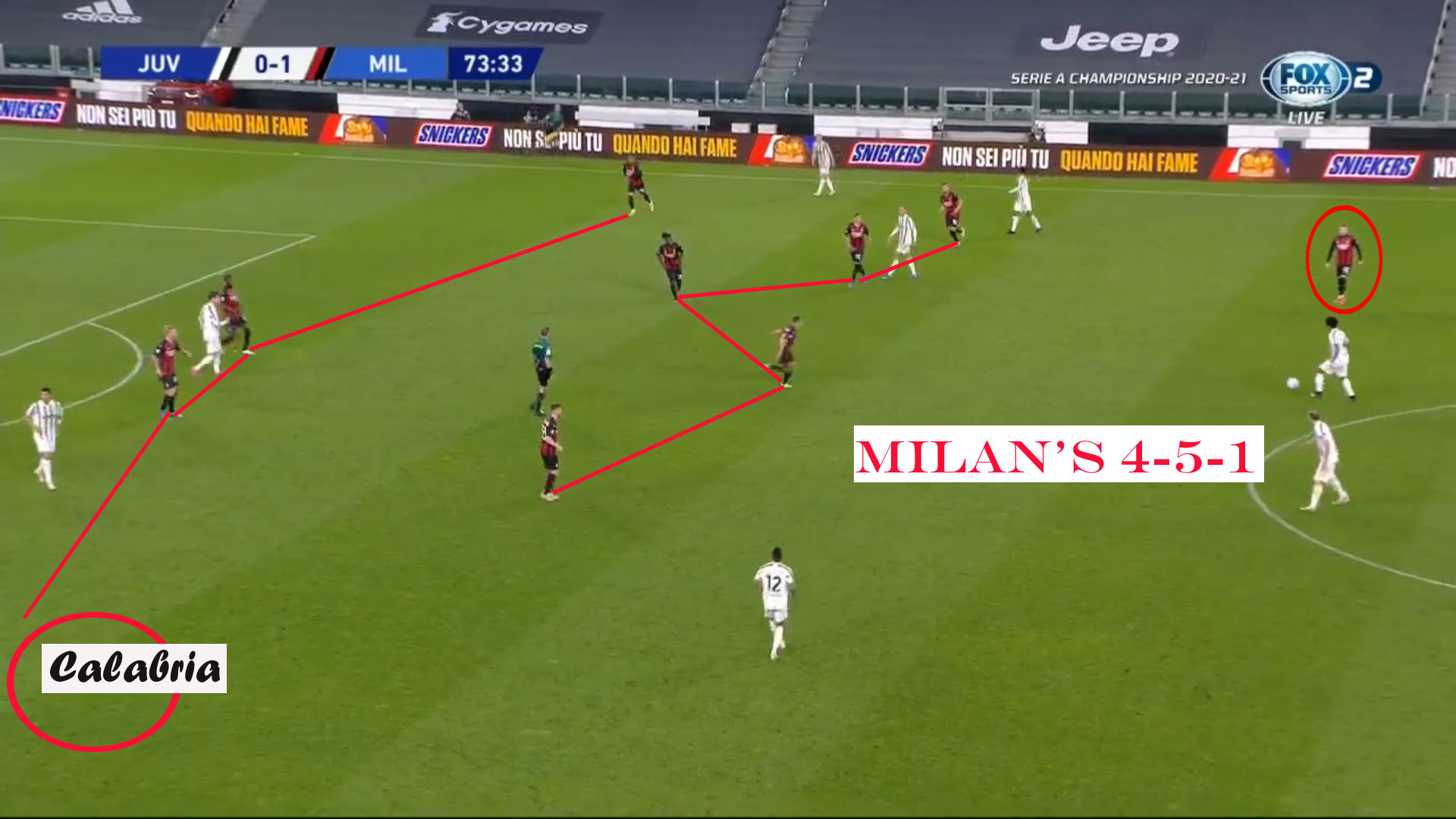 Milan had some beautiful passing combinations which unluckily did not culminate in what would have been well-deserved goals, a theme of recent weeks.
Calhanoglu may have not been optimal with his touches but his intelligent run was the catalyst for Rebic's extraordinary goal. He pulled Chiellini and De Ligt away to double mark him and this created space for a shot.
High risk, high reward
Pioli's big gamble paid off. He risked crippling his attack by playing Diaz for further defensive stability. All three of Milan's goals came via individual brilliance rather than being well worked goals.
Here we can see the risk associated with Diaz starting. Ibrahimovic was isolated in the box and Milan did not have a second striker or a winger to tap the ball in.
On another day Milan may not have taken their luck well and Pioli may have come under fire for his decision, but Milan executed their plan well and he deserves full credit for his decisions.