AC Milan suffered yet another disappointing setback as their home struggles continued in the 1-1 draw against Sampdoria on Saturday.
It would be fair to describe Milan's performance overall as lethargic, wasteful and at times very nervy as the team squandered an excellent chance to put pressure on the teams around them by winning the early kick-off.
They were dominated for large parts of the first half but managed to reach the interval on level terms, but Fabio Quagliarella's goal early in the second period gave Ranieri's side something to defender. A red card for Adrien Silva almost straight after didn't help, but it took the Rossoneri until the 87th minute to equalise through Jens Petter Hauge, and they could do no better.
Before we dive into the game from a tactical point of view, a general observation is needed to address the hysteria that has once again emerged on social media following the result, which does certainly thrust the team's top four hopes into more doubt.
There seems to be a battle raging between the 'blame Theo Hernandez' and 'blame Pioli' camps with regards to who was most at fault for the fact Milan dropped points. The answer though is somewhere in between; the two are causes in their own right which are not mutually exclusive and both contributed to Milan's failings.
Pioli made some strange selection choices – which we will address – but the line-up out there was more than enough to win the game against a team fighting for nothing. However, it must also be recognised that Pioli can't be accountable for a series of individual errors that took place – Theo's being the worst. The bottom line is that there are multiple factors at play, and scapegoating one man is reckless and misguided.
The line-ups
It was pretty much known in the build-up to the game that Sampdoria would be playing a 4-4-2 system, one that Ranieri appears to have settled on for the time being, and there were no real surprises in the starting XI.
Pioli's response was to field Alexis Saelemaekers at the right-back position – his first start in that role for Milan – with Samu Castillejo further ahead. Rade Krunic also got the nod on the left side of the attacking trident behind Zlatan Ibrahimovic.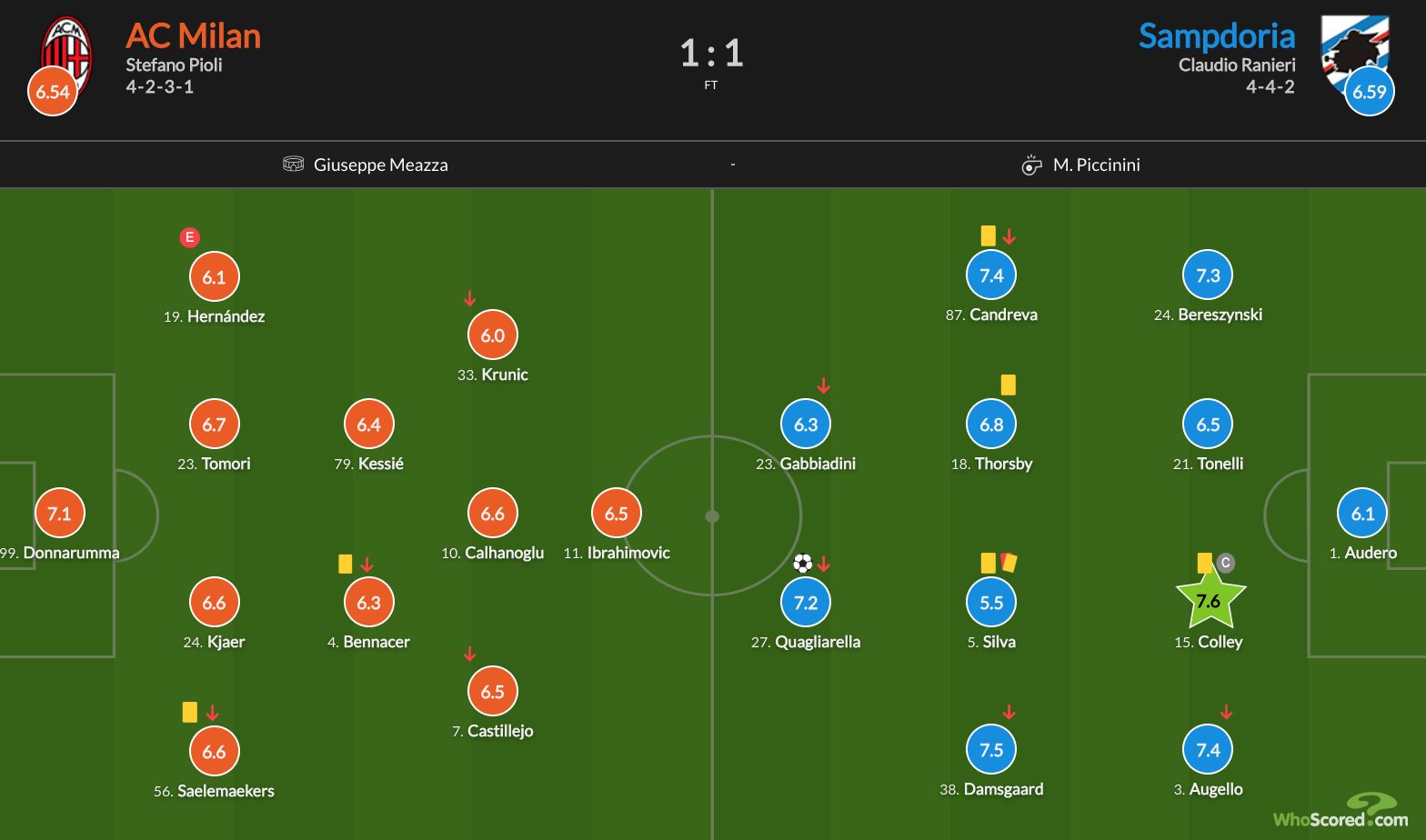 As a general observation, it must be noted that Milan were thoroughly dominated for the opening 35 minutes of the game until they began to find some rhythm. Pioli's decision to try and overload Sampdoria's left side with Saelemaekers and Castillejo backfired, because it was the tricky Damsgaard and the overlapping Augello who caused far more problems than vice versa.
The inclusion of Krunic is also worth highlighting due to the fact it is a clear indication that Pioli wanted to try and win the game in a similar way to the Hellas Verona victory, with Krunic not occupying the role of an out-and-out winger but rather someone to drift into spaces, contribute to the press and allow Theo Hernandez to have more attacking freedom. This also backfired as there was little chemistry on that side and the Bosnia international was a ghost.
Overload in action
Going through the key events chronologically, we begin with some early evidence that things were ominous on Milan's right side. Saelemaekers in the freeze-frame below is playing very tight with Kjaer, almost doubling up on Quagliarella.
Milan's press is focused over on Sampdoria's right wing – as it should – but the visitors knew that the switch of play was always on given how narrow Saelemaekers was playing and the fact Castillejo was quite frankly ball watching with little spacial awareness or knowledge of who was over his shoulder.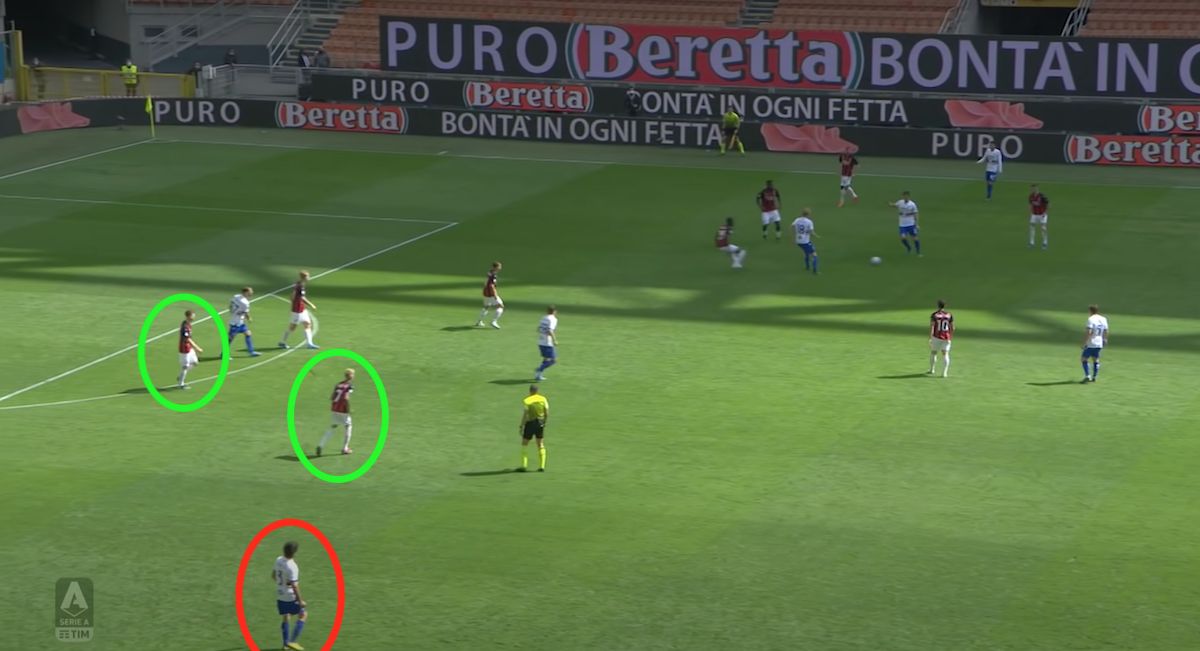 The switch happened in this instance, and it should have resulted in a goal. Had the ball not bounced a bit awkwardly, or if the pass to Quagliarella had been released a touch sooner, Samp would have had the lead. It ended with the striker laying the ball off to the overlapping Augello inside the box, and his weak effort still forced Donnarumma into a save at full stretch.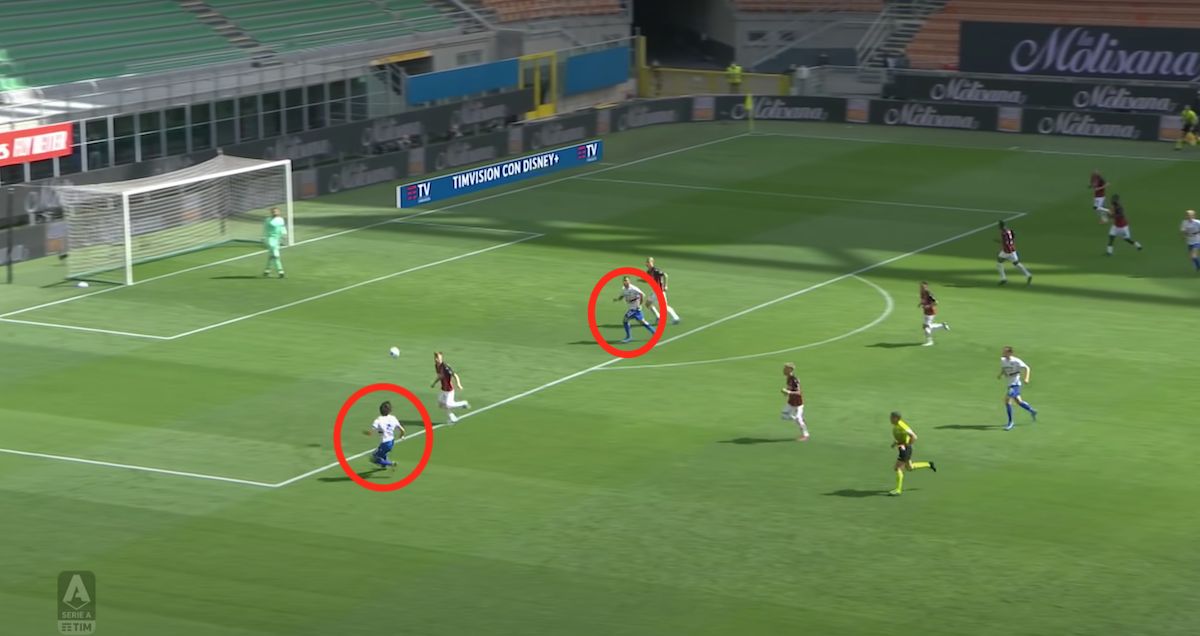 Same old story
There is no doubting that Milan's Achilles heel from a defensive point of view has mainly been defending set pieces, be they corners or dangerous free-kicks. In the screenshot below you can see Candreva – one of the better set piece takers in the league – whip a ball in to a dangerous area, and the man circled in red is Thorsby who stands at 189cm tall.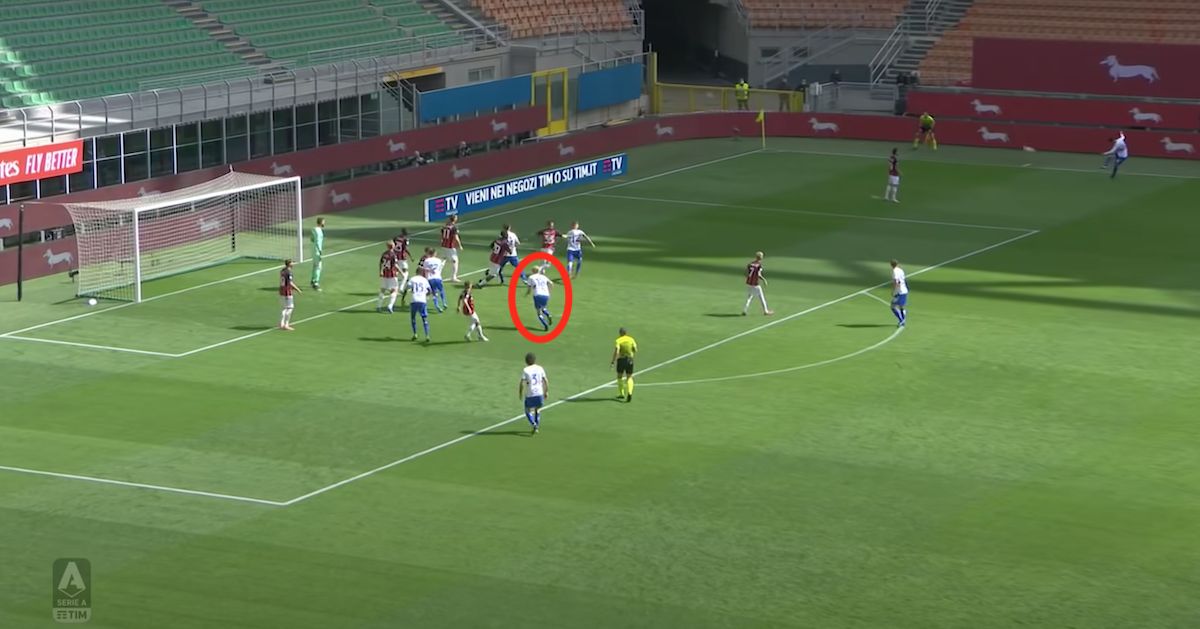 Inexplicably, nobody is picking him up and as a result the Norwegian wins the header at the near post fairly comfortably albeit with some late pressure from Tomori who desperately had to push up. Only a smart reaction save from Donnarumma prevented it being 1-0.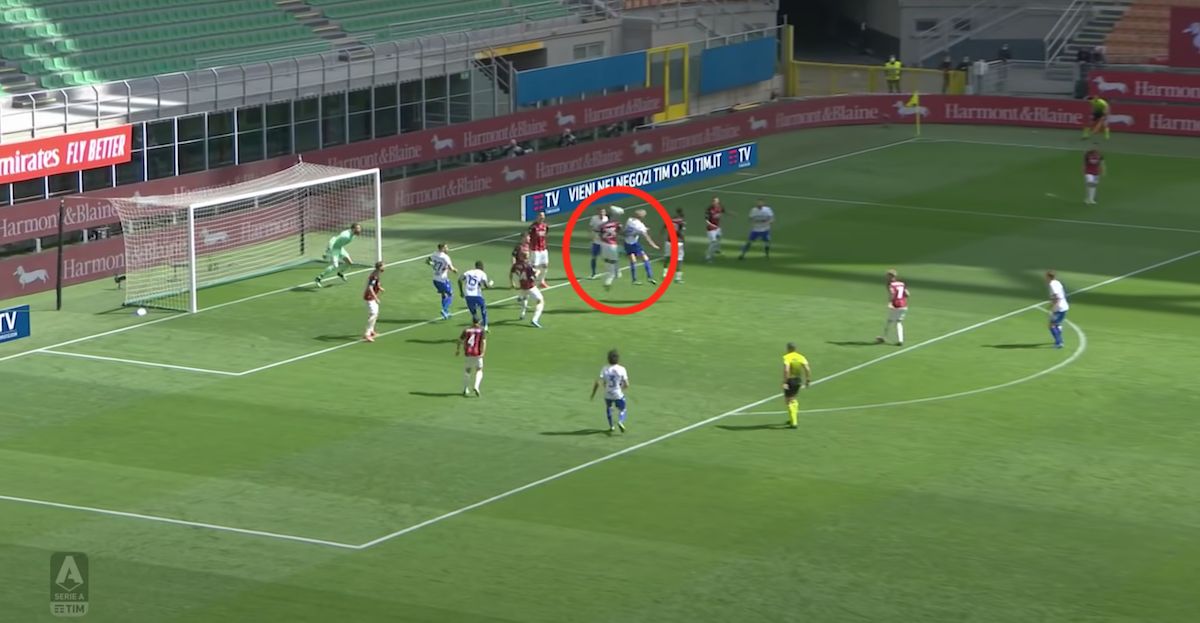 A moment of madness
It feels silly having to analyse the goal, so let's make it quick. Theo Hernandez has the ball and should simply lay it back to Tomori, or he even had the time to open his body and switch the play to Castillejo who was in acres of space on the right due to Sampdoria's four-man press. He didn't do either, and somehow managed to perfectly set Quagliarella up to give Sampdoria the lead.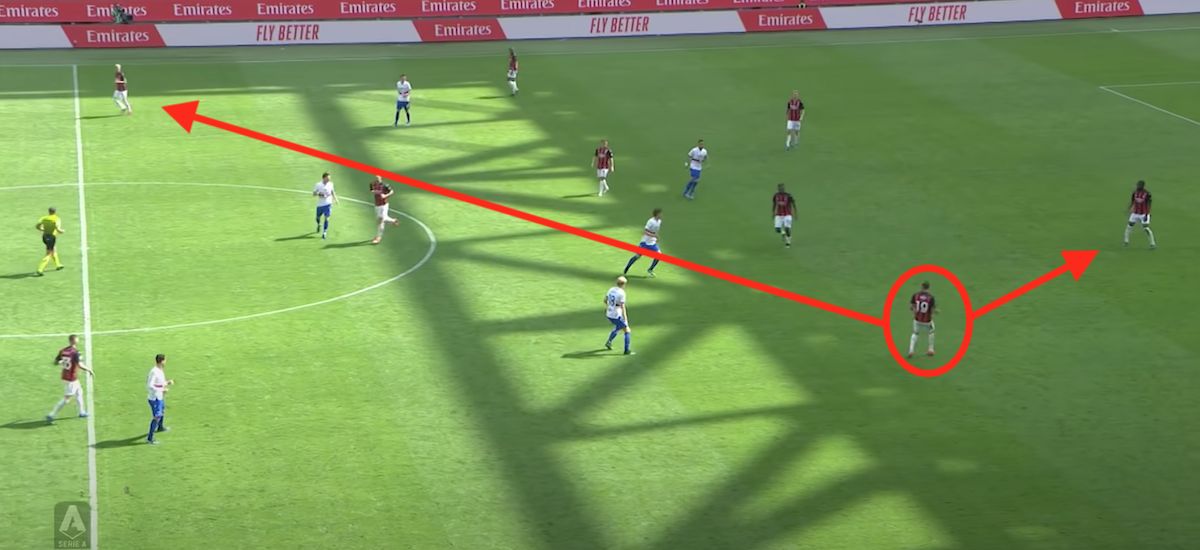 There is a broader point captured in the image though, and that is just how disjointed the defence, midfield and attack were for Milan throughout the game until they had an extra man. In theory, it should have been easier to play through Samp's two-man pairing, but a lack of urgency and creativity stifled anything.
There was a real shortage of movement from the players in the trident behind Ibrahimovic, which actually resulted in the Swede dropping deeper and deeper to try and quarterback the attacks himself. The goal was no doubt a shocker for Theo, but it shows how a lot of the pressure was borne from a lack of passing options due to the fact nobody made themselves available.
Attacking patterns
There wasn't an awful lot to pick apart from the opening 60 minutes in terms of Milan's attacking game plan because they simply rarely got forward, and when they did a bad decision usually meant things broke down quickly.
However, from the red card onwards it became attack vs. defence with wave after wave testing Sampdoria, who for the most part actually didn't have to do anything revolutionary to keep Milan at bay.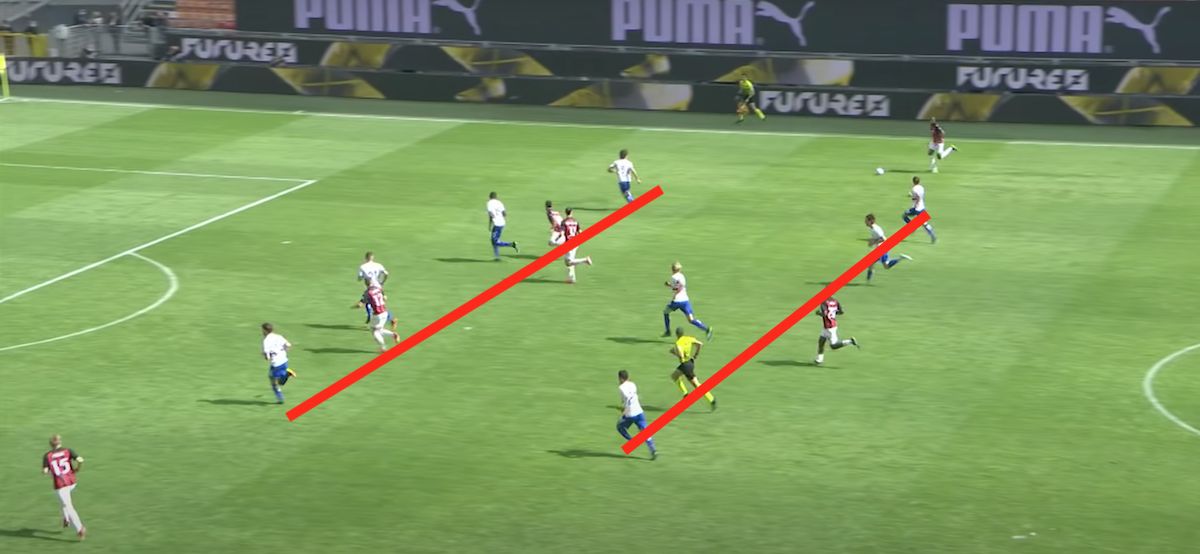 There was no real change in approach from the Blucerchiati, who continued to defend with two banks of four in transition and stayed fairly narrow, and they let Milan make mistakes on their own as the pressure of the clock clearly affected what was some already poor decision making in possession.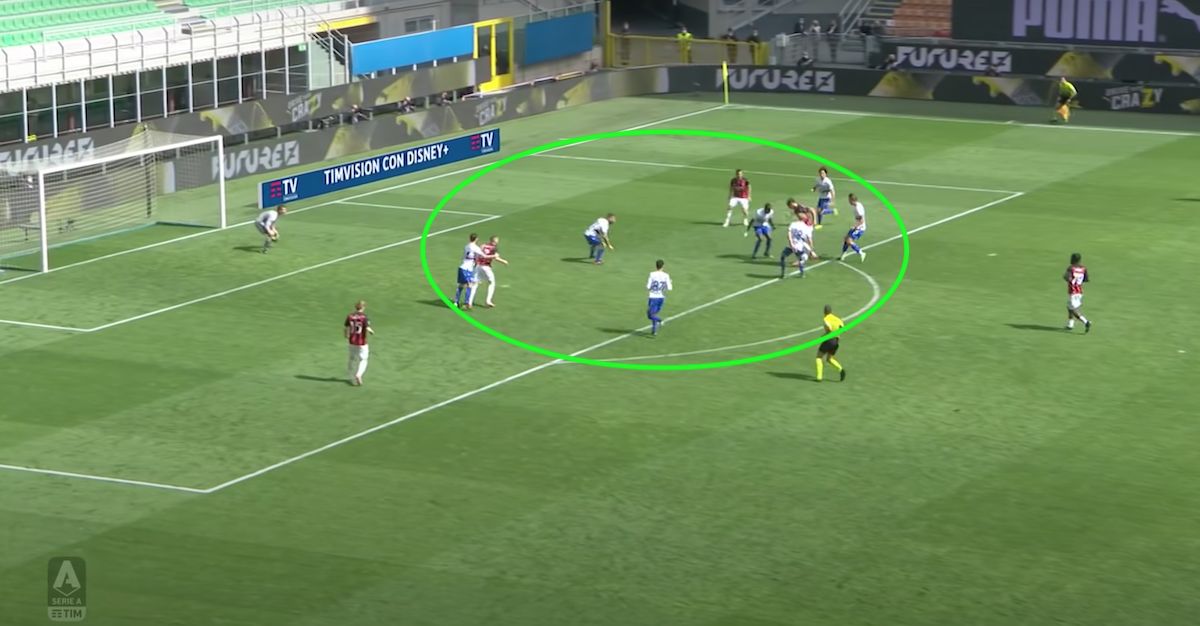 Whenever Milan got near enough to threaten, the approach was simple: crowd out the ball carrier. It worked a treat on almost every occasion, as in the picture above you can see how from the same move Samp managed to pressure Calhanoglu out of a shot, with the ball eventually being spread to the substitute Hauge and the away side happy to see their opponents keep having to play wide.
It was slow and predictable from Milan throughout. To not be able to properly break down a team that played a man down for 30 minutes and still stuck with a similar approach is not good enough, quite frankly. Everything Pioli's men did was neutralised.
The data
A look at the WhoScored match pack reveals some rather worrying but familiar trends. For example, Milan had 603 completed short passes in the game but just 38 long passes – pretty much half of what Sampdoria had – showing that the build-up was indeed slow and laborious, but more importantly nowhere near direct enough.
Longer passes don't always equal success, but against solid units who put men behind the ball, lots of short passes aren't going to be enough to break them down unless there are intricate triangles and a presence in the final third is established.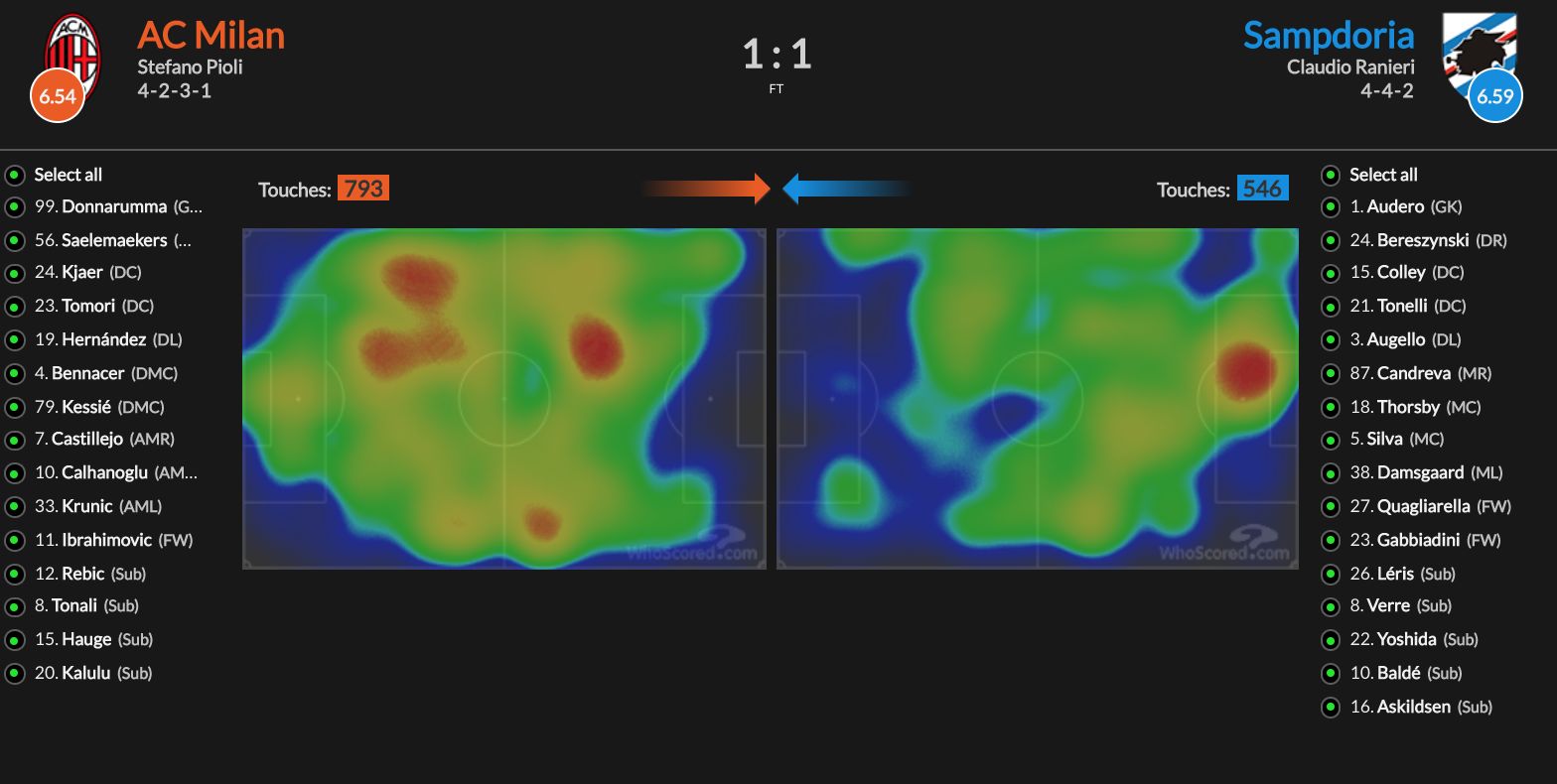 Now we come onto the heat map. What is instantly striking is that Milan's 'red zones' (i.e. the areas they were in possession most) are concentrated to the left-back and left centre-back positions plus a spot around 40 yards out, with one on the right wing again near the half way line. There is virtually no presence in the box to be seen, something reflective of the game.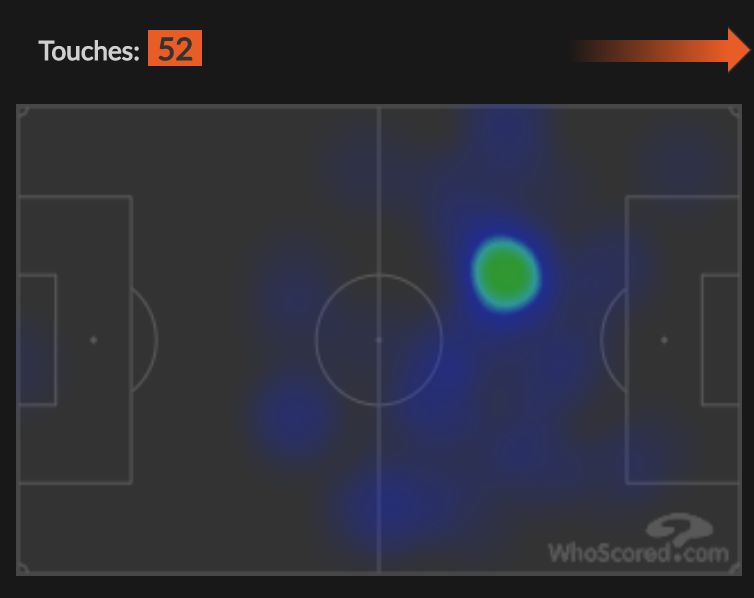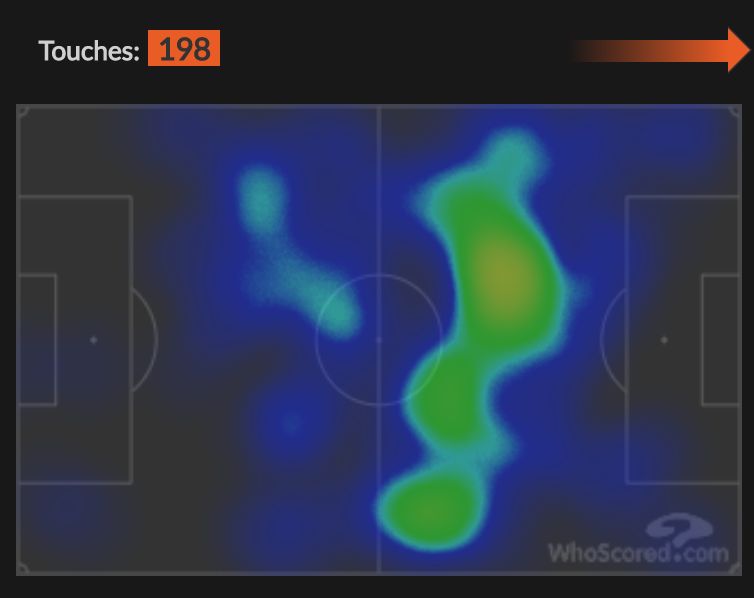 The two heat maps above tell their own story. On the left is Ibrahimovic's – again showing how deep he had to drop and how little he got the ball in places to cause problems – while on the right includes the rest of the front four. It's too deep.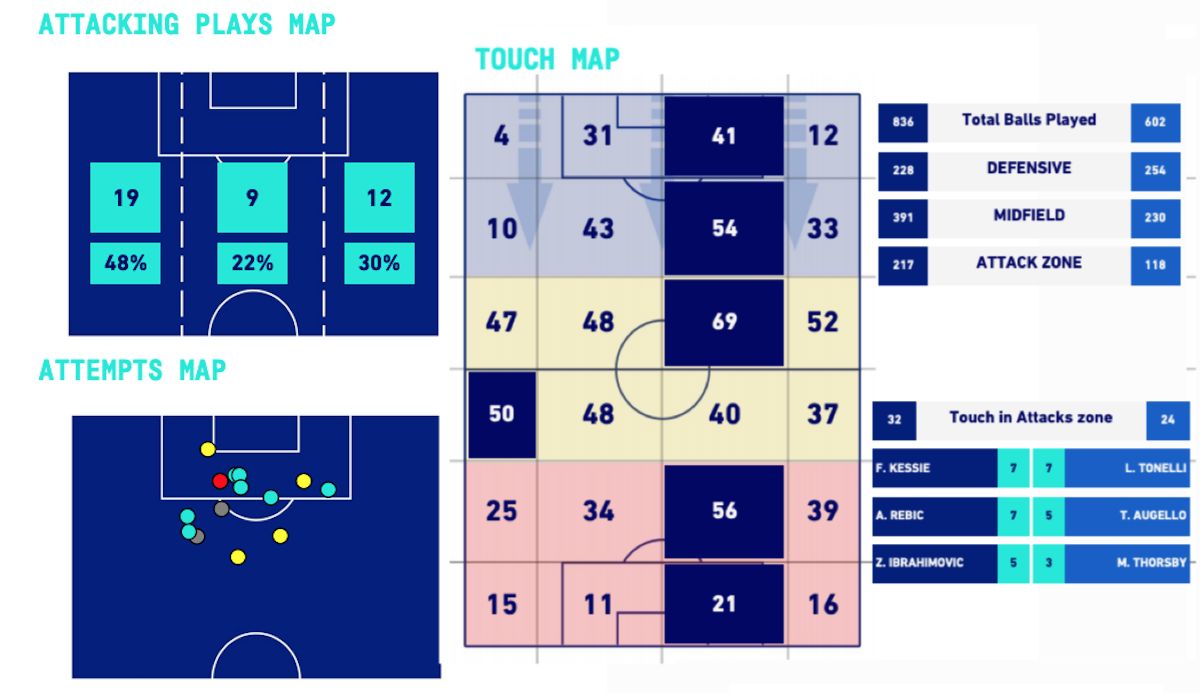 Finally, a look at the pattern of attack reveals the same old woes. Milan are over-reliant on their left flank when attacking, as seen by the fact 19 of 40 attacks (48%) were down that side. That wasn't a problem in the last 20 minutes because Rebic was on the field, and he had the joint-most touches in the final third of any Milan player despite being a substitute.
Before that though, Krunic was occupying the spot on the left and he was adding absolutely nothing to the attack, so Milan kept essentially feeding the ball into a black hole rather than trying to do something inventive
The touch map is also pretty reflective. Plenty of the ball around the half way line and down one channel of the pitch, but that doesn't match up with where the attempts came from as seen on the left.
Conclusion
There are some deficiencies that have emerged with Pioli's style that have not been addressed, and it is making Milan easier and easier to play against as the results in 2021 show so far. The home form is a worry but while football is being played behind closed doors it seems hard to put a tangible theory to that, other than perhaps teams come and set up more defensively and Milan have shown – as in the Udinese game for example – that they really struggle to break down teams that play a low block.
As mentioned at the start, there are definitely multiple prongs to the fork of blame. The selection was wrong from Pioli: he should have fielded Hauge instead of Krunic from minute one if Rebic was not fit enough. Having a goal threat and a creative presence would have been twice as useful as whatever the Bosnian was trying to provide.
Not only that, but the decision to play Saelemaekers at right-back did backfire. Kalulu over on that side and the Belgian ahead of him would have had much more balance and also much more threat too, so that one is a head scratcher.
Milan have nine games left and the season is becoming more uninspiring by the week. What felt like a legitimate title push and a chance to compete in three competitions is now meandering towards a fight just to stay in the top flight, combined with a Coppa Italia derby exit and an uninspiring Europa League campaign.
Pioli needs to keep things fresh – which injuries do make difficult but the solutions are there – otherwise things will stagnate further. Adapt to survive, kill or be killed, and in this case the latter would mean a finish outside the top four which is bordering on unacceptable.