AC Milan were able to get back in the win column at home after four games without a victory at San Siro by beating Genoa 2-1 on Sunday.
Ultimately it would be goals from Ante Rebic and Gianluca Scamacca – in his own net – that propelled the Rossoneri to all three points, but it was by no means an easy game as Mattia Destro's first half equaliser made life difficult.
Below are the key tactical points from the game…
Press in action
One of the things we have seen and enjoyed from Fikayo Tomori since his arrival on loan from Chelsea is his ability to push out from the defensive line and intercept balls being played into the forwards, and he did this on a couple of occasions to pounce on lazy out balls from Genoa's midfield.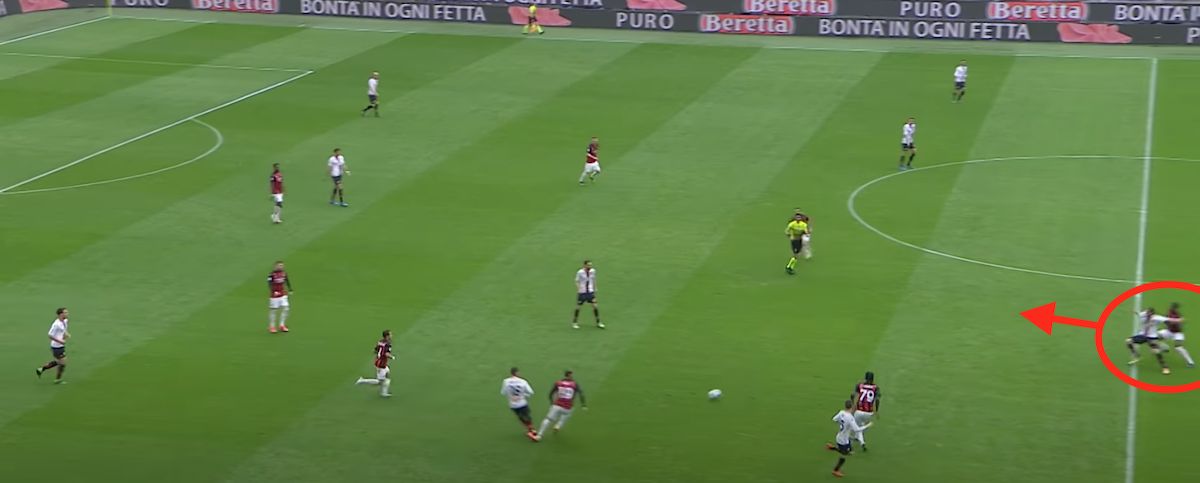 Genoa suffered at times from being quite static with two target men up front looking for the ball playing into them, and with a quicker runner in behind they could have given themselves more threat and variety.
In this instance, Tomori pinches the ball and Saelemaekers reads the situation well to anticipate the play, tucking in from his usual spot on the right to take up a space where there are no defenders within 10 yards.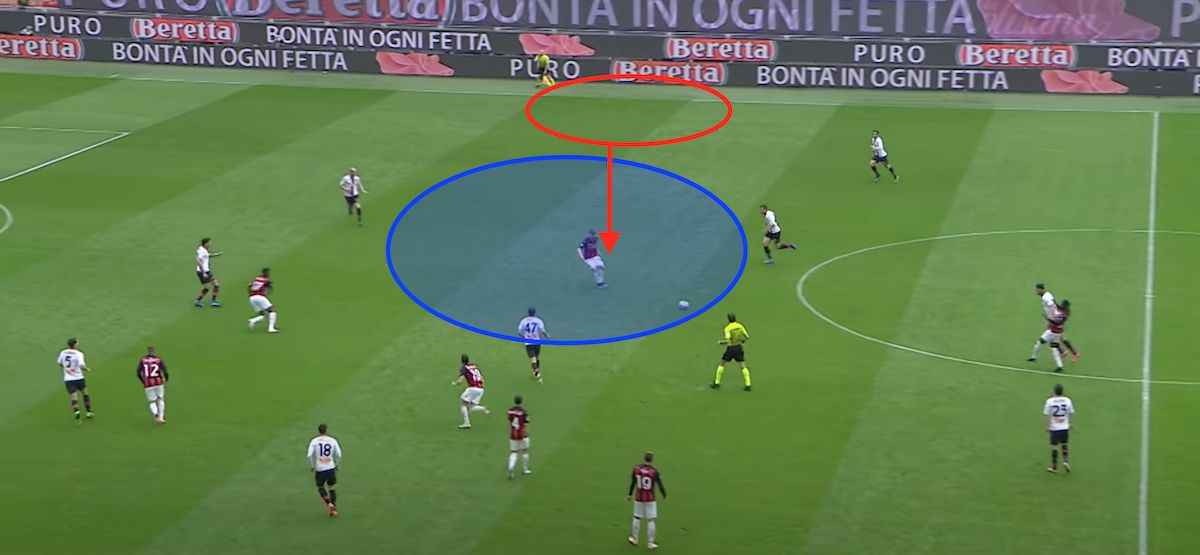 What followed was a really good opportunity for Milan, with a three-on-two overload once Calhanoglu receives the ball. However, it is not helped by the arcing runs around the defender from both Leao and Rebic, which made it much easier for Genoa to defend.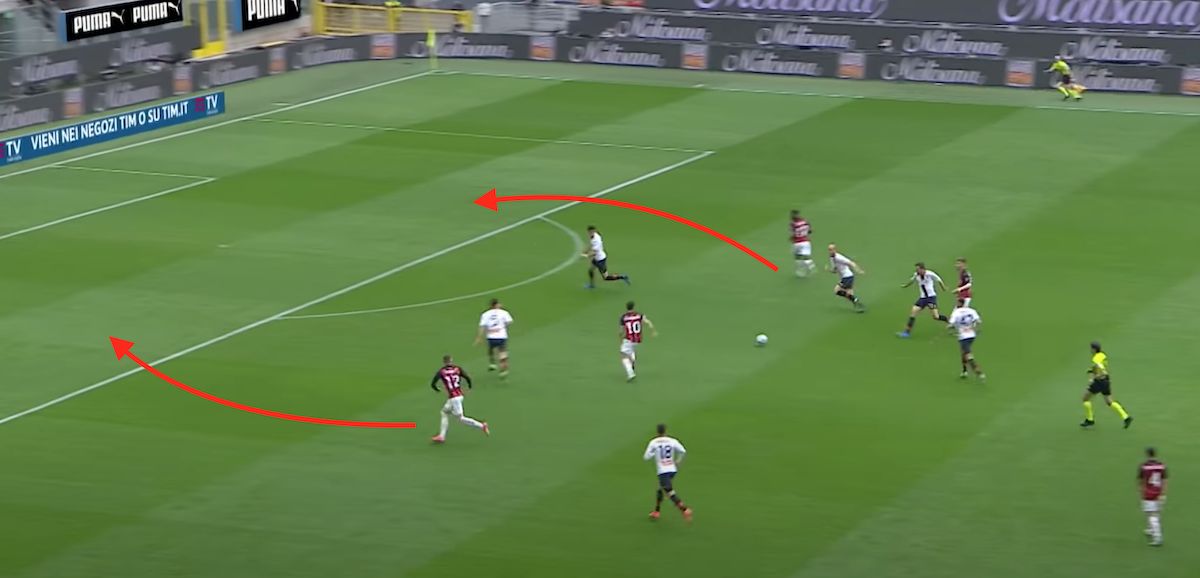 Nonetheless, from this situation Leao slips and hits a shot on target but by the time he strikes the ball he is not in a good shooting position. A simple bit of composure to pull the ball back to Calhanoglu or even over to Rebic would have made it 2-0 and potentially an easier afternoon.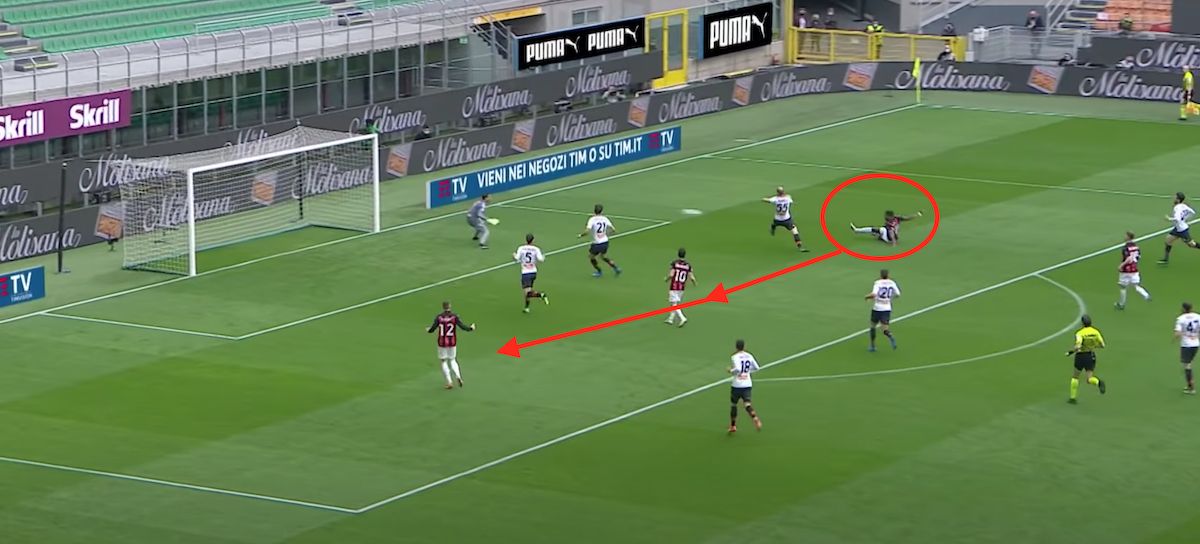 All mixed up
Milan's set piece woes continued as Genoa levelled in the latter stages of the first half. As seen in the screenshot below, the Rossoneri deployed a mix of man and zonal marking for the corner, with two at the near post to cut out any sneaky low crosses and three on the edge of the box watching runners. Kjaer, Tomori, Theo Hernandez and Kessie are all with a man in the 'danger zone' around the penalty spot.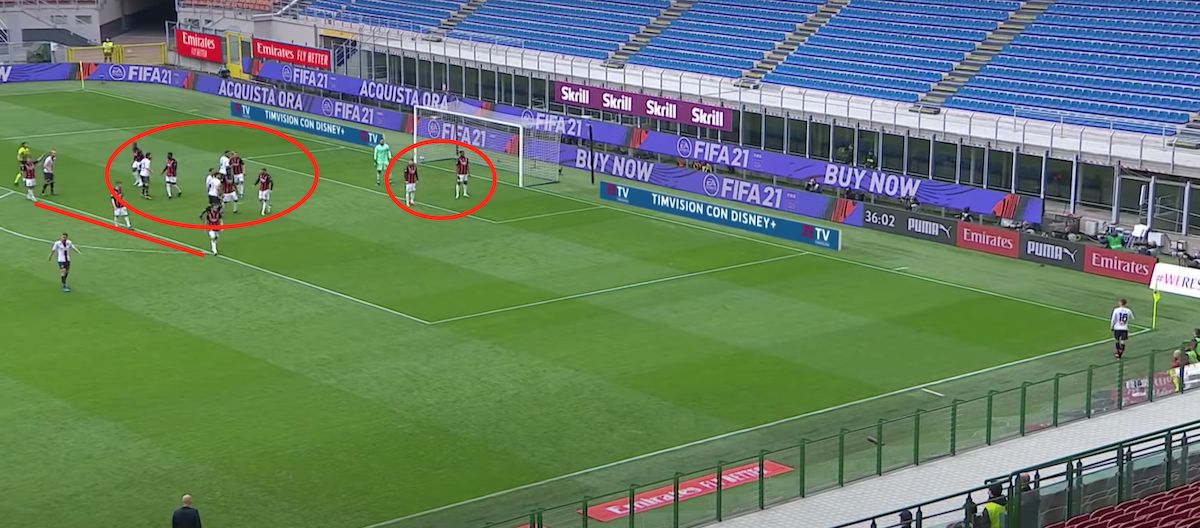 As the corner loops in, it is important to highlight that Tomori is in a fantastic position to deal with Destro's pursuit at this stage. He has his body open, he is the right side of him and everything seems firmly under control.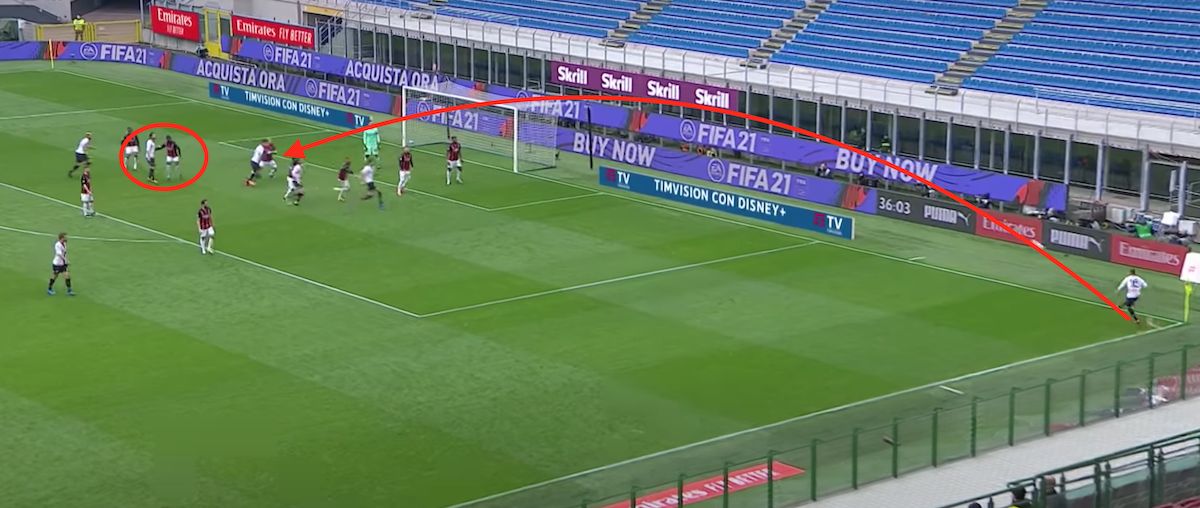 What happens in the second after is hard to explain. As Destro makes his dart to the penalty spot with a simple arcing run, Tomori is caught flat footed and is slow to react, causing the ex-Milan striker to get goalside of him and head inside the far post.
Donnarumma, interestingly, is stood five yards off his line as the ball swings in but then drops back, before not even attempting to make a save. It seems he too was caught in two minds.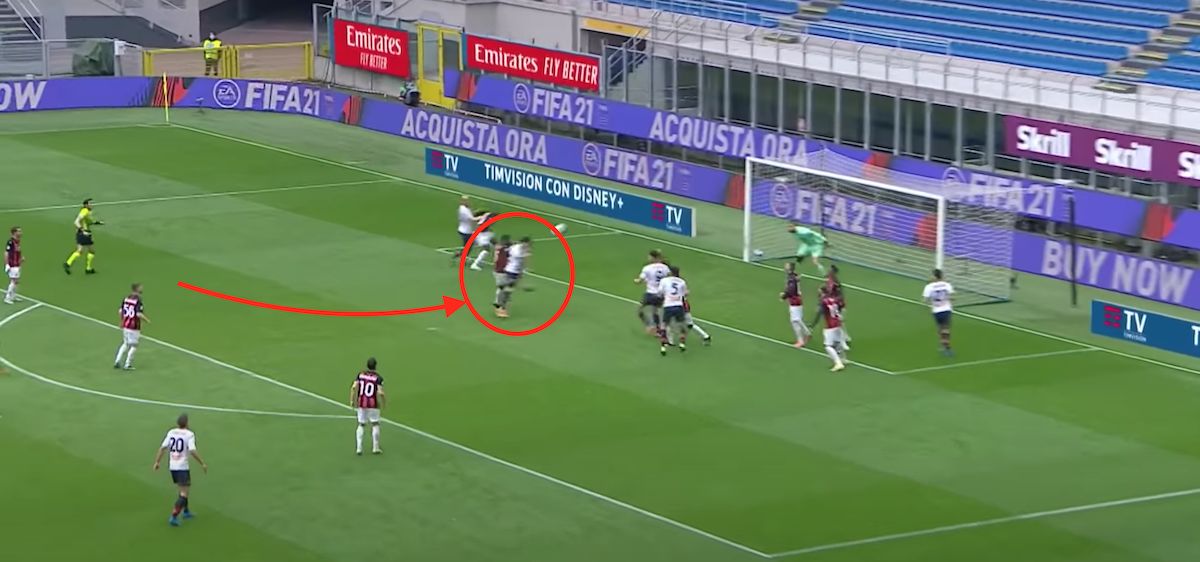 Triangles and tribulations
Pioli said during his post-match comments that he altered Milan's strategy as the game was in progress. "The opponents closed us more to the left and we pushed to the right," he said – and it is perfectly visible below as the Rossoneri set up an overload near the right corner of the box.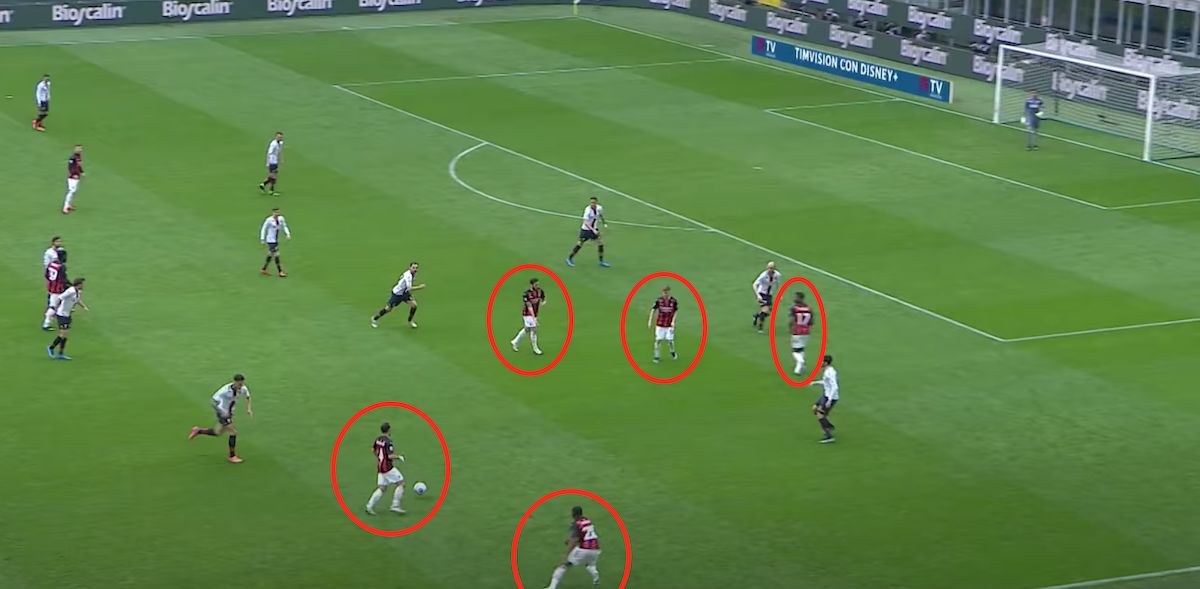 Kalulu plays a nicely weighted pass down the side of Genoa's back line where Saelemaekers had made a run to drag Masiello deeper. That was wise as it freed up space on entry into the box, which is when you would expect Leao and Calhanoglu to be making some dangerous movements.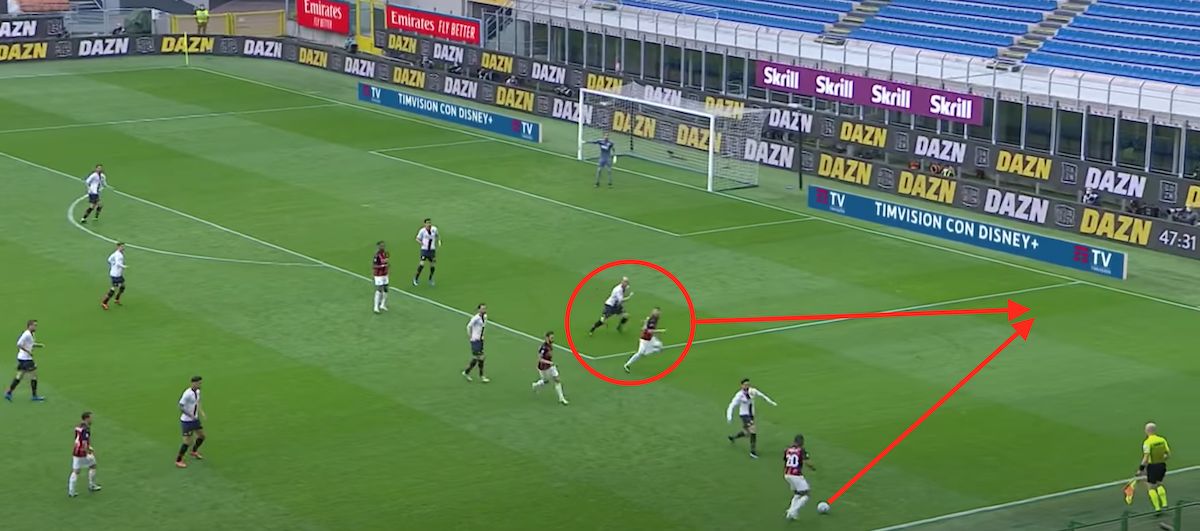 Saelemaekers collects that ball, but the man making the run from his right-back position rather than a static Calhanoglu (circled in green) is Kalulu. The reverse is well executed by the Belgian, and all of a sudden the Diavolo have a must-score chance.
Calhanoglu has moved about four yards in the whole sequence (again circled in green), but enough on him. Kalulu gets into a great position for a cut-back and Leao is a tad static when he should be attacking the edge of the six-yard box.
The ball rolls past the Portuguese forward, but Rebic has ghosted in at the far post out of nowhere, yet the ball was behind him and he hooked it well over. Just another example of how Milan can cut teams open but waste big chances.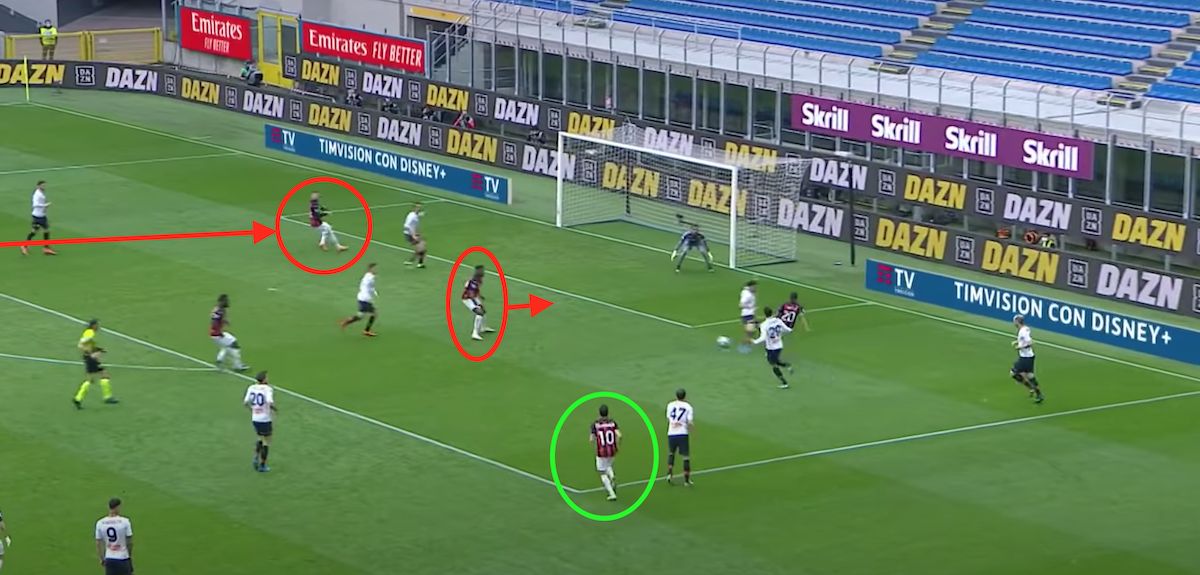 Breaking the lines
It wasn't vintage Calhanoglu or even close, but he had his brief moments. He is one of few players capable of threading the needle with an excellent line-breaking pass to – you guessed it – Saelemaekers. On a side note, the former Anderlecht man was by far Milan's most dynamic forward and his runs into space caused a lot of issues, as did this one in deep.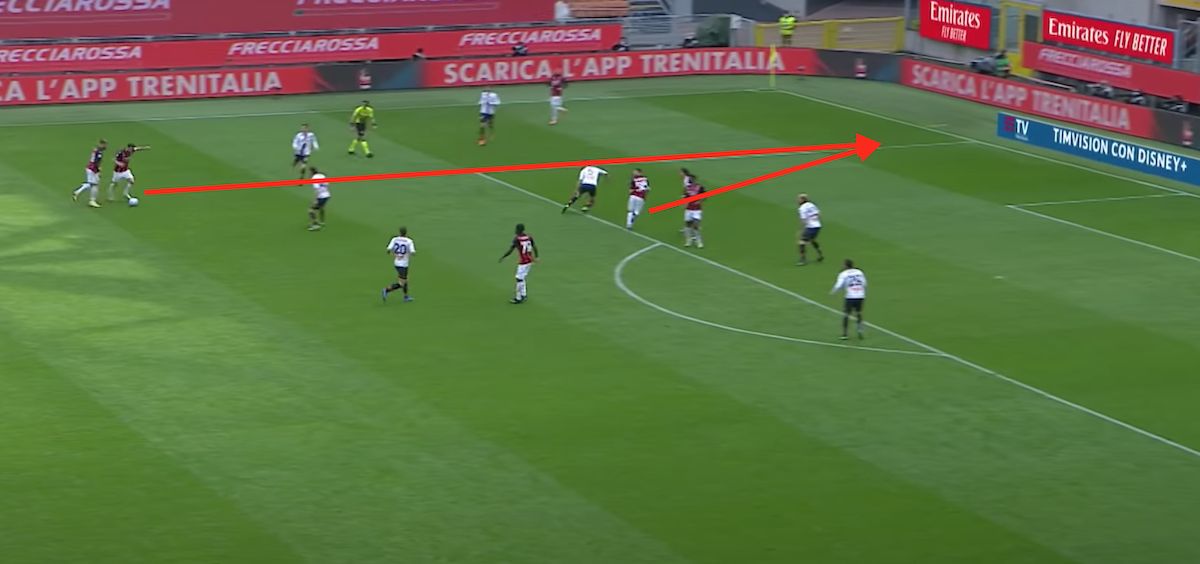 Calhanoglu does the right thing in following his pass into the box and attacking the space. Saelemaekers plays a similar reverse pass to the one that set Kalulu away, but the Turkey international blazed over the bar when more composure was needed – sound familiar?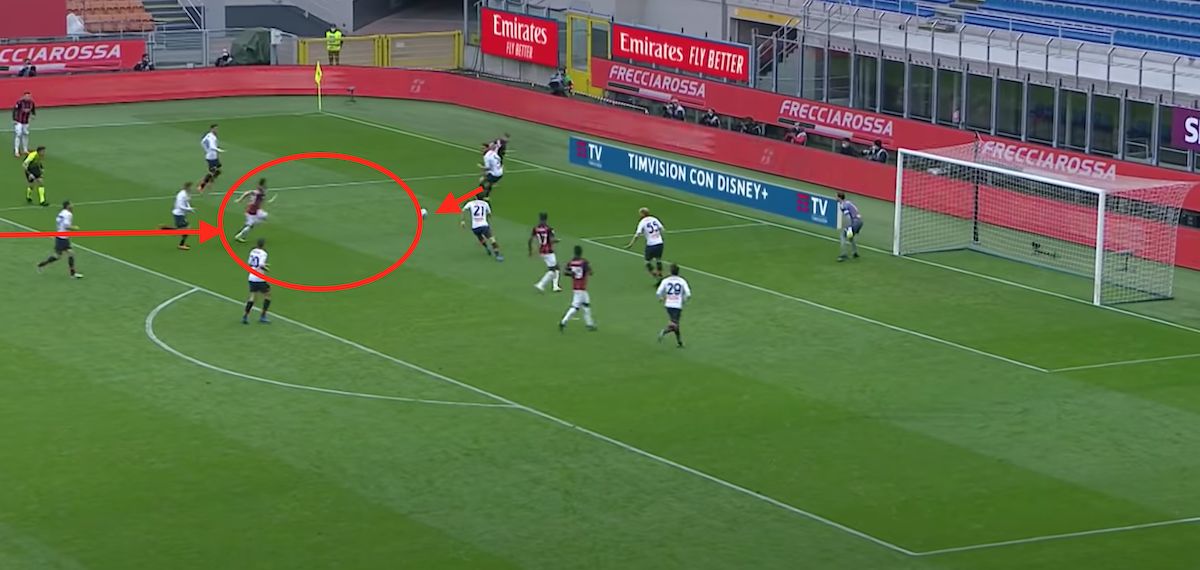 At sixes and sevens
In this particular situation, it is important to remember the Parma game as a precursor to how Milan defend leads. Genoa have loaded up with two target men on the far post and a wing-back who will also attack crosses, leading to Kessie taking up a slightly wider position.
Sandro Tonali – on as a substitute – is simply unaware of the situation behind him and points for Brahim Diaz to keep tabs on the men wide. That allows Pandev to drift into the space highlighted in green.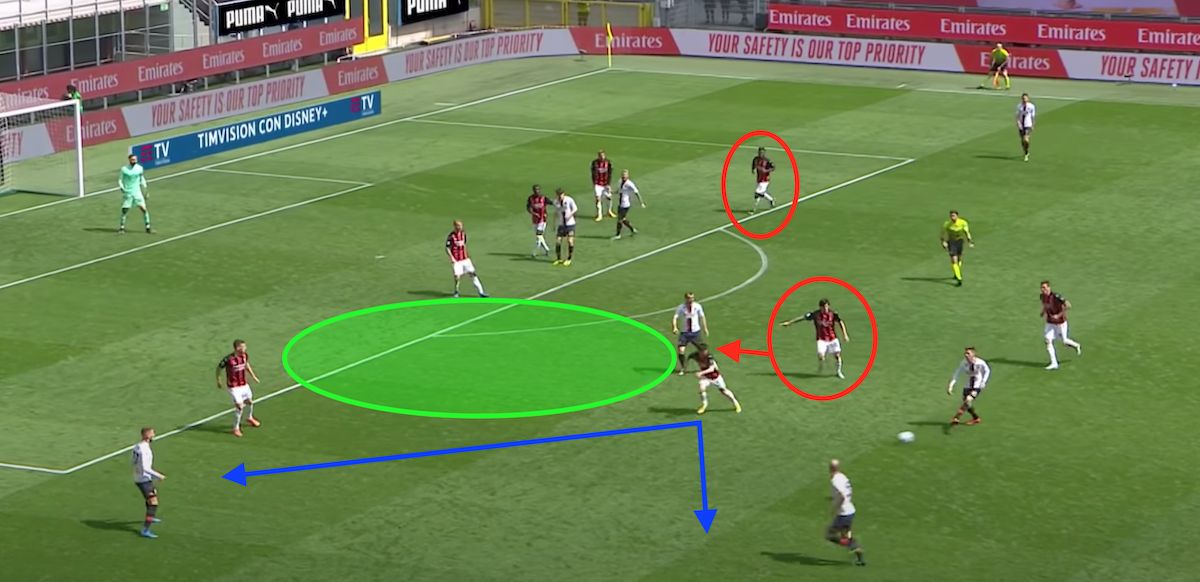 Masiello finds Pandex with relative ease given that Tonali has not tracked his run at all, and it becomes apparent that Milan are then stretched. They were well set up for crossing situations, but not from dangerous spots like the one the Macedonian drifted into.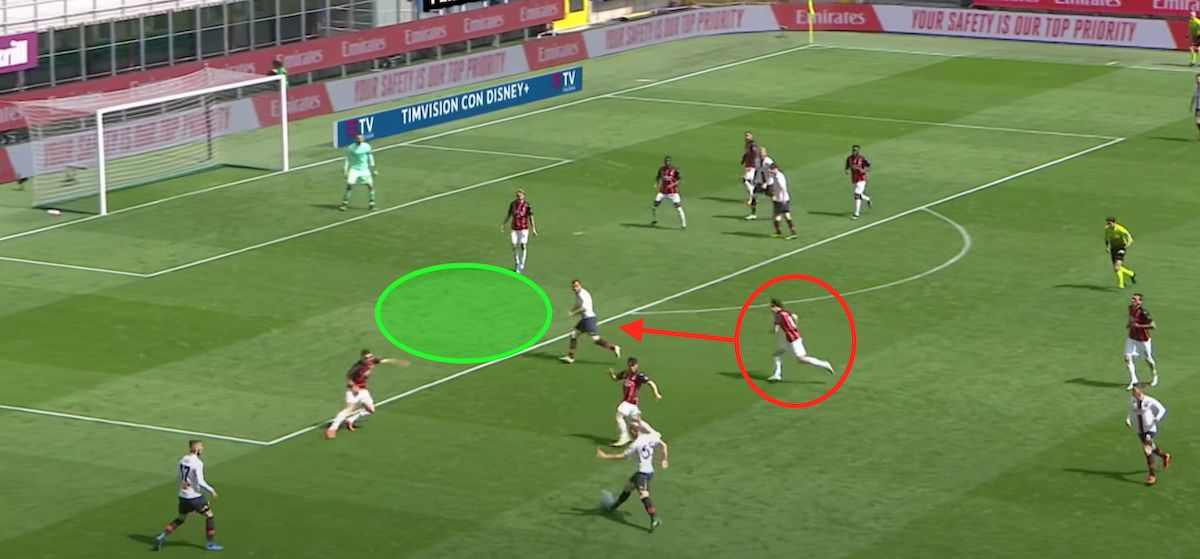 As the ball comes over from Milan's right side, there is a momentary misunderstanding between Donnarumma and Tomori, or perhaps rather a cautiousness about the Rossoneri goalkeeper because of Tomori's presence right on the edge of the six-yard box as he looks to claim the cross.
Donnarumma then drops the ball as his body position is terrible to attempt to clutch it, and by this point Milan are all over the place but for Kjaer and Tomori, who simply must have a sixth sense to know that they were both needed for goalline blocks.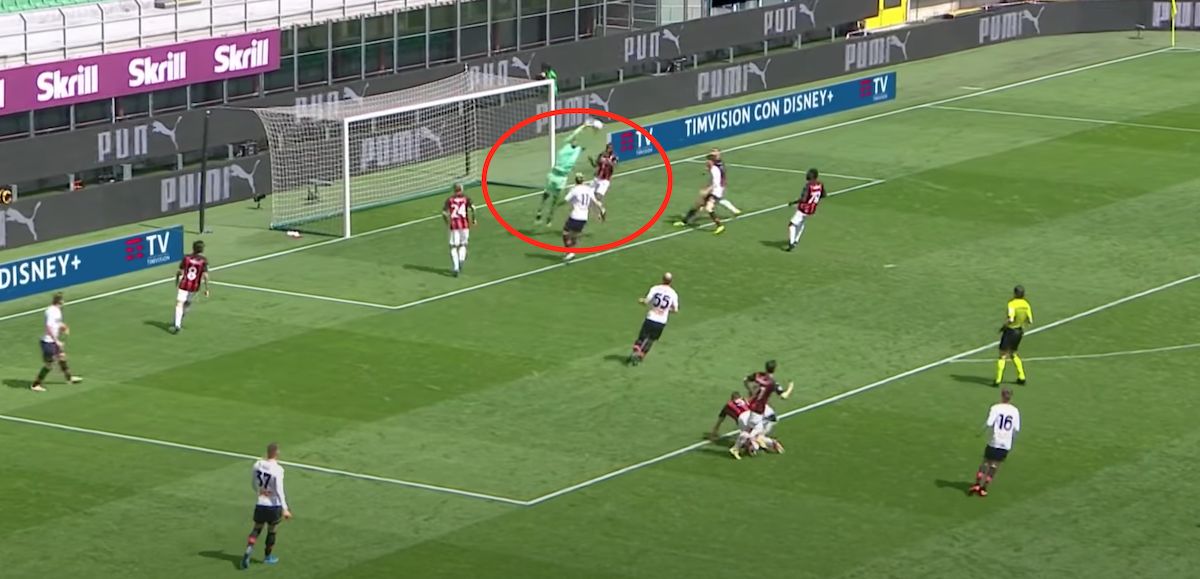 Same old story
Hakan as an attacking midfielder is too predictable. He occupies the half spaces so opposition teams set him up with pressing traps. They leave him open to receive the ball, and once he gets it he is pressured by two players.
Above we see Milan pressing using cover shadows to cut off the passing lanes, something they have done well under Pioli and continue to do.
It is worth noting that Genoa played 5-3-2 off the ball to press Milan and neutralise the Rossoneri's double pivot. Like many sides who have done the same, it worked well.
The data
Taking a look at the touch map, it is clear to see that Milan (on the left) once again predominantly used the left side to attack. While that is natural as it is the team's strength, it is also becoming rather predictable, especially the over-reliance on Theo Hernandez for distribution out of the back.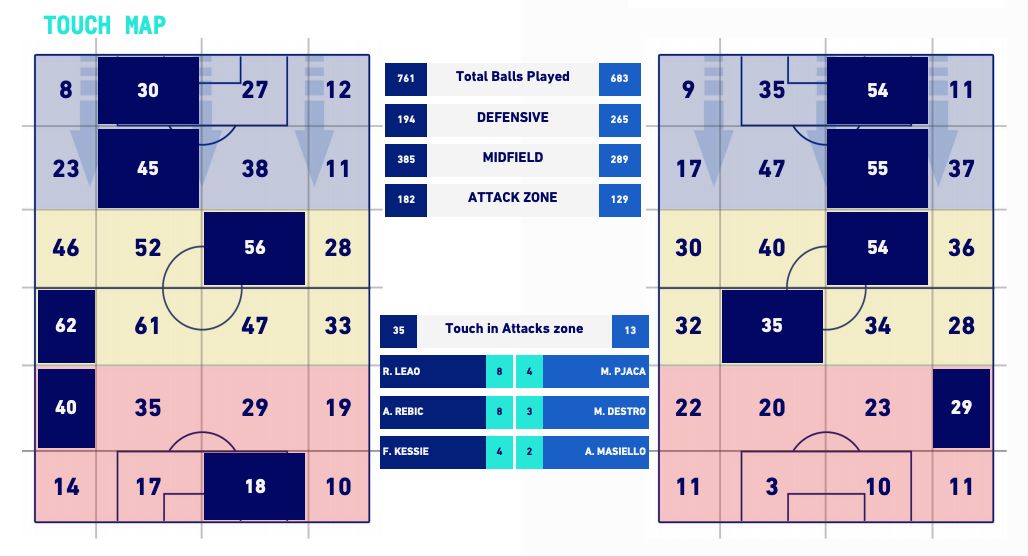 What is also telling from the above is that not Alexis Saelemaekers, nor Hakan Calhanoglu or any of the substitutes had the third-most touches in the box (after Leao and Rebic), but Franck Kessie. He has had a tendency to get advanced and function almost as a quasi-striker/playmaker to confuse the opposition.
Finally, the heat map below shows exactly what the touch map suggests and what Pioli observes – Milan were playing down their left and Genoa were ready for it and willing to defend. There is not enough variety in this team and the right flank must be addressed in the summer.