Sunday was a pretty heartbreaking night for all AC Milan fans, with Mauro Icardi popping up late yet again to win the derby for Inter.
The anger is beginning to subside among Milanisti, and although the wound is still fresh it is important to take stock and analyse exactly what went wrong during the game and how exactly the Rossoneri managed to look so flat after their recent good run.
Sometimes, the best indication of a team's shortcomings are not necessarily statistics or isolated incidents, but rather a tool that can be used to measure patterns of play. That is why the Positions & Passing Network graph from @PdiCalcio is so important in analysing the loss.
📊 #ACMilan's average positioning and passing networks from the #DerbyDellaMadonnina…

Pretty grim viewing 😦🔴⚫

[Via @PdiCalcio] pic.twitter.com/eHCBBRqgve

— SempreMilan (@SempreMilanCom) October 23, 2018
1. Bermuda triangles
The first thing that the eye is drawn to from the graph above is that there are three groups of players from Milan's starting XI which are remarkable close together.
Biglia-Kessie-Higuain and Rodriguez-Bonaventura-Calhanoglu as tridents must have had average positions no less than 20 yards away from each other over the course of the game.
That played right into Inter's hands. After they were forced to withdraw Radja Nainggolan early due to injury, the lack of balance in Gennaro Gattuso's side gave Borja Valero and Matias Vecino and easy foothold, while Marcelo Brozovic and Matteo Politano were also offered far too much space as a result.
---
2. A game of two halves
Another alarming impression on gets from the data is just how much the Milan side seems to be split down the middle in terms of passing networks.
Down the left side, Romagnoli regularly linked with Rodriguez, who found Bonaventura and Calhanoglu often, while on the right side passes were almost exclusively between Musacchio-Calabria, Biglia-Kessie and Kessie-Suso.
All that does is make Gattuso's side seem incredibly predictable. Using the same passing channels every time makes the preferred patterns of play very straightforward for the opponents to see, and Luciano Spalletti did a good job spotting that early and cutting out any creativity Milan tried to achieve.
Simply put, it looked more like the Rossoneri fielded a team of six and a team of five rather than a starting XI.
---
3. Down down deeper and down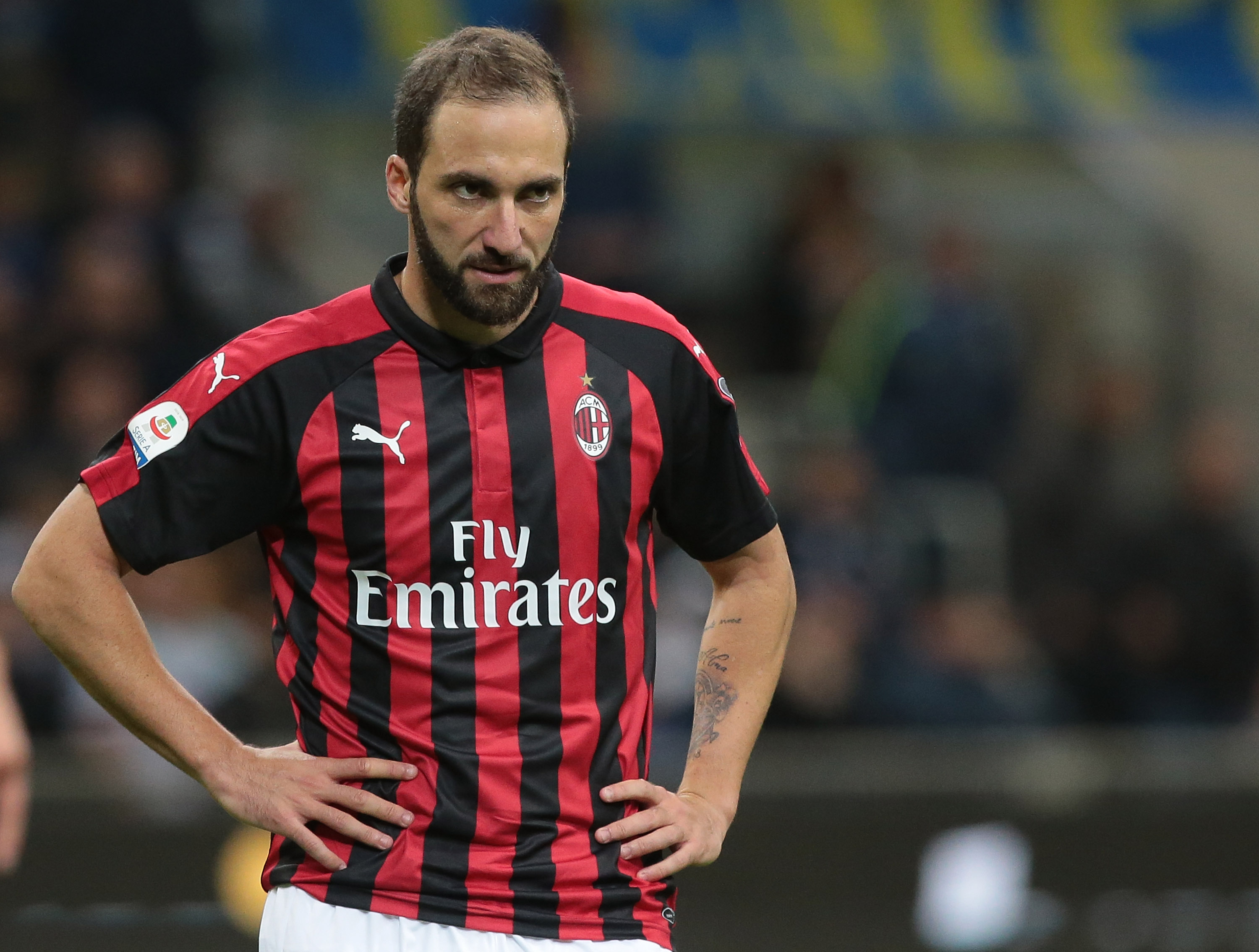 In terms of individual positioning, the most alarming indicator is perhaps that of Gonzalo Higuain. All the talk before the derby was about the battle of the Argentines, with many Milan supporters optimistic that Higuain could out-battle Icardi.
However, the former Juventus man was simply never really in the game, and the few times he did get involved were never in the right time or the right place.
As the chart shows, Higuain was forced to drop far too deep in order to try and help out a midfield that was struggling to assert itself into the game. All that did though was mean that the Diavolo never had an outlet in the attacking third, which then forces a lack of cohesion between the wingers and the centre-forward, with Calhanoglu and Suso rarely having anything to aim at.
---
4. An isolated figure
Lucas Biglia announced himself in the game early on after a coming together with Nainggolan that saw the Belgian go off injured, but unfortunately that's the only real impact he had on the game.
While the former Lazio man was far from awful, it can be seen from his average position that he didn't really perform his usual role in this side. Romagnoli and Musacchio barely passed to him at all, most likely because he rarely offered himself as an outward option.
Biglia's role in Gattuso's style and formation is well documented as being tremendously important. If he goes missing or doesn't get on the ball enough to impact the game, the whole system tends to crumble. It is no coincidence how many sloppy giveaways there were…
---
5. Looking on enviously
PassMap INTER-MILAN pic.twitter.com/BZTd7CRAj3

— pallottoledicalcio (@PdiCalcio) 22 October 2018
The size of the dots (denoting number of touches) of Skriniar, Brozovic and Valero showed that Spalletti's side were not frightened to play through the middle, which they were able to do due to the complete lack of balance in the Milan team.
The passing networks are also a good indicator of this: there are networks between virtually every single outfield players, which demonstrates how Inter mixed up their play, switched it regularly and got almost all outfield players involved.
The 'almost' all is important, because the one lonely figure at the top of the graph is Mauro Icardi. He barely had any touches, was not found by anyone with more than five passes (represented by a line), yet he popped up at the end to win the game. Derbies are often settled with decisive moments, and once again it was Icardi's night.
---
It would be wrong to pin the blame entirely on Gattuso, but his inexperience as a coach in big games was evident to see here.
A lack of positional awareness (perhaps also the players' faults), poor game management, questionable substitutions and allowing Spalletti's team to dominate the key areas of the field all led to a hammer blow of a defeat.
Still, Rino has a five game stretch where he can continue to learn with some slightly easier fixtures on paper, and then two further tests arrive with Juventus coming to San Siro followed by Lazio away.