The head coach of AC Milan Women – Maurizio Ganz – recently gave an interview to the Italian site, Rivista Undici.
During the interview, he touched upon several different topics. In particular, he talked about the growth of women's football in Italy, his relationship with women's football, and his relationship with his players.
He also talked about the burgeoning project of the AC Milan Women, and how well it is faring.
Before the coronavirus crisis shut Serie A Femminile down, the Rossonere were set to play Fiorentina in a double-header for both the league and the Coppa Italia.
Currently, the Milan Women are tied for second with Fiorentina. If the season resumes (assuming that it does), then AC Milan will have to compete with the Viola for the remaining Champions League spot.
Ganz will have to prepare for that possible scenario, along with whatever else may happen when the season resumes.
In the meanwhile, enjoy this insightful interview of the man who is leading the Rossonere.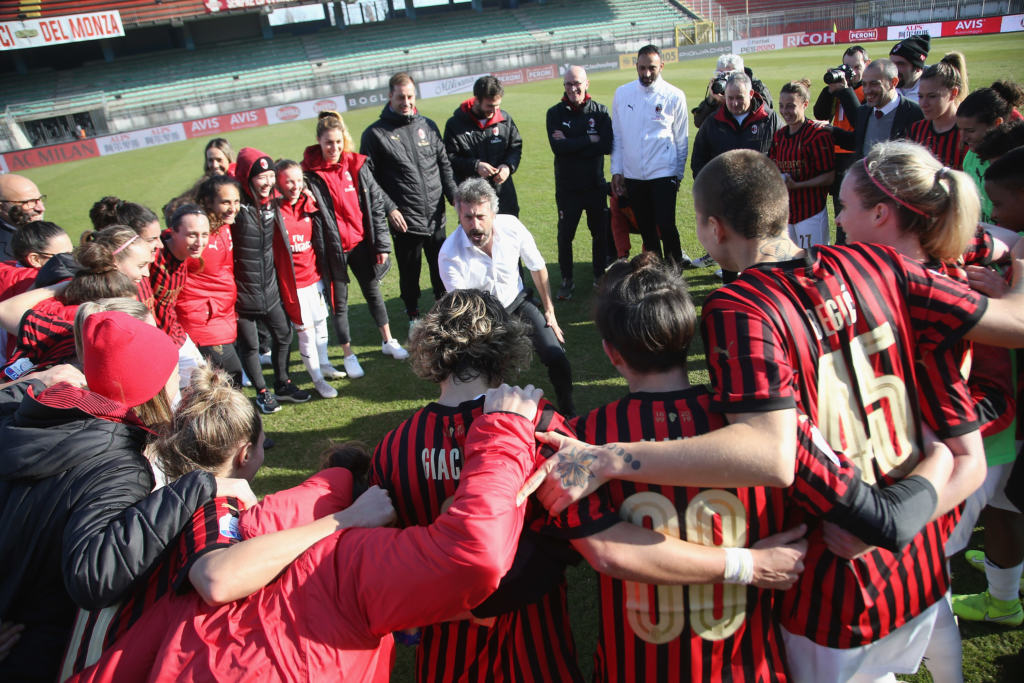 "My mother Franca founded a women's team, and from 1976 to 1984, she toured the festivals of Friuli to challenge the other municipalities: she was the goalkeeper and captain, my sister an attacker and I was a linesman [assistant referee]." It was fate that Maurizio Ganz, born in 1968, would inevitably end up coaching a women's team and that they would wear the Rossoneri stripes: "Belonging matters to Milan. I played with Maldini, Boban, and Carbone, and in their decision making, I am convinced that the human aspect and the attachment to colors are what mattered." 
An evaluation that adds up to the club's need to find a prominent figure, able to step out of the shadow of Carolina Morace, the coach who departed at the end of last season.
If it is not unusual to see a man leading a women's team, it is, however, much rarer to find a coach who has specifically earned the nickname of El segna semper lü: 260 appearances and 76 goals in Serie A, a league title, a Coppa Italia, one Europa League, two separate capocannoniere titles, one while playing in Serie B and the other one in the Europa League; a life spent in locker rooms occupied by people of merit, Javier Zanetti, Paul Ince, Iván Zamorano, George Weah, Paolo Maldini, Zvonimir Boban. Now Ganz finds himself in the women's context: a leap that goes beyond gender difference.
Still, the coach downplays his impact. "I was twenty-one years old as a professional on the field and this is my thirteenth year [as a coach] on the bench, from the Berretti [Serie C youth championship] to the first teams, including an exhausting experience where I had to travel 50 thousand kilometres a year, up and down Switzerland. And I can testify to one thing: football is universal, and wherever it is, it's the same thing."
Ganz is a passionate type and today, he is not far from the forward who, back in 2002, while playing for Ancona-Reggina, was expelled for a handball that he did not commit. "I still get upset like that now, but in a different way. The credit goes to the girls, who have helped me a lot, while I was still learning the ropes in this environment."
It's also for the celebrations he did under the Curva Sud and, for a few days, they made him become a trending topic on social media: "The celebrations for the goals at the end of [the games against] Juve and Roma? Look, I don't even want to know what they wrote, because I know most of them have been a stream of insults. They say I'm crazy, I've watched myself again and they're right: I'm crazy about this sport. I have always celebrated like this, even while training the kids, but I have never disrespected anyone. If I lose, I get depressed, if I win, I cheer. Why is it so strange?"
̶M̶o̶n̶d̶a̶y̶ ̶M̶o̶t̶i̶v̶a̶t̶i̶o̶n̶
Madday Motivation 🔴⚫#MondayMotivation #SempreMilan #FollowTheRossonere pic.twitter.com/ZtuWykscot

— AC Milan (@acmilan) November 18, 2019
Among the 34 coaches who have coached him in his career, there are characters who made history. Ganz tidies up his wool hat and it is not a sign of hesitation, on the contrary, it is a sign of being straightforward: "I had coaches who became the coaches of the great [Italian] national sides such as Sacchi, Lippi, Capello, Prandelli, and other greats like Emiliano Mondonico and Gigi Simoni, and I won the Scudetto with Zaccheroni. But if I had to pick one, in particular, I would say that it would be Mircea Lucescu. It's for how he taught the game, how he managed the group, and for being a precursor of modern football. And at 75 he is still there, coaching at the highest level."
Also, at Milan, the group is at the center of the project. And the air at Vismara Sports Center, at the furthermost, southern outskirts of the city, is different from what you breathe in any men's training center, and you feel it after you've finished training. There's no rush, rush, to getaway. After practice, all of the girls stretch, then go to lunch together, even when they don't have any obligation to do so: "Do you know what a wonderful thing that is? That every day they tell me that they can't wait to do the same thing tomorrow. And if it's true, then I feel the same way too." 
Finding the psychological 'fine-tuning' is one of the most stimulating aspects [for a coach], even for those who have lived through monumental experiences like scoring at the San Siro, in front of 80,000 people. Last summer, while announcing his appointment, Maldini declared that "Maurizio has always had great leadership qualities."
But Ganz doesn't have a persona like Al Pacino/Tony D'Amato's on Any Given Sunday, and his players will never hear him implore them to 'climb the walls of Hell one centimeter at a time': "In fact, you don't need to do so. We men get motivated by focusing on the merits of the opposing team and spurring on the competitive instincts, by saying that the others are stronger and that they are ready to kill you. Women, on the other hand, need to feel that they have done a good job and that they have value. In terms of motivational preparation, the opponent does not exist, it is a conversation with themselves. Then, there is another important difference: clarity. If you explain to them the reasons behind your decisions, if you are transparent and do not hide anything from them, then they will continue to give 100%. Always. Try to do the same thing with the men, and then you tell me."
Ganz's AC Milan are third in the Serie A Femminile standings: 35 points in 15 games, eleven wins, two draws and two defeats.
There is a new fervor around women's football in Italy, particularly around Milan, and it is felt everywhere. It is felt in the fact that the coach of the first team accompanies them to away games, in the use of GPS during training, in the fact that there is a nutritionist, and in the words of Ganz: "This summer, Valentina Giacinti was contacted by Real Madrid and Valentina Bergamaschi was contacted by Chelsea. If they are still here, it is because they believed in the credibility of the Milan project and committed to it. It was their own choice because their contracts would have allowed them to leave. Therefore, their decisions to stay must be greatly appreciated."
Then there is the issue of the players' contracts here in Italy. The evolution seems rapid, but the road is still very long: "When she first arrived, Berglind Björg Thorvaldsdóttir told me: men and women have equal pay in Iceland. Well, of course: the player who earns the most makes three thousand euros, but here we are in Italy. Meanwhile, Milan was the first club to pay pensions for the girls, and it is important insurance.
They live as professionals, as they hardly have any other time to devote to other activities and they must be allowed not only to sustain themselves but also to be able to save some money for when their short careers will end. Furthermore, the current rules do not even protect the clubs. Contracts are binding in Italy, but if a foreign club arrives, they can take the players away whenever they want."
Giacinti and Bergamaschi, cornerstones of the national team under Milena Bertolini, have shown that the idea of developing players exists, but the arrival of many foreign players shows that they also recognize the quality of the league from abroad, and one must strike the iron while it is hot: "We are not Spain or England, but we'll get there. Let's face it until a few years ago we were at the oratorial [amateur] level, but today we attract important international players. Now, the girls who start playing football have role models, idols: in the same way the young swimmers are inspired by [Federica] Pellegrini, today, the players can dream of becoming Giacinti, [Sara] Gama and [Laura] Fusetti." 
Comparing women's football to men's football is not only unfair, but it is also fundamentally wrong, and yet it is a mistake that happens all too frequently. In other sports, the concept is outdated: nobody in volleyball would dream of comparing Ivan Zaytsev's ferocity to the impressive power of Paola Enogu. Sports are the same, but the interpretation of them is different out of necessity.
However, continuing on the subject of volleyball, we will allow a little food for thought: the net for the women is 19 centimeters lower [than the men's nets]. The role that seems to suffer most on the size of a unisex field is that of a goalkeeper, and it is not unusual to see goals made from shots under a crossbar that a man would never let in.
So, is the solution to shorten the goalposts? Ganz is not convinced: "Mária Korenčiová, our goalkeeper, is 1.65 (5'5) tall, but she is agile, reactive and effective. We played against PSG this summer. They have three goalkeepers: [Katarzyna] Kiedrzynek, who is 1.80 (5'9), [Christiane] Endler, who is 1.82 (6'0), and [Arianna] Criscione is 1.79 (5'8). When you're that tall, believe me, there is no need to lower the crossbars. Scoring against Mária is still difficult, and if she was 20 cm taller, she wouldn't let any goals in."
And then opening up the doors to the big stadiums would be a problem. At the moment, the Allianz Stadium, Dacia Arena, the Nereo Rocco of Trieste or the Castellani of Empoli have opened their stadiums to Serie A Femminile. When will the Meazza open up to the women? "It would be very nice, and maybe it will happen for a derby. Here at the Vismara, the stands are for about a thousand people and it becomes very narrow, even if the grass resembles a pool table [it's artificial]. But we play at the Brianteo and when you enter the stadium it has that same effect on you, and it's all right."