Associazione Calcio Milan, famously known as AC Milan, has had some of the best players of the century grace its club. These include Kaká, Zlatan Ibrahimović, Cafu, Roberto Baggio, Ronaldinho, David Beckham, and many more.
Milan has also had some exciting wins and devastating losses and lifted several trophies throughout their existence. Over the past decade, this was no different. In 2020 alone, the Spanish team snatched the record with 30 goals scored in successive Serie A matches.
Over the past 10 years, some of the matches just stood out and showed the side's tenacity and creativity on the field. Let's look at some of the best AC Milan matches from the last decade (2011-2021)…
Inter – 2 April 2011

Inter are their fiercest rivals, so as anticipated, this game was all kinds of exciting. Any clash between the two teams is a must-watch. Eighty thousand fans attended the match at the San Siro (Giuseppe Meazza) stadium in this Italian Serie A match.
So, what went down? The three goals were gloriously scored by Alexandre Pato and Antonio Cassano (who also played for Inter Milan and went on to seal the deal with a penalty). 

Result: 3-0 win
Arsenal – 15 February 2012
This UEFA Champions League first knockout round was as exciting as they come; not only did AC Milan annihilate Arsenal, but this thrashing left the Gunners with a mountain to climb.
In the first 15 minutes of the match, Milan already outsmarted the London club, and the result speaks for itself. One goal was scored by Kevin-Prince Boateng, one each by Robinho and a brace from Zlatan Ibrahimović – who still plays for Milan to this day and is yet to win a Ballon d'Or – secured a huge victory.

Result: 4-0 win
Barcelona – 20 February 2013
Another of Milan's rivals are Barcelona. During this time, Barcelona was on top form and ripping through teams in the various tournaments they played, but going into the match against Milan as the favorites would leave them with an uphill task in the UEFA Champions League.
Luckily for AC Milan, they outwitted Barcelona with an impressive display. Even though Barcelona had possession of the ball for most of the game, Milan were simply better on the day.

Result: 2-0 win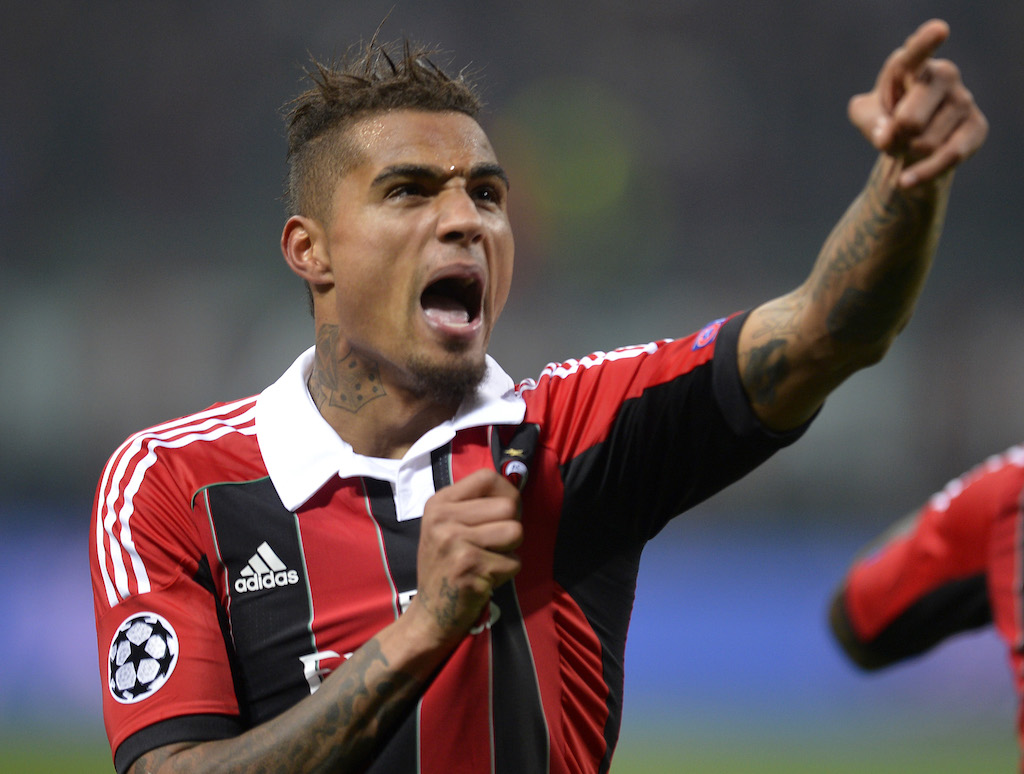 Catania – 13 April 2014
This Serie A match saw AC Milan's Riccardo Montolivo come out as the hero who scored the only goal that secured the win for AC Milan. This win propelled AC Milan into the top half of the Serie A. Taking place at San Siro (Giuseppe Meazza) stadium, the game was attended by 33 000 spectators.

Result: 1-0 win
Roma – 9 May 2015
This was a tough game for AC Milan since Roma were on top form and made it extremely difficult to score goals. However, AC Milan managed to secure two outstanding goals by Marco van Ginkel and Mattia Destro. 
Result: 2-1 win
Capri – 13 January 2016
This Coppa Italia quarter-final was a memorable occasion. Carlos Bacca was in full-on impress mode and helped Milan reach the last four with his goal during the first 15 minutes of the game. The second goal was scored by M'Baye Niang which would seal the deal against Capri!.

Result: 2-1 win
Bologna – 21 May 2017
In front of a crowd of 41,000 supporters, Milan delivered a serious thrashing and scored three magnificent goals in this Serie A game. These were scored by Gerard Deulofeu, Keisuke Honda, and Gianluca Lapadula.

Result: 3-0 win
Crotone – 6 January 2018
What a great way to kick off the new year… with a win! During this Italian Serie A game, Crotone struggled to keep possession of the ball and their overall performance lacked the finesse to stop Milan.
The Rossoneri had 9 shots on target compared to Crotone's 2. While Crotone had way more tackles throughout the game, Milan got the win when Leonardo Bonucci scored the only goal of the match.

Result: 1-0 win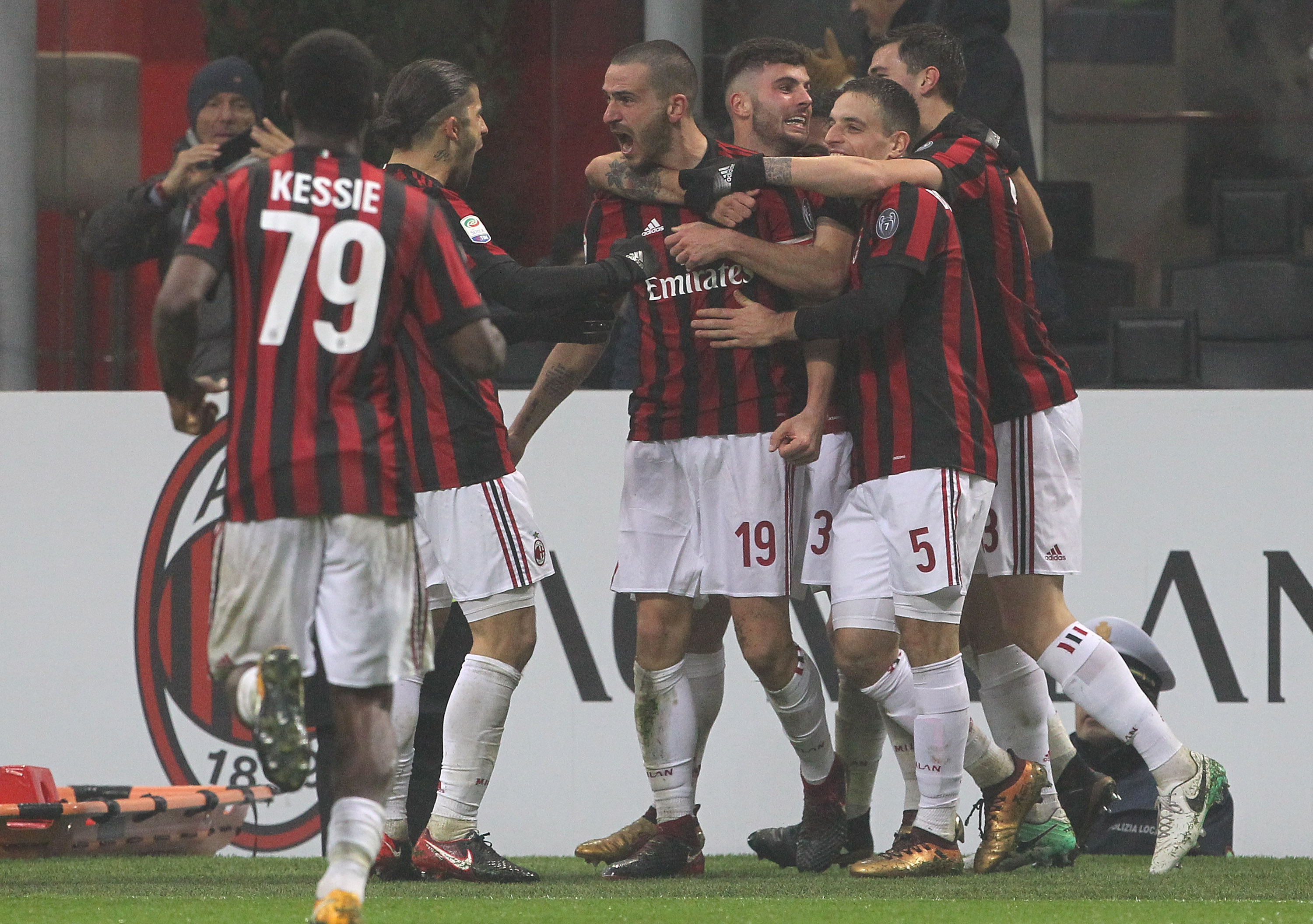 Frosinone – 19 May 2019
Although Milan were on form, they did not score any goals during the first half which led to some pressure for the side in the second half. But as soon as Krzysztof Piątek scored the first goal in the 57th minute, Suso soon followed with another and secured the win.

Result: 2-0 win
Sampdoria – 29 July 2020
What was exciting about this match was just how Sampdoria defended and how they were nearly on par with Milan in terms of possession of the ball.
The Rossoneri only had 9 shots on target while Sampdoria was not far behind with 6. In the end, Milan delivered superb goals from Zlatan Ibrahimović (x2), Hakan Çalhanoğlu, and Rafael Leão.

Result: 4-1 win 
Torino – 12 May 2021
This was the first time in an exceptionally long time that AC Milan scored a whopping 7 goals in a game, with Theo Hernández, Franck Kessié, Brahim Díaz and Ante Rebić – who scored a hat-trick – all getting in on the act.
Result: 7-0 win