We all know the character that is Zlatan Ibrahimovic. He is a player that holds himself in the highest esteem, works incredibly hard and demands the same from his team-mates.
It is no surprise to most therefore that Ibrahimovic is the catalyst for Milan's change in fortunes, but the Swede brings much more than just leadership skills. He has brought about a dynamism, and was the catalyst for a complete change in approach that not only rescued a season, but made fans dream about 2020-21.
It is easy to forget about Krzysztof Piatek now, but here Rohit Rajeev takes a look at what was going wrong before and why Zlatan was the perfect fix…
A matter of altitude
Ibrahimovic stands 1.95m tall (6ft5) compared to Piatek who is 1.83m (6ft) tall. This is a substantial difference, and is exactly why the 38-year-old is such an aerial threat that makes defenders stay on their toes. Very few centre-backs in Serie A are as tall as Ibrahimovic, and as a result they cannot cope when crosses are put into the box by our midfielders/wingers.
The perfect example is Ibra's headed assist for Calhanoglu against Sampdoria. He used his aerial ability and his neck muscle to crane his head over the ball and sent it into the path of a well-timed run from the Turk. That ball would have sailed straight over Piatek's head for a goal kick.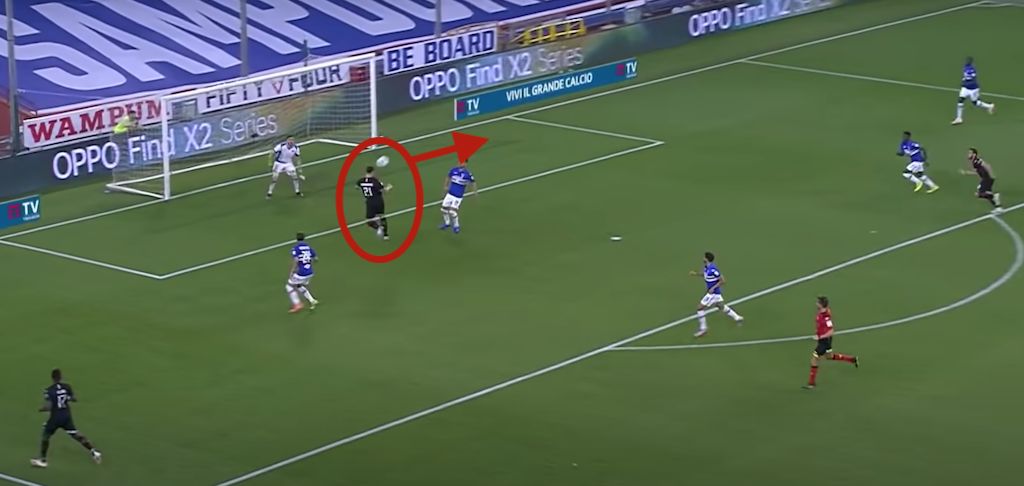 Size and strength
With his huge frame and physicality, Ibrahimovic is like a wall for the opposition players. When ball is played to him he easily shields it from his man and can hold onto it until one of his team-mates has made a run. This allows the team to play a much more direct style and gives the Swede the freedom to almost play as a quarterback on the counter-attack.
Piatek did not possess this kind of attribute and hence it restricted Milan's attacking play. A good example is against, Cagilari, where Ibra holds the defender off to give Leao space which results in a goal.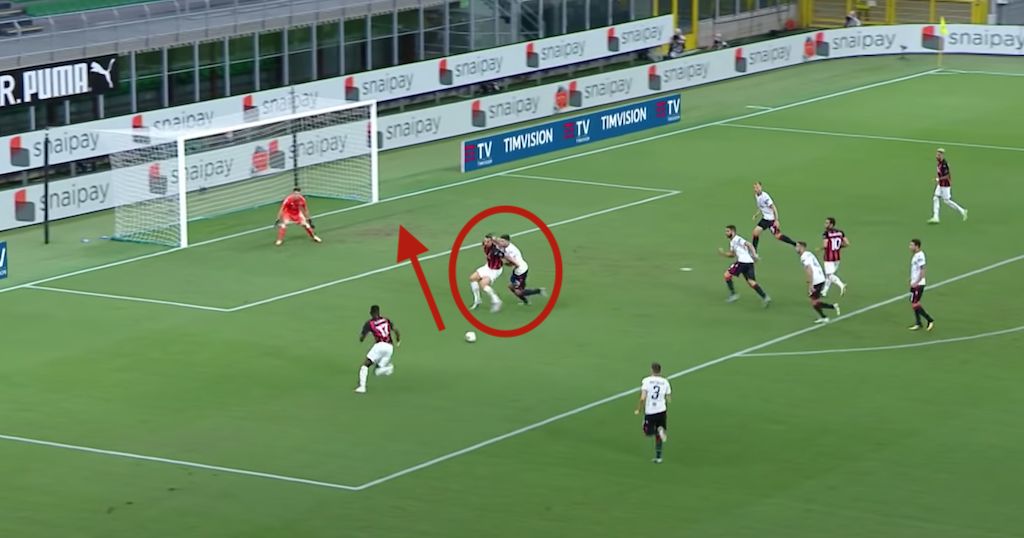 Movement and ball-playing ability
This is the most impeccable attribute that Zlatan possesses. With all of his physical attributes, the centre-back is also a fantastic ball-player with high in-game intelligence.
Piatek in his stint for Milan often looked to make deep runs by staying on the shoulder of the last defender and wanted balls being fed to him. Once defenders and coaches analysed his game they neutralised him and he looked incredibly isolated.
Ibrahimovic drops in deep and pulls defenders out of position, and with his superior technique he is able to play quick passes or through balls through the space which results in a clear chance created.
Against Bologna for the third goal, Ibrahimovic makes a decoy run on the right wing with Rebic moving in. This confused the Bologna defenders with Danilo running to cover Ibrahimovic and Denswil covering up the space left by Danilo, and to mark Rebic this left a huge gap between the LCB and the LB.
Calhanoglu – who had the ball – played a horizontal pass to Bennacer who ran into the gap left by the defender and scored.
Another example of Ibra's play is the chance he created for Calhanoglu against Atalanta below. He pushes horizontally and receives a pass from Rebic. To cover Ibra, Toloi tries to close him down. Hakan runs into the space left by Toloi and Ibra completed the passing triangle with a swift turn and pass. Milan's No.10 was unfortunately offside though.
Many experts and fans had doubted the ability of the Swede at the age of 38, but in true Zlatan Ibrahimovic fashion he proved all of his doubters wrong.
Ibrahimovic amassed 11 goals and five assists in all competitions in just half a season, but more than that he completely shifted the way Stefano Pioli's 4-2-3-1 operates and gave Milan one of the most effective game systems in the league.
Maybe people have finally learned their lesson, and will never make the mistake of underestimating Zlatan again.