Zlatan Ibrahimovic made his comeback in the Swedish national team during this international break and although he didn't score, he got two very good assists. Now, however, Milan need him to focus on them. 
The Swede proved just how important he is with a good goal against Fiorentina, and it could have been a brace if it hadn't been for the bar. With him on the pitch, the Rossoneri look a lot better although they have also managed without him.
In today's edition of Gazzetta Dello Sport (see photo below), we read about Ibrahimovic's importance for what will be ten crucial games for Milan. Over the years, the striker has done pretty well in the final ten games of the season, such as last season.
And this term, the Rossoneri need him to perform again as they want to secure Champions League qualification, with an eye on the Scudetto as well. Inter may be ahead, but it's still not impossible to leapfrog them.
Over the last five seasons, Ibrahimovic has bagged 45 goals and that is just based on the final ten games of each season. Take a look at all the seasons below.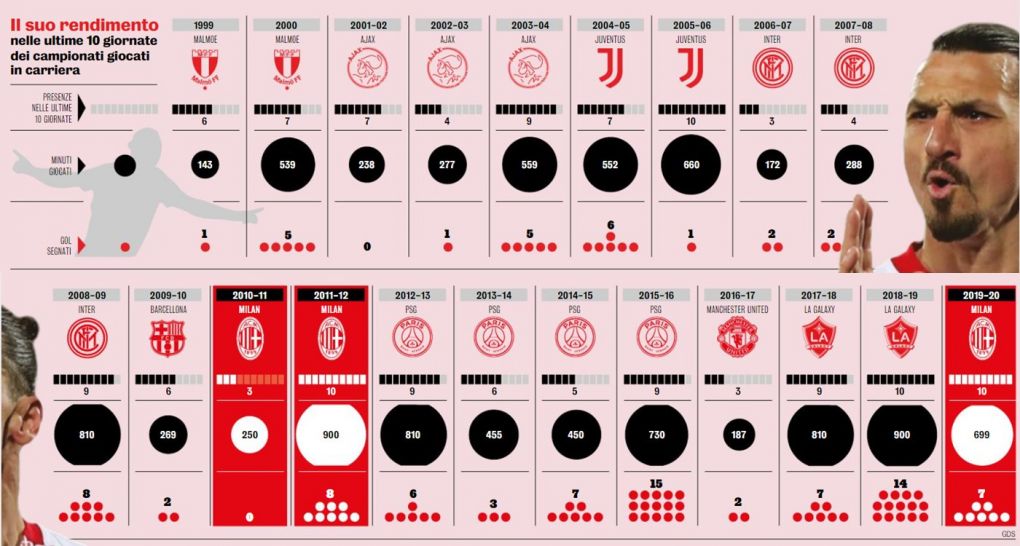 READ MORE: Mandzukic eager to play with his renewal at stake – when he will be back