Milan have struggled with many injuries this season and this hasn't made life easy for Stefano Piolo and his players. Yet, they are still in second place with 25 games and have shown great mentality throughout the season. 
As highlighted by Gazzetta Dello Sport this morning (see photo below), the Rossoneri aren't the only ones that have struggled with injuries and COVID cases. However, they are certainly at the top of the list when comparing the teams.
In fact, Milan have had 45 injuries as of yesterday, which puts them in third just one injury behind Hellas Verona. However, Ante Rebic picked up an injury today and will miss the game tomorrow, making the Rossoneri joint-second.
Parma are in first place with a whopping 60 injuries this season, which makes you understand why they have struggled so much. For tomorrow's game, the squad is incredibly thin with a total of five absences.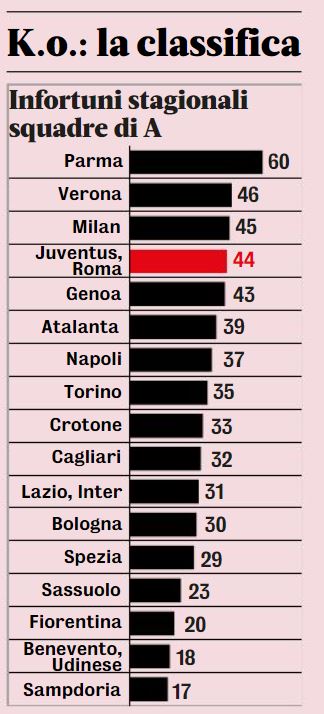 READ MORE: Milan legend Costacurta explains why Verona clash will be easier than Udinese