It should be a great atmosphere for AC Milan's season opener against Udinese next Saturday. Being the reigning champions, there is great enthusiasm among the fans and this has been reflected in the ticket sales. 
The pre-season has come to an end for the Rossoneri and they will now have to shift focus to the opener against Udinese on Saturday. Kick-off is scheduled for 18:30 CEST and it remains to be seen which players will be available.
In any case, there will be a great atmosphere at the stadium as Milan have sold almost 73k tickets for the game (sold out). Only a few expensive tickets remain before it's fully sold out, but we are really talking about just a few tickets.
This was reported by Gazzetta Dello Sport this morning (see photo below), confirming that the Rossoneri have sold an amazing 40k season tickets. There are more season tickets than game-specific tickets sold, which says a lot.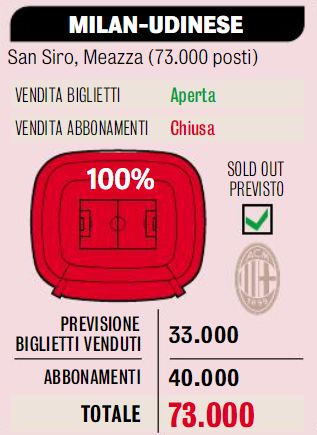 ---
READ MORE: De Ketelaere almost scored a perfect hat-trick in Milan's win vs. Pergolettese