AC Milan boss Stefano Pioli is considering two other formations that he could use to add variety to his current 4-2-3-1, a report claims.
As this morning's edition of La Gazzetta dello Sport (via MilanLive), Pioli is considering the possibility of working on two alternative systems that he could use as and when he sees fit. Although the 4-2-3-1 has brought excellent results in the last year, Pioli wants to take advantage of other strengths too.
The paper suggests that the use of a 4-3-1-2 can not be excluded. It was the system that Marco Giampaolo tried and failed to implement, but it would see Sandro Tonali as the regista with the Kessie-Bennacer duo as mezzali. Calhanoglu would remain a pure 10 behind Ibrahimovic and one of Leao or Mandzukic.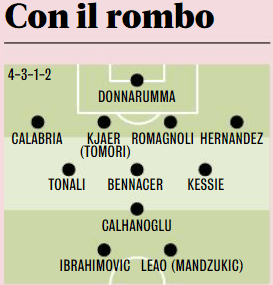 Another option would be the 4-4-2 that Pioli used at the beginning of 2020 on some occasions. In this case, the coach could opt for two wingers (Saelemaekers and Rebic the most likely), keeping the double pivot.
Ibrahimovic and Mandzukic would be up front, and having the duo play close together and coexist is one of the goals of Pioli.