Milan will take Lazio in the final game of the year this evening, hoping to claim another three points after the success away at Sassuolo. Currently at the top of the standings, they want it to stay like this during the Xmas break. 
Although the Rossoneri are struggling with several key injuries, it looks like Ante Rebic and Sandro Tonali will be able to play tonight. Fortunate for Stefano Pioli, who would have needed an emergency solution in midfield without Tonali.
As highlighted by Gazzetta Dello Sport (see photo below), though, focus must also be put on the rest of the starting eleven. Milan have continued to perform even without their big stars, not only thanks to their mentality but also quality.
Hakan Calhanoglu is one of the players that have stepped up, and tonight he will be up against Lazio's No.10, namely Luis Alberto. Whoever wins the battle, will most likely see his side claim the three points this evening.
Statistically, Calhanoglu is ahead of the Spaniard with five goals and six assists in all competitions. He has also created the most chances per game (average), though he has hit the woodwork five times compared to Alberto's one time.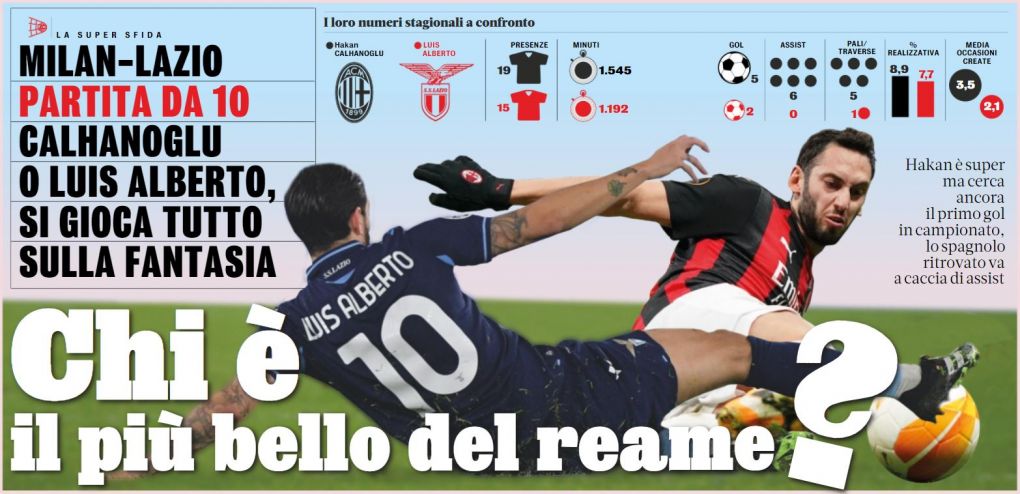 READ MORE: Pirlo admits Milan and Inter 'have something more' than Juventus in Scudetto race