AC Milan's season is well underway following a summer mercato in which the club invested heavily in potential but not on experience.
Despite Financial Fair Play, the club managed to keep all of the core players with only Patrick Cutrone heading for Wolves.
The management did some good business as they brought African Cup of Nations winner and Player of The Tournament Ismael Bennacer for a bargain fee of around €16million.
In addition to that, Ante Rebic and Theo Hernandez came to Milan, while Leo Duarte, Rade Krunic and Rafael Leao arrived to provide new head coach Marco Giampaolo with much-needed depth.
However, the team is yet to show some sign of improvement under the new 4-3-1-2 formation brought by the former Empoli and Sampdoria coach, having won two out of the first four games in Serie A and scoring only one goal in the process.
Furthermore, it has been reported that Giampaolo's next few games might be crucial for his future and that the leadership needs to see positive changes and new players coming on the field.
Here, we take a look at how the starting eleven should look like and why it suits Giampaolo's beloved 4-3-1-2…
Starting XI: Donnarumma; Calabria, Duarte, Romagnoli, Hernandez; Kessie, Bennacer, Bonaventura; Paqueta; Leao, Rebic.
Gianluigi Donnarumma
No comment needed. Quite simply one of the best in the world.
Davide Calabria
Starting off with our right back, Calabria gets the edge over Andrea Conti as the later has been injured for two seasons now and just does not seem to be as efficient.
Davide meanwhile – who will turn 23 later this year – is developing at a fast pace. His defensive work has improved a lot over the last few seasons as the youngster look solid on most occasions.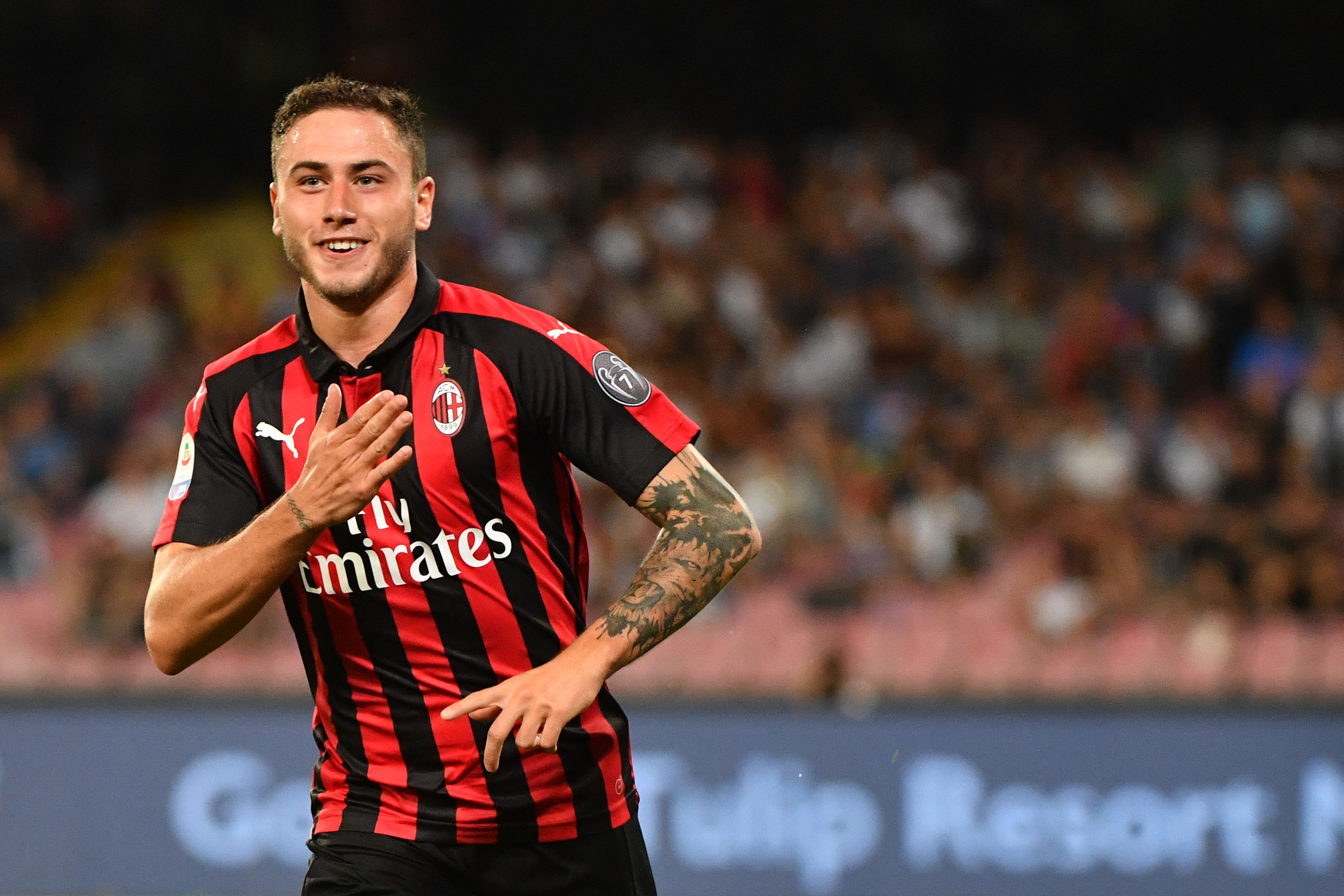 Despite his work at the back, the Italian has the energy and pace to continually be involved in the attack, which is essential in a narrow but transitional formation like this.
Leo Duarte
Duarte arrived at the San Siro this summer with most assuming he will be a back-up while Milan are waiting for the recovery of Caldara, as well as a replacement for the departed Cristian Zapata.
However, the Italian has been out for a long period already and – like Andrea Conti – will need a substantial period when fully fit to get up to speed tactically.
Duarte on the other hand has great desire to prove himself and has impressed in training, and while Musacchio has more experience he often finds himself in the wrong place and does not have the pace to recover.
The Brazilian will probably need some time to adapt to Serie A, but he brings more pace at the back and from the games we've watched of him playing for Flamengo, he seems to be good on the ball, aggressive and capable to man-mark an attacker.
This therefore would leave the captain Romagnoli freedom to read the game and dictate the backline – which is what he is best at.
Alessio Romagnoli
Not much to say about our captain as he is rightly considered irreplaceable in the starting line-up.
Great composure, intelligent and a leader; Alessio has already proven himself to be one of the best defenders in the league and captain of Milan at the age of just 24.
Theo Hernandez
Hernandez arrived this summer from Real Madrid and immediately showed his quality in the pre-season, but unluckily got injured and has missed the start of the Serie A campaign.
Similar to Calabria, the Spaniard has the energy to move forward, but his physicality helps him outmuscle attackers as well.
In contrast to Davide, Theo provides more in attack as he possesses even greater speed and a good delivery, which makes him a real threat when going forward.
We've already seen in the limited minutes he has played the upgrades he offers on Ricardo Rodriguez, and we can all look forward to seeing him make that starting left-back spot his own.
Franck Kessie
The Ivorian is considered a "tank" by the fans, and it is not far from the truth. A little more than two season with the Rossoneri and Franck already has 100 games with Milan under his belt.
Although often criticised about his abilities going forward, Kessie is a player that offers excellent stamina and physicality. That allows him to be a critical part of the defensive phase, and his work rates allow him to move the ball forward, something Giampaolo is demanding from his midfielders.
Despite not being the most efficient when attacking, Kessie could stay behind while his team is attacking, thus covering his full-back and helping the defence not being caught out.
Ismael Bennacer
The Algerian moved from Empoli to Milan in the summer and was brilliant for his nation in the African Cup of Nations, eventually winning the tournament.
Bennacer is aggressive, has excellent ball control and managed one of the highest successful dribble rates in Serie A last season.
💪 Ismael Bennacer was the outfield player with the most recoveries in Serie A during the 2018/19 season, with 312.

🔜🔴⚫

[Via @OptaPaolo] pic.twitter.com/B0sZC95quD

— MilanData📊 (@acmilandata) July 5, 2019
In addition to that, he has the vision and passing abilities to cut through the opposition, something which corresponds with his new coach's tactics to move to the ball as fast as possible from defence to attack.
Quite simply put, he offers a huge upgrade on Lucas Biglia in attack and defence, both on and off the ball.
Giacomo Bonaventura
Injured for a season, Jack is back in action. One could say a lot about him, but really all that needs stating is that he is perfect for Giampaolo's midfield.
He is an experienced and versatile player, who is capable of working wonders going forward: two footed, a good shot, an eye for a pass and the willingness to get back and defend too.
There will be question marks about his ability to hit form right away after such a lengthy absence, but Bonaventura showed his quality in pre-season and could be a game-changer for Milan in the mezz'ala role.
Lucas Paqueta
The Brazilian joined Milan last January and was instantly a joy to watch. In this formation, Paqueta is behind the strikers instead of Bonaventura for two reasons.
1) Paqueta can drift wider to the left when attacking allowing Bonaventura to tuck in on his right, thus allowing both of the players to play on their strong foot and be more dangerous.
2) While he has excellent skills, the Brazilian often gets carried away in his dribbling and gets dispossessed quickly at times. Being put behind the strikers would provide him with more freedom to take on his opponents, but at the same time being far from his own goal thus reducing the chance of a quick counter if he loses the ball.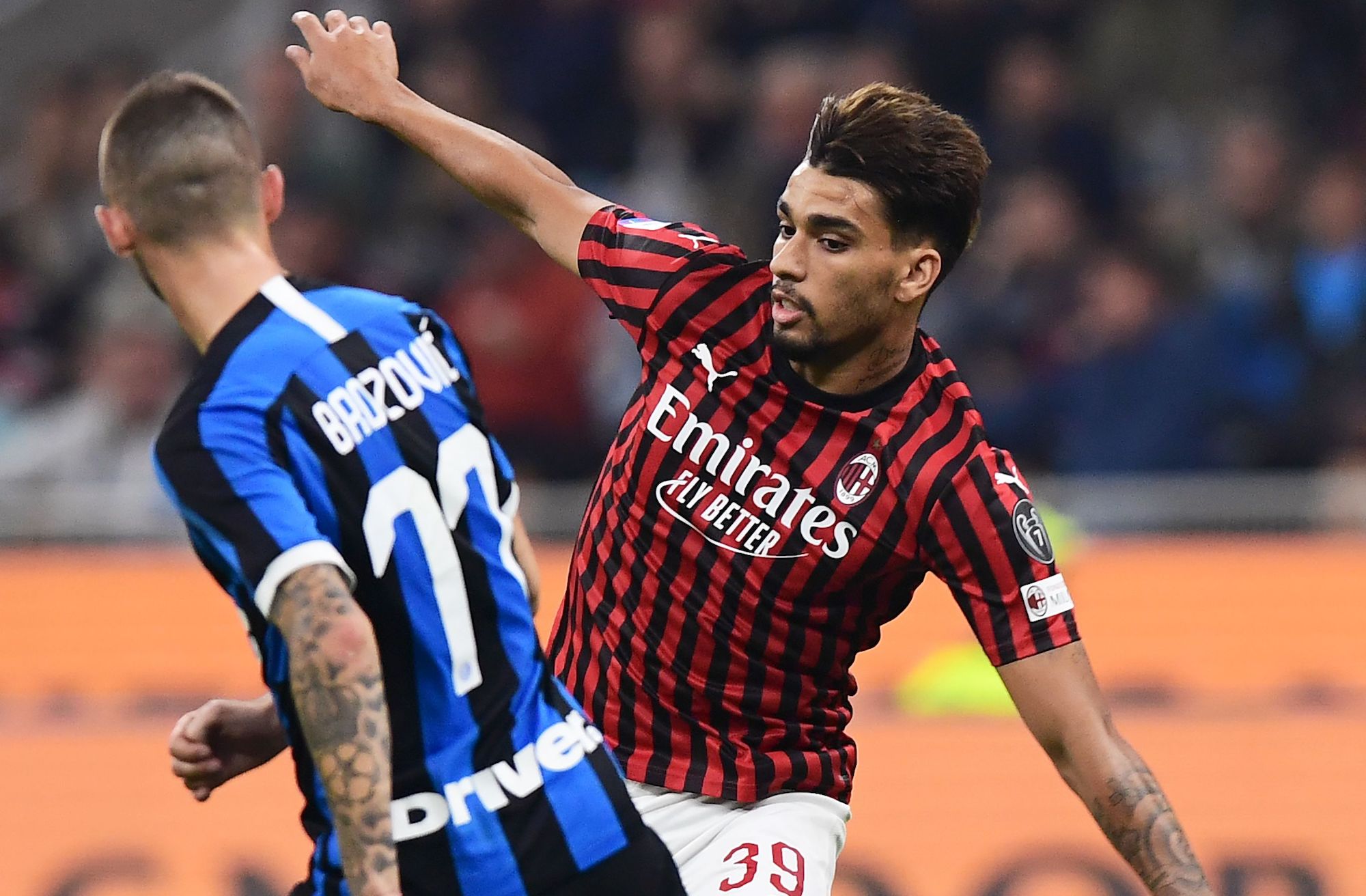 Despite that, there is no need to discuss what Paqueta is capable of as the Rossoneri fans have already seen a lot from him.
Although he has not been on the scoresheet that often, he has shown his shooting abilities as well as his vision and passing, which might be crucial in that position.
Rafael Leao
There is of course a gamble in leaving Krzysztof Piatek out, but in truth the Poland international has been struggling since the end of last season.
Leao joined the Rossoneri from Lille this summer and has reportedly impress in training, earning a start in the Derby della Madonnina against Inter on Saturday.
The Portugal U21 international is skilful player with lots of speed and physicality which makes him perfect for both pinning the opposing defence back and running in behind, but also for playing with his back against the opponent.
Leao is hard to catch as we saw against Inter, and it would be safe to assume that less experienced defenders will have a harder time than Diego Godin and Milan Skriniar.
Why is he perfect for the 4-3-1-2? Well, he is a ball-playing attacker, who can create chances for himself and has the speed to drift wide and spread the opposing back line if there is the need to.
This is something that Giampaolo wants from his strikers, but Piatek has shown a failure to do so far.
Ante Rebic
Lastly, Rebic makes it in the last spot as the second striker alongside Leao.
Another fast player who has the ability and desire to be involved in the build-up, the Croatian has great physicality that allows him to be a target man in certain situations.
Despite this, he prefers to play more as a second striker as his strengths are dribbling, speed and strength – all of which allow the 25-year-old to easily take on players.
With both Leao and Rebic on the field, Milan will have the chance to swap them mid-game if Giampaolo sees fit, something which may lead to confusion for the opposition team due to their differing characteristics.
Another vital part of the 4-3-1-2 formation is the space freed up for the full-backs to overlap, which is another reason this is a perfect front two pairing.
---
As the two graphics below show, Giampaolo's side would defend in a compact version of the 4-3-1-2 with Rebic and Leao playing an important role in pressing the opponents.
The back four remains flat and tight, with the midfield having the duty of protecting the gaps and also playing a role in winning the ball back and starting breaks quickly.
In attacks, Bennacer and Kessie play a role as the ball anchors – something crucial for ball retention and protecting the centre-backs and allowing the full-backs to push up in attacks.
Bonaventura and Paqueta are then allowed to function as inside forwards which massively increases goal threat and allows the front two to take position inside the penalty area where they are more likely to score.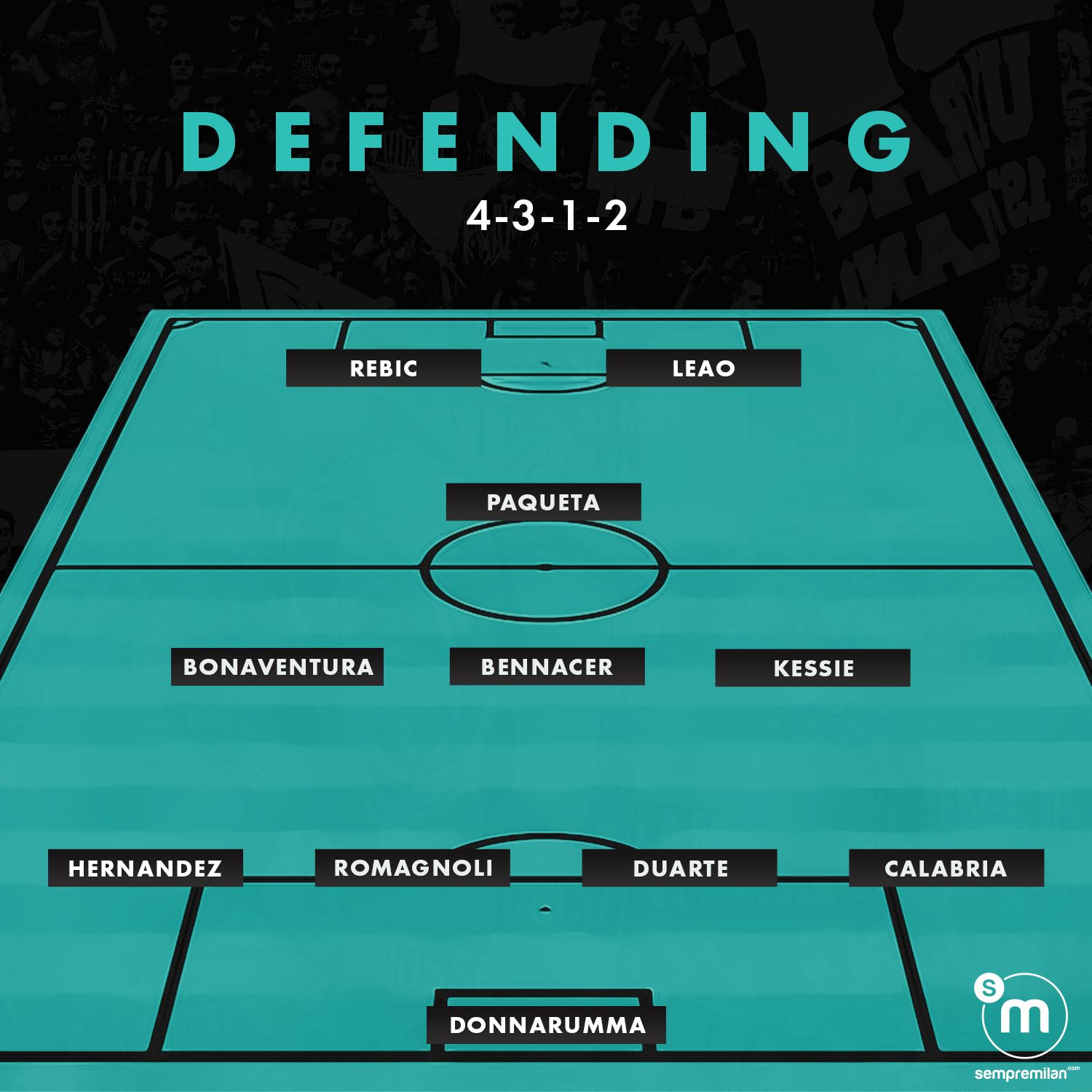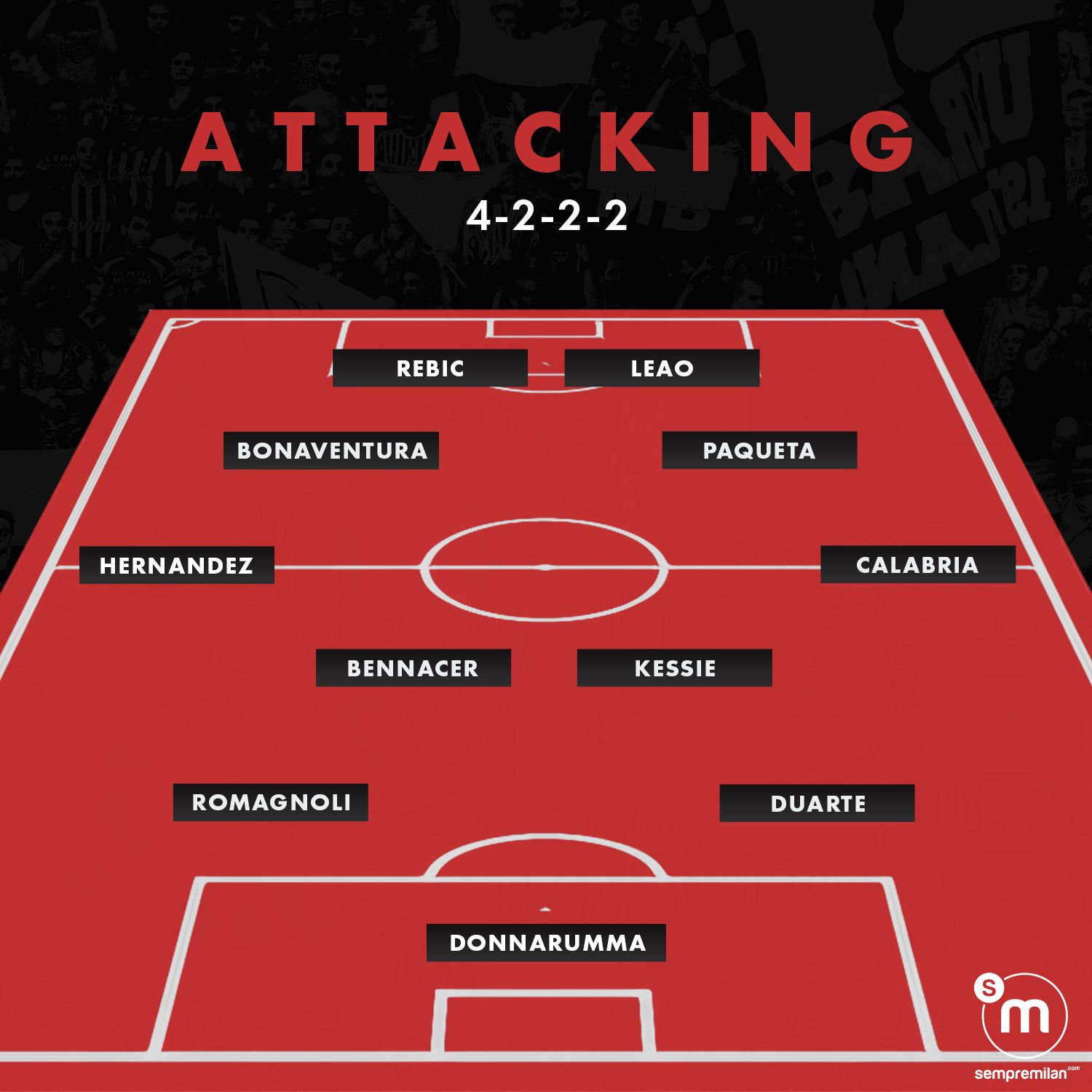 🤔 What are your thoughts? Let us know in the comments below 🔴⚫👇
---
LATEST PODCAST: Episode 67 – Derby Day Disappointment