In an era dominated by Catenaccio with defenses very difficult to break through, there were a handful of true playmakers who could find a way and one such man was Gianni "Golden Boy" Rivera. The man who recently celebrated his 76th birthday was a teenage sensation. He went on to grace football fields around Italy, Europe, and the world for almost two decades and left an undeniable mark on the Rossoneri.
Born Giovanni Rivera on the 18th August 1943 in Alessandria, Piedmont, he quickly developed a passion for football from an early age. He joined his local team and his move up the ranks was so rapid that he made his Serie A debut at the tender age of just 15, interestingly enough against his future team's city rivals Inter. His first full season in the Italian top flight yielded six goals from 25 games, a remarkable scoring rate for someone who was not only inexperienced, but not an out and out forward.
He was smooth and composed and the way he glided around the pitch did not go unnoticed, and he was quickly snapped up by AC Milan for a record breaking transfer fee of around one and a half million Euros. The thinking behind his signing was that he will be the long term replacement for Juan Alberto Schiaffino, as the Uruguayan was very close to retirement.
The 1950 World Cup winner would play an important role as a mentor to the young phenom.
One would think being the "new kid on the block" that the now 16-year old would have to bide his time for minutes on the pitch, but he played in 30 of the 34 games il Diavolo played in Serie A that campaign.
Following that season, the San Siro side appointed Nereo Rocco as it's manager in 1961 and he and Rivera would start a long & fruitful relationship for years to come.
Rocco built his team around Rivera and was rewarded as he scored ten goals in the next year, as Milan won the Scudetto. Rivera's vision, ability to pick a pass, and the sheer entertainment he brought to the field made him a real fan favorite with Milanisti and even made his national team debut that same season.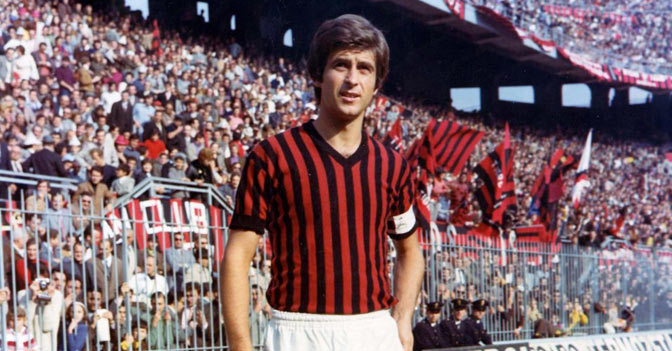 However, his Azzurri legacy deserved so much more…
At club level however, his influence seemed to increase with each game. Five years earlier, they had lost their first European Cup final to Real Madrid in what was undoubtedly the closest fought final for Los Blancos of that era, however in 1963, history was created.
With Rivera as the creative hub, pulling the strings in midfield, dictating the tempo of the play like the leader of an orchestra, Milan won Europe's most prestigious competition for the first time. This was secured with a 2-1 win over defending champions Benfica. They banged in 33 goals along the way with Rivera contributing two, but with countless assists.
However, following the win, Rocco left and a barren period was to befall the club.
By this time Rivera had earned praise from everyone from Giuseppe Meazza to legendary journalist Gianni Brera and his status as one of the world's true elite players was assured.
Following Rocco's departure, Milan had to watch on as city-rivals Inter dominated both at home and abroad, with little to cheer. However, a maiden Coppa Italia triumph was achieved with Rivera the leading scorer with seven strikes.
Then El Paron returned and it was as if Rivera's best friend & father had returned all in one. In his first season back, Milan did the double. The Scudetto and their first ever UEFA Cup Winners Cup; the club was truly back! They confirmed their status as the best team in the world when they captured both the European Cup & Intercontinental Cup in 1969 and Rivera's influence was so integral that he won the Ballon d'Or and thus, became the first Italian to claim the award.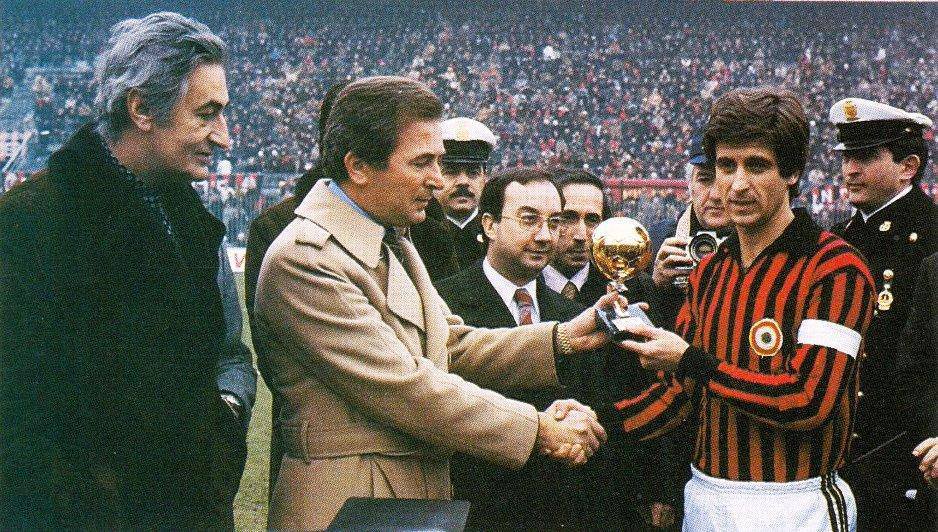 Rivera was not only a brilliant player on the field, but a fierce defender of the club colors. This was particularly evident during the 1971-1972 campaign when he was banned for nine matches after criticizing referees, claiming they favored rivals Juventus. Milan lost out to the Serie A title to Juventus by a single point.
During the early 70's, the Rossoneri finished runners up for three consecutive campaigns, but achieved a couple Coppa Italia titles and a second Cup Winners Cup in 1973. At this point in his career Rivera became much more a goal-scorer. He finished joint Capocanniere with Paolo Pulici & Guiseppe Savoldi that year.
As the years wore on, it was inevitable that the golden boy powers would naturally decline, however he was still able to help the club win another Coppa Italia in 1977 and finally the tenth Scudetto, meaning they could adorn the star on the shirt.
At international level, Rivera was part of four World Cup squads, including the team that reached the final in 1970 and also the only Azzurri team to so far win the European Championship in 1968.
However, his Italy time was rife with controversy with managers, due to a lack of playing time and the so called Staffeta. This was a tactic whereby Sandro Mazzola would start the match, while Rivera would replace the Inter man after the interval in the hope that the opposition's tiring defense would be ripe for the Milan man to exploit.
Following his retirement in 1979, Rivera became the club's vice-President and served in that role for seven seasons. Silvio Berlusconi took over ownership of the club in 1986. Both men were reportedly at different ends of the political spectrum causing a split between the two.
In total, Rivera played 658 games and scored 164 goals with Milan. He won two European Cups, two Cup Winners Cups, three Scudetti, four Coppa Italia's among a plethora of other awards and individual honors.
Determining the greatest ever player for any club is a difficult task, let alone a club like Milan, but one man that must always be in that debate, is Gianni "The Golden Boy" Rivera.