Milan went through much of 2020 sailing through calm waters only for 2021 to come with turbulence and threaten to rock the boat and ultimately sink Stefano Pioli's men.
Pioli post-lockdown had created an enigmatic Milan which wove through opposition defences and rarely succumbed to its opponents. However within the space of 45 days Milan have lost three games, being completely outplayed in two of these while the Juventus game can be counted as a let off since Milan played without seven of their main men.
So what are the chinks in Milan's armour? How can they be rectified? Here is a prognosis of Milan's issues…
Right wing creativity
Starting off with the most obvious one, Milan's dead right-wing has been a cause for concern for Milanisti for over a year, but with the side scoring almost 2 goals per game the problem did not blow up until Milan's latest run.
With the pass-map of Milan first 14 games it is quite clear that Milan's creative outlet on the right comes from Calabria and that neither Saelemaekers nor Samu Castillejo provide anything much other than a passing option in the final third of the opposition half. While Saelemaekers does track back and cover Calabria if Milan lose the ball and the opposition counter-attack, and he contributes to pressing, his creativity is not up to the standards of a modern creative right winger.
Another disturbing trend that popped up during the Atalanta match was how Atalanta were quite comfortable to leave Samu Castillejo unmarked while they were aggressively marking Milan's other two front players. This trend popped up as Atalanta didn't consider Samu an important threat.
Possible solution:  The only possible solution would be to dip into the transfer market come the summer. Milan have been linked to the likes of Florian Thauvin from Marseille and it's time for Milan to finally address the issue that has been quite a gangrenous limb in Milan's attack.
Left half-space
With the role of full-back's in modern football being redefined inducing them to attack more due to their agility and physicality, it has required coaches to re-adjust their tactics to make up for defensive shape and numbers at the back. Liverpool and Bayern Munich for example have their best defenders push up and cover the space vacated by the left back. Milan until now do not have a clear plan and with Romagnoli not comfortable pushing to maintain a high line it creates a temporary space called a half-space.
The half-space created on the flank has been duly noted and identified by team to create chance and score by teams. Juve scored three goals from this left half-space, Illicic wreaked havoc from the the same area tormenting Kessie, even Crotone took advantage of this half-space to create chances taking the most amount of touches in Milan's final third in this half-space. Teams have started to identify this weak spot and started to align their chance creation tactics accordingly.
Possible solution: There are possible solutions for this conundrum. The first one would be to have Romagnoli push up and maintain a high line which would mean he could be beaten more as he is not the fastest defender and struggles in isolation. The second fix would be for Theo Hernandez to be more of a defensive full-back and maintain shape but that would mean that Milan sacrifice the attacking impetus the Frenchman provides.
The double pivot
Milan under Pioli have been using a double pivot since lockdown.  The double pivot brings defensive stability, hacks down opposition counters and allows Theo and Calabria to join the attack. With some individual brilliance from Bennacer or Tonali the double pivot helps in facilitating build-up play from the back.
Pioli encourages his double pivot to stay very close to each other to facilitate pressing and not allow opponents to progress centrally. This comes both as a blessing and a curse as teams exploit this trait of the pivot. When Kessie and Bennacer press simultaneously it creates a space between the last line of defence and the midfield.
Intelligent teams with good attackers have been able to exploit this space by placing their attackers between the lines and have a creative player pick out a pass to find them. In Serie A this crack has not appeared much because teams in Serie A generally tend to sit back but against more attacking teams in the Europa League including against Bodo Glimt these mistakes tend to creep into Milan's game.
Possible solution: Milan need to have their last line of defense to push up and be compact like in the days of Arrigo Sacchi where Milan's lines had no more distance of 15 meters between them. But playing a high line would be a colossal ris given how Milan's centre-back's – Tomori aside – are not the quickest and would not be able to catch up to a fast striker or winger breaking through their line.
Building out from the back
A common practice for teams in modern football is to pass the ball out from the back and build fluid attacks. However, recently teams have figured out Milan's pattern of play, which is to have Kjaer and Romagnoli spread to the half space with either of Theo Hernandez or Calabria pushing up and Bennacer or Tonali dropping off to form passing triangles with the centre-backs and then farm the ball wide to the full-backs.
Atalanta – a team that employs intense man-oriented pressing system – broke Milan's passing pattern and on that fateful day at San Siro outclassed Milan 3-0. A similar tactic was employed by Vincenzo Italiano with his Spezia team which stifled Milan's passing by covering all of their passing options and blocking the centre. Spezia, however, employed a more physical press often pressing in triangles targeting Milan's double pivot. When Milan tried to be more direct towards Zlatan Ibrahimovic, the Swede was doubled down by Atalanta/Spezia by having 2 physical centre-backs press him.
Against Spezia what was even more painful to watch was how Hakan Calhanoglu was limited in making backpasses with the intense high press employed. Hakan's lack of press resistance made sure that there is no link betweem defence to attack.
Possible solution: A possible solution for breaking the man-oriented pressing of Atalanta can be found in how Liverpool defeated Atalanta 5-0 in Bergamo. A map of how to build out from the back can be drawn as shown below (thanks to @TyLevinsohn).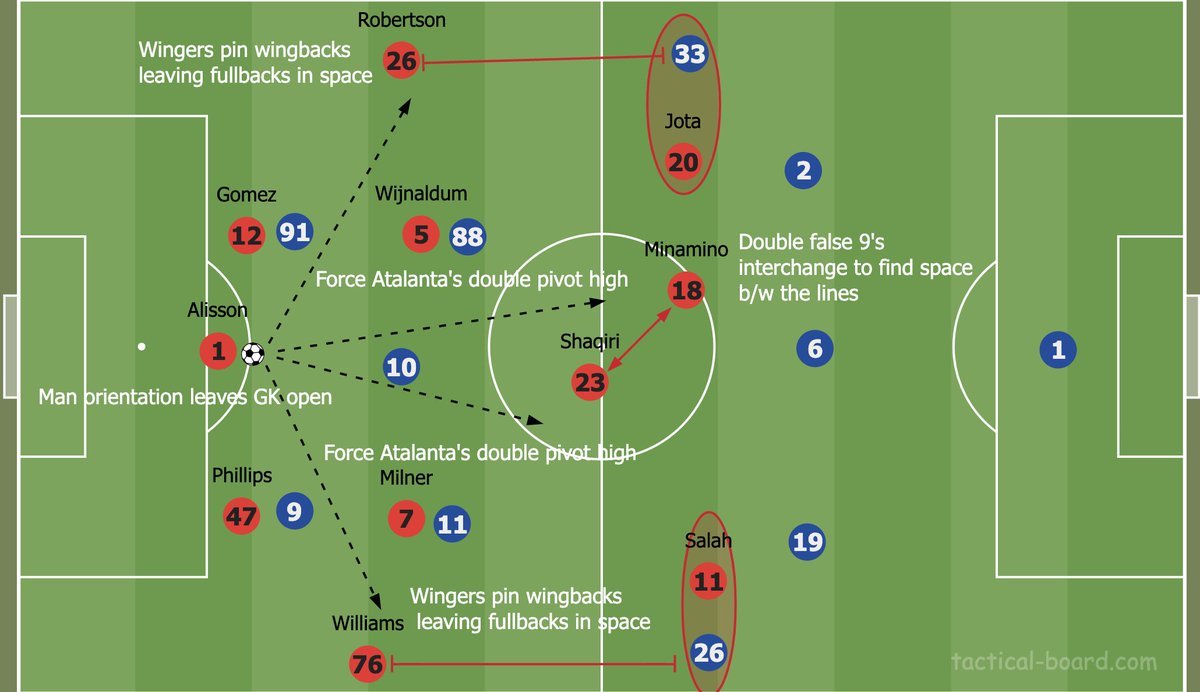 Atlaanta employ a five-man midfield with two wing-backs, two central midfielders and a trequartista. It gives La Dea the ability to form a central overload and physically dominate the midfield which Pioli tried to negate by playing Meite. Milan need more creative wingers and have them pin Atalanta's wing-backs giving room for Milan's full-backs to push up and have Milan's centre-back's split. The Rossoneri need Calhanoglu to take up the space between the opposition's midfield and last line of defence, often interchanging positions with Ibrahimovic.
Against Spezia's more physical press Milan were too lethargic and casual while moving the ball and the backline was too cluttered to each other making it static and having no movement. The lack of Calhanoglu's press resistance made it harder for Milan to move the ball.
Corners
A thorn in Milan's side since long the monster popped up its ugly head against Red Star when Milan conceded a last minute goal to make it 2-2. Milan conceded a majority of their goals in the first half of the season through set pieces and it doesn't look like we have heard the last of it.
Pioli looks to have been employing a mix of zonal marking and man marking, having a tall player like Ibrahimovic as the first line of defence. Milan's lack of tall players except Ibra and Kjaer makes it extremely difficult for Milan to out jump their opponents.
Possible solution: The most obvious solution would be that Milan need taller players to better deal with corner kicks. However, for the time being tactically Pioli needs to find the right balance of zonal and man marking as there seems to be a bit of confusion in the box.
Lack of a creative force and ball-holding midfielders
Back in the day of Ancelotti's Milan, the Diavolo had a very elite level of players that won multiple trophies. But what made Milan tick in Ancelotti's era was their exceptional midfield diamond in the form of Pirlo, Seedorf, Gattuso and Kaka. Pirlo would be tasked with bringing the ball out from the back, Kaka would find space between the lines and if pressed will dribble out of tight spots to either slide in a through ball or score himself.
Now there aren't an abundance of players like Kaka, Seedorf or Pirlo in world football anymore but it is obvious Milan lack players who can be orchestrate the play from midfield and find space between the lines. In the last few games Milan's chance creation has largely been down to crosses or from individual piece of brilliance. Milan's main attacking threat comes from their full-backs Calabria or Theo or from Rafael Leao while Calhanoglu has been largely underwhelming. While Kessie is seen as the more physical defensive midfielder, Tonali and Bennacer are seen as the deep-lying playmakers.
However if they are pressed – as seen against Spezia and Atalanta – they succumb and lose their rhythm, especially Tonali since he is not used to playing in a double pivot and is more comfortable playing with two midfielders flanking him and has reduced physical work rate. This creates a vacuum between the double pivot and the attack and does not favour when Milan want to transition from defence to attack.
What makes it more difficult is that Calhanoglu is not press resistant and if he is marked he does not have the technical skills with the ball to dribble the ball and find the space between the lines much like how a player like Kaka could do.
Milan's wingers are technically more of runners or athletes who are comfortable of travelling with the ball and finding space and crossing but in terms of picking out passes or creating chances to break defences they are yet to show their creative ideas other than spamming crosses in the box for Ibrahimovic to get on.
Possible solution: This one sounds obvious, but to get better players. For the moment, Milan could consider a formation change to a 4-4-2 or a 4-3-1-2 to better utilise Tonali who looks extremely uncomfortable playing in the double pivot. As for Calhanoglu, playing a three-man midfield would make him more comfortable playing away from the press and a midfield three would need him to start from deeper positions and away from the clutter.
Conclusion
The term 'well-oiled machine' has been used to describe Milan a lot since lockdown, and for the most part the work done on the training field under Pioli has brought outstanding results and a style of play that fans actually enjoy watching again.
However, to assume that it is a perfect system would be naive and there are always things to improve until the team wins every game and keeps a clean sheet. What is perhaps worrying though is that – as aforementioned – some cracks are beginning to show and get wider.
Coaches are judged on their ability to adapt, evolve and reevaluate their methods based on the difficulties they encounter, so the upcoming period is where Pioli will really have his mettle tested.