Today, the 25th of February 2017 marks the 18th birthday of rossoneri golden boy Gigio Donnarumma. Now that he is 18, he can get his drivers license and drink alcohol, but regardless of how the now adult celebrates his birthday, let us here at sempremilan.com review his red and black career so far. 
Four years ago, in 2013, at a mere 14 years of age the San Siro giants shelled out a quarter of a million to bring the younger brother of Antonio Donnarumma, and life long Milan fan, Gianluigi Donnarumma into the Milan fold as well.
Gianluigi had always played in the age group above his actual age, so he started with the Giovanissimi, then the Allievi, and finally the famous Milan Primavera.
When just 15 years of age, the rossoneri manager Pippo Inzaghi called the goalkeeper up to his first senior Milan match, a 2-0 victory over Cesena at the San Siro. Despite the youngster not featuring in the match, he was already gaining valuable experience for later down the line.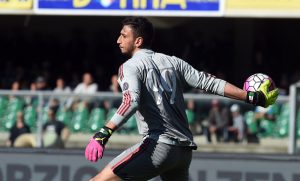 When Milan had sacked Inzaghi in favour of Serbian Sinisa Mihajlovic, the now Torino manager made the Castellammare di Stabia native his third choice for the 2015/16 Serie A campaign. Donnarumma made a few pre-season friendly appearances, most notably against Real Madrid where he saved a Toni Kroos spot kick. He then saved penalties from both Acerbi and Berardi in the TIM Cup against Sassuolo.
Following a string of poor performances from Spaniard Diego Lopez and a back injury to the veteran prompted Mihajlovic to give a shock start to sixteen year old Donnarumma. And, that is where history was written.
October 25th 2016: Gianluigi Donnarumma makes his Serie A debut in a 2-1 victory over Sassuolo, becoming the second youngest goalkeeper to start a match in the history of Italian football; 13 days older than Giuseppe Sacchi. Three days following that, Donnarumma retained his spot in the starting line-up and kept his first clean sheet for Milan in a 1-0 home victory over Chievo. Since then, the Italian phenomenon has just continued to grow.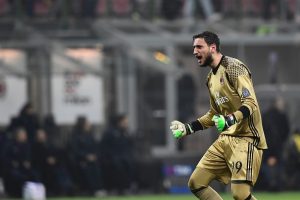 Gigio's performances in 2015 earned him a place among the top 25 of Don Balón's ranking of the world's best footballers under age 21.
At the start of 2016, Donnarumma had cemented himself as Milan's first choice net-minder, despite starting the season as the third choice. The season, however, ended in tears for Gigio and Milan as they fell in extra-time in the Coppa Italia final against bitter rivals Juventus.
The start of this current season started spectacular for Donnarumma, where in preseason he saved a penalty in a friendly victory over Bayern Munich. The Serie A campaign started with even more of a bang for young Gigio. He saved a 96th minute penalty in a 3-2 victory over Mihajlovic's Torino. The beast Mihajlovic created came back to haunt him.
Donnarumma ended an incredible 2016 with his first ever trophy as a player, as he inspired his Milan to a victory over Juventus in the Supercoppa Italiana final on penalties. The hero of Doha, Donnarumma, saved Dybala's penalty in the fifth round to set up Pasalic, who scored the winner.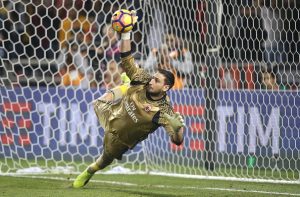 As per the national team, the now 18-year-old was the youngest ever player to appear for the Italian U21 side, after he played the full 90 minutes in a 4-1 win over the Republic of Ireland. Donnarumma was 17 years and 28 days old, breaking the record previously held by Federico Bonazzoli.
Gigo missed out on Antonio Conte's 23 man roster for the European Championship in France this past summer, in which gli azzurri made it to the quarter finals, only to be knocked out on penalties by the Germans. However, under new national team manager Gianpiero Ventura, the then 17-year-old earned his first call up to the senior national team.
He was the youngest to get that phone call since 1911. Donna became the youngest ever goalkeeper to appear for Italy, making his debut at half time in an eventual 3-1 defeat against France. Gianluigi was 17 years and 189 days old at the time.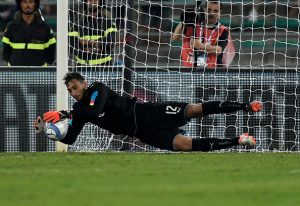 Overall, Donnarumma has made 59 appearances for Milan and two for the Italian national team.
The Napoli native has also received a lot of birthday wishes from former red and black goalkeepers, they are as follows:
Fabio Cudicini: "You are the backbone and a future symbol of this Milan."
Giovanni Galli: "A phenomenon like you is born every 30 years."
Sebastiano Rossi: "You have all the qualities. I wish you many more years like these two."
Christian Abbiati: "I have seen you grow and you're explosion doesn't surprise me. You are a serious guy and a real professional. The objective for you now is to continue on this stride. Now (that you are 18) complete it (all the work you've done) off the field and get a drivers licence!"
Dida: "You can become a legend at Milan. But the first thing you need to do is to stay where you are. Milan cannot let you leave. I have many friends like Brocchi, Eranio and Carbone and they are all crazy about you."
Tanti auguri di buon compleanno, Gigio on behalf of all of us here at SempreMilan. We hope to be able to celebrate many more together!