During the last summer transfer window, AC Milan made several key signings to improve the squad's depth and potential and since then these signings have come a long way despite still not being at the club for a long time.
Three months ago we looked into the progress (or lack thereof) that these signings were making and now we are back to take a look once again at their performances thus far. Once again the ratings will be based on their performance in comparison to their expectations at the start of the season.
Pierre Kalulu
Up until December, Pierre Kalulu was still an obscure figure in the AC Milan squad and many questioned whether he would be able to receive enough game time with the level of competition ahead of him at the time, with some suggesting that a loan move would be the ideal compromise.
However, key injuries to Matteo Gabbia and leading centre back Simon Kjær gave the young Frenchman a surprise opportunity in a rather unfamilar role. This new position gave Kalulu a breakthrough allowing him to make eight Serie A appearances in his new position.
Despite the occasional positioning error, Kalulu did particularly well in his new position showing great confidence when passing the ball around at the back. His solid performances were capped off with a late equaliser against Genoa credited to his name.
It will be interesting to see how well Kalulu can develop but if his early performances are an indication, we will see much more of him in the near future.
Three-month rating: N/A
Six- month rating: 6.5/10
Ciprian Tătărușanu
The Romanian giant did not start his AC Milan experience in the best way possible, making a key mistake in his first crucial start against Roma. Since then he has been called upon four more times – twice in the Europa League and twice more in the Coppa Italia.
His performances in these games were impeccable in part due to several key saves such as a last minute one-on-one save against Sparta Prague that allowed the Rossoneri to take first-place in the Europa League group and a crucial penalty save in the shootout against Torino that allowed us to progress to the quarter-final of the Coppa Italia.
💥 Ciprian Tatarusanu that is wonderful.pic.twitter.com/s9Iz93eGzX

— SempreMilan (@SempreMilanCom) January 26, 2021
Despite the loss against Inter, Tătărușanu was definitely the best AC Milan player on the pitch making six saves. Despite the rough start his latest performances have definitely been reassuring for the fans who will not be so worried in the absence of the starting goalkeeper Gianluigi Donnarumma.
Three-month rating: 5/10
Six- month rating: 6/10
Jens Petter Hauge
Hauge's Milan experience has been quite a roller coaster despite only being at the club for less than six months. Arriving as a surprise signing from Norwegian club FK Bodø/Glimt, not much was expected out of the 21-year-old winger, however his early performances as a substitute were proof that the technical directors made no mistake in making this signing.
Two Europa League goals and a late goal away against Napoli were the highlights of Hauge's career in the red and black shirt thus far and many fans soon warmed up to him as a result of these performances.
Following that terrific start, it was only natural that his form would drop slightly however Hauge has been going through a rough stretch of performances since mid-December and will therefore need to be more consistent to ensure a spot in Pioli's team. His exclusion from the Europa League squad is a clear indication that Hauge will need to find his previous form sooner rather than later.
Three-month rating: 6.5/10
Six- month rating: 6/10
Sandro Tonali
The first six months of Sandro Tonali can be defined by the word 'lacklustre'. His performances can't be described as a failure but they haven't been impressive either. Bennacer's month long injury throughout January provided a huge opportunity for Tonali to prove his worth for and while his outings were mostly satisfying we never really got to see the technical masterclass which was advertised at the time of signing.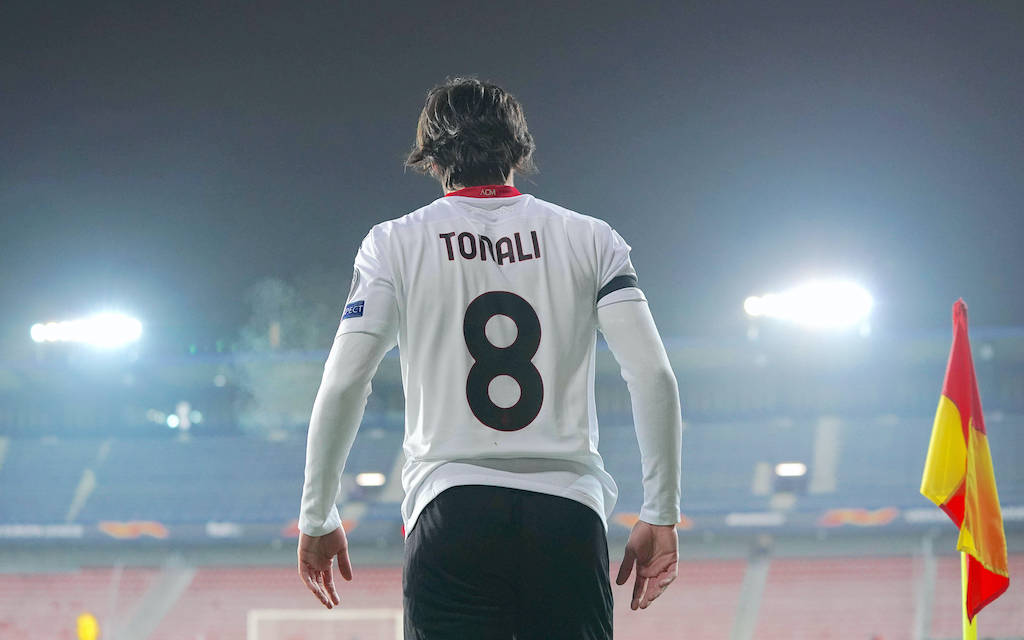 Despite not meeting expectations thus far, the possibility of making his transfer permanent should not be under threat mainly due to the significant amount that has already been paid and the huge level of potential that the 20-year-old still possesses.
Three-month rating: 5.5/10
Six- month rating: 6/10
Brahim Díaz
Brahim Díaz has been one of the most positive non-starting players at the club scoring four goals and providing three assists thus far. His performances have not gone down following his positive start for Milan but the lack of consistent game time has forced us to slightly adjust his rating.
Despite the tremendous performances of Hakan Çalhanoğlu this season, Díaz was able to replace the Turkish playmaker effectively during his brief absences throughout the season. Milan clearly intend to keep him at the club – whether it is through a loan extension or a permanent signing – but will have to convince Zidane who is reportedly a fan of the attacking midfielder.
Three-month rating: 7/10
Six- month rating: 6.5/10
Diogo Dalot
Diogo Dalot's start at Milan was quite positive, making an instant mark against Sparta Prague with a goal and an assist. However, his performances never really lived up to those of the starting full-backs Davide Calabria and Theo Hernandez who have been having a brilliant season.
Unfortunately for Dalot, this feature is being written shortly after the Spezia away game which was probably one of the worst performances by a Milan defender in a very long time. Despite being advertised as a right-back, Dalot has been performing much better as a left-back mainly since that position allows the defender to progress forward and focus less on defending.
Since Dalot is only at the club on a dry loan and his performances have generally not been satisfactory it seems unlikely that the club will be paying to keep him an a permanent basis despite the show of support shown by Fabrizio Romano when he was interviewed on the SempreMilan podcast.
Three-month rating: 6/10
Six- month rating: 5.5/10
---
Want more Milan? Check out our podcast and sign up for notifications on our website for the latest Rossoneri updates. Take a look at our shop, and join in the discussion over on the Rossoneri Discord!