Serie A is currently on pause due to the international break, but Milan fans could be forgiven for being impatient for league action to resume given they have won 10 of their opening 12 games and sit joint-top of the table.
Milan were unbeaten last season after their first 12 games but had drawn more matches than the current campaign (4) making the Rossoneri's points tally better than it was last season. Of course not much has changed from last season, but the general consensus is that Milan's performances have been better than last season. So what has changed?
Build-up play
Let's start out from the back. Pioli preferred his team to build out from the rearguard, to keep possession and break down teams. To aid his cause and to break down teams who press high, Pioli wanted to use the full width of the pitch and give more freedom to his full-backs.
For this he instructed one of his defensive midfielders in a double pivot to occupy the role of a third centre-back while the centre-backs split up into full-backs helping the actual full-backs to push up and occupy the width of the pitch.
Before his injury, Maignan was a real facilitator for this who has shown – unlike his predecessor Donnarumma – quick feet and good technique to help move the ball quickly out from the back or to switch flanks and in case the opposition are pressing well.
In the case that the opposition had a four-man or even a five-man midfield, giving them a midfield numerical advantage, the goalkeeper would occupy the third centre-back opposition and have the midfield pivot play intact.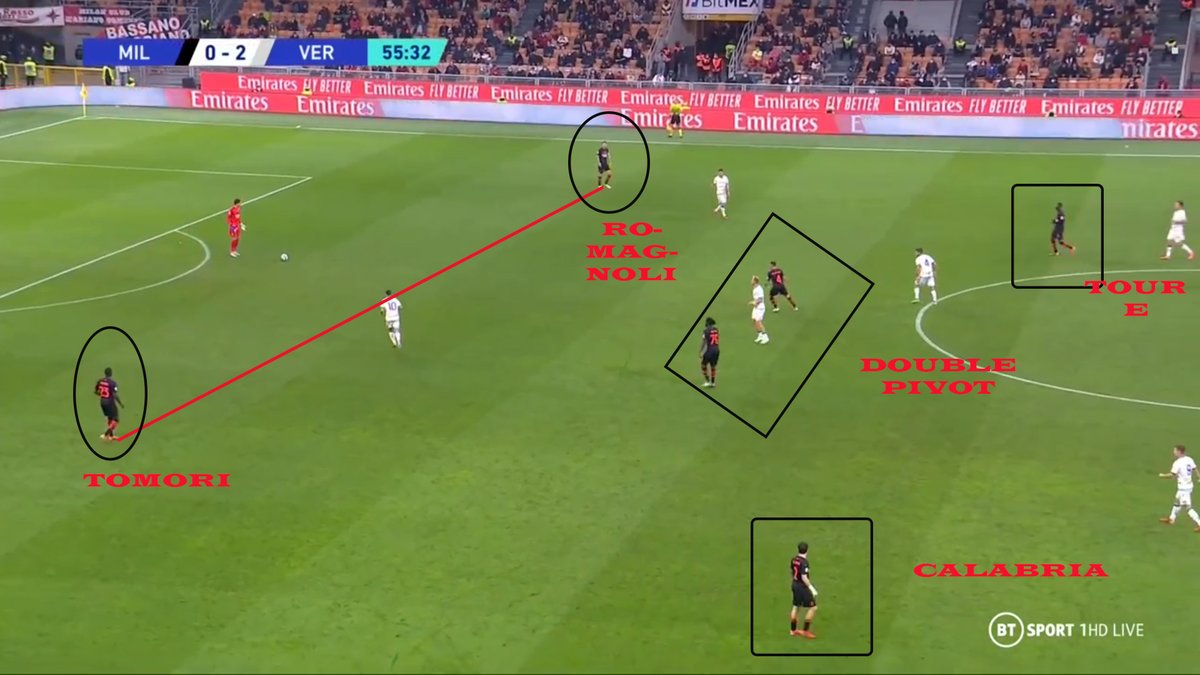 Positional rotations
One of the main components of possession play, an intricate tactical setup used by Pep Guardiola, is positional rotations. Based on the concept of zonal football, players are instructed to occupy each other's zones to take advantage of confusion and disorganisation.
As easy as it sounds it requires delicate coaching and great understanding between the players. We saw multiple positional rotations from Milan in the last few matches using this concept. It arises from the simple fact that this group has been together for close to two seasons now.
Here are a few examples of the rotations…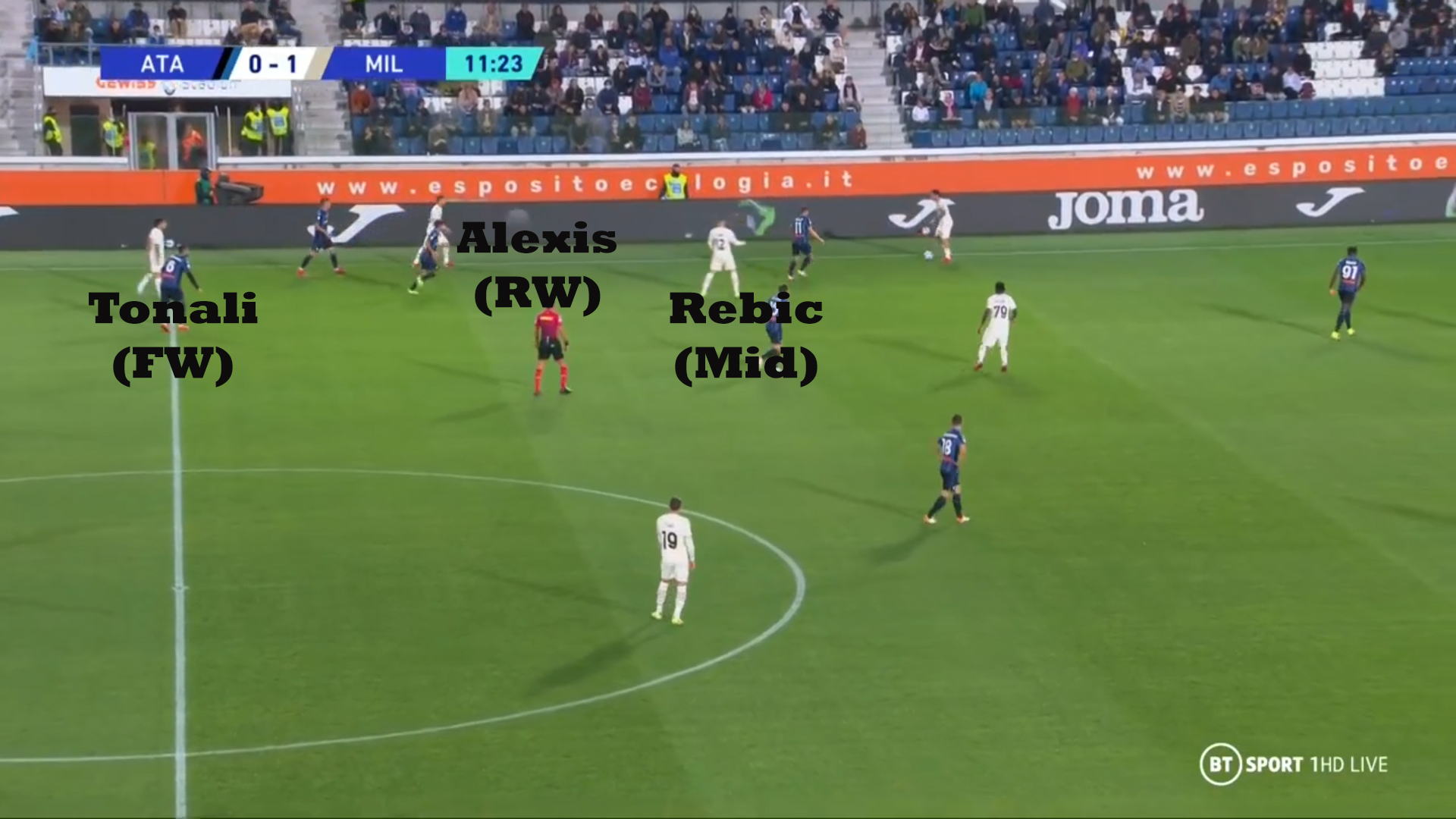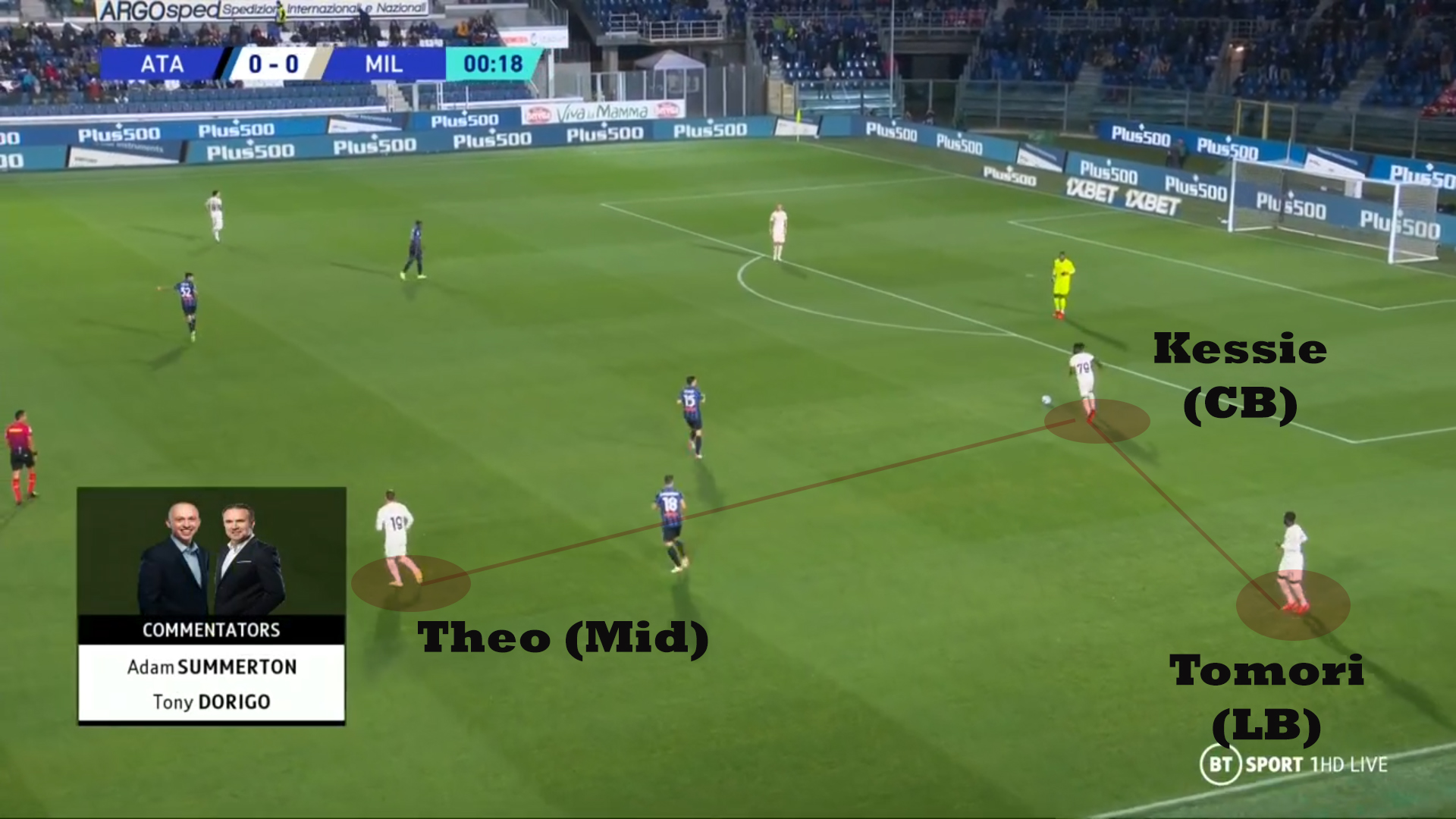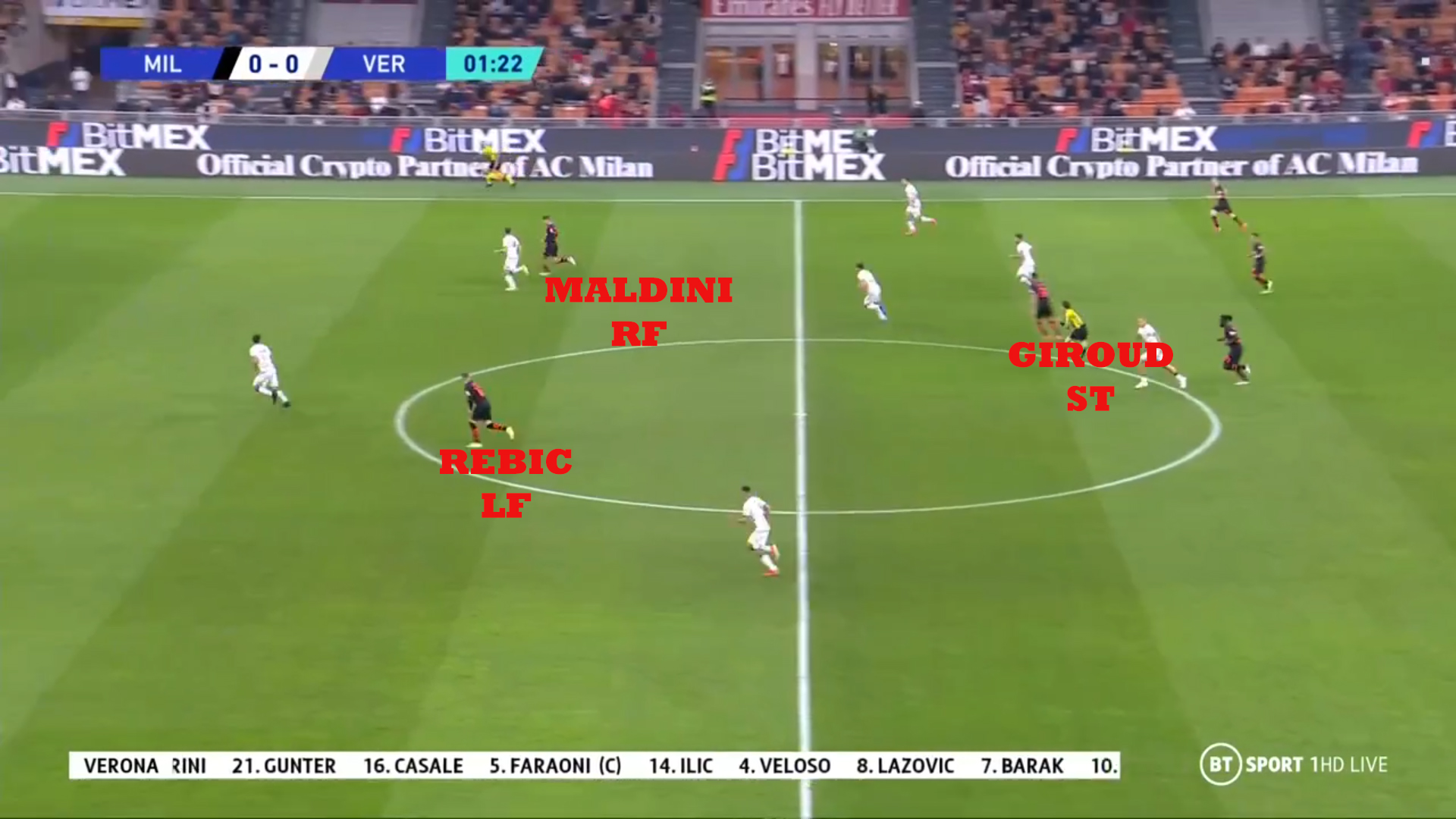 Pressing
A key component of Milan's off-the-ball philosophy has been pressing. Milan pressed Atalanta off the pitch, and shades of it were seen against Bologna (for the first goal) and it was heavily used against Roma as well.
Milan's PPDA (Passes Per Defensive Actions) or the passes they allow in their defensive half is 8.99 which is a very high standard in Europe and better than last season's 10.01. Of course one can argue that there is still a lot of games to go this season, so it could change.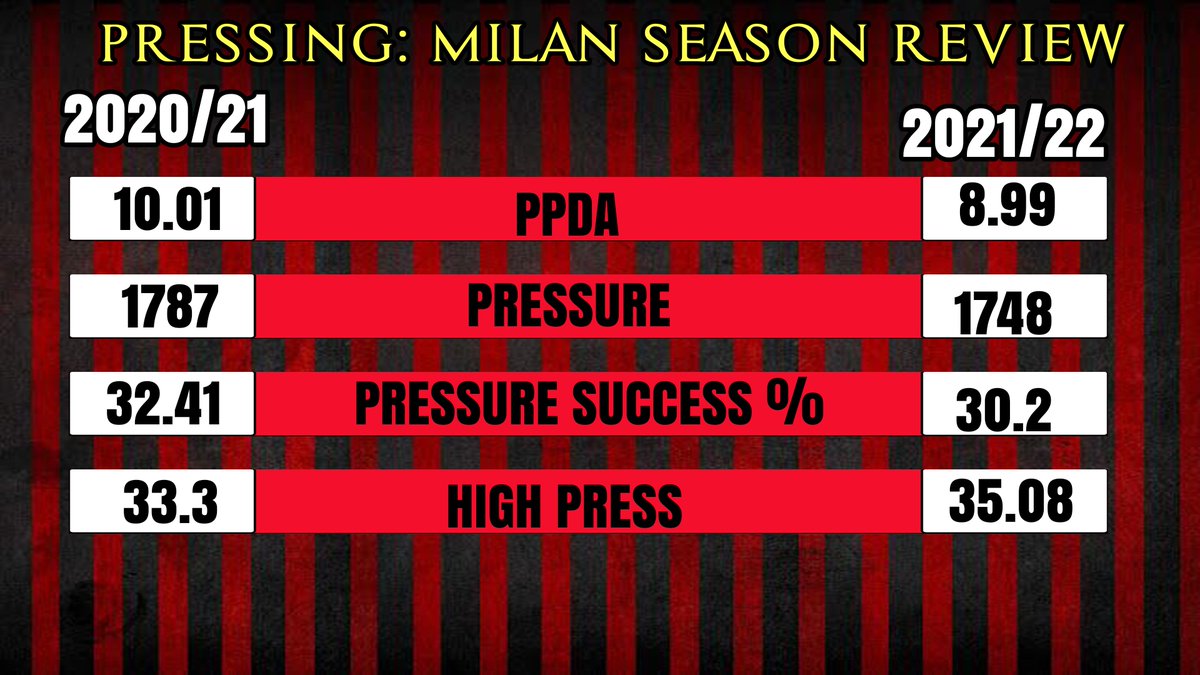 Another bit of data that speaks of the work put in by Milan's analysts is how the pressing has improved. Last season the Diavolo put in a lot of intensity into their games and ended up having 60 injuries by February, but now Milan press less yet more effectively.
It shows how Milan are organised in their pressing, and the most impressive aspect is as to how Milan's high pressing has improved by a significant amount meaning Pioli's men press their opponents very high up the pitch, giving them less space.
The defence
Milan's defence have conceded 11 goals this season. They are only behind Napoli and Torino in terms of goals conceded and of the 13 conceded Milan had four dodgy penalties given against them plus two own-goals.
What seems different is how Milan have become narrower than last season. For teams who want to press, making the size of the pitch smaller is essential and by being narrow it gives the opponent much less space to operate and gives you the opportunity to dictate how they play.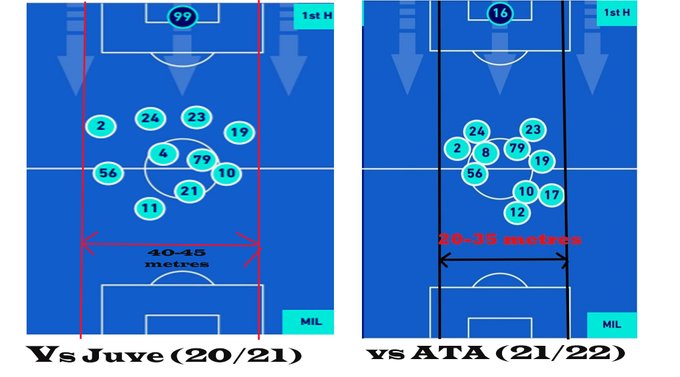 A functional No.10
Playing a 4-2-3-1 means that the No.10 or the attacking midfielder of the team has a very important role in connecting the midfield with the forwards. With Calhanoglu having left on a free to Inter, the mantle fell on returnee Brahim Diaz and until he was diagnosed with Covid-19 he was red hot.
Aside from finding pockets of space between the lines and pulling defenders out of position, Diaz also has been amongst the goals helping Milan to a healthy distribution of goals instead of a single outlet.
Taking a look at his stats, especially xGchain90, it shows how involved Diaz has been in Milan's play.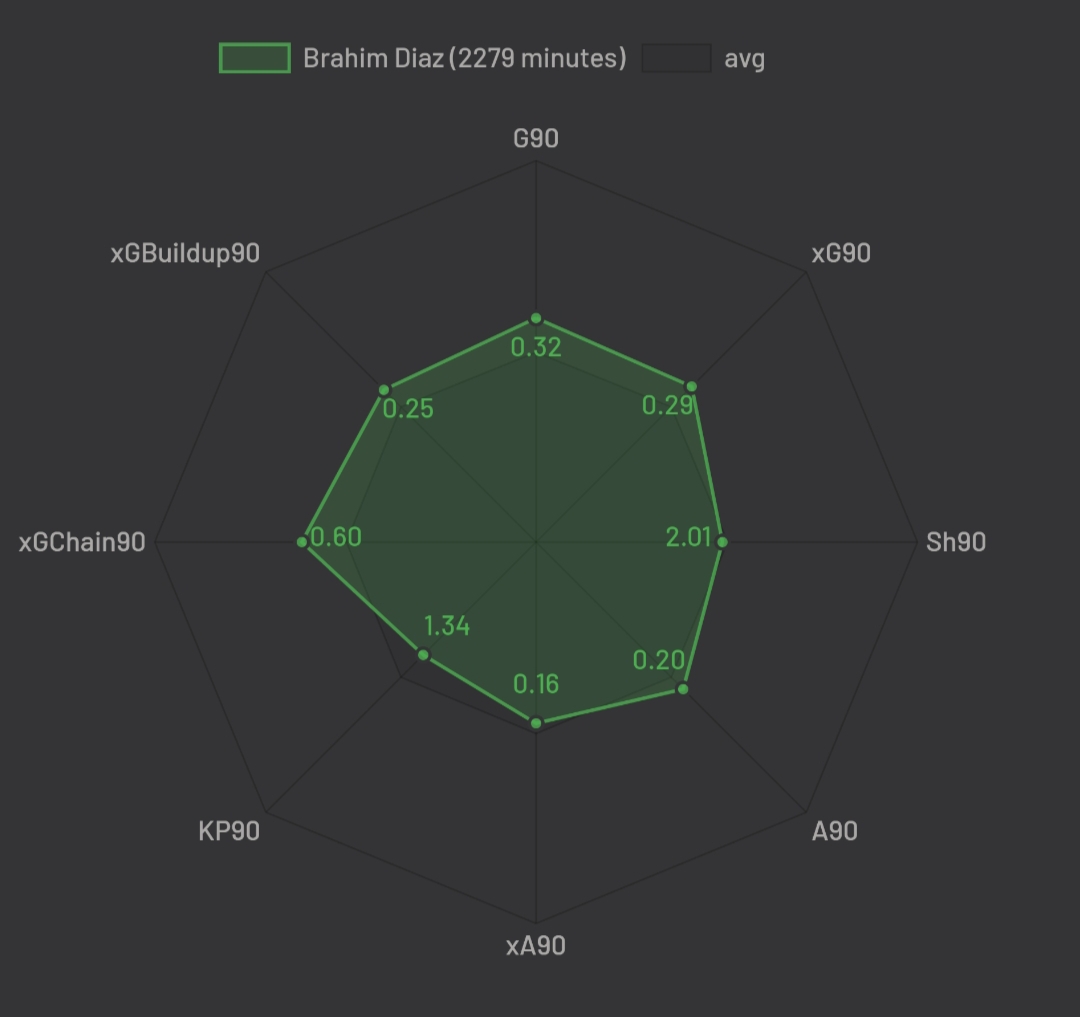 No Ibra-dependance 
Milan were very reliant last season on their star man and leader Zlatan Ibrahimovic. However, the Swede being 40 years of age meant he was not going to be in the best of physical condition and Milan made a mis-calculation regarding Rafael Leao hoping he would fill the void.
With the transfers of Mandzukic and Hauge not having worked out, Maldini sprang into action and got Champions League winner, Olivier Giroud, a typical No.9 with good hold up play. The curse of the number seems to have finally broken with Giroud scoring four important goals this season.
He does not have the ball playing skills of Ibrahimovic, but as seen against Torino and Verona, the Frenchman showed himself to be the difference from last season and this season where Milan would come against deep defences and would be resorting to crosses.
The rise of Leao and Tonali
Flash back to the summer, and Rafael Leao was destined to be sold in case a good offer came in while Milan looked unwilling to make Sandro Tonali a permanent signing unless Brescia president gave discounts.
Both players had a very rocky 2020-21 season and fans felt that they had unexpressed potential and were unnecessarily hyped. However, this season both players have finally turned out to be protagonists, offering more consistency in their performances and becoming leaders in their respective departments.
Conclusion
With time Milan are rising and looking like a well settled squad with tactical identity. In the next few days we will conduct individual analyses on Milan's players as part of the season review.
Please note that all the stats have been brought to an average of per 90 monutes. These stats have been taken from fbref and Understat.
---
READ MORE: Maldini and Massara admirers of Lille star as Donnarumma-Maignan situation could be repeated